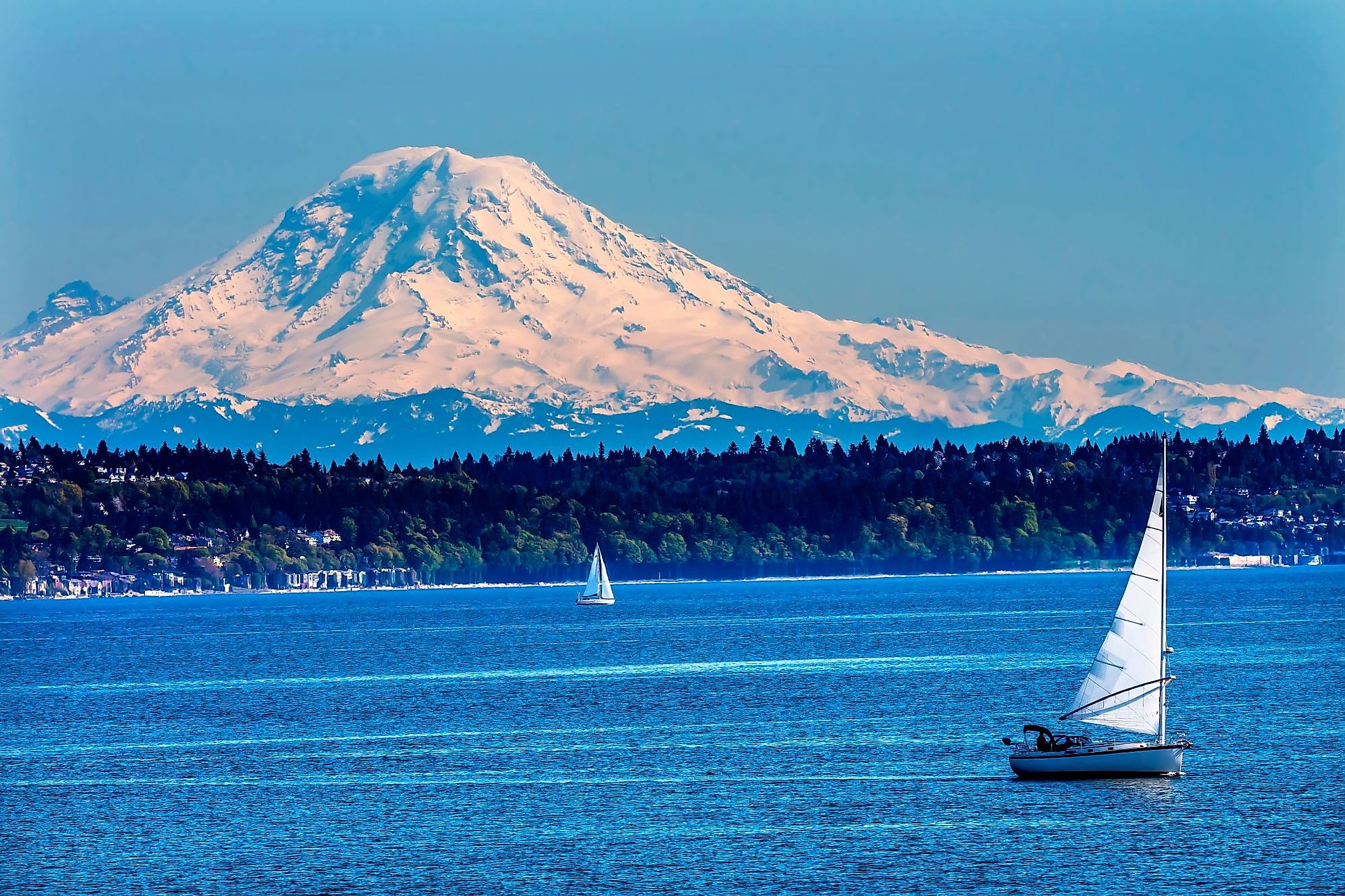 Puget Sound is a sizable inland estuary situated on the northwestern coast of Washington and serves as an inlet of the Pacific Ocean. Being a part of the Salish Sea, Puget Sound is the country's second-largest estuary after the Chesapeake Bay. This complex estuarine ecosystem undergoes an almost alchemical transformation due to the mixing of freshwaters and salt waters.
Geography Of Puget Sound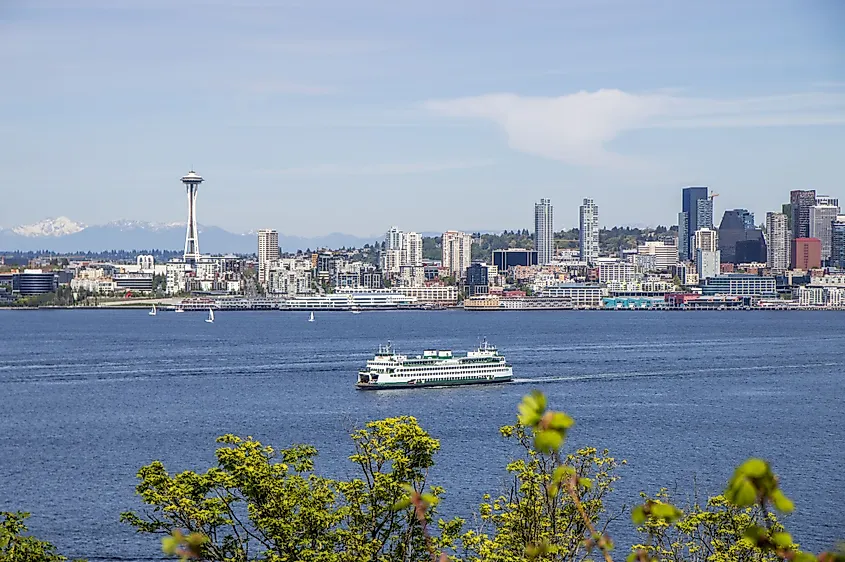 Located in northwest Washington, Puget Sound is a deep estuary of the eastern North Pacific Ocean. From Admiralty Inlet and Whidbey Island, it extends south for some 160 km. Thirty percent of the shoreline, which stretches over 1330 miles, is fortified with bulkheads. The Sound's maximum depth is approximately 930 feet, with an average depth of about 450 feet. Puget Sound is separated into three deep basins: Whidbey Basin, South Sound, and the Main Basin, which are connected by shallow sills. A significant western expansion is Hood Canal. The Cowlitz-Puget trough, which stretches for approximately 350 miles (565 km) between the Cascade Range and the Coast Ranges, has its northern end buried in the Puget Sound. The Willamette River valley is located at the trough's southernmost point. The Skagit and Snohomish rivers and the Duwamish Waterway are navigable for a portion of their lengths among the numerous streams that join the Puget Sound from the east. The main city in the state, Seattle, is situated between Lake Washington and Elliot Bay in the Puget Sound region. Bainbridge Island, the Kitsap Peninsula, and the Olympic Peninsula are located across the Sound. In close proximity to Seattle, across Lake Washington to the east, sits Bellevue. Everett, Olympia, and Tacoma are a few other significant cities that are located on the Sound. Bremerton, Port Orchard, and Shelton are located on the Sound's west side.
Geology
The Puget Lowland, a large extensive geologic province, includes the Puget Sound. The broad and thick glaciers that moved south to just past Olympia carved both into shape. Most of the material discovered at or near the surface is composed of glacial till and outwash. Several glacial advances have contributed to the deposition of these glacial deposits throughout the course of the last 2 million years. The glacier deposited many thousand feet of ice across the area. The Puget Lowland is mostly covered in glacial debris, however, there are a few spots where bedrock can be seen. A portion of the Puget Lowland's southern region is covered in ancient lava flows resembling those at Mount Rainier and Mount St. Helens. The San Juan Islands, which are to the north, are made up of metamorphic rocks that were accreted onto North America about 160 million years ago.
Etymology
The origin of the name "Puget Sound" dates back a little bit further when Captain George Vancouver arrived in May 1792 while leading a British expedition that amounted to the first European exploration of this region. Lieutenant Peter Puget was assigned to examine the southernmost portions of the canal as part of Captain Vancouver's expedition, which included both acts of scientific investigation and political possession. David B. Williams (author of "Homewaters: A Human and Natural History of Puget") recalls that when Peter returned to the boat, Vancouver had noted in his diary, "To honor his exertions, I named this part of this place Puget's Sound."
Wildlife In Puget Sound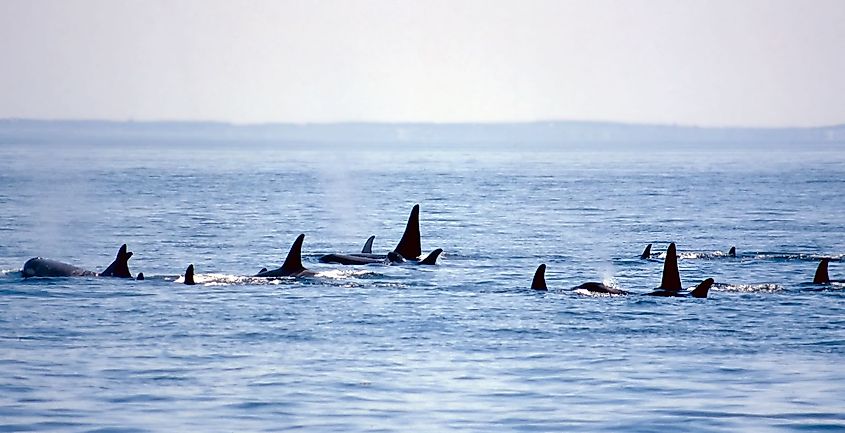 The marine, freshwater, and wetland species found in the Puget Sound environment are many. These species include invertebrates, birds, fish, mammals, underwater plants, and planktons. More than 3,000 different invertebrate species can be found in Puget Sound, such as geoduck clams, oysters, octopuses, sea urchins, Dungeness crabs, and sea stars. More than 200 different species of marine fish, including numerous varieties of salmon, steelhead, herring, and groundfish including Pacific cod, spiny dogfish, and numerous varieties of rockfish, can also be found in the sound. Numerous seabird, shorebird, and waterfowl species can be found in the sound, including cormorants, scoters, grebes, tufted puffins, buffleheads, western sandpipers, bald eagles, pigeon guillemots, common loons, harlequin ducks, and rhinoceros auklets. Orcas, sea lions, sea otters, gray whales, humpback whales, and harbor seals are some of the marine creatures that inhabit the sound. Wildlife in the sound can find food, breeding grounds, nurseries, and resting spots among underwater plants. A total of 26 kinds of kelp provide food for sea urchins and other animals as well as shelter for young rockfish, sea otters, and birds. Eelgrass, or seagrass beds, provide a food source for birds as well as herring spawning grounds and crucial salmon migration routes.
Threats To Puget Sound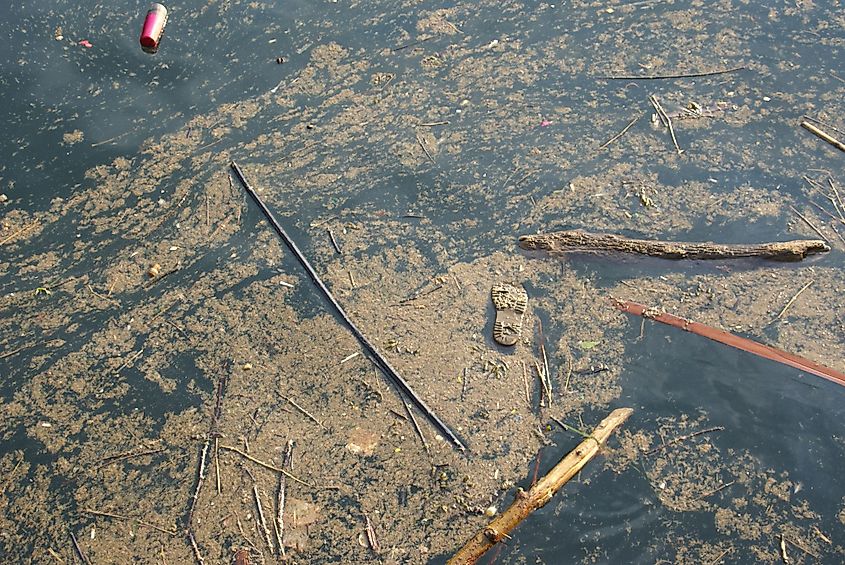 Since the early 19th century, the human and animal population in the Puget Sound region has increased, making it difficult for waste disposal techniques to keep up. Fish, shellfish, and other types of life are harmed by pollution; certain species that are important for recreation or commerce become unfit for consumption, while others are poisoned and die directly. To lower the number of bacteria, viruses, and toxic chemicals produced by the high standard of living reaching the nearby streams, rivers, and Puget Sound, one must continue to enhance and extend the wastewater and stormwater treatment systems.
The Puget Sound region offers a wide range of recreational, holiday, and vacation activities, including big-city life, island getaways, comfortable bed and breakfasts, romantic country inns, and top-notch resorts. The abundance of sightseeing, hiking, kayaking, and boating opportunities will keep you active and make you wish your Puget Sound vacation could last longer.