World Facts
Volcanoes in Washington State
With an elevation of 14,409 ft, Mount Rainier is the highest volcano in the US state of Washington.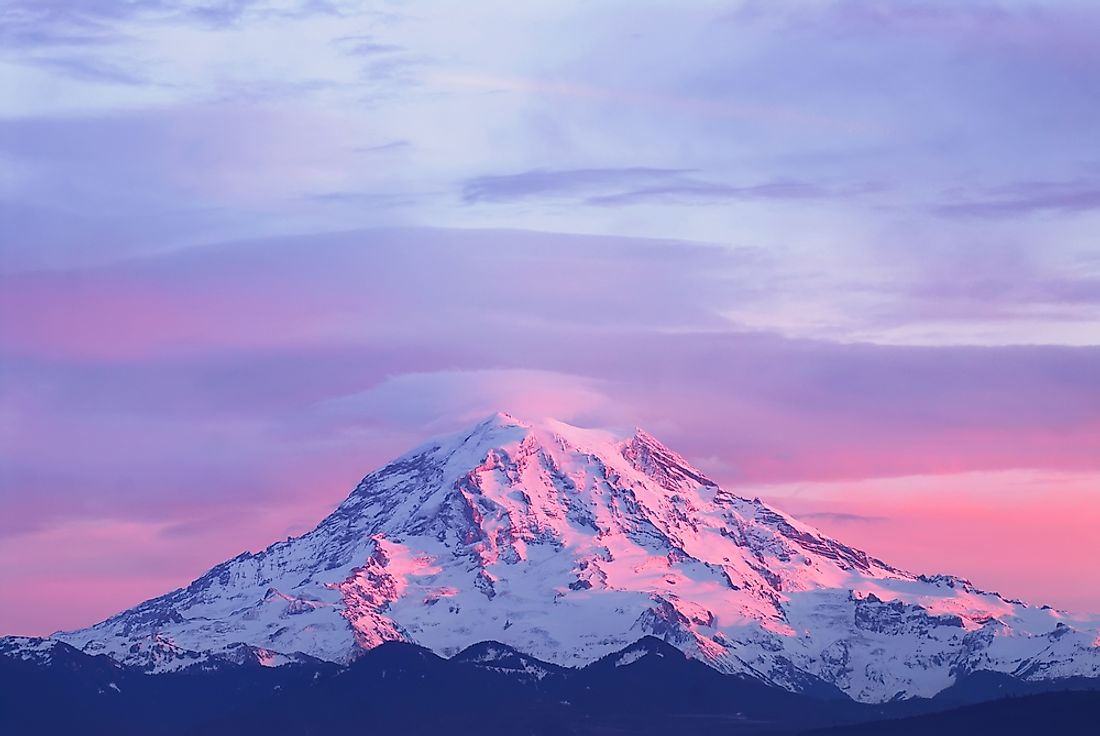 Of the 20 active volcanoes in the lower 48 US states, five are located in the state of Washington. The state also contains numerous dormant or extinct volcanoes, including five major volcanoes. All five major volcanoes in Washington are part of the Cascade Range, which is approximately 1,200 mi long, stretching from the Canadian province of British Columbia to the state of California. Examples of Washington's volcanoes are highlighted below.
Examples of Volcanoes in Washington State
Mount Rainier
Mount Rainier, which is also sometimes referred to as either Tacoma or Tahoma, is an active stratovolcano in Washington, located within the Cascade Range, southeast of Seattle. With an elevation of 14,409 ft, Mount Rainier is the highest volcano in the state, as well as the highest active stratovolcano. It is also the tallest mountain in the Cascade Range, and falls within the Pacific Ring of Fire. Included on the International Association of Volcanology and Chemistry of the Earth's Interior's (IAVCEI) Decade Volcanoes list, Mount Rainier is considered one of the world's most dangerous volcanoes, and a future eruption would result in significant casualties and destruction, especially given the large amount of glacial ice that sits on the volcano.
Mount Baker
Mount Baker is an active glaciated stratovolcano located in the Northern Cascades, which is a section of the larger Cascades Range, approximately 50 mi east of the city of Bellingham. It is considered one of the most active volcanoes in Washington, but has not erupted in more than 130 years now. Mount Baker has an elevation of 10,781 ft, ranking as the second highest in the state. It is also considered to have the second-most thermally active crater in the Cascade Range, and is the second-most heavily glaciated mountain in the range, after Mount Rainier. The major hazard associated with Mount Baker are lahars caused by melting glacier ice.
Glacier Peak
Glacier Peak is a major stratovolcano located in the northern part of Washington, and is considered the most remote of the state's five major volcanoes in the Cascade Volcanic Arc. The volcano has an elevation of 10,544 ft, ranking as the fourth highest in Washington, although its volcano edifice is less than 300 ft high. Glacier Peak was named after the eleven glaciers that cover the volcano, and Glacier Peak has erupted explosively five times over the past 3,000 years.
Goat Rocks
Goat Rocks is an extinct stratovolcano located in the Cascade Range, situated in southern Washington between Mount Adams and Mount Rainier. The volcano became active 3.2 million years ago but stopped erupting between 1 and 0.5 million years ago. Goat Rocks is part of a triangle of volcanoes, together with Mount Rainer, Mount Adams, and Mount St. Helens.
Indian Heaven
Indian Heaven is a volcanic field that contains more than 50 flank vents and several low overlapping basaltic shield volcanoes. The volcano is located in Skamania County, between Mount Adams and Mount St. Helens. The highest point in Indian Heaven is Lemei Rock, which has an elevation of 5,925 ft. The mountain is surrounded by the Indian Heaven Wilderness, which is a protected area within the Gifford Pinchot National Forest.
Potential Volcano Hazards
The major hazards associated with volcanic eruptions in Washington include lahars, which are violent mudflows, pyroclastic flows, blasts, and ashfall. It is estimated that ash fall from the eruption of any active volcano in the state could reach Seattle, which would cause health problems, endanger utility networks, and disrupt the transportation systems. Lahars, especially from Mount Rainier, would cause extensive property destruction and deaths in the state and beyond.
List of the 10 Highest Volcanoes in Washington State
| Rank | Volcano | Elevation (ft) |
| --- | --- | --- |
| 1 | Mount Rainier | 14,409 |
| 2 | Mount Baker | 10,777 |
| 3 | Glacier Peak | 10,541 |
| 4 | Goat Rocks (extinct) | 8,182 |
| 5 | Cobb Segment | 6,890 |
| 6 | Endeavour Ridge | 6,726 |
| 7 | Indian Heaven | 5925 |
| 8 | Signal Peak (extinct) | 5,102 |
| 9 | West Crater | 4360 |
| 10 | Simcoe (extinct) | N/A |
About the Author
John Misachi is a seasoned writer with 5+ years of experience. His favorite topics include finance, history, geography, agriculture, legal, and sports. 
This page was last updated on October 23, 2019.
Citations
Your MLA Citation
Your APA Citation
Your Chicago Citation
Your Harvard Citation
Remember to italicize the title of this article in your Harvard citation.