New Hampshire, United States is celebrated for its breathtaking natural beauty, the arts and culture scene, its past as the center of the Americal revolution, and its granite production which gives it the nickname "the granite state." It shares its border with Massachusetts, Maine, and Vermont in the US, and the Canadian province of Quebec. The biggest industries statewide include manufacturing, healthcare, and tourism.
Named after the county of Hampshire in England, the state embodies the New England region. New Hampshire's Dartmouth-Lake Sunapee region, the Monadnock Region, the Merrimack Valley, the Seacoast region, the Lakes region, the White Mountains, and the Great North Woods make every city unique, beautiful, historic, and filled with extraordinary attractions.
Concord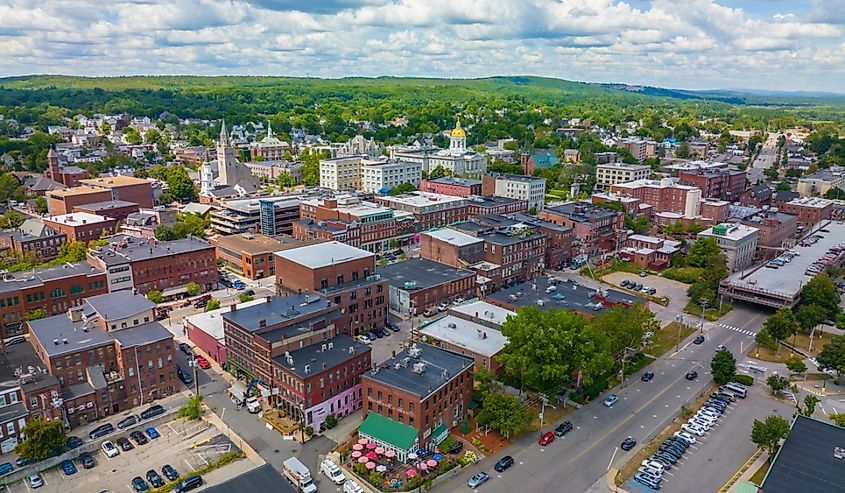 The capital city of New Hampshire, one of the smallest capitals in the US is in the south-central region of the state and is the seat of Merrimack County. With a population of about 44,000, it is the third most populated city in the state after Manchester and Nashua. It was once called Rumford but around 1765 Governor Benning Wentworth changed its name to Concord. The beginnings of the city centered around aviation-related manufacturing, electronic parts, and granite quarrying. The economy of the city now also depends on healthcare, social assistance, retail trade, and educational services. This safe city is an ideal place to settle and raise a family.
Concord has preserved its rich heritage and had plenty of nature, greenery, spirited culture, and unique attractions. The city is famous all over the world since the 19th century for its skill of carriage-making. While in Concord top places to visit are Capitol Center for the Arts, Pierce Manse, Red River Theatres, New Hampshire Historical Society, and Capital Region Visitor Center.
Conway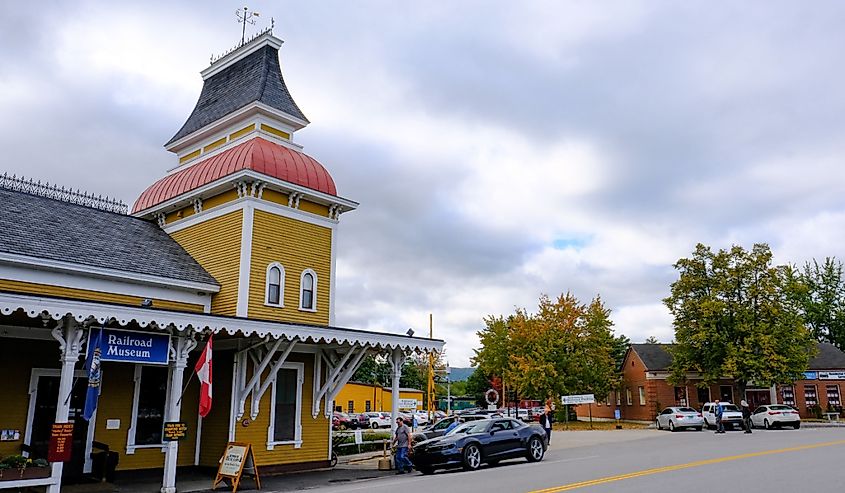 Conway in eastern New Hampshire belongs to Carroll County and is on the southeastern edge of the White Mountain National Forest. The five villages that constitute Conway are Kearsarge, Redstone, Center Conway, North Conway, and Conway. It also shares a part of Intervale village with Bartlett, a neighboring city.
Conway received its name in 1765 when Governor Benning Wentworth sent 65 men to build Conway, named after Henry Seymour Conway who went on to become Commander in Chief of the British Army. With a population of about 9,800, the main employment sectors here are tourism followed by technology.
The iconic buildings from Conway's past, antique shops, bakeries, bookstores, and options for a lot of outdoor recreational activities all year round make it a special place for those who visit. Amidst its scenic landscape and location, North Conway is an ideal vacationing spot even during the winter, and it is also great for shopping. The Conway Scenic Railroad is ideal for its panoramic day trips. Other areas of interest include historic sites like the Cathedral Ledge which is a hit with the climbers, Conway Lake, Echo Lake, and many closeby ski villas.
Dover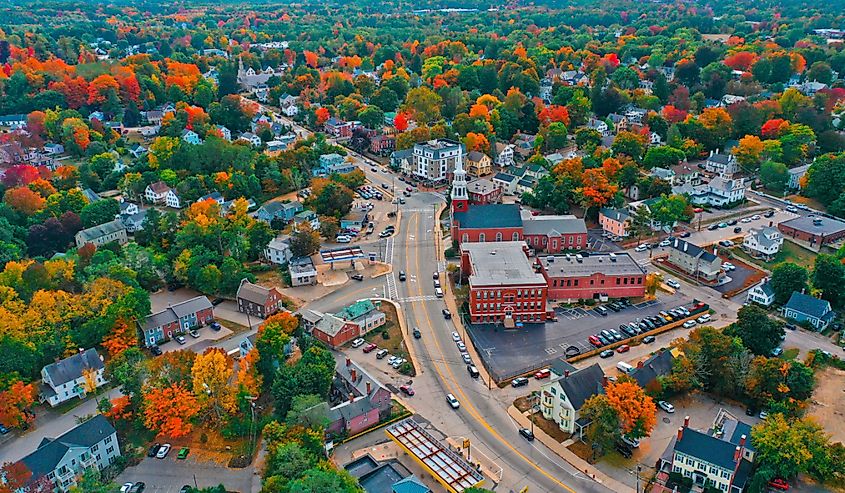 This southeastern city of Dover is also the county seat of Strafford County. With a population of about 33,000, it is the largest in the seacoast region. Northwest of Portsmouth, Dover is near the falls of the Cocheco River at its confluence with the Piscataqua River.
The city was once referred to as Bristol by fishermen and traders who made it their home in 1623. The town grew as manufacturing businesses picked up pace in the 18th and 19th centuries with it being best known as a leading manufacturer of cotton goods. Today, the diverse industries in the city include printing presses, electric motors and equipment, automotive trim, plastic, fabric, and shoe businesses.
Downtown Dover offers many options for family activities, exploring history, pursuing entertainment, and appreciating culture. From parks, and historic sites to restaurants, shops, and trails, there are captivating attractions for everyone. Dover's top destinations to tour are the Children's Museum of New Hampshire, Hilton Park, Bellamy River Wildlife Management Area, Woodman Institute, and First Parish Church.
Hanover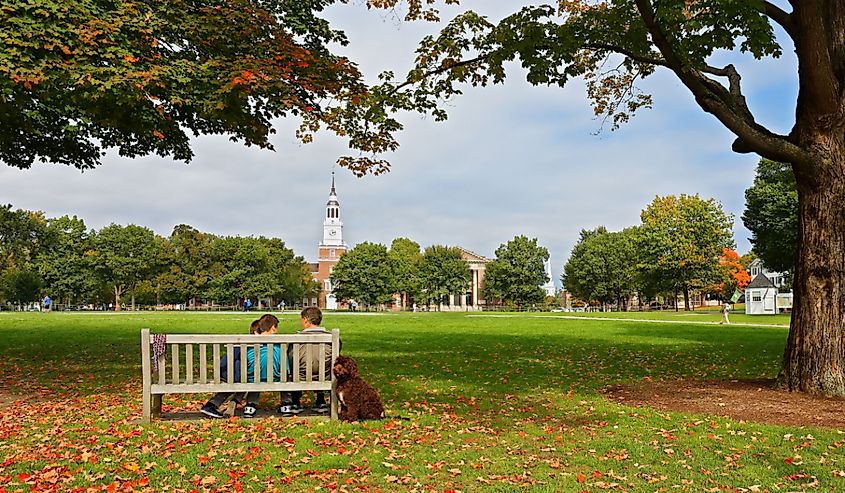 Hanover is set in Grafton County along the Connecticut River in the picturesque upper Connecticut River Valley along the western side of the state, with the White Mountains to its east and the Green Mountains to its west. It has a population of about 12,000 and includes the communities of Hanover and Etna. 
Founded in 1765, it received its name from the hometown of its first settlers, since most of them hailed from Hanover, Connecticut. Famous institutes such as Hanover High School, the United States Army Corps of Engineers Cold Regions Research and Engineering Laboratory, and the Ivy League University, Dartmouth College whose campus is also one of the most visited tourist attractions, make Hanover popular.
Located in the heart of nature's best, all who visit Hanover enjoy its enchanting beauty. As a perfect place for family vacations, outdoor adventures, and romantic getaways, the city's top places to visit are the Hood Museum, Hopkins Center for the Arts, and Dartmouth Green.
Lincoln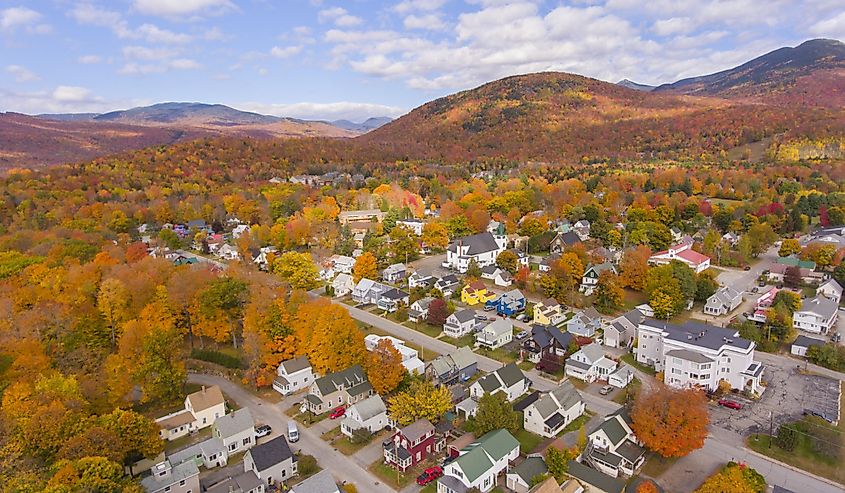 Belonging to Grafton County, Lincoln is in the southwest region of the White Mountains with large portions of it lying within the White Mountain National Forest. Although it has a population of 1,600, it is the second-largest in the state in terms of land area. 
Incorporated in 1782, Lincoln gained popularity for its attractive landscape, rivers, forests, and mountains, which in the older days made it a perfect spot for logging. As it began to develop, sawmills powered by rivers opened. Even though over the years, the population has not grown much, since the trains began running, there is a constant influx of tourists visiting to experience the breathtaking mountain views.
As host of the New Hampshire Highland Games and also harboring a portion of Franconia Notch State Park, which is a starting point for the challenging Appalachian Trail, these are good reasons to visit Lincoln. Lincoln is also one of the state's top winter destinations. Other amazing attractions to explore while in Lincoln are the Loon Mountain Ski Resort, Flume Gorge, Whale's Tale Waterpark, Alpine Adventures, and Hobo Railroad.
Meredith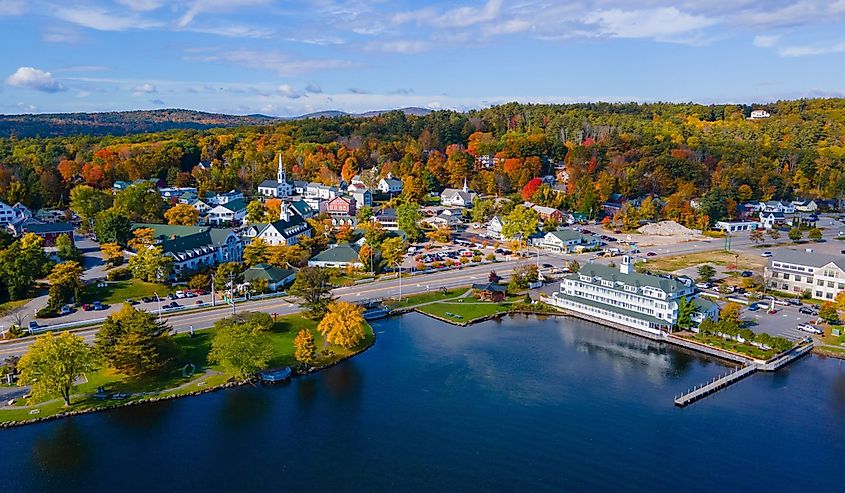 Snuggled along Lake Winnipesaukee which is among New Hampshire's largest lakes, Meredith, with a population of about 6,700 is in central New Hampshire. Belonging to Belknap County, Meredith village is home to the commercial hub, and Meredith center is less commercial and is near protected state forests and wildlife areas. Formerly known as Palmer's Town, it became Meredith around 1768, named after Sir William Meredith, 3rd Baronet, and a member of Parliament who voiced against taxation on the colonies. 
Being a famous tourist spot in recent years, and one of the most picturesque places in New Hampshire, Meredith has the Mill Falls at the Lake resort serving as an all-season getaway and a perfect place to relax. Winter attractions include ice activities like ice fishing, skating, skiing, sailing, snowshoeing, snowmobiling, and sledding. Other top places to visit in Meredith are Hermit Woods Winery, Moulton Farm, Meredith Marina, Meredith Marina, and Lake Waukewan.
Portsmouth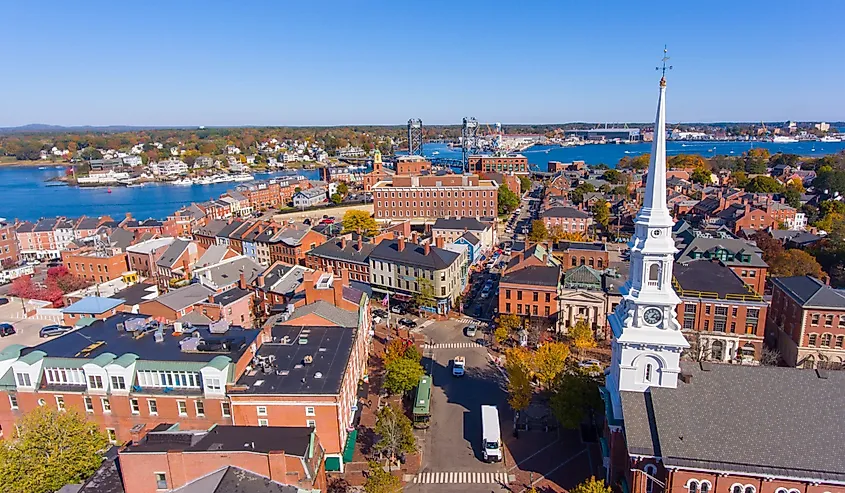 Set along the Piscataqua River in the southern part of the state, Portsmouth is New Hampshire's port city and only seaport. With a population of almost 22,000, this Rockingham County city is also the state's second oldest city. Incorporated in 1653, it takes its name from Portsmouth, England. The city developed over time to become a busy colonial port, and the first capital in 1679, with its name alternating from Piscataqua to Strawbery Banke. The city has a few manufacturing industries and functions as a trade center for the agricultural and resort region.
Portsmouth has an abundance of attractions, from historical, and art and cultural activities, to beaches and parks, and cuisine and nightlife. Visit places of your choice to explore tax-free shopping, tours of all kinds, whale watching, sunset cruises, music, theater, shopping, winter activities, and entertainment. Many historic buildings add to the city's charm such as the naval commander's 1758 John Paul Jones House, author Thomas Bailey Aldrich's house built in 1797, and three-term state governor John Langdon's 1784 house. Many other top picks of things to do in Portsmouth include exploring Wentworth-Coolidge Mansion, Strawbery Banke Museum, St. John's Church, Portsmouth Athenaeum, Prescott Park, Market Square, and Portsmouth Harbor Trail.
Whether you choose to visit the more populous cities like Concord and Dover or the lesser populated places like Lincoln and Meredith, there is a lot to explore in every city. Every city's history coupled with its scenery adds to its beauty. Tailor your visit to include entertainment, nature trails, historic visits, and adventurous activities. It is a perfect mix for tourists who want to try everything, even when selecting winter destinations for a holiday. Choose one or more of these seven most beautiful cities in New Hampshire to plan a perfect itinerary for an exciting and fun getaway.