World Facts
The 10 Biggest Cities In New Hampshire
Manchester is the most populous city in the US state New Hampshire.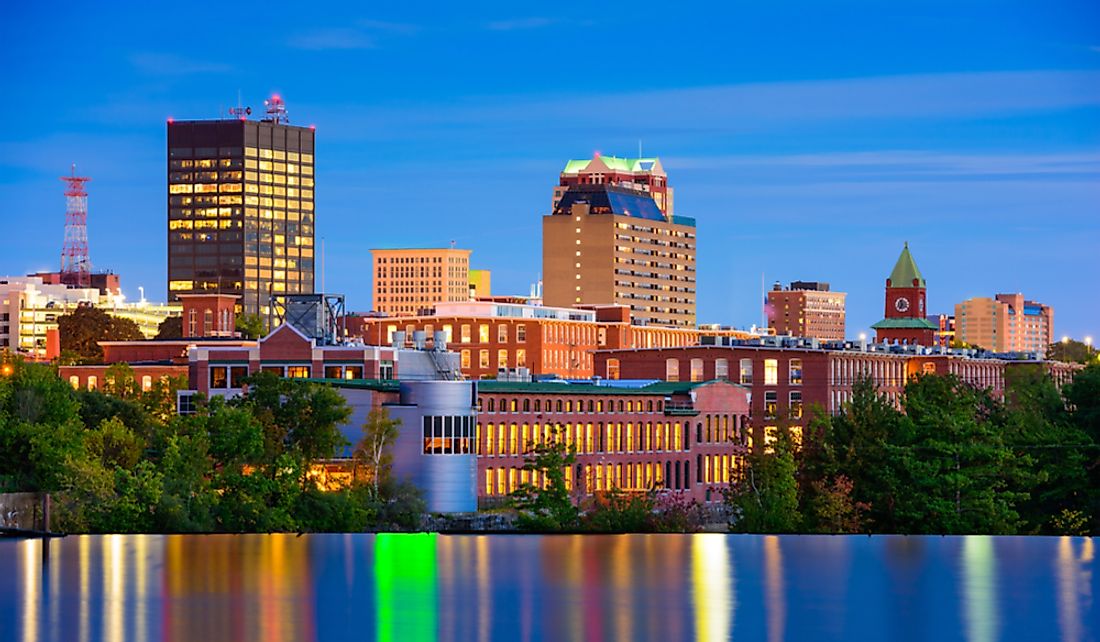 The US state of New Hampshire is located in the northeastern part of the country, within the New England region. With an area of only 24,214 square km and an estimated population of 1,342,795 people (2017), it is the 5th smallest US state by area and the 9th least populated. New Hampshire is subdivided into 10 counties, 221 towns, and 13 cities. Manchester is the largest city in the state by population, followed by Nashua, Concord, Derry, and Dover.
The Five Most Populated Cities in New Hampshire
1. Manchester
Manchester is the most populated city in New Hampshire, with a population of 109,565. It is northern New England's biggest city and serves as one of the two county seats of Hillsborough County. Manchester is located along the banks of the Merrimack River and is included in the northern portion of the Northeast megalopolis, which has a population of more than 50 million and encompasses cities such as New York City, Boston, Washington, D.C., Philadelphia and Baltimore. The city has been considered one of the most liveable and affordable cities in the US.
2. Nashua
With a population of 86,494, Nashua is the second biggest city in the state. It is located in the southern part of Hillsborough County, which is the state's most populous county. Nashua was initially founded during the expansion of the region's textile industry and is currently regarded as one of the most liveable cities in the nation. Money magazine ranked Nashua as the "Best Place to Live in America" in 1987 and 1998, making it the country's only city to top this list on two occasions.
3. Concord
Concord has a population of 42,695, ranking as New Hampshire's third largest city. Additionally, Concord serves as both the state capital and the county seat of Merrimack County. Several institutions of higher learning, such as the University of New Hampshire's School of Law and NHTI, Concord's Community College, are based in the city.
4. Derry
With a population of 33,109, Derry is the fourth most populated municipality in the state. Located in Rockingham County, Derry is classified as a town rather than a city. Derry is nicknamed "Spacetown" since it was the birthplace Alan Shepard, who was the first US astronaut to travel to space in 1961, and later walked on the Moon in 1971. The service industry forms the backbone of Derry's economy.
5. Dover
Located in Strafford County, Dover is the fifth biggest city in New Hampshire, with a population of 29,987. It is the most populated city in the Seacoast region of the state.
Governance of New Hampshire's Municipalities
Both towns and cities in New Hampshire are subject to the same state laws. Prior to 1979, towns were often governed through a town meeting form of rule, while cities were governed by either a council-manager or council-mayor form of government. However, towns and cities can now create a new charter, and if approved by voters, change the form of government.
List of the 10 Biggest Municipalities in New Hampshire by Population
| Rank | City | County | Population (2010) |
| --- | --- | --- | --- |
| 1 | Manchester | Hillsborough | 109,565 |
| 2 | Nashua | Hillsborough | 86,494 |
| 3 | Concord | Merrimack | 42,695 |
| 4 | Derry | Rockingham | 33,109 |
| 5 | Dover | Strafford | 29,987 |
| 6 | Rochester | Strafford | 29,752 |
| 7 | Salem | Rockingham | 28,776 |
| 8 | Merrimack | Hillsborough | 25,494 |
| 9 | Hudson | Hillsborough | 24,467 |
| 10 | Londonderry | Rockingham | 24,129 |
About the Author
Oishimaya is an Indian native, currently residing in Kolkata. She has earned her Ph.D. degree and is presently engaged in full-time freelance writing and editing. She is an avid reader and travel enthusiast and is sensitively aware of her surroundings, both locally and globally. She loves mingling with people of eclectic cultures and also participates in activities concerning wildlife conservation.
This page was last updated on January 17, 2019.
Citations
Your MLA Citation
Your APA Citation
Your Chicago Citation
Your Harvard Citation
Remember to italicize the title of this article in your Harvard citation.