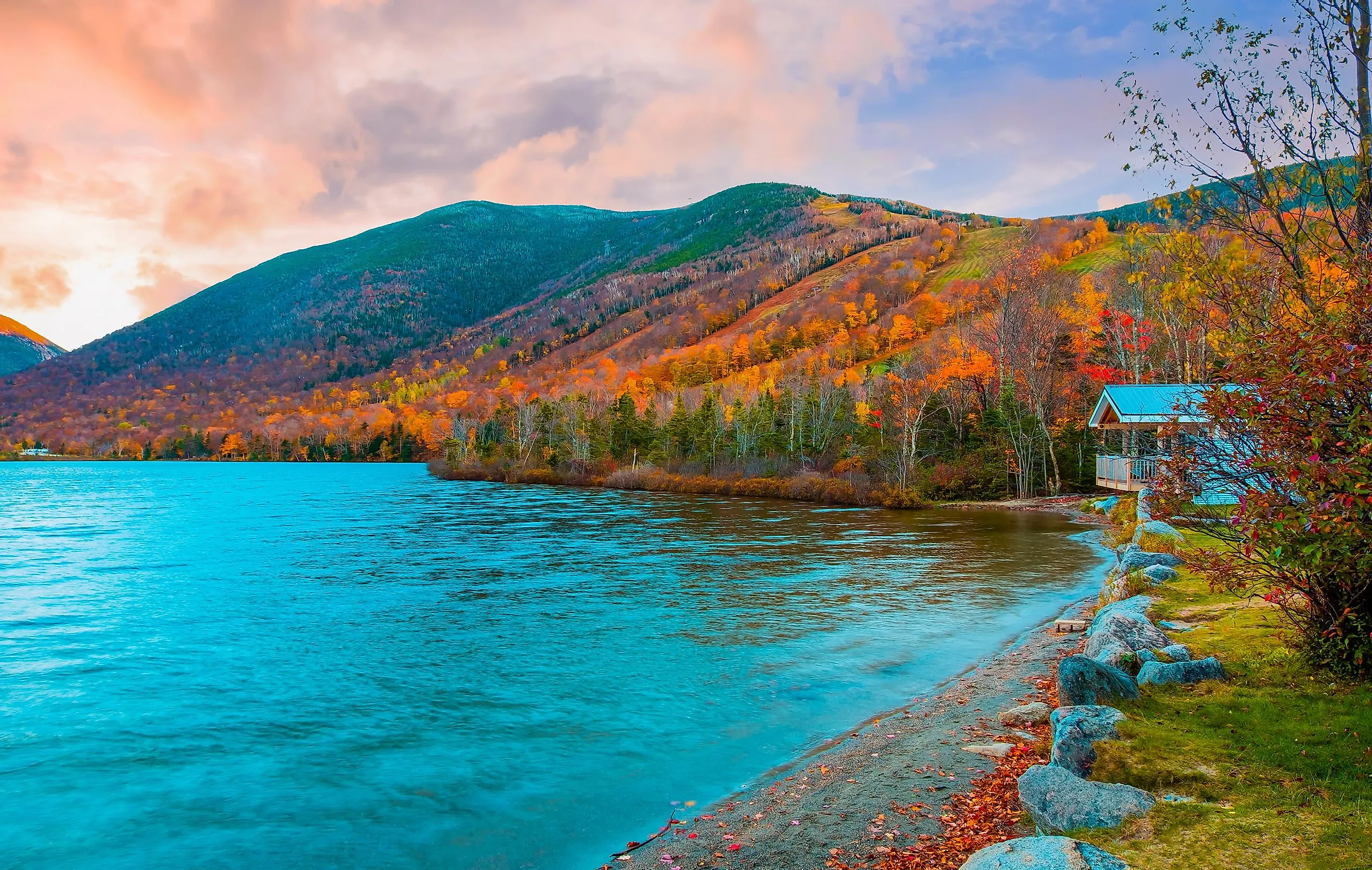 Jump To
With more than 944 listed lakes and ponds in the American state of New Hampshire, it is home to a wide range of unique and enjoyable water bodies. Of this, Echo Lake is a warm water fishery located near North Cornwall within Carrol County. The lake is part of the Echo Lake State Park and houses various activities, making it an excellent spot for tourists and locals. This includes a swimming beach, fishing arrangements, boat rentals, and fantastic greenery, making it an enjoyable place for all ages.
Location And Geography Of Echo Lake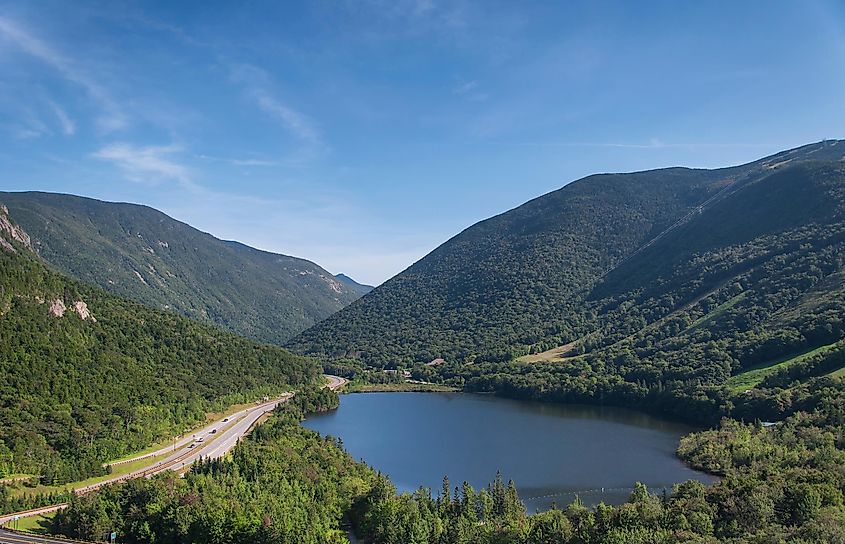 Within the White Mountains of New Hampshire and Echo Lake State Park lies Echo Lake. While having a modest surface area of 15.7 acres, the lake is sat below two famous rock climbing spots, White Horse Ledge and Cathedral Ledge. Due to this, the lake is at a lower elevation of 146 meters compared to nearby mountainous regions, which reach peaks of nearly 2000 meters. Traveling to the lake is relatively simple, with the nearest village, North Conway, being a short five-minute drive away. Apart from this, Echo Lake is a part of the Saco River watershed, a large 997 sq. km. in area. Echo Lake itself is one of the smaller lakes in the state, having a maximum length and width of 0.5 km and 0.2 km, respectively. Moreover, it has an average depth of 2.1 meters and is three meters at the deepest point, which is also why it is a prominent swimming spot.
Climate Of Echo Lake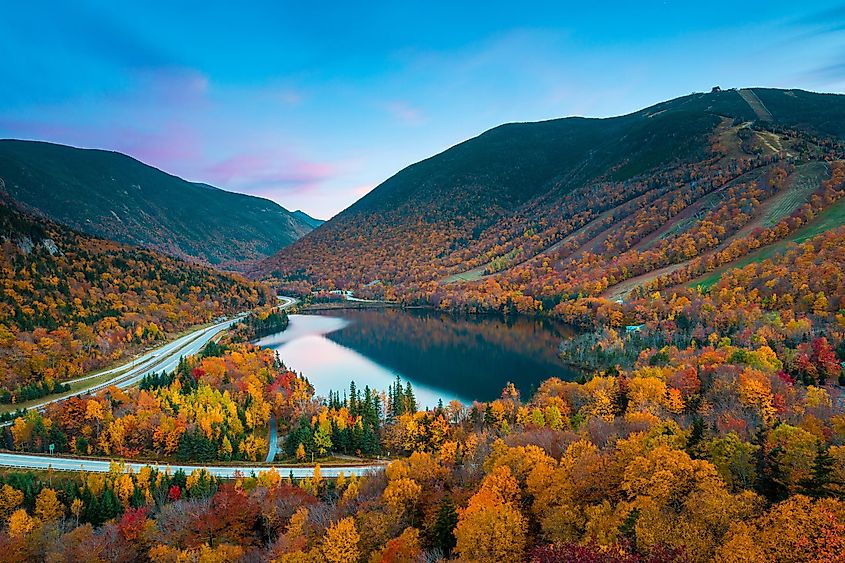 According to the Koppen Climate Classification, Echo Lake is located in a humid continental climate zone. This means the area has warm and humid summers while winters are pretty cold. Summers temperatures at Echo Lake peak in the month of July, with average highs reaching 27 ˚C. On average, the area receives decent amounts of sunlight with an average of 200 sunny days per year. Although, by early October, temperatures at Echo Lake begin to drop significantly until reaching lows of -14 ˚C by January. Due to the sub-zero temperatures, the area receives approximately 77 inches of snow per year, far beyond the national average of 28 inches. Additionally, warmer months see about 50 inches of rain per year, making overall precipitation in the region relatively high.
History Of Echo Lake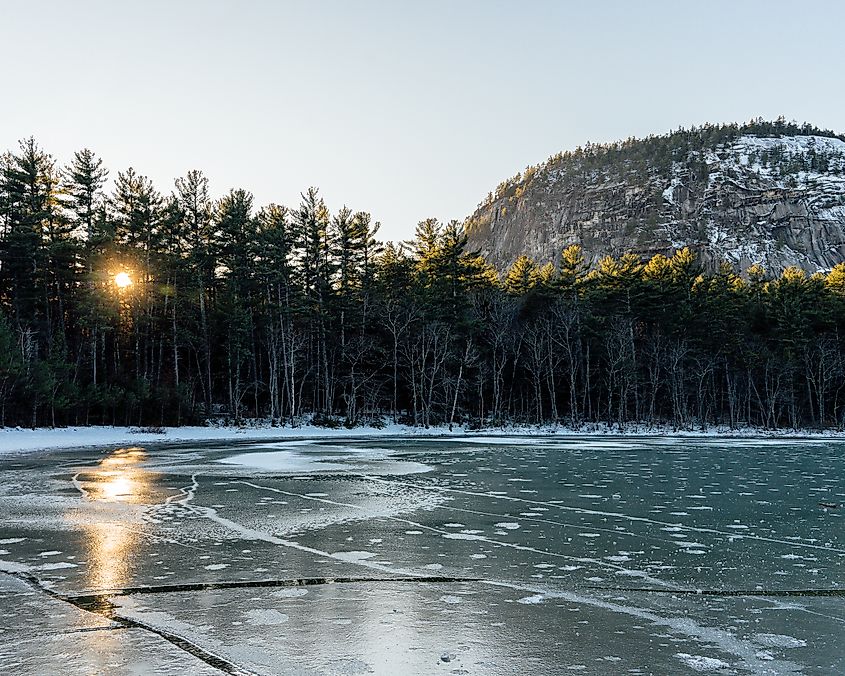 While currently part of Echo Lake State Park, Echo Lake was initially owned by a group of private individuals back in the 1900s. Purchased in 1899 by a group of residents and visitors for a sum of $1000, followed by the adjacent White Horse Ledge, the land was subsequently deeded to New Hampshire State shortly after. It wasn't until 1943 that the state of New Hampshire purchased the land to save it from commercial or industrial activities. Thus, as of 2022, the lake and surrounding areas are protected within the Echo Lake State Park.
Ecology And Recreation In Echo Lake
Being classified as a warm water fishery with clean water, Echo Lake is home to various species of large fish. Some of the most common in the lake are Rainbow Trout, Lake Trout, and Yellow Perch. The surrounding areas are also filled with luscious greenery and a mountainous landscape where you can find an abundance of Red Spruce, Eastern Hemlock, and other trees.
In terms of recreation, this lake and its lively surroundings provide visitors and locals with a wide variety of fun activities. Primarily, people mostly spend their day here swimming on the shallow beach or fishing for some of the local bass or trout. As it is located at the foot of White Horse Ledge within the Echo Lake State Park, the surrounding areas provide well-known rock climbing sites, hiking trails, and even ice climbing during the winter months. So, Echo Lake is sure to be an enjoyable visit, whether you want to spend your day taking a scenic walk or enjoying some adventurous activities.