Situated in New England, New Hampshire's small-town charms and proximity to the expansive wilderness make it a great state for winter getaways. Avid skiers and winter activity enthusiasts can easily enjoy New Hampshire's winter, especially in regions that encompass the White Mountain National Forest and parts of the Appalachian Trail. Aside from its nature-filled winter activities, select destinations in New Hampshire transform into a winter wonderland during the cold months, inviting visitors to explore their heritage and community. From Keene's charm to Portsmouth's friendly nature, these New Hampshire destinations are some of the best to enjoy the colder months.
Bretton Woods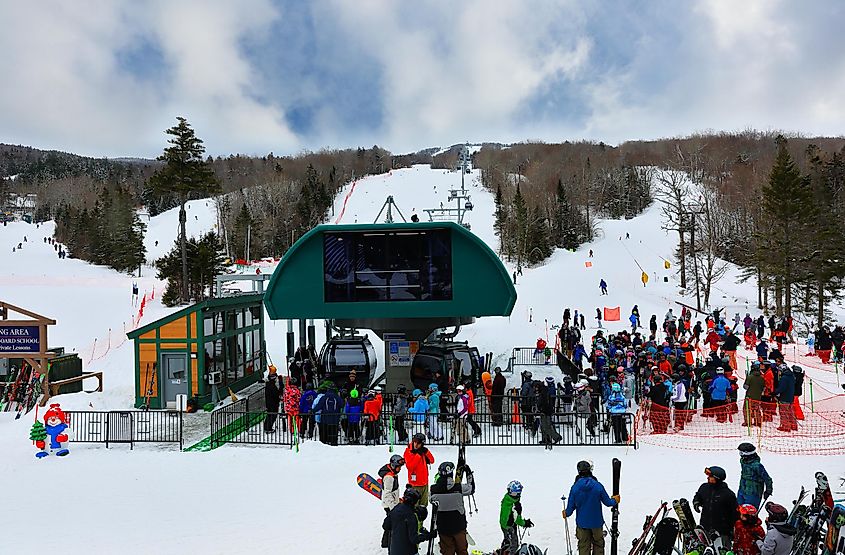 Bretton Woods transforms into a winter wonderland in the colder months. This New Hampshire destination sits within the White Mountain National Forest, making it an ideal location for nature-filled winter activities. Visitors looking to enjoy a range of skiing activities flock to the Bretton Woods Ski Area, an award-winning ski area that's the largest in New Hampshire.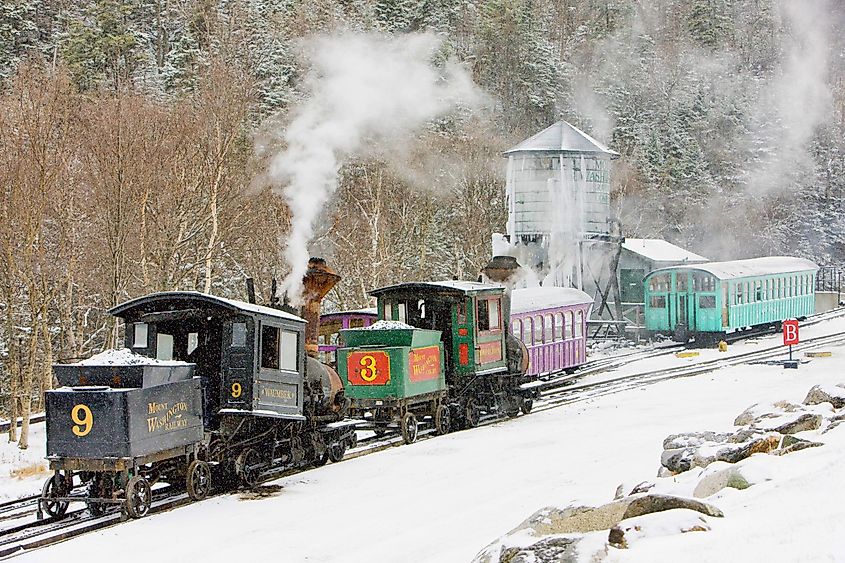 Another popular attraction in Bretton Woods is the Mount Washington Cog Railway, which gives visitors a stunning view of the frosty landscape and snow-capped mountain ranges at 4000 feet. Besides skiing and sightseeing, Bretton Woods is also popular for snowboarding, backcountry skiing, hiking, and snowshoeing.
Lincoln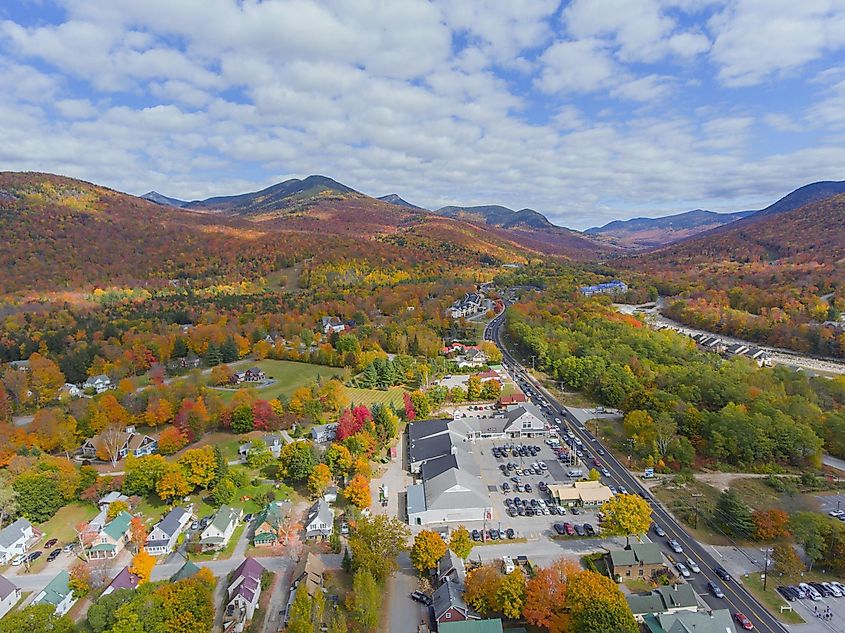 Like Bretton Woods, Lincoln sits along the White Mountains, making it an ideal destination for ski and snowboarding enthusiasts. Loon Mountain in White Mountain National Forest is a popular destination in Lincoln for skiing and snowboarding, which also sits near a range of lodgings and hotels for winter visitors. Alternatively, visitors seeking more thrilling winter excursions can visit Alpine Adventures for things like off-roading and ziplining (even during the cold months)! Though Lincoln is a popular getaway for outdoor winter activities, the Ice Castles in Woodstock are popular, featuring an icy wonderland with lit sculptures, ice-carved decor, tunnels, and snow tubing. 
North Conway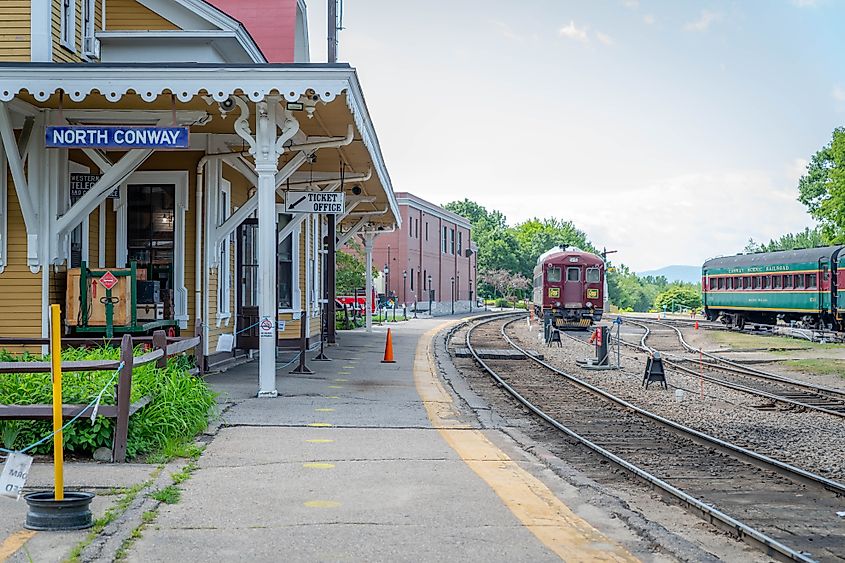 Nestled in Mount Washington Valley, it's easy to enjoy winter in North Conway. Recognized as the "#1 Ski Town in the United States" by USA Today, this town is home to 13 ski resorts and 249 miles of cross-country trails. Additionally, visitors can partake in other winter activities besides skiing in North Conway, from ice skating to dog sledding.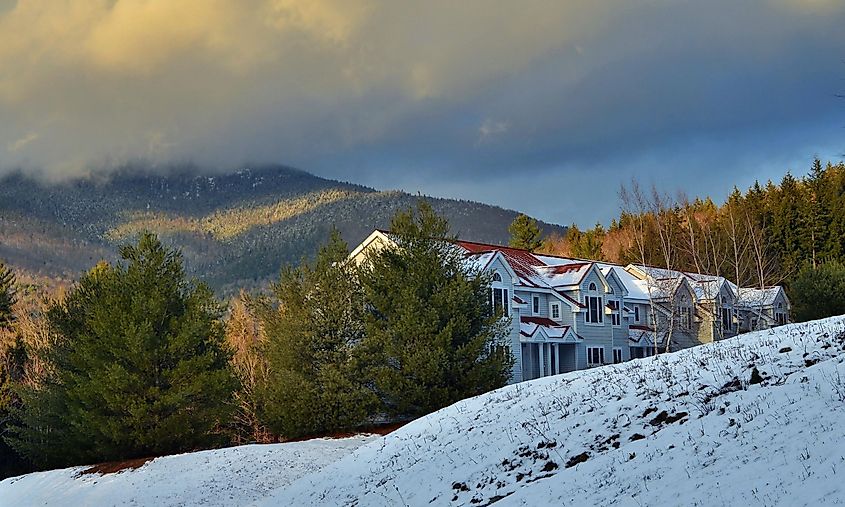 This ski town also boasts several family-friendly winter festivals, including the Annual Chocolate Festival, which attracts visitors with winter sports activities and an extensive selection of chocolate goodies. North Conway also boasts their New Hampshire Sanctioned & Jackson Invitational Snow Sculpting Competition in the winter, an event that displays ice and snow sculptors. 
Portsmouth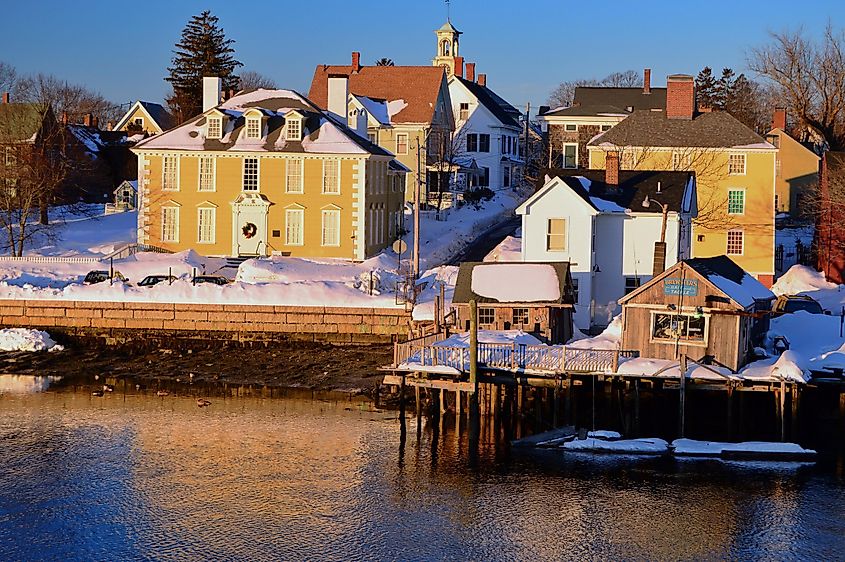 Skiing is a family-friendly affair that provides hours of entertainment, but it's not the only winter activity to enjoy in Portsmouth. Besides skiing, visitors can enjoy the winter season with other activities like fat tire biking, ice skating, or snowshoeing. After shredding hills and tackling challenging hikes, relax in the port city, exploring attractions like the Strawberry Banke Museum, the Oguinquit Museum of American Art, or the Warner House Association. Additionally, those visiting Portsmouth around the holidays can get into the spirit, whether it's catching a musical performance at the city's Music Hall or participating in the historic Candlelight Stroll at the Strawberry Banke Museum. 
Keene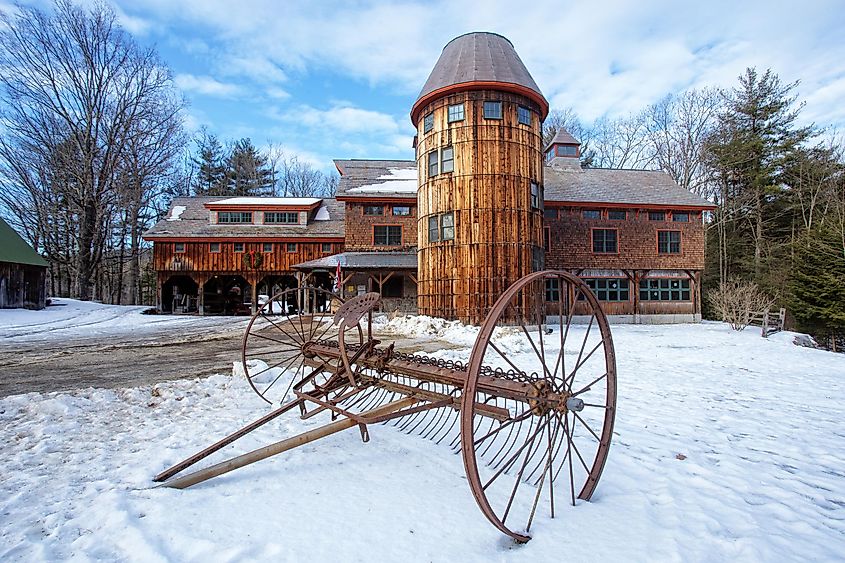 Experience New England charm in Keene, studded with natural sights surrounding the Connecticut river valley. Visitors can enjoy leisurely hikes in the winter along Chesterfield Gorge, Drummer Hill Conservation Area, or the Cheshire Rail Trail. These natural areas also host other winter activities like snowmobiling and cross-country skiing. Keene also celebrates the winter season with its annual Keene Ice and Snow Festival in February, which showcases dazzling ice sculptures from ice carvers from New Hampshire, Massachusetts, and Vermont. Aside from its winter activities and festivities, there is no shortage of restaurants and shopping boutiques across Keene, making this city a fun winter destination in New Hampshire.