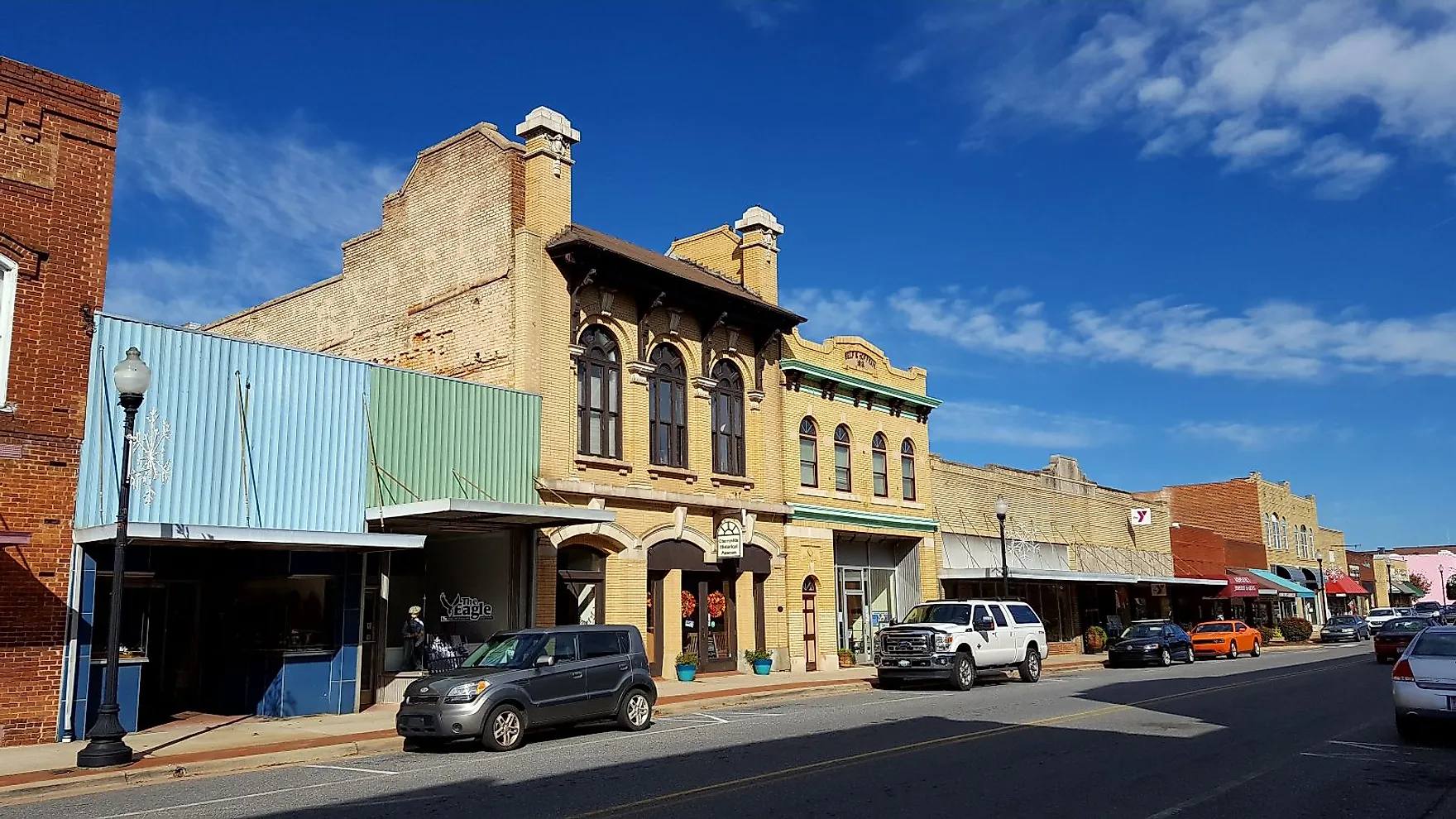 11 Towns in The Southern United States Have The Best Main Streets
If you're looking for small-town charm, head south! From the picturesque main streets of South Carolina's Beaufort to the charming downtown areas of Paducah Kentucky, there are plenty of southern towns that have somehow managed to preserve a sense of old-fashioned decency and hospitality in spite of all the modern hustle and bustle.
Take a virtual road trip through 11 beautiful southern towns with main streets so lively they could easily take your breath away. Whether you just need a brief escape from your everyday life or are considering relocating to one of these remarkable places -- discover which hometowns in the Southern USA really do have the best Main streets.
Beaufort, South Carolina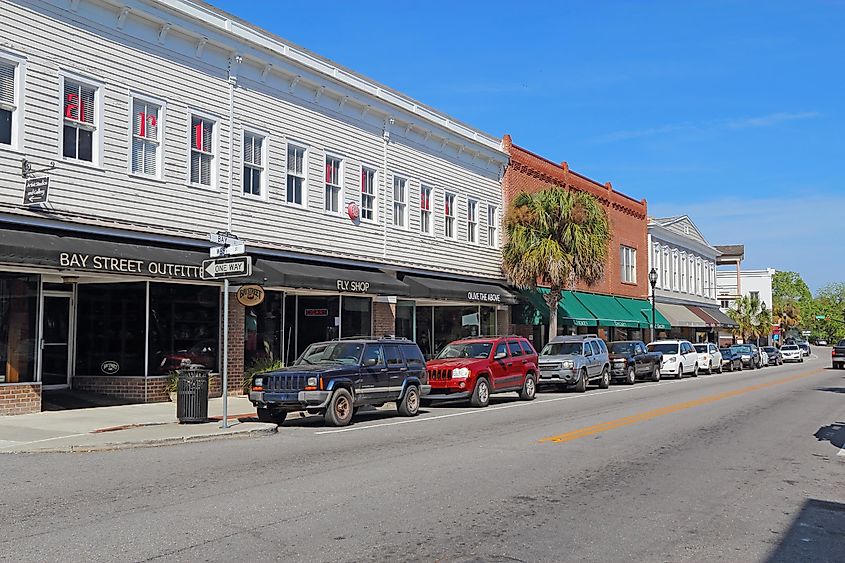 Located on Port Royal Island in South Carolina, this picturesque town boasts a population of just under 13,000 and rich history. Its downtown area is lined with beautiful historic buildings, giving it an atmosphere that feels like something out of a movie or postcard. The waterfront offers stunning views while its unique shops and boutiques make it an ideal place to visit for any traveler.
The heart of Beaufort's main street is its historic district located along Bay Street, where visitors can find cobblestones, gas lamps, and antebellum homes. This section is particularly popular for its many chic boutiques and stores. There are also plenty of restaurants to explore, from seafood shacks serving some of the freshest catches in town to gourmet cafes offering local specialties like fried green tomatoes.
In addition to shopping and dining, Beaufort's main street offers a variety of activities to enjoy, such as horse-drawn carriage rides around town and walking tours. Other attractions include the historic Henry C. Chambers Waterfront Park, which offers scenic views of Port Royal Island and fishing piers where anglers can catch their own dinner. Additionally, visitors will find a wide selection of galleries featuring local artisans, museums with artifacts dating back centuries, and live music performances at the waterfront amphitheater.
Taos, New Mexico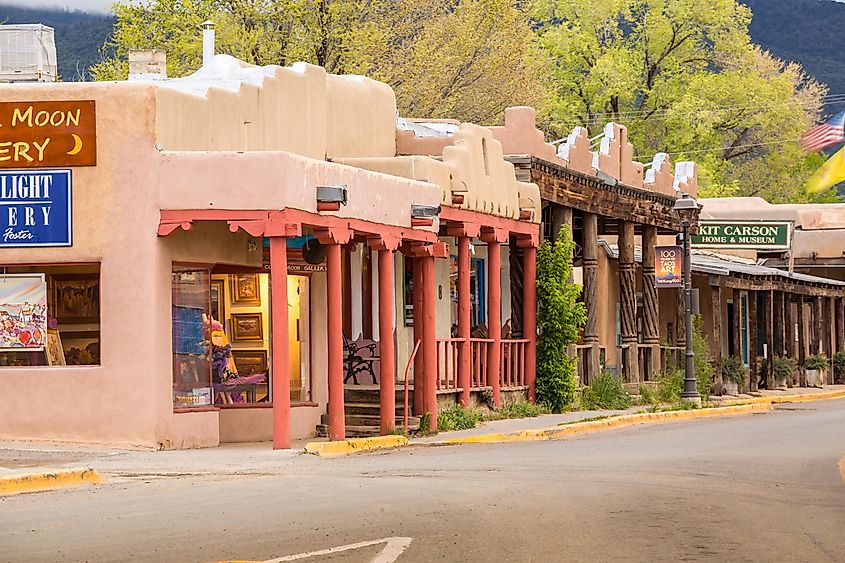 Located at the foot of the Sangre de Cristo Mountains, Taos offers stunning adobe architecture and a unique culture that sets it apart from other towns. Its downtown area is vibrant and full of life, with plenty of restaurants, shops, and museums to explore.
The main street in Taos is filled with interesting stores selling everything from traditional Southwestern crafts to modern items. You can also find art galleries showcasing local talent, along with souvenir stores offering a variety of memorabilia celebrating Taos' rich heritage. In addition to shopping, visitors can enjoy outdoor activities such as hiking on nearby trails. The city also has a number of festivals and events throughout the year, such as the annual Taos Fiesta.
Taos is also home to several popular restaurants that offer traditional Southwestern cuisine. There's something for everyone here, from specialty food trucks to fine dining options. And if you're looking for entertainment, there are plenty of live music venues and bars in the area.
Dandridge, Tennessee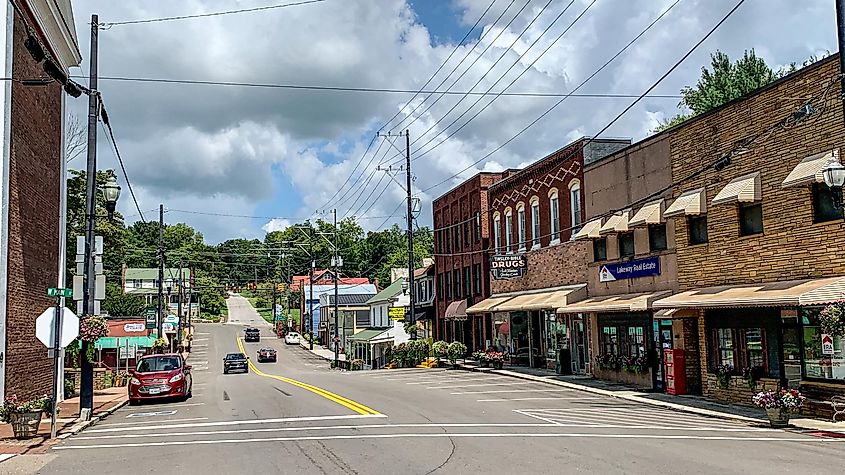 Located on the banks of Douglas Lake, this small town has a population of just over 3,000 but its downtown is nothing short of amazing. The classic brick buildings that line both sides of the street are sure to transport visitors back in time, with old-fashioned ice cream parlors and boutiques for exploring. It's an idyllic place for those who come from all walks of life to explore and enjoy.
In addition to its charming main street, Dandridge has much more to offer. There are great hiking trails around Douglas Lake for visitors who want to explore nature, and nearby Knoxville offers a variety of attractions that can be reached within an hour's drive. For those looking for some entertainment, Dollywood Theme Park is just a stone's throw away as well!
Abingdon, Virginia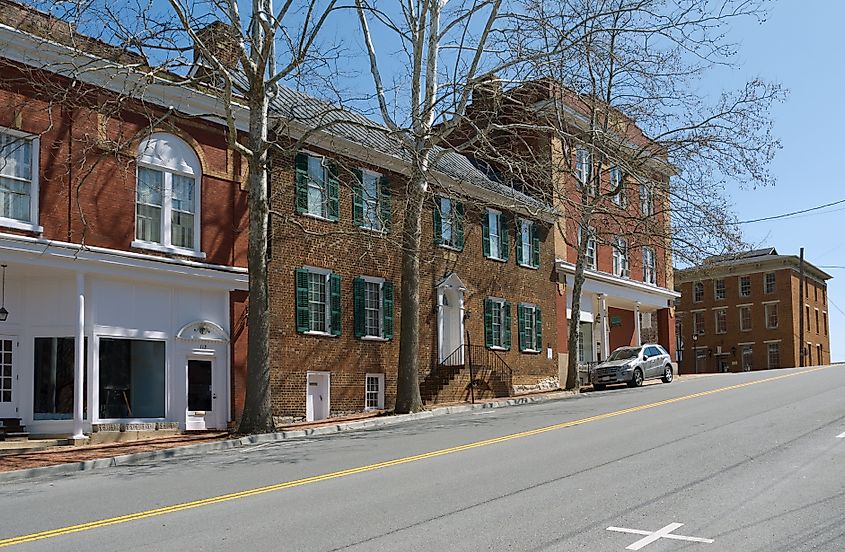 Abingdon, Virginia, is a charming small town in the southern United States that has kept its original spirit alive. Located near the Appalachian Mountains and boasting a population of just over 8,000, Abingdon's downtown area is a unique blend of old-time charm and modern amenities. The cobblestone streets are lined with shops selling handmade crafts and antiques that capture Abingdon's historic character while providing shoppers with plenty of choices for interesting souvenirs or decorations.
For those who love to explore outdoors, there are plenty of recreational activities available nearby as well. Hiking trails in the Appalachians provide breathtaking views while riverside fishing and boating can be enjoyed at South Holston Lake or the New River Gorge National Park. There are also numerous parks and museums in the area for visitors to enjoy, such as the Barter Theater or the William King Museum of Art.
In addition to the attractions, Abingdon is also a great place for foodies. The town's main street is home to a variety of local restaurants serving up delicious southern dishes like fried chicken and pulled pork sandwiches.
Cherryville, North Carolina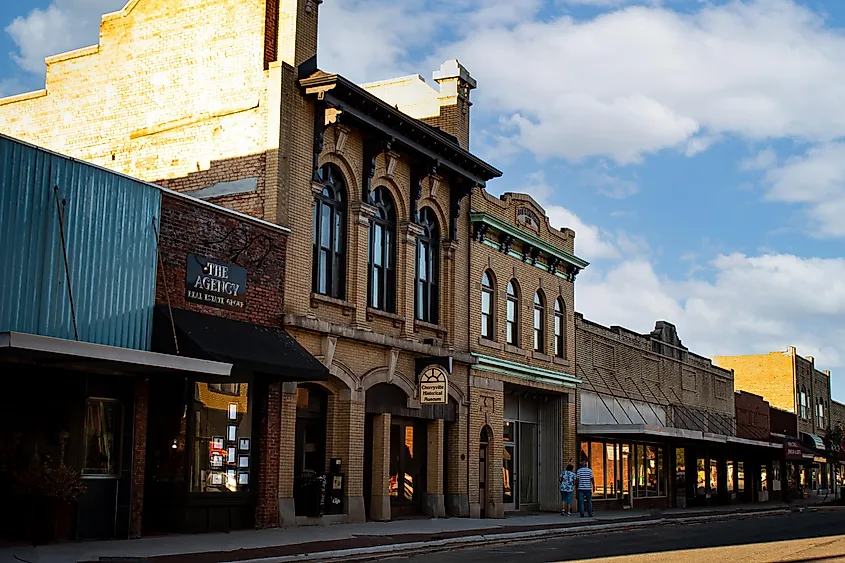 Cherryville has an old-fashioned charm that makes it one of the most charming places to visit in North Carolina. The Main Street of Cherryville is one of the best main streets you will find in any town throughout the entire South!
The historic downtown runs along Main Street and contains many buildings constructed in the early 1900's, including several from before 1900. On this beautiful stretch of road, visitors can experience a variety of shops, restaurants, and other unique businesses. Many local artisans and craftsmen display their work through galleries on Main Street. Visitors may even be lucky enough to witness handmade quilts being pieced together at one of the local quilt shops. Cherryville is an ideal place for community events such as festivals, parades, farmers' markets, and more that bring people together in this cozy small-town atmosphere.
Bardstown, Kentucky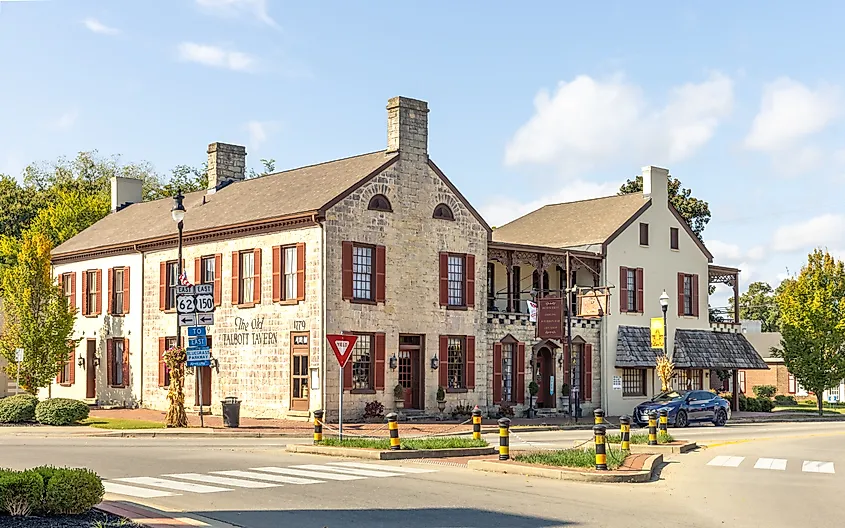 Located just under an hour south of Louisville, this town has a picturesque main street full of stunning historic buildings. The downtown area includes courthouses, churches, and other structures dating back centuries ago.
The beauty of Bardstown's main street stretches beyond architecture; it also offers unique shopping experiences as well as delicious restaurants. Unique boutiques line the streets, providing one-of-a-kind items for visitors to take home. There are also several eateries cooking up regional specialties such as fried pickles and barbecue sandwiches. And if you're in the mood for a drink, you're in luck! Bardstown boasts 11 bourbon distilleries within the 16-mile square.
Bardstown's main street is an excellent place to explore the town's history, take in some beautiful sights, or just relax with a stroll. From its historic buildings to the delicious eateries and unique boutiques, Bardstown provides visitors with a truly special experience.
Madison, Georgia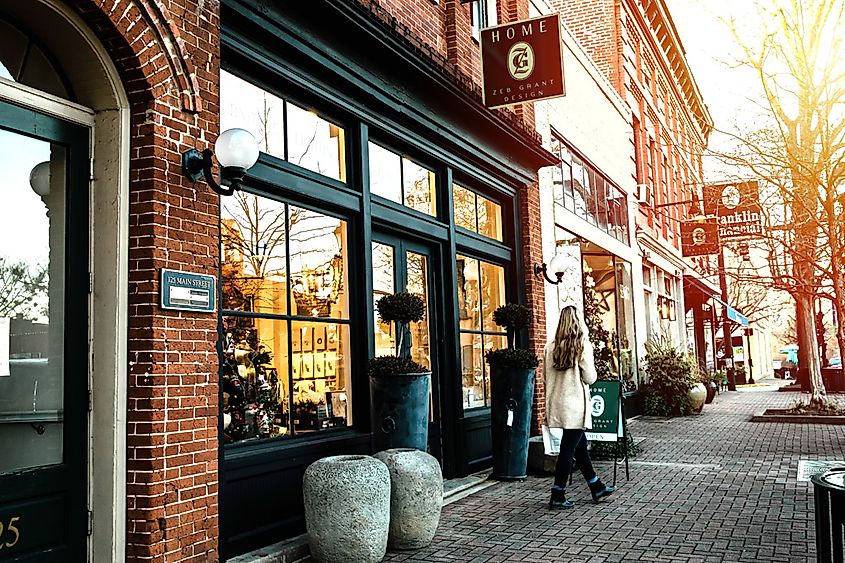 Madison, Georgia, is an old-fashioned small town with just under 4,000 residents but has plenty to offer visitors and locals alike. The downtown area features many historic buildings, such as the Madison-Morgan Cultural Center's Museum and The Rogers House. There are also some fantastic restaurants serving up classic Southern cuisine like barbecue and fried chicken that will tantalize your taste buds!
The picturesque Main Street of Madison can't be beat, with its wide sidewalks lined with trees for shade and colorful flowers in full bloom during springtime. A walk down Main Street provides visitors with a chance to take in all the unique sights and sounds this town has to offer.
Not only is the downtown area full of shops and restaurants, but it also serves as a hub of activity with events like parades in the summer, farmers' markets in the summer months, and outdoor movie nights just to name a few.
Oxford, Mississippi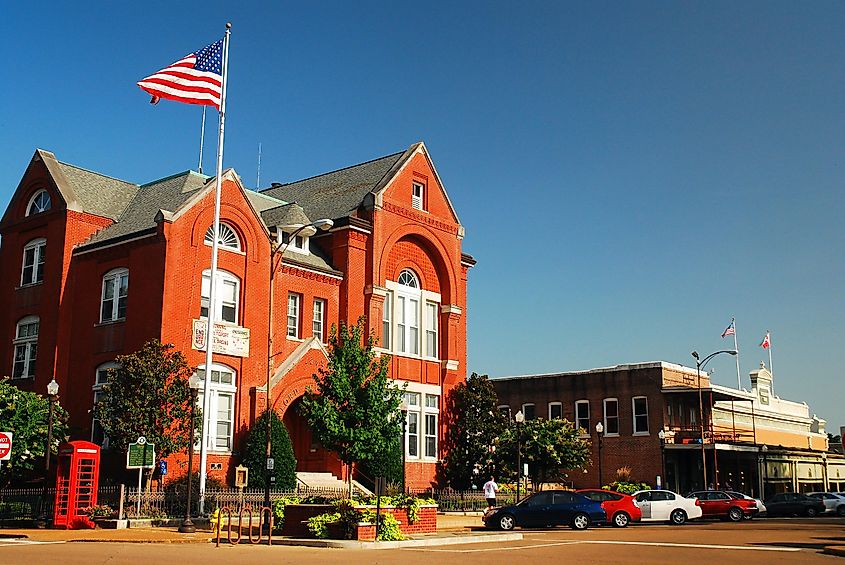 Oxford, Mississippi, is a great example of the type of main street charm that many towns in the Southern United States are known for. The town has a population of just under 27,000 and boasts plenty of unique shops and restaurants. Tourists flock to Oxford's Main Street to get a taste of its rich history. Home to writer William Faulkner, Oxford's vibrant culture includes more than literary history - it offers visitors a chance to explore the beautiful architecture found on its streets.
The city's courthouse square is surrounded by stunning buildings with intricate designs that date the way back to 1837. Visitors can also take a step back in time and explore The University of Mississippi Museum and Historic Houses. The museum houses many unique artifacts and displays that tell the story of life in Mississippi.
Additionally, Oxford's main street is home to a variety of restaurants serving up delicious southern cuisine, as well as quaint shops offering antiques and handmade crafts.
Natchez, Mississippi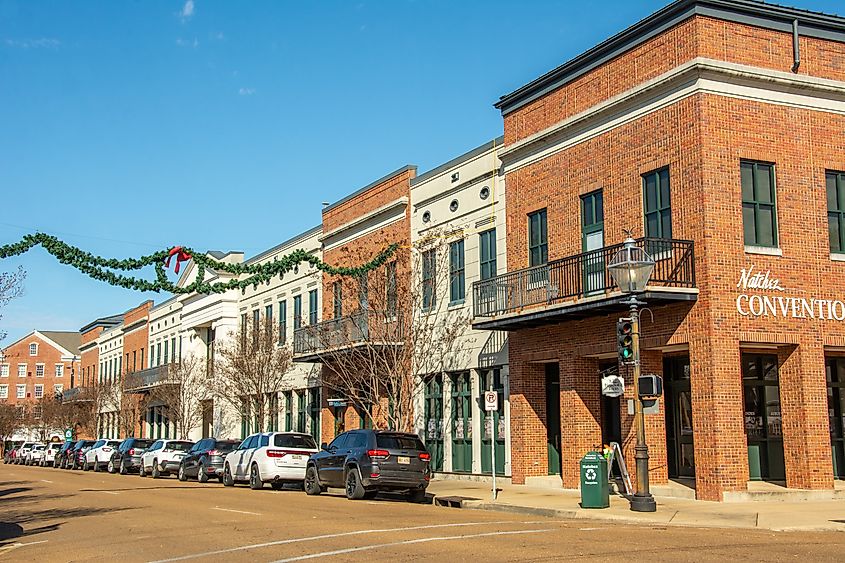 Natchez, Mississippi, is a small town with a population of just over 13,000 and is one of the oldest towns in the Southern United States. It dates back to 1716 and later became an important port city during the 19th century. The historic downtown area of Natchez has a wide variety of buildings that are between 200 and 300 years old, giving visitors a unique glimpse into the past.
The main street running through downtown Natchez is an absolute sight to behold, as it's lined with beautiful Victorian-styled homes with large porches and grand columns - ideal places for people watching from afar. One can also find plenty of unique boutiques, antique stores, and restaurants that give Natchez a distinct charm.
Natchez's best main street is home to many of its most famous landmarks. One noteworthy spot is the historic Grand Hotel, which was constructed in 1891 and remains one of the oldest buildings in town. Another popular tourist attraction is the Melrose Mansion.
Eureka Springs, Arkansas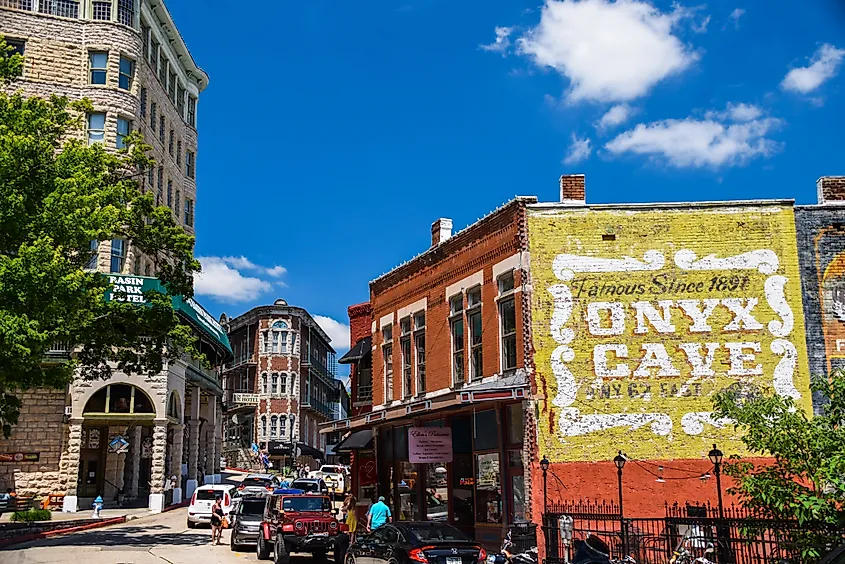 Eureka Springs, Arkansas, is a small town located in the Ozark Mountains of Northwest Arkansas. It is characterized by its winding streets lined with galleries, stores, restaurants, and historic sites. The main street that runs through the center of town has been called one of the best main streets in all the Southern United States. It's easy to see why when you take a stroll down this charming stretch and admire the beautiful architecture and old-fashioned storefronts.
Eureka Springs' Main Street has many interesting attractions to explore. One highlight is Basin Spring Park, which features a natural spring surrounded by lush gardens and manicured lawns. It's an ideal spot for relaxing or for taking photographs, especially during sunset or sunrise when the sky is painted with vibrant colors. Along the main street, you'll also find an array of unique and interesting shops. From antiques to art galleries, gift shops to local goods stores, there's something for everyone in Eureka Springs' downtown shopping district.
Eureka Springs Main Street is a popular destination for food lovers as well. The town has tons of restaurants ranging from casual cafes and bistros to fine dining establishments serving up dishes inspired by international flavors. Many of these restaurants have outdoor seating where visitors can enjoy their meals while soaking up the mountain views.
Paducah, Kentucky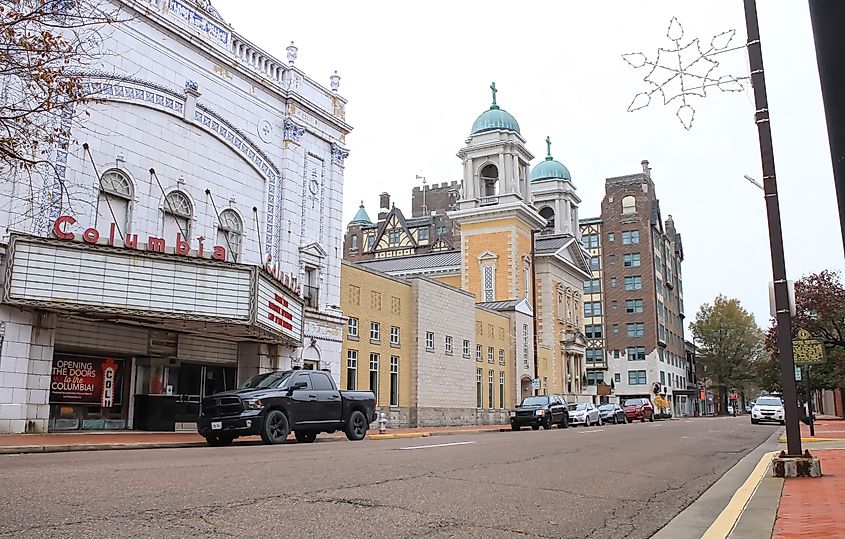 Located on the banks of the Ohio River, Paducah has a rich history and an impressive array of attractions.The downtown area is filled with unique boutiques and shops that line its historic Main Street. Visitors come from all over to find exceptional antiques, vintage items, furniture, art galleries, clothing stores and more. The city also offers lively entertainment options, including live music venues, theaters, and festivals throughout the year.
Dining in Paducah is top-notch, with a variety of restaurants offering everything from classic American fare to international cuisine. There are also several watering holes along Main Street where you can grab a cold beer and relax after a busy day of sightseeing.
Paducah's Main Street is also a great place to take in the town's history and culture. Its historic buildings, monuments and sites give visitors an insight into the city's past. There are various museums in the area, including the National Quilt Museum, which houses some of America's most treasured quilts and textile art.
In Summary
The next time you're looking for a charming place to go for a stroll, don't forget to consider these twelve main streets in the southern US. Each one offers something special, from historical architecture to quaint eateries, and there's something to enchant everyone! Try one out and you'll be sure to see why these towns are so popular.
Furthermore, if you enjoy your visit or already have some favorites of your own, be sure to share this info with your family and friends. Spread the love and support small local communities throughout the country by visiting our favorite main streets whenever possible!