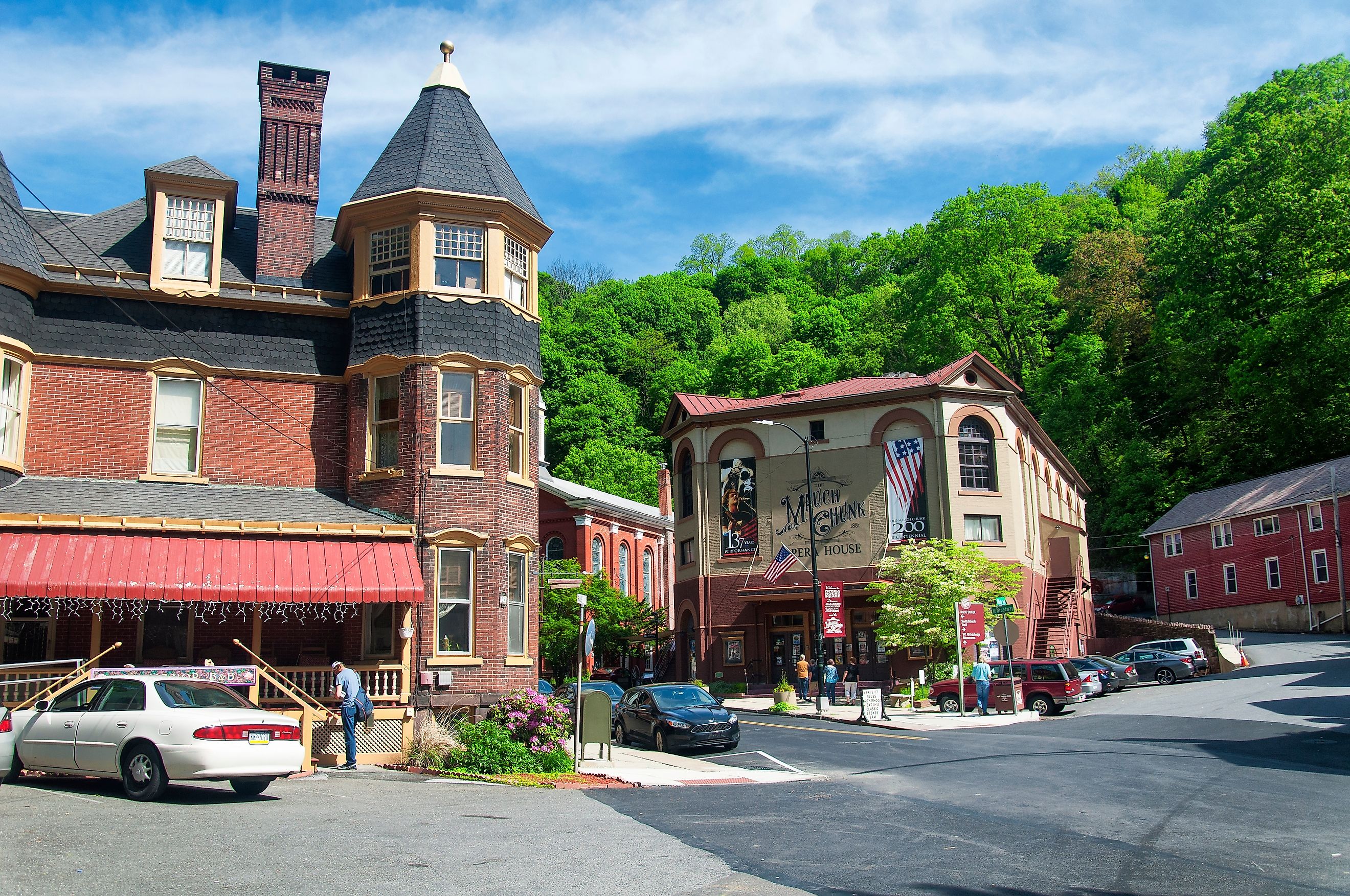 10 Off The Beaten Path Towns in the Poconos
The Pocono Mountains region is a popular tourist destination for city dwellers from around the country because its historic charm and natural beauty offer a reprieve from urban commotion. For those looking for an even quieter and more authentic retreat, these off-the-beaten-path Pocono towns and boroughs may be a perfect antidote to modern life.
Jim Thorpe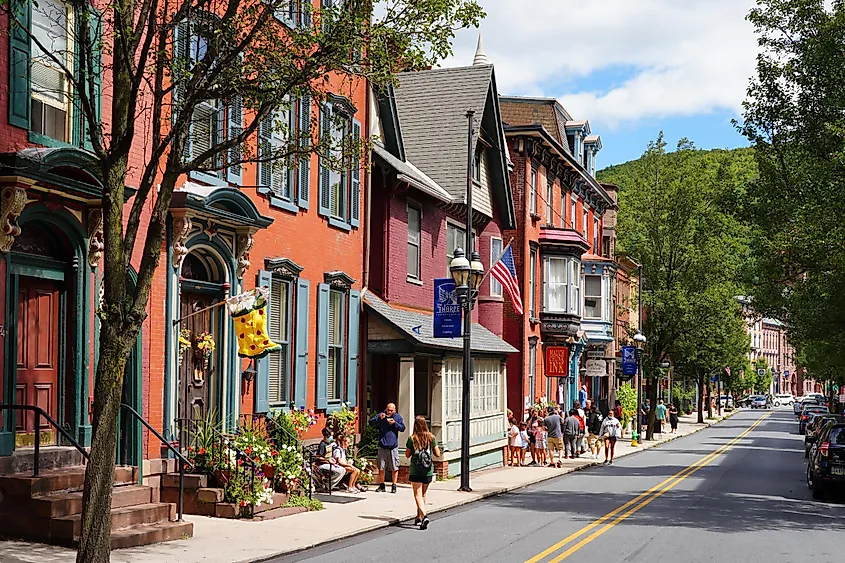 Jim Thorpe is a town nestled in the cleavage of three Pocono Mountains in eastern Pennsylvania known for its historical charm, outdoor activities, and emerging tourism scene. Visit in the fall when the autumn colors have the power to take your breath away. The town get its name from Native American Olympic gold-medal athlete James Francis Thorpe, who has been called "the greatest athlete of all time." After his Olympic career, Jim went on to play professional football, baseball, and basketball. The town of Jim Thorpe, originally called Mauch Chunk, was established in 1818 and has a unique blend of history and adventure. For history buffs, the town offers Victorian mansions, like Harry Packer Mansion, built in 1874, whose façade was the inspiration for Disney World's Haunted Mansion; and museums, like the Old Jail Museum with its eerie dungeon cells and working gallows. For adventurers, Jim Thorpe is bordered by Lehigh Gorge State Park that beckons outdoorsy types for hiking, biking, and whitewater rafting. Adrenaline-seeking visitors can also indulge in archery, paintball, and ziplining. This railroad town packs in so much to see and do, you may need to visit again.
Milford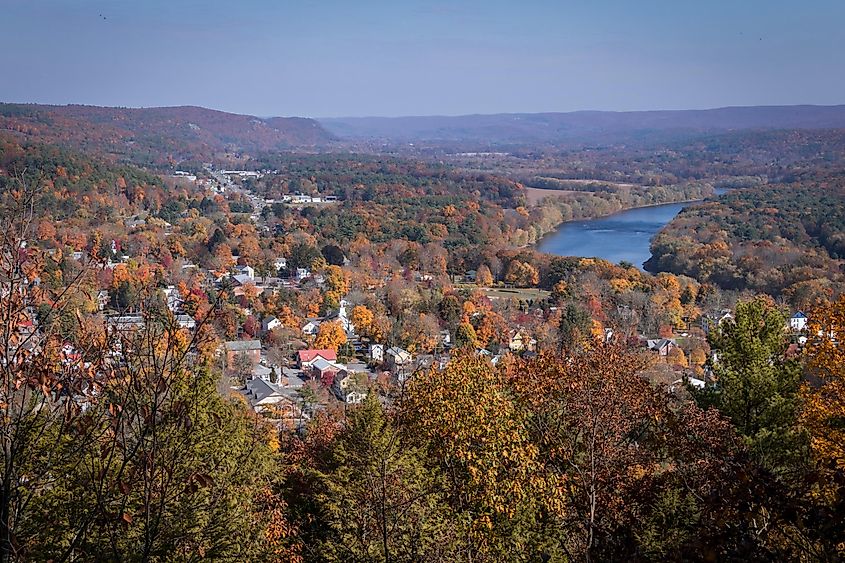 On the bank of the Delaware River on the Pennsylvania side, you'll find the tiny borough of Milford with a burgeoning arts scene and a growing number of B&Bs, making it a perfect getaway for art and nature lovers. Founded in 1796, Milford was named after Judge John Biddis's ancestral home in Wales, UK. Known for its historic architecture, Milford is home to the landmark Hotel Fauchère, established in 1852 in classic Italianate style. You could spend your entire stay going from one historic building to the next if structural design is your jam. Explore the Columns Museum, home to the Pike County Historical Society, where the famed Lincoln Flag (with 36 stars), which cradled Abraham Lincoln's head the night he was assassinated, is on display. The grand, 22-room neo-classical home was completed in 1904 as a summer home for businessman and politician Dennis McLaughlin. If you prefer the natural designs of Mother Nature, the Milford area offers a handful of waterfalls, hiking trails, two state parks, and beautifully scenic driving tours to discover.
Honesdale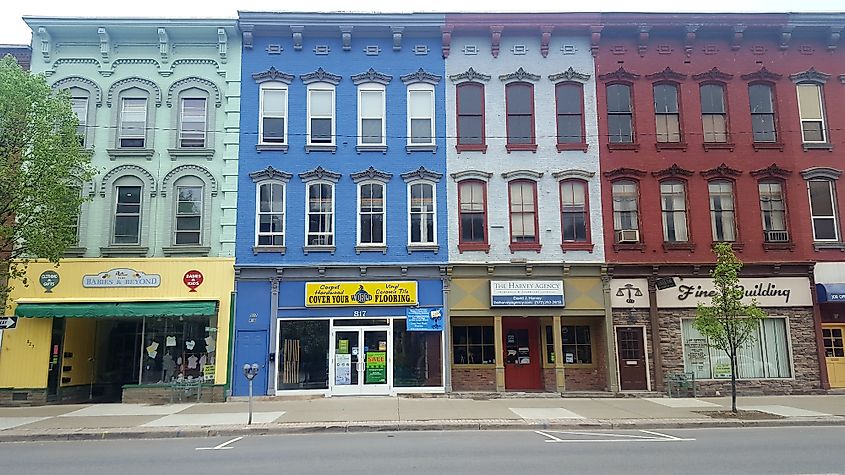 As the site where the first commercial locomotive, the "Stourbridge Lion," roared to life in 1829, Honesdale's heritage is inextricably linked with the rise of the American railroad. You can still see the original Stourbridge Lion replica at the Wayne County Historical Society & Museum, which also houses a treasure trove of artifacts chronicling Honesdale's history. This borough of fewer than 4,500 residents is becoming a destination for railroad enthusiasts and those seeking a small-town atmosphere off the beaten path. The serene waters of the Delaware and Lackawaxen Rivers offer kayaking and fishing adventures, while miles of scenic hiking and biking trails like the Delaware & Hudson Rail-Trail provide opportunities to explore the region's natural beauty. Honesdale's downtown exudes a welcoming ambiance with its boutique shops, art galleries, and delectable dining options. Stroll along Main Street to discover unique gifts, savor farm-to-table cuisine, and soak up the town's friendly atmosphere. In winter, you can hit the slopes at nearby ski resorts, and in summer, enjoy music festivals, farmers' markets, or Wayne County Fair in early August. Fall offers stunning foliage, like everywhere in the Pocono Mountains, making it the perfect time for scenic drives and apple picking.
Hawley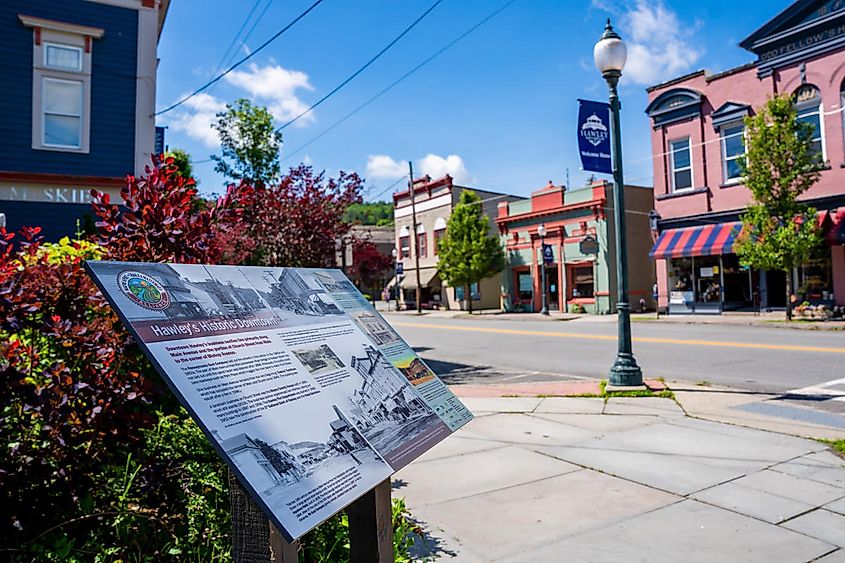 Hawley's roots trace back to the early 19th century when it emerged as a hub for the booming coal and canal industries. Today, remnants of this industrial past can be seen in the town's historic architecture, including the iconic Hawley Silk Mill, a repurposed factory now housing artisan shops and a thriving arts community. Built in 1880, Hawley Silk Mill is the largest laid bluestone building in the world. Bluestone is quarried in western New Jersey, Pennsylvania, and eastern New York. Lake Wallenpaupack, Pennsylvania's largest man-made lake, is a playground for boating, fishing, and water sports in the summer, and snowmobiling, ice skating, and ice fishing in the winter. Hikers and bikers can explore the scenic trails of Promised Land State Park, while bird watchers flock to nearby bird sanctuaries. Satisfy your palate at Hawley's diverse eateries, offering everything from farm-to-table cuisine to classic diner fare. Be sure to sample craft brews and locally produced wines at the town's wineries and breweries.
Stroudsburg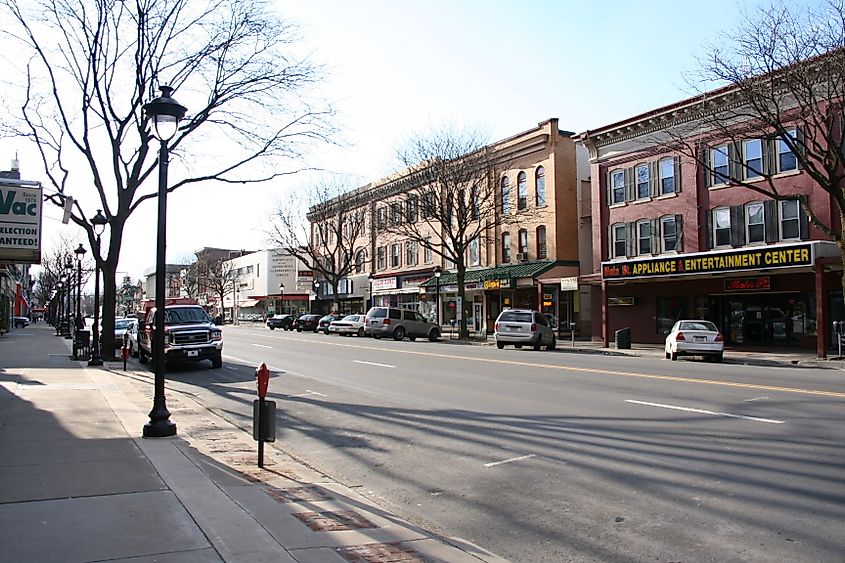 Stroudsburg is one of the larger towns on this list but still retains a cozy atmosphere off the beaten path. It is known for its vibrant downtown and cultural events. Stroudsburg boasts a captivating history, with its origins tied to Jacob Stroud, a Revolutionary War officer. The 1795 Stroud Mansion, a meticulously preserved Georgian-style-home-turned-museum managed by the Monroe County Historical Association, paints a vivid picture of early colonial life and is currently undergoing reconstruction and expansion. Explore the vibrant arts scene at the Sherman Theater on Main Street, hosting concerts, plays, and art exhibitions year-round. Sample the town's culinary delights with the variety of eateries, serving up everything from gourmet cuisine to classic comfort food. For something unique only five minutes away in the Delaware Water Gap, check out Sango Kura, Pennsylvania's only Japanese sake brewery and bistro. For thrill-seekers, Stroudsburg is a haven. Hike the scenic Appalachian Trail, which passes through nearby Delaware Water Gap National Recreation Area. Kayak or canoe down the Delaware River and experience the breathtaking beauty of the region.
East Stroudsburg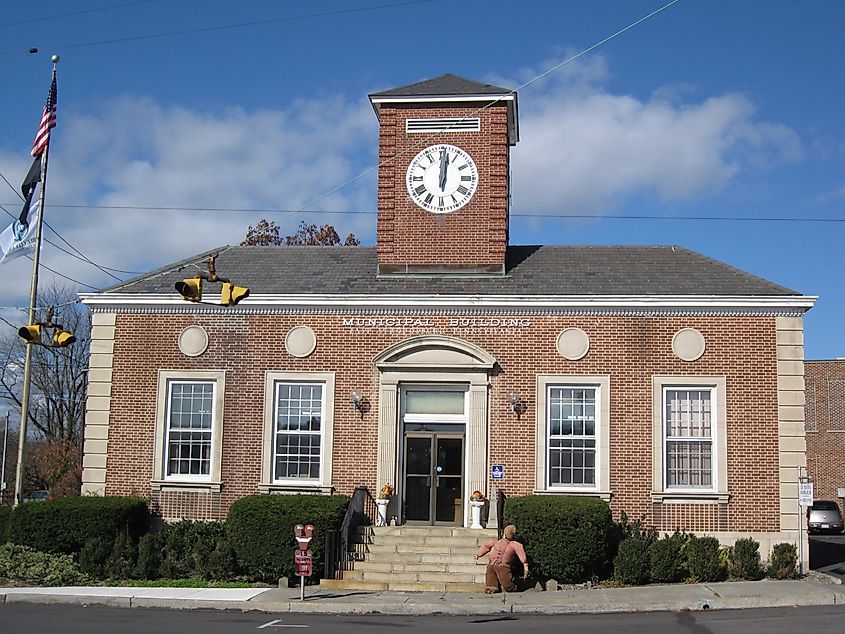 Adjacent to Stroudsburg, East Stroudsburg offers a quieter alternative with its hiking trails and proximity to the Delaware Water Gap. East Stroudsburg's historical allure, outdoor adventures, and quirky attributes make it the perfect destination for an unforgettable getaway off the beaten path. East Stroudsburg University of Pennsylvania dominates a large swath of land in the borough, and proud ESU Warriors roam the campus grounds and beyond during the school year. For a unique outdoor-enthusiast experience, check out Pocono Tree Ventures in East Stroudsburg. The ariel forest obstacle course invites climbing, balancing, and zipping through the trees. The highest point of the advanced course is over 40 feet above ground level, but they also offer excitement for beginners. Not too keen on heights? Keep your feet planted on terra firma and your hands safely tucked in your pockets while you visit the Pocono Snake & Animal Farm. The menagerie includes a king cobra, a 24-foot python, a 150-year-old turtle, and an alligator pond.
Tannersville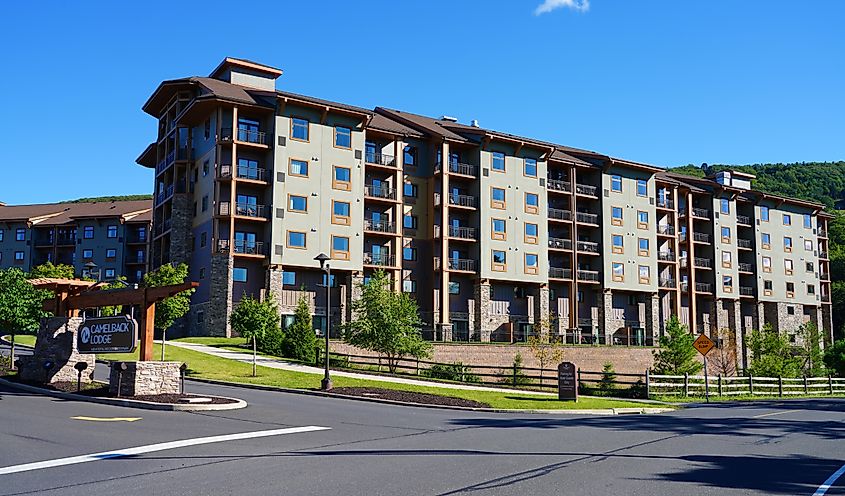 Tannersville, Pennsylvania, steeped in a rich history and teeming with outdoor adventures, promises an unforgettable escape from the ordinary. Tannersville's origins can be traced back to the 18th century. Today, echoes of its vibrant past resonate in the preserved historic buildings that line the charming streets. Take a leisurely stroll and let your imagination wander as you explore the town's architectural marvels. Tannersville is where you will find the Camelback Mountain Resort, which opened in 1963 and is the largest ski resort in the Poconos. The list of adventures you can indulge in year-round at Camelback is as long as your arm, from downhill skiing and tubing to ziplining, and both indoor and outdoor waterparks. Another fun option full of activities for the whole family is Great Wolf Lodge Water Park. Love to shop? Tannersville is home to The Pocono Premium Outlets and Pocono Mountain Harley-Davidson attracting shoppers and visitors looking for deals and daydreams.
White Haven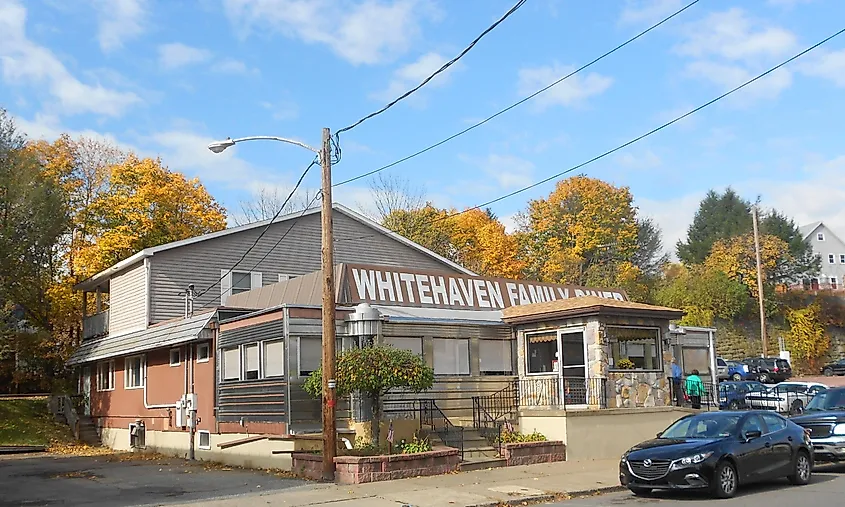 White Haven was established in 1824 by Josiah White, an industrialist and key figure in the American Industrial Revolution. As a gateway to the Lehigh Gorge State Park, the borough of White Haven is becoming a hub for outdoor enthusiasts interested in hiking and biking. This quaint little town is part of the North Region of the Delaware and Lehigh National Heritage Corridor (known in these parts as the D & L Trail). Jump on the Lehigh Gorge Trail and take a scenic cycle along the river or stroll at a more leisurely pace. If you are looking for a little—or a lot—more speed, the 2.5-mile Pocono Raceway allows you to ride shotgun in a 600-horsepower NASCAR-style stock car for an unforgettable experience. For an equally thrilling ride, try whitewater rafting in the summer or snowmobiling in the winter in Lehigh Gorge State Park. Finally, for a quirky surprise and great photo op, do not miss the Turn Hole Tunnel, an abandoned railroad tunnel, in the state park.
Pocono Pines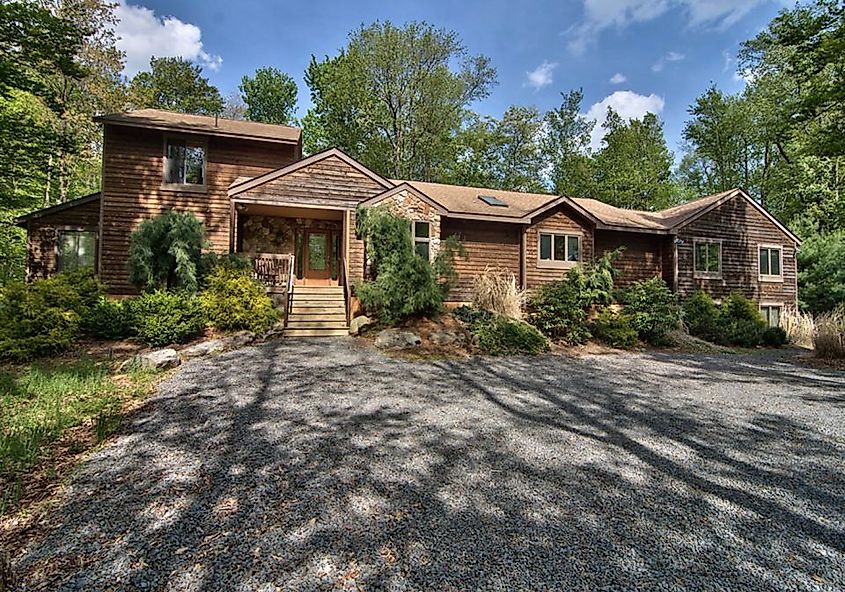 Pocono Pines lies in the middle of the Pocono Mountains and offers a serene escape with its picturesque lakes. Lake Naomi is central to this community and there is no denying she is the star of the show. In fact, this borough was once named Naomi Pines. The private lake was formed after the construction of a dam in 1895, with the intention of creating ice for the Pocono Spring Water Ice Company, which was owned by Frank C. Miller, his brother, and others. The ice company was granted a 99-year lease with the option to use the 277-acre lake for both business and pleasure purposes. Today, Lake Naomi Club is a resort community in Pocono Pines that includes 1,400 families who own property surrounding the lake. A visit to Pocono Pines is a visit to nature. Whether you are coming for water sports in the summer or nearby skiing in the winter, you will be surrounded by the very essence of the Pocono Mountains—Mother Nature at her finest.
Lake Harmony
Lake Harmony is becoming a destination for water sports and relaxation off the beaten path for its clean glacial lakes and lush forests. The name alone invites you to exhale. Once a private retreat for the executives of the Lehigh Coal and Navigation Company, the retreat lodge was lost in a 1970 fire. What remains in Lake Harmony is play-filled days, gentle breezes, and the year-round serenity of nature. Centrally located, visitors can enjoy skiing, snowboarding, and tubing at Jack Frost Mountain and Big Boulder Ski Area. The 15,990-acre Hickory Run State Park entices winter lovers with 21 miles of snowmobiling trails and 14 miles of cross-country skiing. In the summer, park-goers can amble along 40-miles of hiking trails, discover Hawk Falls, and marvel at Boulder Field, a National Natural Landmark because it has remained relatively unchanged for more than 20,000 years. Swing by the park's visitor center to plan out your day's adventure. Or kick back at your vacation rental and do nothing at all!
These towns are experiencing an increase in tourism while still retaining their smaller-town charm, making them great options for those looking to explore the Poconos off the beaten path and away from the crowds of more well-known destinations.