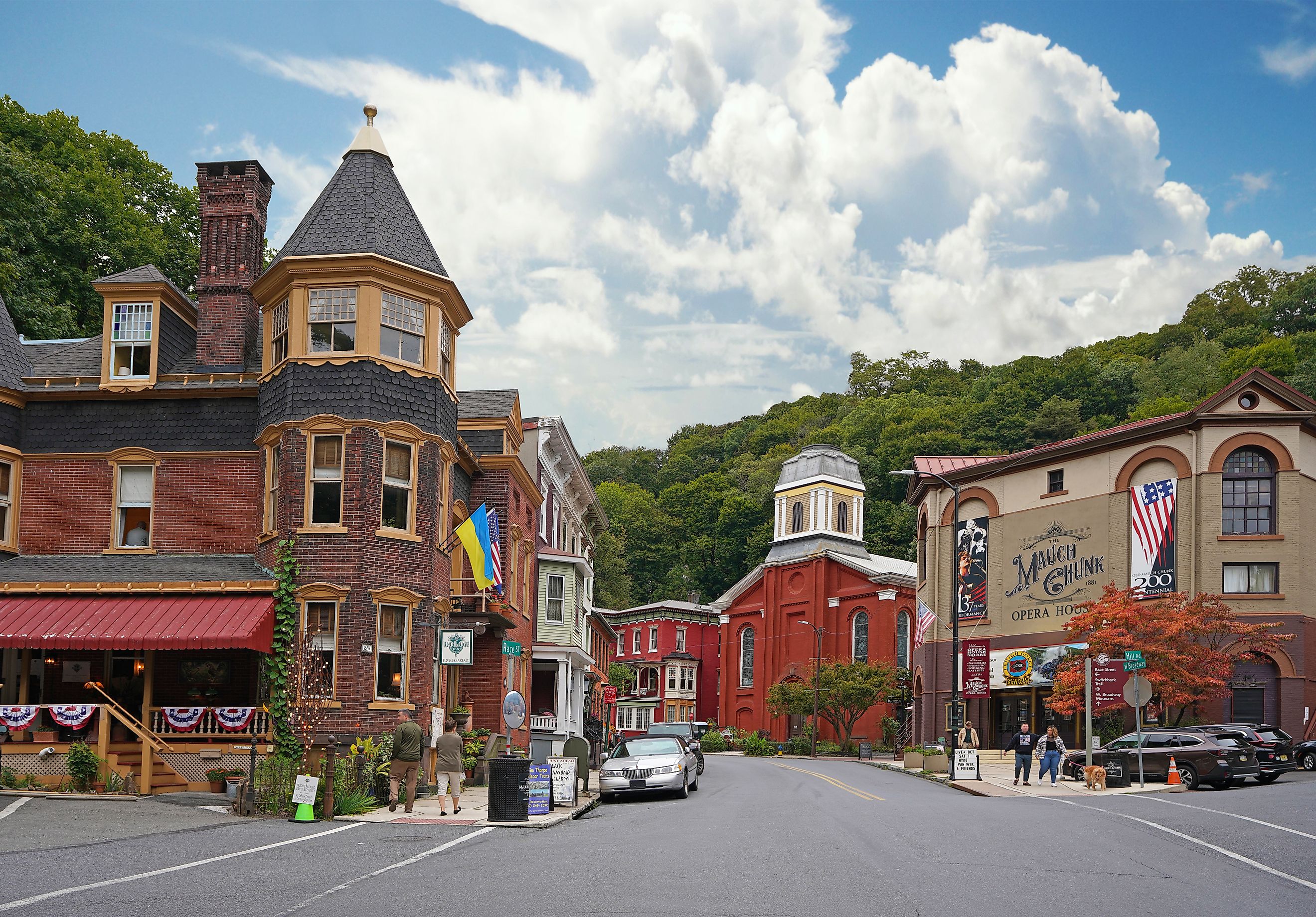 12 Prettiest Towns In The Poconos
The Pocono Mountains, a family destination and honeymooners' escape today, is a long-time beloved region among nature-lovers, including the first Delaware, Iroquois, Shawnee, Minisink, Lenape, and Paupack Native Americans. Choose a pretty Pennsylvania town in the Poconos from those enlisted below for an extra fun getaway with your family, a road trip with friends, or a romantic escape to surround yourself with all the mountainous vistas.
Delaware National Gap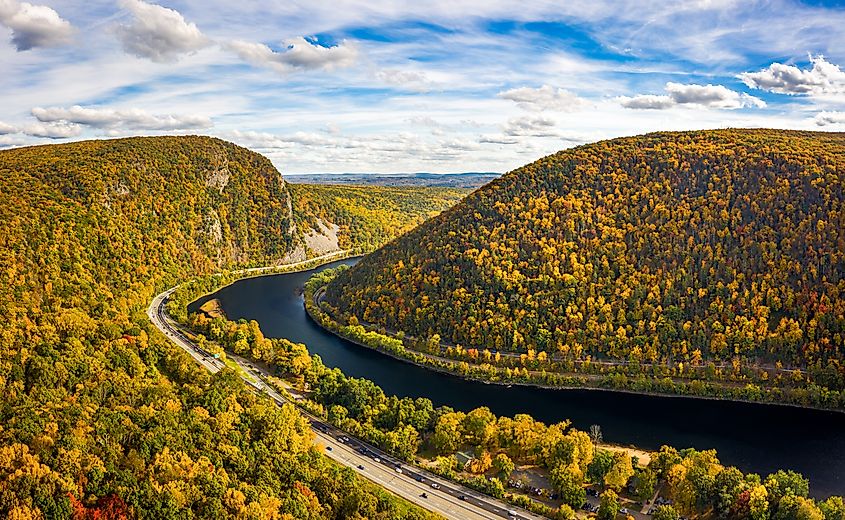 The charming small town of Delaware Water Gap, along the winding Delaware River, is a historic, over two centuries-old borough, right on the southern side of the Delaware Water Gap National Recreation Area. Find amenities and everything else you seek to stay comfortable while enjoying the 70,000 acres of natural beauty around you. With part of the Appalachian Trail running right here in the Poconos region, you can enjoy all-level hikes with sights like Pennsylvania's two easily accessible, tallest waterfalls. Don't wait to exchange the city soot for refreshing nature hikes in the pleasant fall weather and return for more recreation, photoshoots, and picnics next summer.
Delaware National Gap is a real year-round gem in the spectacular embrace of nature, with scenic fun and relaxation for every group. Find plentiful family pastimes like time travel aboard the cool Pocono Historic Trolley Tour or a self-guided ride through Minisink Hills and Shawnee, the two breathtaking back roads dressed in autumn colors. Visit the Antoine Dutot Museum & Gallery for beautiful legacy sights of Delaware Water Gap hospitality and hands-on experience at local businesses for food, unique gifts, and antiques, like Asparagus Sunshine and Village Farmer and Bakery. Tour the castle at the storied Castle Inn, where you can stay put for the night, or choose the Deer Head Inn with its legendary jazz performances.
Dingmans Ferry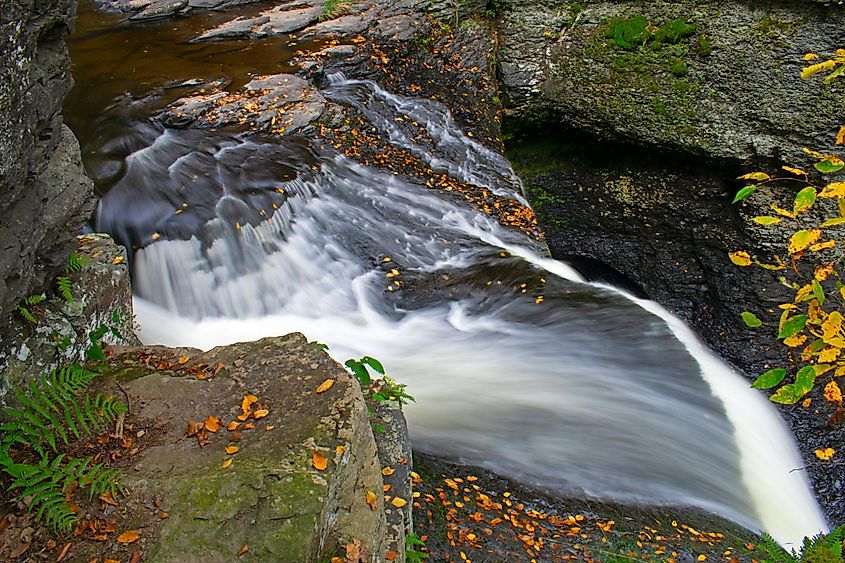 This small town with a big heart at the doorstep of the state forest and national recreation area is full of bright experiences and cherishable moments for every group in the alpine atmosphere. Dingmans Ferry inspires a real getaway from everything you remember about the city, with some of the most beautiful hiking in the whole state and the best of the Poconos. Immerse yourself in all the scenery, like an engaging waterfall chase to Dingmans Falls, Fulmer Falls, and Deer Leap Falls, all easily accessible, to wipe the slate clean in the mist and feel recharged by the power of nature.
Find trails for all through the beautiful, dense forests with sparkling Delaware Water Gap cascades and viewpoints onto the mountain peaks. From the refreshing nature picnics and waterfall trails at the Delaware Water Gap National Recreation Area to the picturesque Dingman's Ferry Bridge for another notable selfie, your muscles will let you know. Enjoy a day on the town through various shops and restaurants in a family-friendly atmosphere that charms with a cute name into a relaxing siesta with sights easy on the eyes.
Hawley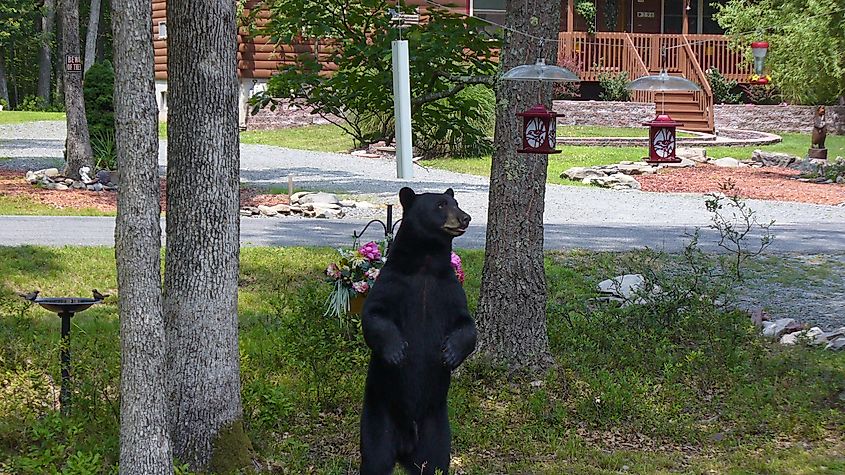 Hawley, a pretty town in the Poconos Lake Region, is the definition of picturesque. With year-round adventures, enjoy an outdoor escape from the city to explore the most unique sights and experiences. Take the famous "only here" bike ride right on the railroad tracks with the popular Soarin' Eagle Rail Tours amid stunning seasonal scenery all around. You can rent a two- or four-wheeled bike with Hawley's free bike share program and take your loved ones on a ride-along through the agricultural lands and farms that provide for all the delectable farm-to-table restaurants in town for an anticipating feast after.
Start your morning at the Cocoon Coffeehouse & Bakery and choose The Settlers Inn for a great stay and a restaurant serving dishes with fresh local flavors on a seasonal menu with a flair for innovation. Choose Tree Restaurant for craft beverages for dinner, or visit Wallenpaupack Brewing Company or Three Hammers Winery anytime for specialty brews and vintages with your Pocono Beverage Trail digital passport in your pocket! Nature, getting prepped for the fall season, welcomes you into a lush embrace of decorated trees for riverside trail hikes by the Lackawaxen River. Seek more fall colors just to the south at Lake Wallenpaupack that will have you back next summer for water recreation.
Honesdale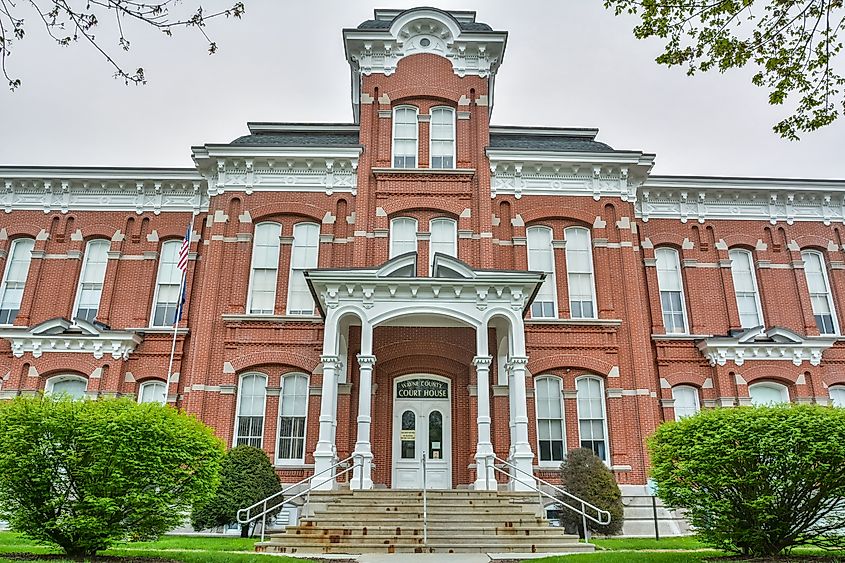 Rivaling for a spot among the most beautiful towns in Pennsylvania, Honesdale invites all the sightseers into its falltime embrace. Come to celebrate Honesdale's harvest and local heritage in between rolling Wayne County hills covered in fiery shades of garnet and gold. This quaint Northeast town, famous in the Poconos among rail and locomotive fans, hosts friendly residents, modern cultural sights, and a lively drinking scene.
This "Birthplace of the American Railroad," after welcoming the country's first steam locomotive in the 1800s, showcases a replica of the first "Stourbridge Lion" at the Wayne County Historical Society. Climb aboard the Stourbridge Line for an unforgettable spin through the fall foliage to bond over the old-timey charm and natural sights through the window. With a relaxed atmosphere and various train-themed excursions, Honesdale is a joy to explore for the entire family, with excitement for all. Check off the Twisted Rail Tavern and hit the brewery scene, including the popular Irving Cliff Brewery, among many others.
Jim Thorpe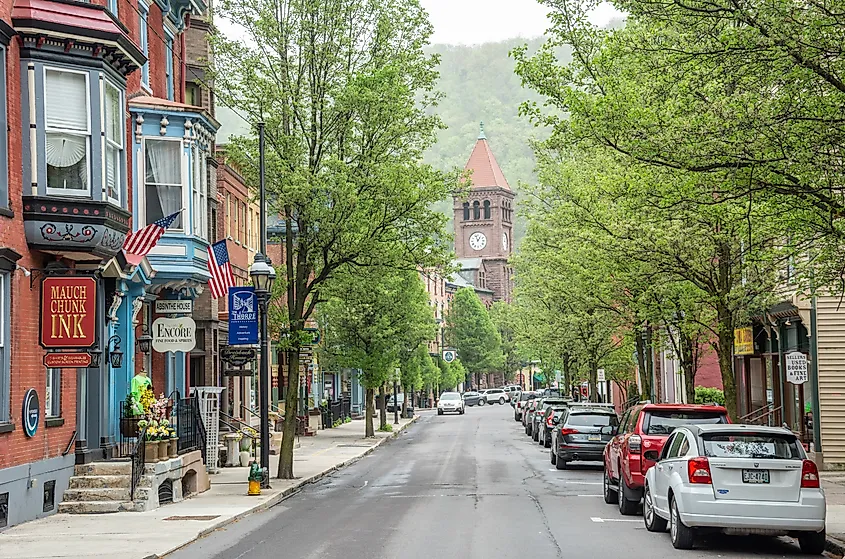 This foremost city in the state and the Poconos region brims with small-town charm and spectacular mountain views. Not just the "Switzerland of America," but with a rich, 200-year-old history in its pocket and decorated streets with modern-day charms, it is no wonder that Jim Thorpe is so popular. Visit the real Main Street town with a beautiful downtown dotted with adorable shops in between famous museums like the Old Jail Museum and the Asa Packer Mansion Museum. Take a cultural stroll along its notable architectural feats, including St. Mark's Episcopal Church. A real Victorian-era epicenter and bearer of a former Olympian's name, Jom Thorpe evolved from its anthracite coal roots as Mauch Chunk, a Lenape word for Mountain of the Sleeping Bear.
Gaining tourist followers early on, Jim Thorpe even rivaled the Niagara Falls region in the nation. Today, the charming town with a vibrant thoroughfare and nature is a year-round destination for the outdoors with biking, hiking, and paddling. Plan an imminent visit for the Halloween season in October with a weekend of the Jim Thorpe Fall Foliage Festival for food, crafts, and family fun. Wake up for an early morning paddle through fall colors in complete serenity along the D&L Rail Trail through Lehigh Gorge State Park to White Haven. Check out the Country Junction, the largest general store in the world, and choose one of the millionaire mansions turned B&Bs for an extravagant stay in this small town replete with experiences.
Lake Ariel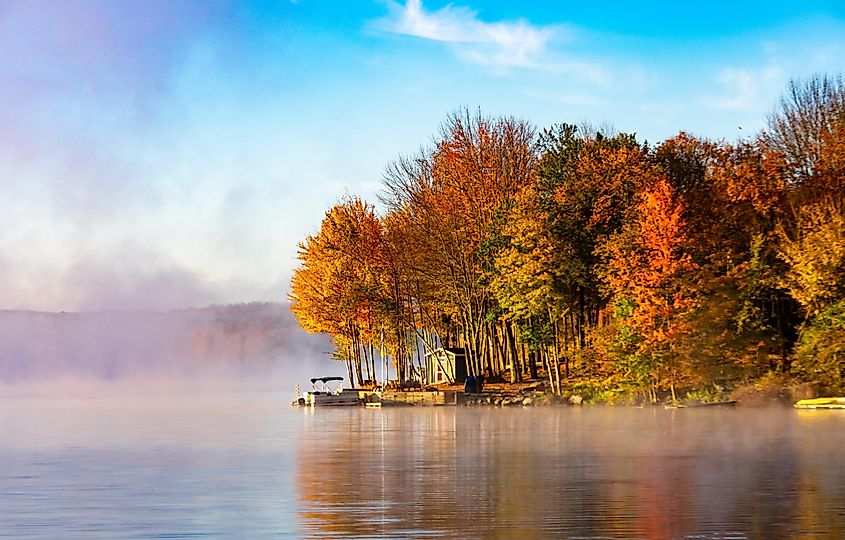 This one-of-a-kind scenic village on the namesake lake is a four-season getaway with recreational pursuits and modern amenities for every group. Seek respite from crowds with plentiful lakes around, like the 198-acre Roamingwood Lake, the 25-acre Deerfield Lake, and the 9-acre Brooks Lake, for waterside recreation with your loved ones. Take a refreshing hike along Ariel Creek all the way to the region's renowned Lake Wallenpaupack via Ariel Creek.
Needless to say, the town is a popular getaway during the summer, with the nearby Laurel Park Campground offering a family-oriented stay on a budget with tent camping and seasonal trailer sites with electricity and water. Find family entertainment at the in-town complex, complete with showers, a playground, a beach volleyball court, and even the Hideout Dog Park. You can join in various organized activities for all ages, such as flea markets, car shows, and large events, or roast your own marshmallows by the riverside or at your tent.
Milford
Despite being a speck in the Poconos with only 1,100 souls, Milford is hard to miss. The crown jewel of the mountainous scenery shines with small-town and nature charm on the Delaware River in Pike County. Meander your way through the old Victorian buildings in the hilly neighborhoods to the downtown area, where beloved local places attract visitors from near and far year after year. Set surrounded by fresh-air pursuits, you can enjoy the Delaware Water Gap National Recreation Area as well as Milford Beach, with many shops and restaurants post-nature.
Immerse yourself in the homey vibes and feel the stress melt away in a whole different atmosphere from the city's. Milford lets you choose your own brand of adventures for all tastes and scenery for every pursuit, like trails and picnics. Take a horseback ride to explore the area or enjoy trout fishing in the serene lushness along the Delaware River. The jaw-dropping views of the 400-foot-tall peaks above Milford make everything cozily encompass the charming little town in the valley below and rev up the adventurous for a scenic 45-minute hike to summit the Knob, with spectacular sights at sunset to linger in awe.
Pocono Pines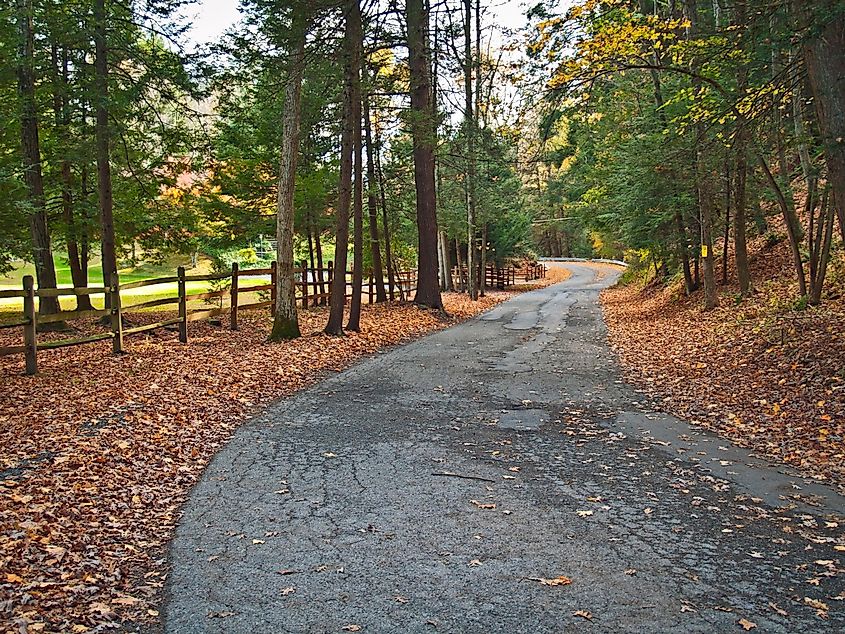 The town renowned for its natural beauty, Pocono Pines, is real eye candy and a dreamy escape into the best of the Poconos, proudly carrying the trademark name of the range and piney forests around. Enjoy the fresh scents on your daily perusal through downtown to the beautiful shores of Lake Naomi, with nature trails and spots to relax in awe. Find a concentrated scene of various shops and restaurants that keep this true year-round recreational epicenter lively throughout the year.
Escape the fast city pace for a respite like it was meant to be, with a pristine natural habitat maintained diligently for generations to come. Come in the summer for lakeside recreation and lush trails, and in the winter for Jack Frost and Big Boulder ski areas. The proud Poconos woodland community with friendly residents and a cozy feel amid the peaks welcomes you to join a wonderful family atmosphere of avid outdoor lovers. Find gracefully enhanced natural surroundings with amenities and developed trails for comfortable stays and treks along the Lake Naomi or Deer Trail Lake areas.
Stroudsburg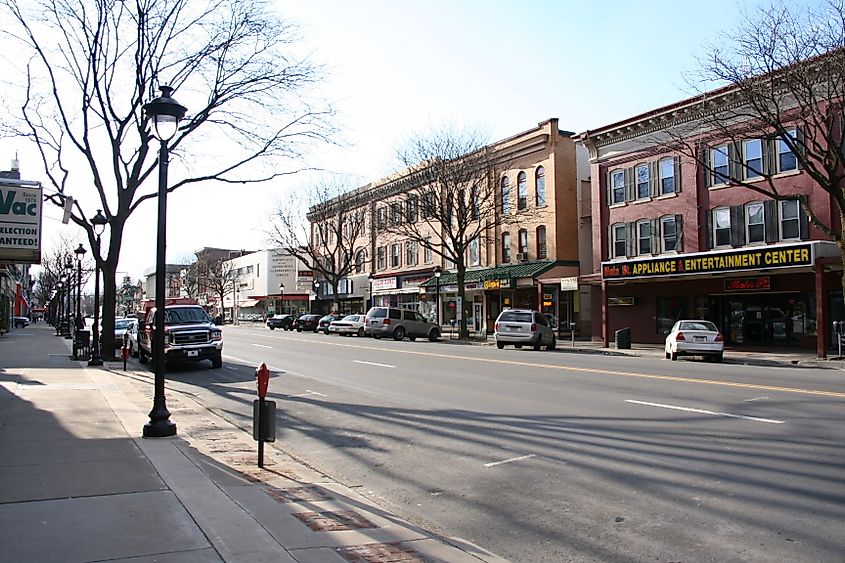 Stroudsburg, a proud town with rich local history, has a unique personality and small-town charm like no other. Find a conglomeration of sights and engagements in this vibrant community that is an all-in-one college town and an art hub with old Americana flair and world-wide cuisine. Just a small, largest town in the Poconos, with under 6,000 residents located in Monroe County, Stroudsburg lets you choose to call it what you may after your initial stroll through the vibrant sights downtown with artsy buildings and your first nature venture into the surrounding outdoors of the Poconos.
Find picture-perfect sighs at each step in a very historical place, as revealed by the architecture along Main Street. Browse your way through countless shops in old, painted buildings and check off a few restaurants before sightseeing the Stroud Mansion. The walkable town with a youthful ring in the air houses a renowned food scene to satisfy hungry, studious minds. Crawl through the pub fare with Thai, French, or craft beers or creative cocktails, perfect after a bike ride along Brodhead Creek's path. Visit now for leisurely woodland strolls with colors on all sides, or seek tougher treks at Delaware Water Gap National Recreation Area along the riverside with water views.
Tannersville
Tannersville, a cool destination getaway in the Poconos, offers many unique adventures to experience some of the region's best sights. Visit this fall to zip through the seasonal blur of colors with Tannersville's Camelback Mountain Adventures, the biggest outdoor adventure park in the state with followers from around the globe to ski and enjoy its waterpark. From a treetop ropes course to UTV tours and a fun mountain coaster, choose your level of excitement before bonding over a hearty family meal at Smuggler's Cove Restaurant or a drink at Barley Creek Brewing Company.
Are you more into the thrill of swiping a card? Check out the must-visit Pocono Premium Outlets, among other sought-after local businesses, for popular items like mountain gear, sweaters, and scarves. Get enthralled by the beautiful mountain views any season here, just northwest of Stroudsburg, and visit both towns for eye-catching sights and vistas from over 2,700 feet above sea level. Escape for a holiday skiing trip at Camelback Mountain Resort to indulge in your favorite pastime in the natural winter wonderland that the Poconos really are.
Tobyhanna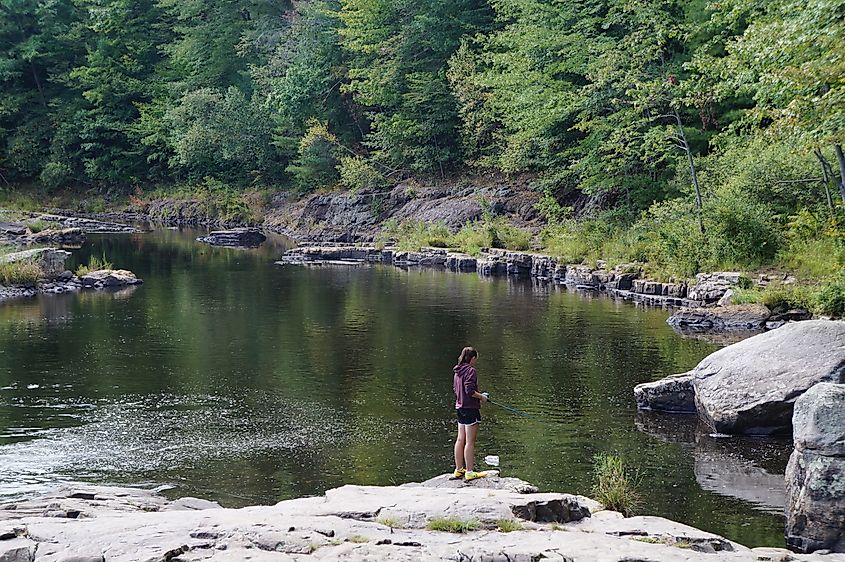 Tobyhanna, a town like no other in the Poconos, shines with rich history and scenic nature through a crease in the Poconos. Surround yourself in the picturesque atmosphere replete with historical sites, shops, and restaurants with breathtaking views of the mountains. Don't wait, but visit now for the unreplicable falltime decorating the quaint town and natural preserves around—perfect for scenic hikes in the early autumn sun.
Take a stroll through the 18th-century sights from Tobyhanna's coal and lumber days in between the town's numerous farmers' markets with vibrant local lifestyle sights and seasonal produce. Stock up on provisions to take on your picnic to Tobyhanna State Park, or visit its very own local waterpark, Kalahari Resorts, which is especially popular for families with young kids. Rivaling the prettiest Poconos small town, it is no wonder that this gem is as precious in the eyes of sightseers as a sought-after fun summertime escape for families!
White Haven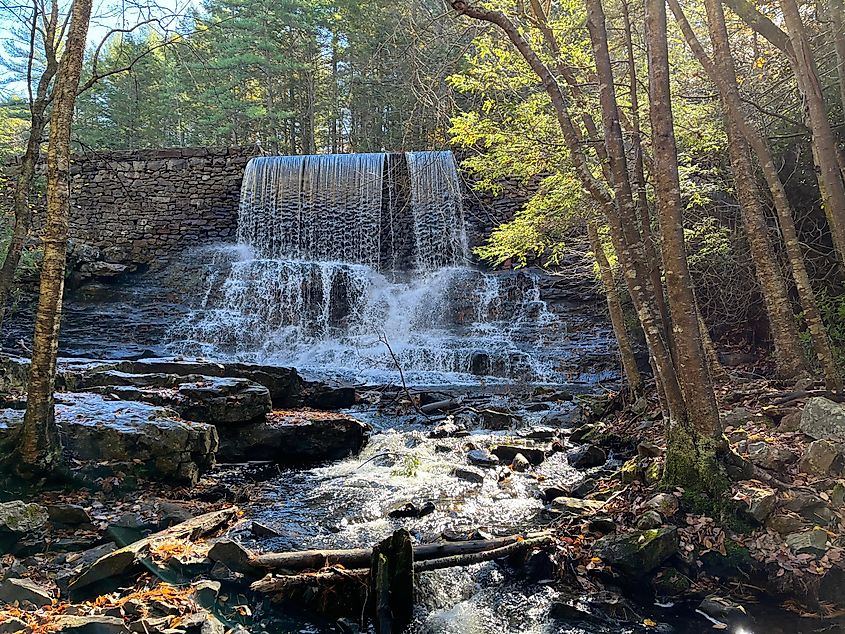 White Haven is a must-stop to linger on your road trip through the Poconos region or enjoy a weekend escape for all groups. The beautiful town with peaky views offers a cool atmosphere and access to Lehigh Gorge State Park, a nationwide destination for white-water rafters and snowmobilers. Blast your way through real winter wonderland scenery along the 15-mile section of the Lehigh Gorge Trail from White Haven to Penn Haven Junction.
Come anytime for a scenic train ride with royal treatment aboard, perfect to experience the bygone era on a streamline rail journey to Jim Thorpe—a must-hit town on this list. Enjoy live narration and interaction, and do diligence to stop by the notable dining cars, straight from Alfred Hitchcock's movie North by Northwest, for a charming meal much like the workers did in its coal mining and railroad days.
These pretty towns bestow a fun-filled vacation for all with a myriad of nature-filled activities as well as entertainment and culture downtown. From riverside and lakeside towns with rafting and sandy beaches for the summer to wintertime skiing resorts and thrilling adventures in between, you can always chill aboard a scenic train tour along the region's railways. Come now for the beautiful fall season or enrich your holidays with the best downslope skiing. Find plenty of shopping, antiques, and gear stores, and unwind over a hearty meal or a brew pub.