Where Is The World's Fastest Zip-Line Located?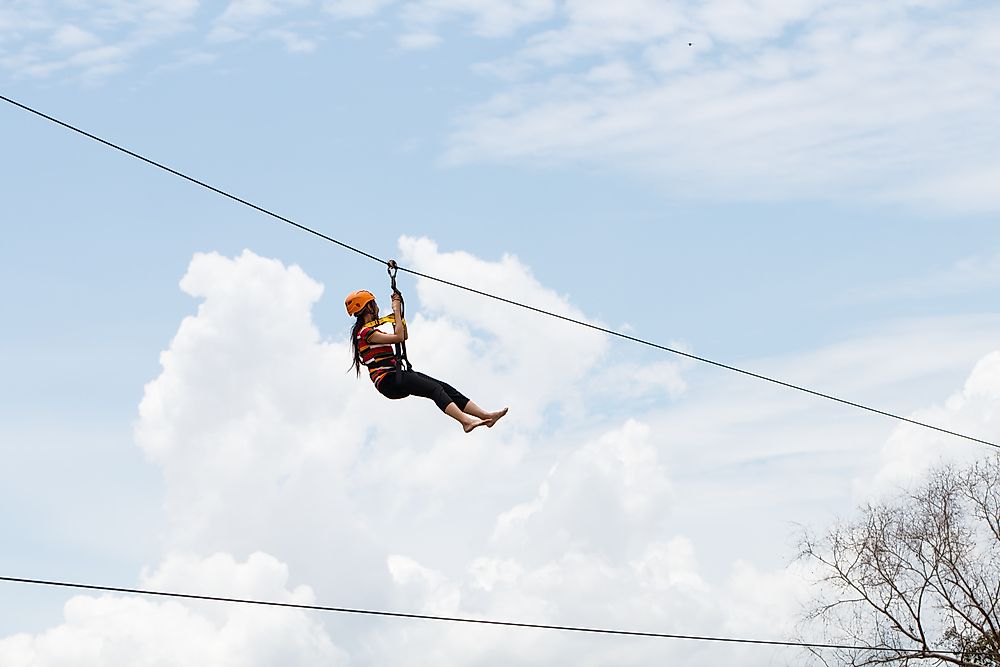 A zip-line, sometimes written as zipline or zip line, is a pulley suspended on a stainless steel cable and mounted on a slope. Zip-lines can either be used as a form of entertainment or as a means to access remote areas, such as a rainforest canopy. They are designed to enable users to travel from the top to the bottom of an inclined cable, while being propelled by gravity. Zip-lining has become a popular activity in many parts of the world, and is often used as a component of a ropes courses. Some popular destinations for zip-liners include Nicaragua, Costa Rica, and Florida, USA. However, the world's fastest zip-line is currently located in Wales.
Fastest Zip-Line: Zip World Velocity 2
Zip World Velocity 2, simply known as Velocity 2, is the fastest zip-line in the world, as well the longest zip-line in Europe. The zip-line is part of an adventure park owned and operated by Zip World, and is located in Penrhyn Quarry, near the town of Bethesda, Wales, United Kingdom. Velocity 2 is a four-person zip-line capable of hurling zip-liners down the cable at up to 125 miles per hour (mph), which is 25 miles mph faster than Velocity, another zip-line operated by Zip World in Wales. It has a steep decline of 20 degrees, which results in its high speeds. Velocity 2 accelerates from 0 to 60 mph within ten seconds, and travels 5 mph faster than the speed of a falling skydiver. Zip-liners using Velocity 2 fly 500 feet over Penrhyn Quarry.
Description
Velocity 2 operates year round, and is open to the public every day of the week, including weekends and holidays. However, the cost of the zip-line is higher on weekends and holidays (89 British pounds) than it is during the week (65-75 British pounds). The zip-line is 1,555 meters long and can accommodate up to 4 riders. All ridees must be above the age of ten, and those under 18 years of age must be accompanied by an adult. Velocity 2 has two zips: the Little Zipper and the Big Zipper. Other facilities at the Zip World adventure park include a car parking area, viewing platforms, restaurants such as the Blondin Restaurant, meeting and event venues, and washrooms. Lockers are also available at an additional fee.
Penrhyn Quarry
Zip World Velocity 2 is located in Penrhyn Quarry, a historic slate quarry close to Bethesda, in the northern part of Wales. Penrhyn Quarry was the largest slate quarry in the world during the late 19th century, with a main pit that was almost one mile long, 1,200 feet deep, and was worked by almost 3,000 quarrymen. However, the workforce has since been reduced to 200 and is currently the fourth largest slate quarry in the world. According to Zip World, the slate in Penrhyn Quarry dates back 500 million years. Apart from zip-lining, visitors to Penrhyn Quarry can also enjoy activities such as sky riding, tree hopping, jumping and sliding through the disused mine, and quarry tours.