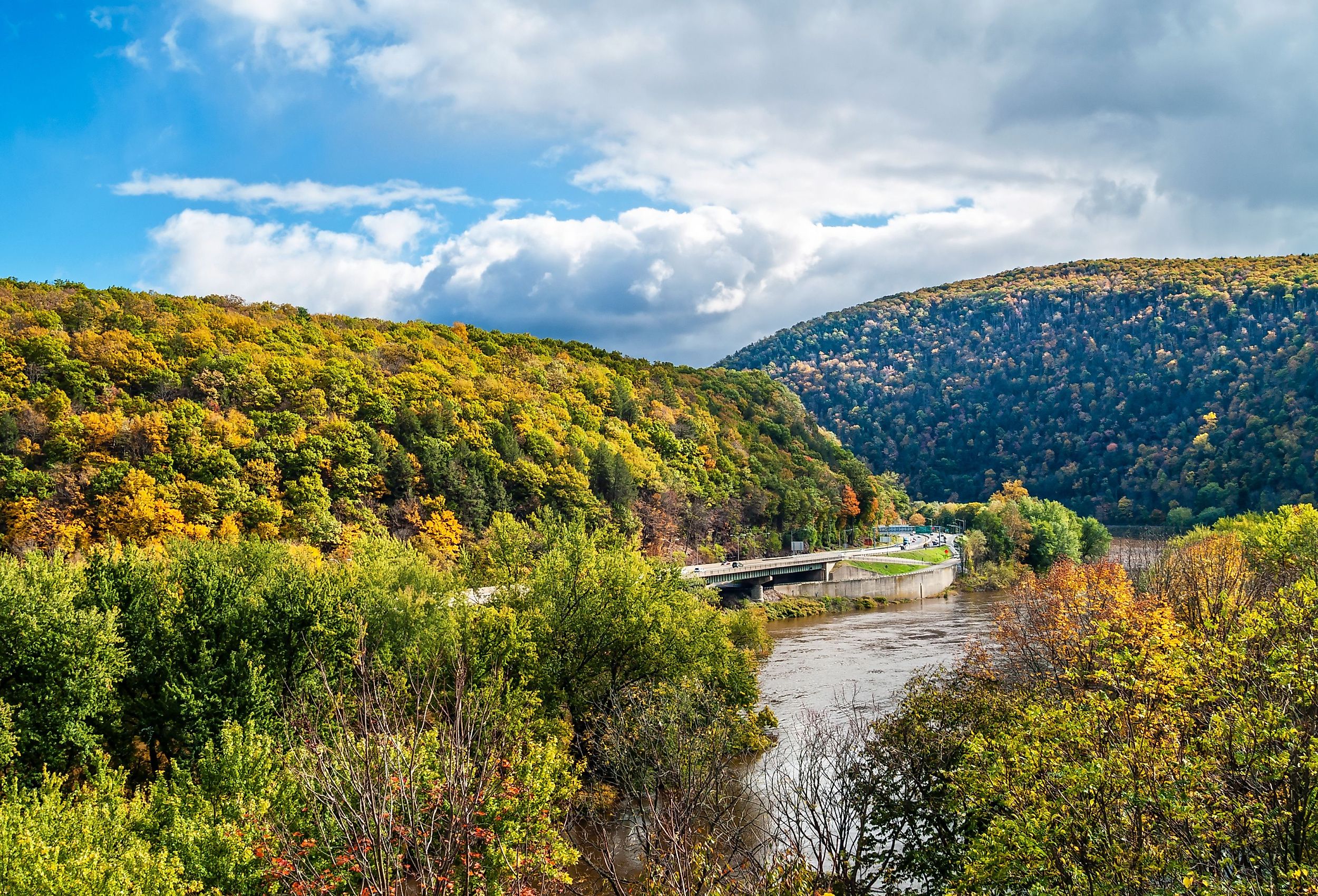 11 Best Hikes In the Poconos
Many are familiar with the state of Pennsylvania for its historical importance, as the site where the Declaration of Independence and the Constitution were adopted at Independence Hall. Some folks might be familiar with its prominence in the steel and coal industries. However many are unaware that Pennsylvania also has excellent access to hiking, from portions of the Appalachian Trail to treks along Lake Eerie! For those looking for year-round outdoor adventures, the Pocono Mountains in the northeastern part of the state will deliver. The "creek between two hills" as it was called by the original inhabitants, the Munsee people, offers diverse landscapes from mountains, valleys, rivers, lakes, and forested areas, creating many unique hiking opportunities.   
Mount Minsi via Appalachian Trail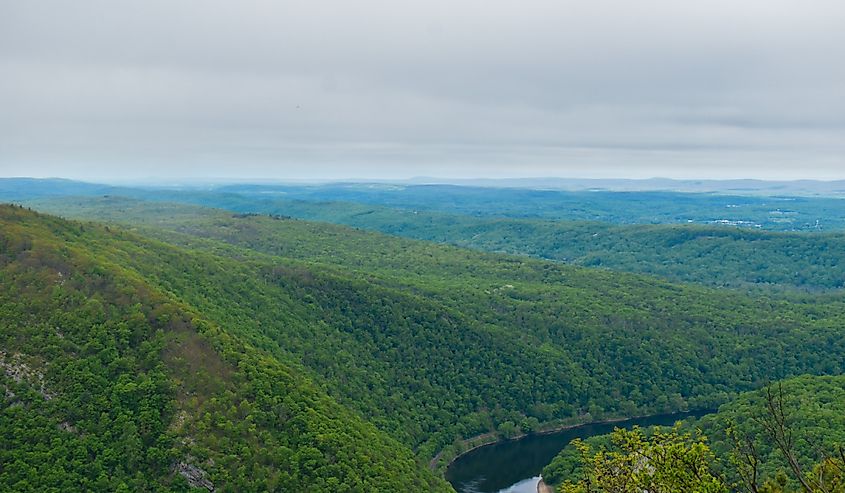 Avid hikers will not want to miss a chance to traverse part of the Appalachian Trail, and the Mount Minsi trail provides a quick and easy way to do that! Starting near the town of Delaware Water Gap, this 4.8-mile loop takes you over rocky terrain through a shaded forest up the ~1,000 feet of elevation teeming with waterfalls and presents several lookout points on the way before reaching the top of the mountain. From here you'll look down upon the Delaware River and the surrounding Appalachian Mountains. The rocky terrain can make for tricky footwork, but with sturdy hiking boots and some caution, this trail is considered a moderate hike.   
Lehigh Gorge Trail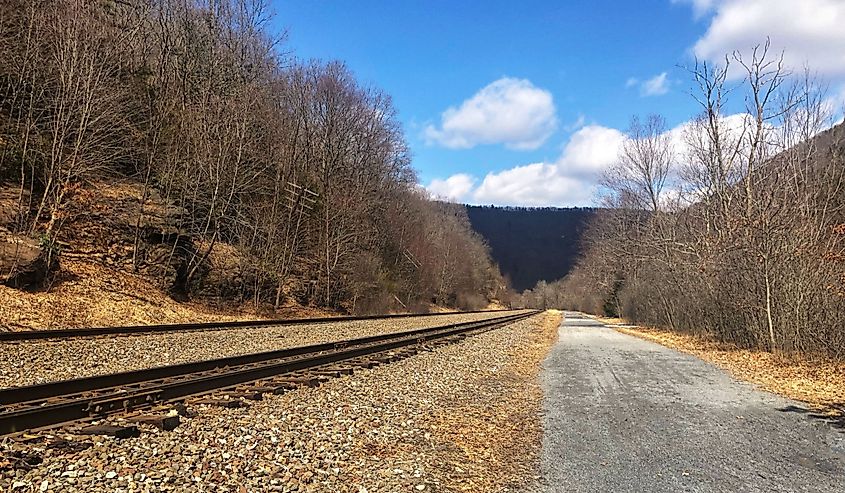 Historically a railway, the 26-mile point-to-point Lehigh Gorge trail is now used by both hikers and bikers. Most of the trail runs through Lehigh Gorge State Park and is also part of the larger Delaware & Lehigh Canal National and State Heritage Corridor (D&L) which follows historical railways and canals and aims to preserve the local heritage and green spaces for public use. Trail users will enjoy near-continuous river views, old brick bridges, and waterfalls galore! The trail is mainly flat and wheelchair accessible, so everyone can enjoy this peaceful stroll. For an extra thrill, visit this trail in the autumn, when the fall foliage makes the forest come alive with color. 
Bushkill Falls Trail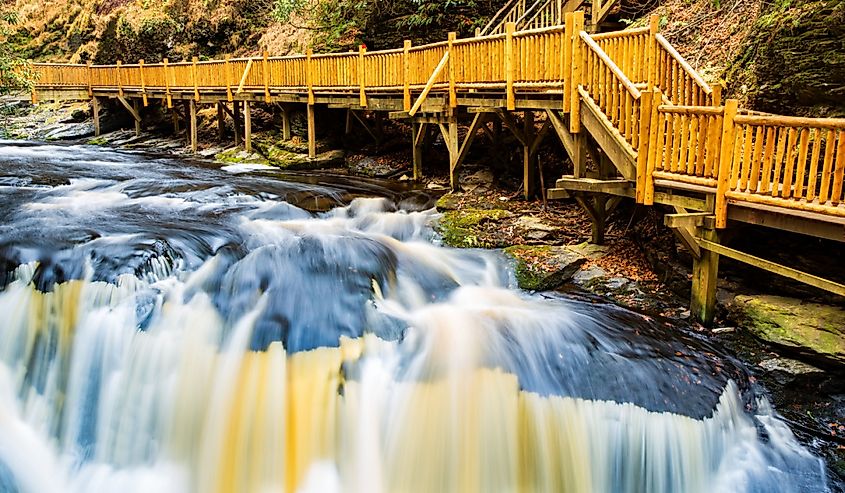 If in the mood for a short hike to get you to some waterfalls as soon as possible, Bushkill Falls should be on your list of Pocono destinations. This 1.8-mile trail takes about an hour, and while the rocky stairs, uneven terrain, and overground roots will keep your brain and your body stimulated, the hike is generally considered easy to moderate. You'll happen upon several smaller waterfalls en route to the main event: the Bushkill Falls. Known as the "Niagara Falls of Pennsylvania", the main falls are a dramatic sight, the water careening over a 100-foot cliff onto the rocks below, leaving observers speechless.
Big Pocono Indian Trail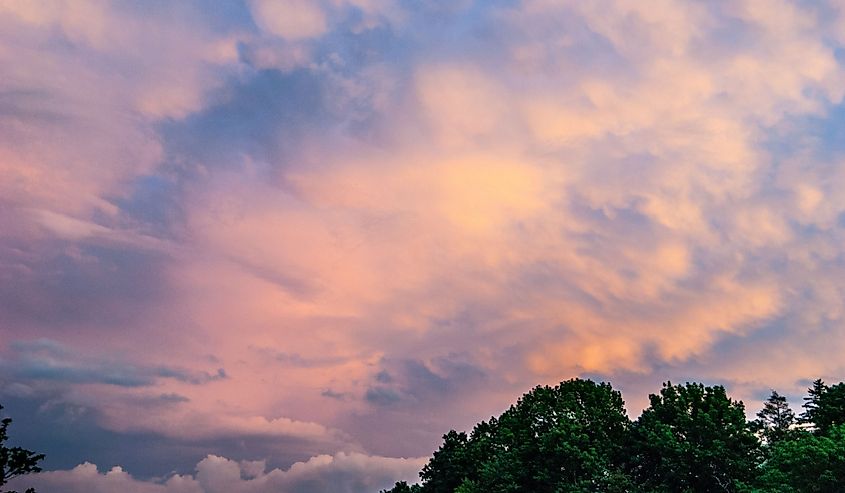 We cannot talk about hiking in the Poconos without mentioning hiking in Big Pocono State Park itself. Perched on Camelback Mountain, this park features 1,300 acres of rugged mountain terrain and offers views of Pennsylvania, New Jersey, and New York. With 8.5 miles of trails from easy 1-mile loops to strenuous 3-mile steep and rugged slogs, you can choose the length and level of difficulty that works for you. Indian Trail provides a nice easy (but rocky) 1.3-mile loop that will encapsulate the Big Pocono experience. Stand 300 ft tall on the eastern cliffs and take in the picturesque scenery below. Beautiful at any time of year, spring is a particularly good time to visit, when the ferns and wildflowers are abundant and the vistas below are a lush green expanse.
Loyalsock Trail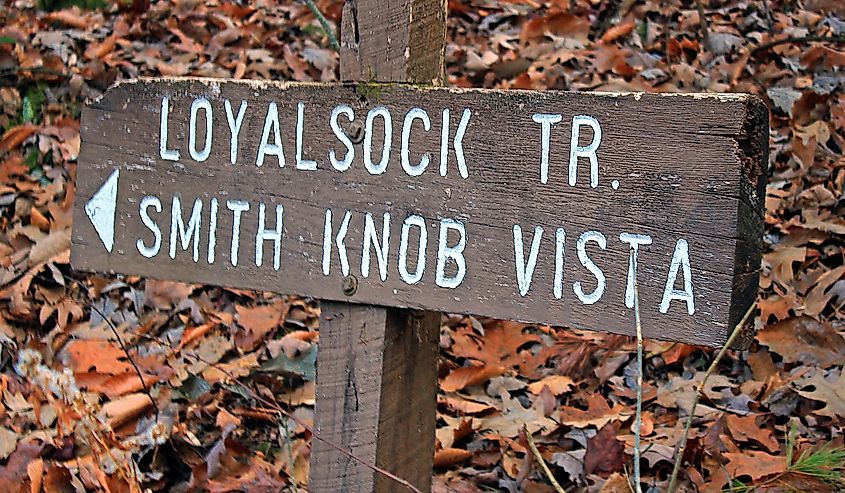 Not only do backpackers have the Appalachian trail accessible to them in Pennsylvania, but fewer backpackers may know about this long-distance hike on the Loyalsock Trail. A great option for beginner thru-hikers, this ~59-mile trail will give visitors a multi-day hike experience, while keeping the duration relatively short (4-6 days) compared to other thru-hikes. Following the abandoned logging roads and railroads and including sections of indigenous trails, the Loyalsock trail was laid out by boy scout troops in the 1950s and is now considered one of the best and most rugged backpacking trails in the state. Hikers will view geological formations (e.g. Sock Rock), traipse up and down plateaus and canyons, cross creeks, and climb ladders, making for a challenging and varied hike. 
Switchback Railroad Trail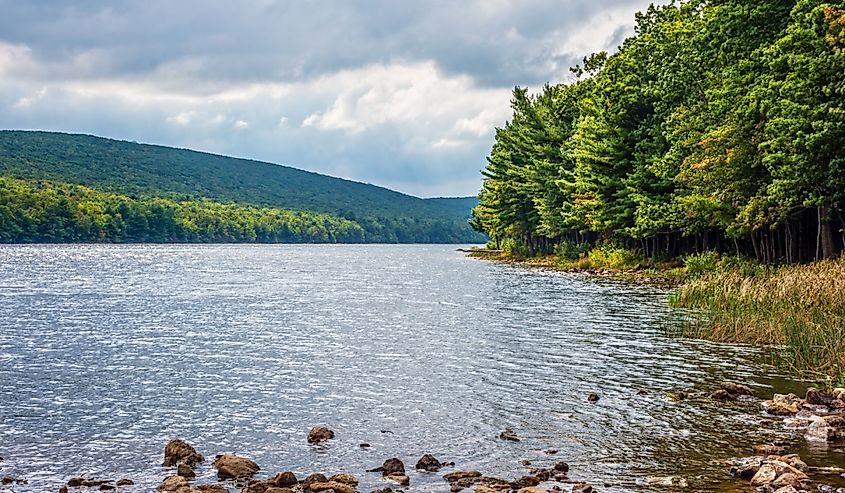 Once home to the second oldest railroad built in America in the 1800s, Switchback Trail first transported coal, and then passengers on its high-speed train, and was credited as the inspiration for the first roller coaster. No longer used for rail travel, this trail is now popular among hikers, bikers, and cross-country skiers. Starting up at Summit Hill, you'll descend 9 miles down one of two intersecting trails, walk alongside Mauch Chunk Lake, and then through a dense forest towards the town of Jim Thorpe. You can stop here and walk right into town, or cross the road to take the other intersecting trail back for the 9-mile uphill portion.  
Lake Wallenpaupack Trail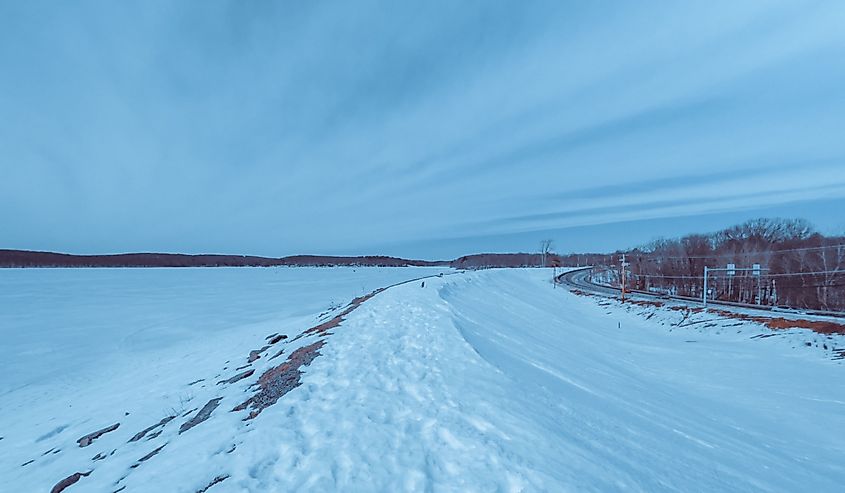 If a strenuous mountain hike is not your party's style, they might enjoy the gentle 1-2 mile walk along a gravel path on the shorelines of Lake Wallanpaupack. The lake views are stunning and there are plenty of opportunities for taking breaks on the beach and looking for wildlife.  A visit in spring will reward you with fields of wildflowers from yellow cinquefoil to soft purple violets, and the sweet songs of hermit thrushes and Baltimore orioles. The trail ends with a wetland teeming with birds and other wildlife, making it a great place to stop for lunch and birding! And if you're interested in learning more about the local flora and fauna, the interpretive signage and the Wallenpaupack Environmental Learning Center staff are rife with fascinating information!
Pulpit Rock and Pinnacle Loop Trail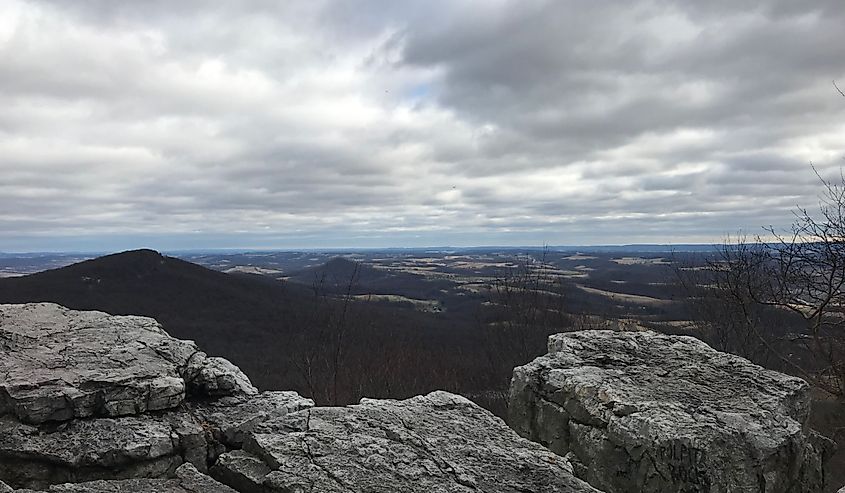 Hard to decide between two extraordinary overlooks of Pennsylvania? With the 9-mile Pulpit Rock and Pinnacle Loop Trail, visitors can have the best of both worlds! Located along the Appalachian trail near Hamburg, this rocky climb is not for the faint of heart, but for those willing and able, the views are hard to beat. The first 2.5 miles are a slog-up technical and rocky terrain, and you'll be ready for a break when you reach Pulpit Rock, so take a rest here and recharge with some views of the valleys and mountains below. Then continue along, following the massive rock cairns until you reach the Pinnacle, which definitely lives up to its name. The views from this outcropping are extraordinary! Watch for raptors flying overhead, as this area is right along their Appalachian flyway migration route.
Promised Land State Park Trails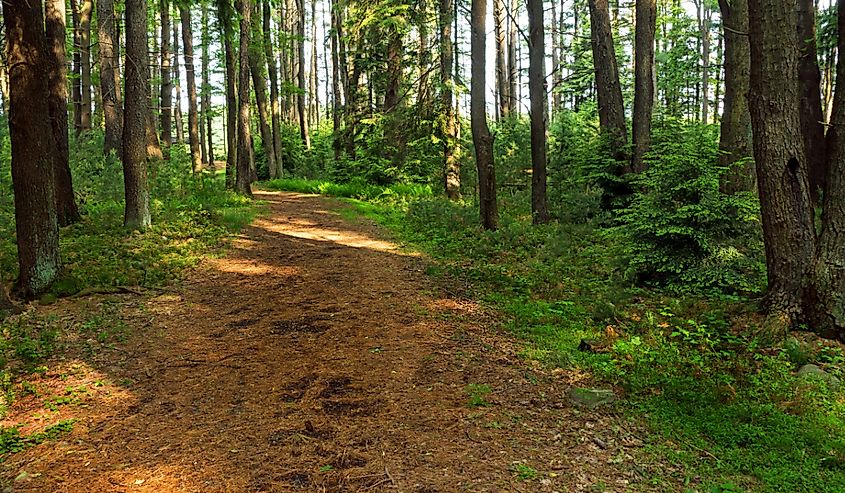 With 50 miles of hiking trails taking you through forests, past waterfalls, and glacial lakes, there is plenty of scope for hikers of all persuasions. Because many of the hikes are short distances, visitors can choose to link up as many as desired like for a longer walk. Some must-see spots are Little Falls, a 1.5-mile loop which takes hikers on a lovely stroll alongside a creek, through thick forests, past wetlands, and discover a multitude of waterfalls, including the tiny 10-foot "Little Falls" itself. Add on the 7.5-mile Bruce Lake Trail just outside of the park to marvel at the captivating natural glacial lake formed by the Wisconsin glacier.
Cliff Trail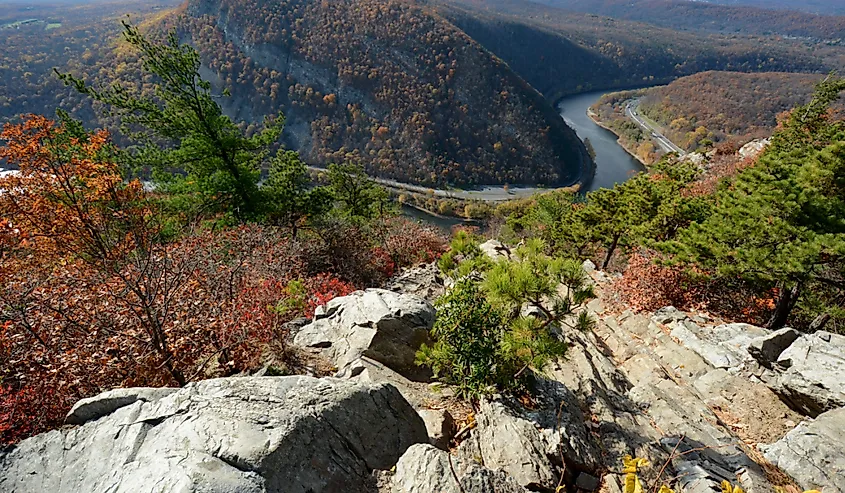 With its sheer cliffs and epic views of the surrounding valley near the Delaware Water Gap, the Cliff Trail was so reminiscent of the Old West that several Western movies were filmed here rather than in the Western states. This 5.8-mile trail leads you through deciduous forest, alongside babbling creeks, and past several waterfalls, and cascades. A great site to spot wildlife, tourists here are likely to see deer, bears, and peregrine falcons! In fact, the cliff face is an important nesting site for these speedy falcons, so you may get lucky and see these majestic falcons dive at speeds up to 200 miles per hour while hunting their prey! The species is listed as endangered in the state of Pennsylvania. So make sure to pay attention to signage as some areas are closed to the public during nesting season.
Lakeside Trail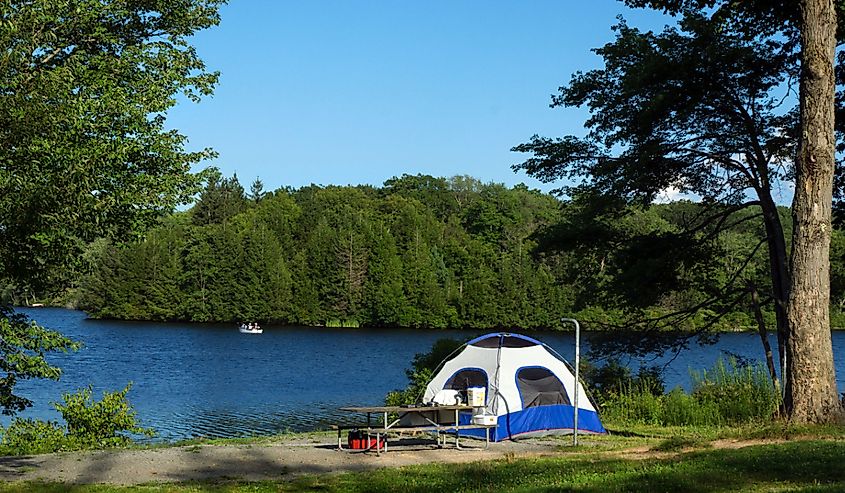 Relax and take in the peaceful lakeside scenery on this easy 5-mile loop in Tobyhanna State Park. The park name, which roughly translates to "a stream whose banks are fringed with alder", is just as idyllic as it sounds. Hikers will circle around the 170-acre Tobyhanna Lake itself, through alder stands, and across gentle hilly terrain, ending in a sweet meadow. An excellent spot for birding,visitors will likely encounter Red-breasted nuthatch, Louisiana waterthrush, and even the brilliantly-colored Blackburnian warbler. Keep an eye out on the shoreline for wood frogs and salamanders hiding in the shallows. A relatively easy hike with plenty to explore, this one is great for kids and families too!
Takeaway
The Poconos is a sparsely populated region, with brilliant and diverse trails that remain unknown to most people, making it an ideal location to enjoy some solitude in nature and the potential to have the trail all to yourself! From easy breezy lakeside strolls to more technical climbs up rocky mountains, and quick hops on and off the Appalachian Trail, the Poconos have hidden gems for all ages, skill levels, and preferences.