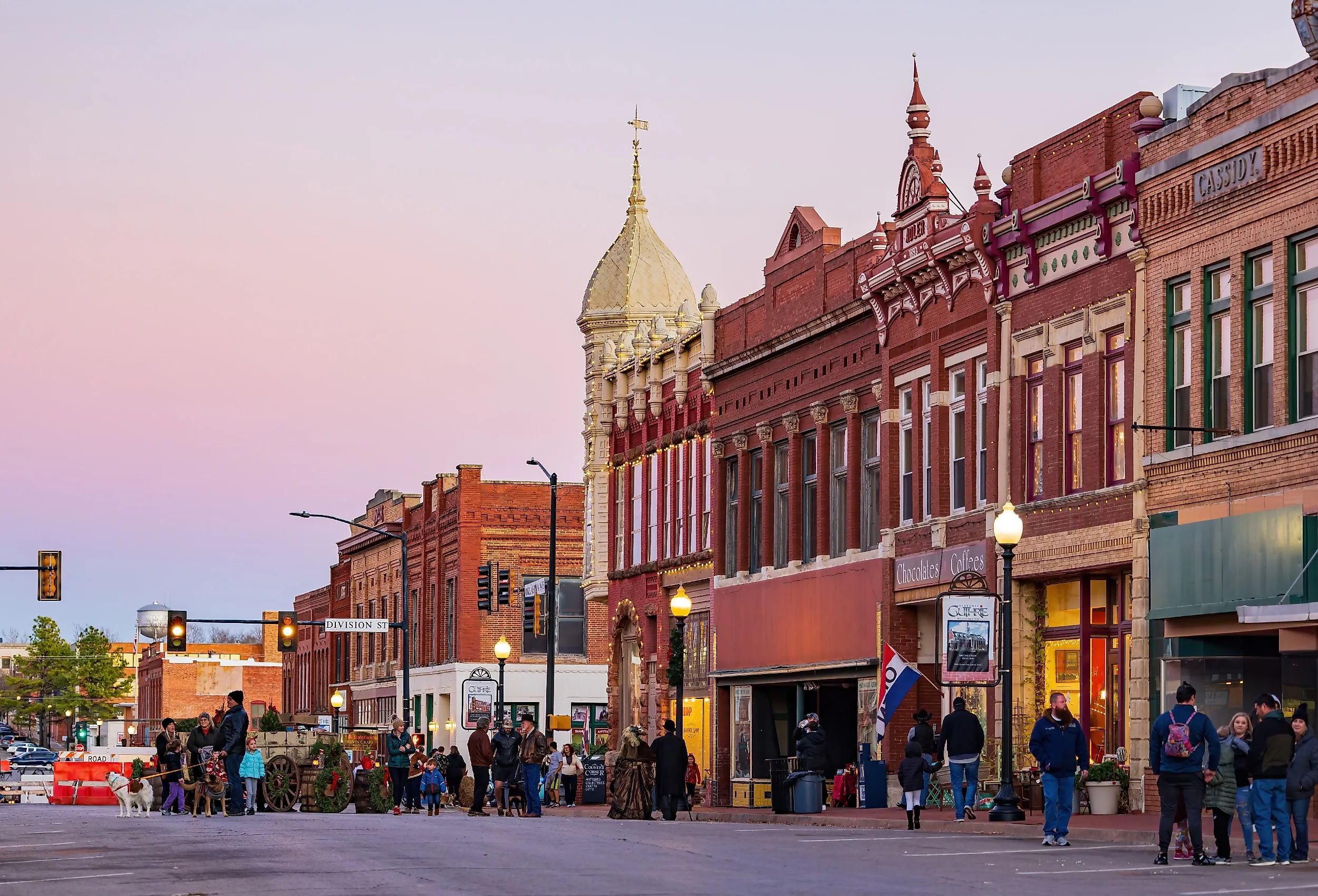 10 Gorgeous Oklahoma Towns To Visit In 2023
Even though Oklahoma didn't enter the US Union until 1907, the state shares a rich and diverse history with several Native American tribes and later pioneer settlers. In particular, the small towns of Oklahoma offer a unique perspective into the authentic culture of the "Sooner State." Despite its state motto, "Work Conquerers All," Oklahoma is ideal for a calm and relaxing getaway from the city's hustle. The locals are known for their friendly, southern hospitality and fantastic food, which makes visiting these gorgeous towns in Oklahoma warm and welcoming.
Tahlequah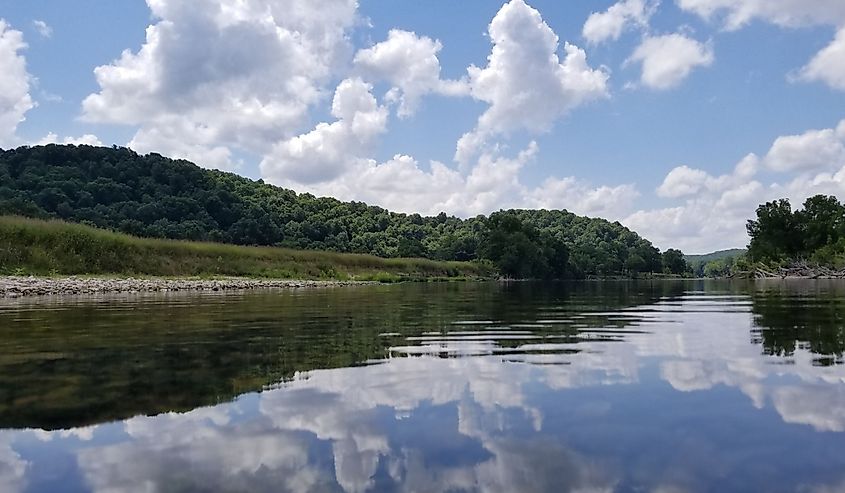 Tahlequah, one of the oldest-founded towns in the state, rests a few miles southeast of the mighty city of Tulsa in the breathtaking Cherokee Nation. As part of the Illinois River Valley, this town has a rustic, natural charm steeped in local native and later European history. The name Tahlequah comes from the Cherokee word for "just two," referencing the meeting of two tribal chiefs after the Trail of Tears. 
Visit the Cherokee National Museum for an authentic glimpse into native history and culture in the region. Initially, it was the site of the first Cherokee Capitol Building in Tahlequah, but today, it houses over 7,000 square feet of art, artifacts, and culturally significant information. Ensure you plan a few days to explore this amazing town's other features, including outdoor adventures and delicious dining. The city is surrounded by gorgeous parks and wildlife trails, including Sparrow Hawk Primitive Area Trail just outside town. After hiking, trekking, and exploring the city, be sure to try the fresh local seafood at Katfish Kitchen.
Arcadia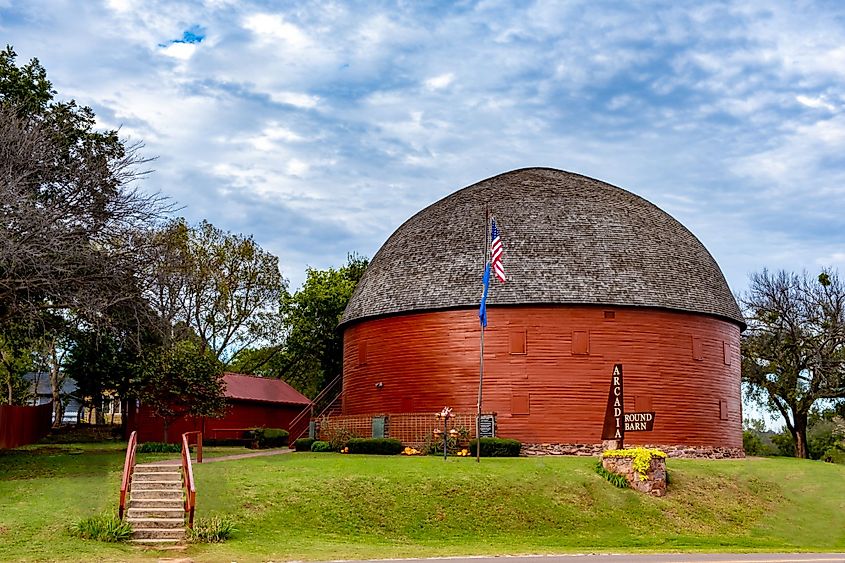 About two hours west of Tahlequah is the adorable tiny township of Arcadia. Arcadia is not far from Oklahoma City and perfectly blends small-town comfort with an urban vibe. With a population under 300 and an area of only one square mile, many tourists overlook this town because it seems so small. But small doesn't mean boring. This city loves music, hosting an annual Festival and Rodeo on Labor Day weekend. It's a fun event with music, food, vendors, and a rodeo. Check out the Arcadia Round Barn, a charming historic barn built in 1898. It is a beautiful spot to spend an afternoon with gift shops and exhibits. Or, consider booking their loft for your next big event.
Medicine Park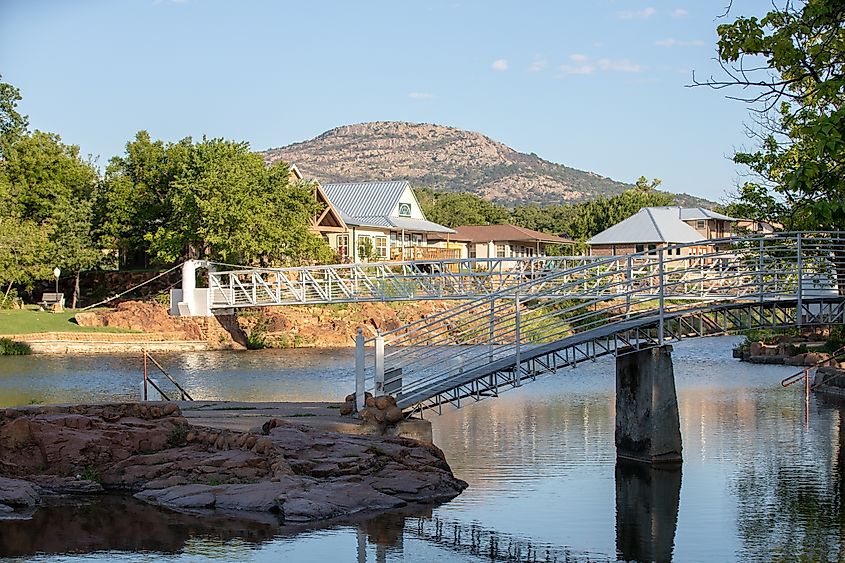 Approximately 100 miles southwest of Arcadia is Medicine Park, a sweet town in Comanche County. Medicine Park began in 1908 as the first resort town in Oklahoma. The nearby springs were believed to have medicinal qualities by the Plains Indians, who shared the information with Europeans when they arrived.
Today, this town is one of the best in the state as it retains its original charm as a resort and vacation destination. Bath Lake Medicine Park, along Medicine Creek, has beautiful natural scenery and is perfect for a small hike. The local Medicine Park Aquarium and Natural Science Center and Healthy Hippie Cafe and Bar are not far away, two great ways to finish your trip. The aquarium prides itself in top-notch eco-tourism with over 90 different exhibits. The Healthy Hippie Cafe and Bar is great for any meal, serving various plant-based, organic foods in a soothing and welcoming environment.
Guthrie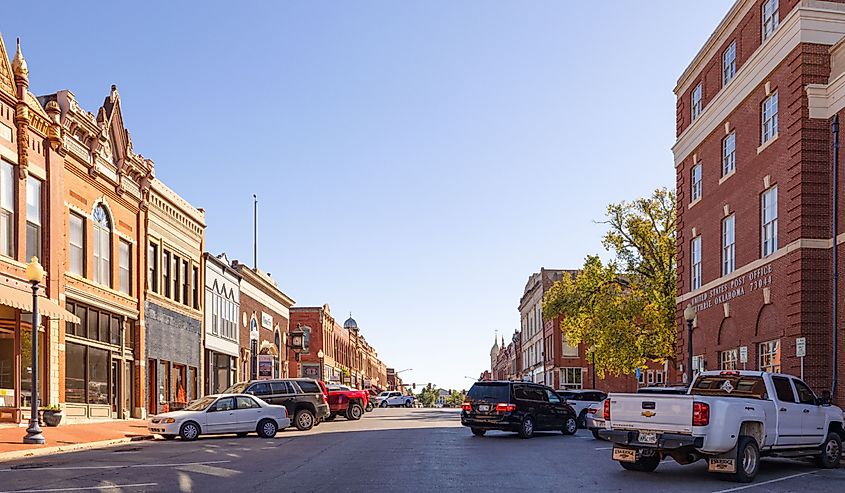 Just about 30 minutes north of Arcadia is the stunning city of Guthrie in Logan County. The Cimarron River runs north of the town and gives a unique natural flare complimented by the city's spectacular main street. What began as an open space of rolling prairie grass is now a beautiful rustic town with brick stone roads and 20th-century building design. It is ideal for a romantic getaway or singles trip. If you want a truly romantic experience, consider booking a few days at Dominion House. This fantastic boutique hotel is a favorite place for weddings.
While in the area, be sure to explore the two lovely lakes in town, Liberty and Guthrie Lakes. Liberty Lake also has campgrounds for anyone who enjoys a fully immersive time in nature.
Stillwater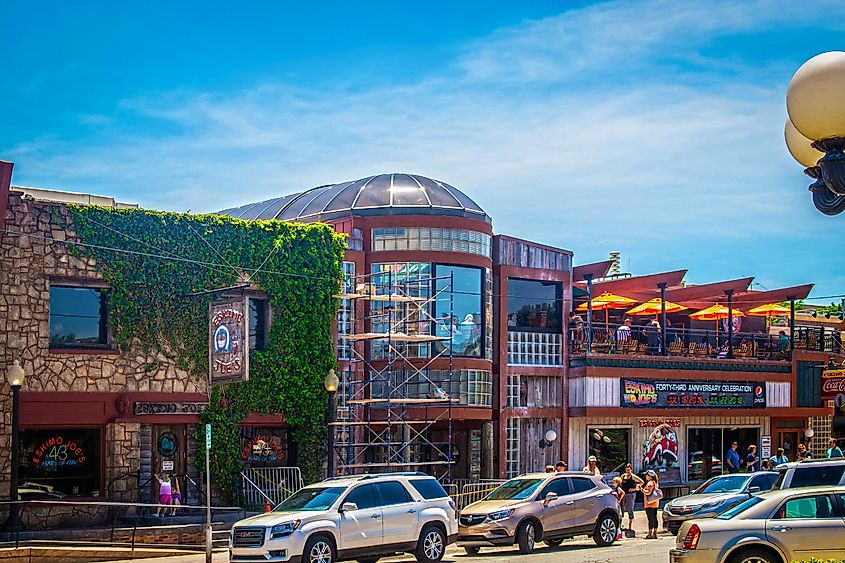 Northeast of Guthrie and Arcadia is Stillwater, the county seat of Payne County. As one of the larger cities in Oklahoma, it offers a rich diversity of events, recreational activities, and beautiful scenery. Home to Oklahoma State University, this college town has lots of local downtown shopping and historic sites to explore and enjoy.
Check out Sunset Viewpoint and take in the beauty of the surrounding countryside and natural landscape. Visit one or all of the many local parks, like Strickland, Southern Woods, and Hoyt Grove Park. Hoyt Park is a fantastic place for people who enjoy wooded areas and an incredible hiking trail. Do you like high-quality beef, fresh seafood, and decadent desserts after a long day trekking the city? Stop by the Golden Dragon Cafe. Their lunch and dinner menus offer foods like shrimp, salads, delicious noodle soups, and various cakes.
Kingston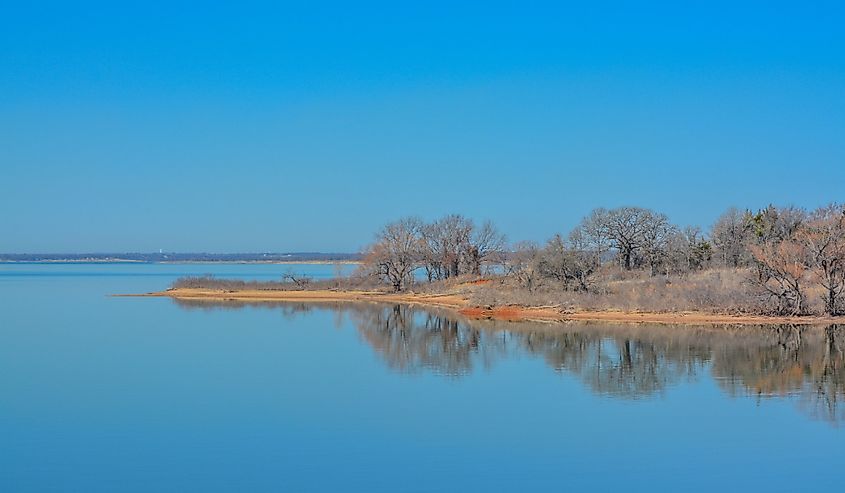 Established in 1906, the lovely little community of Kingston offers visitors a quiet break from the world. Like Stillwater, Kingston has a lot of local nature sites to explore; however, with a population of around 1,600, the bustling activity is far less. This makes it an excellent place for a relaxing vacation and a country escape.
The Woods Motel, just north of the town's border, is ideal for a getaway. The rustic accommodations near Lake Texoma allow guests to experience nature on the lakeside's beauty. Fishing here in the striped bass capital is peaceful and rejuvenating. To start your day, drop by Cafe 70 for fresh coffee served with breakfast. Visit BG's Catch for scrumptious catfish, shrimp, and other unique dishes.
Ardmore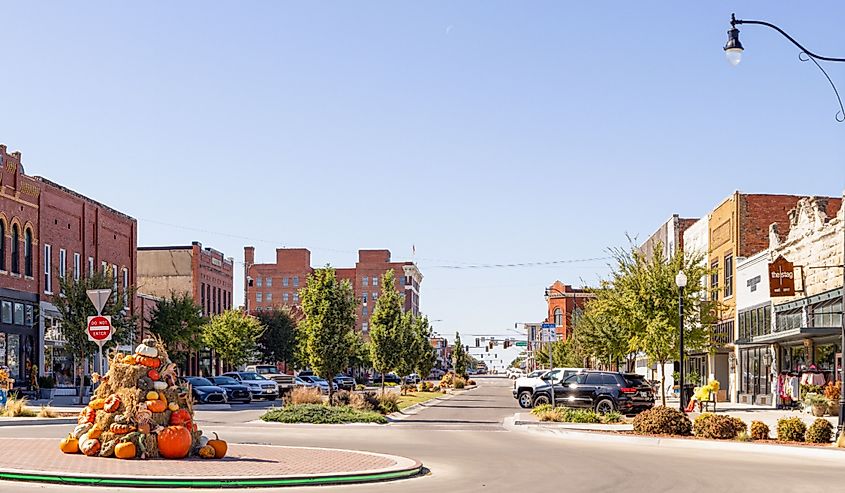 About 30 miles west of Kingston is a gorgeous neighborhood known as Ardmore. Ardmore began as part of the Chickasaw Nation before the arrival of Europeans and American expansion out west. It became an officially established town in the US in 1899, although settlers worked as cattle ranchers in the region before this period.
There are several fantastic bodies of water right in the area that create an organic, vibrant atmosphere. Lake Site 18 and Ardmore Club Lake are just outside the town's center and are great places for fishing and sightseeing. City Lake, in the primary area of town, has some of the best hiking trails, so try to make extra time to explore nature. Borders Inn and Suites by Cobblestone has charming accommodations right in town. Also, check out the exciting Gold Mountain Casino for a fun time trying your luck!
Bixby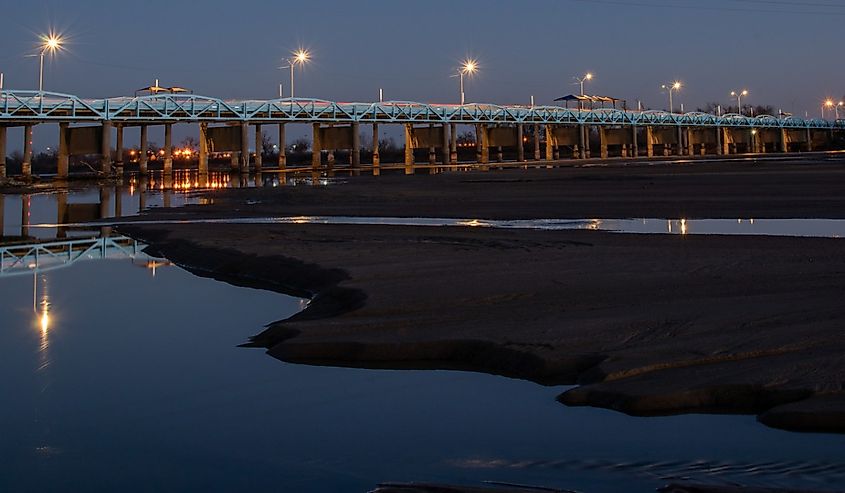 Resting along the Arkansas River, approximately 20 miles outside Tulsa, is Bixby. Named for Tams Bixby, an influential community founder at the turn of the century, the city started as a town of a couple hundred people. Initially situated in the Creek Nation, the town became significantly smaller in later years when the city was separated in its modern location.
The Washington Irving Memorial Park is an excellent place to explore and will keep you occupied for several hours. The park is right along the Arkansas River, providing some of the best views of nature and hiking paths. Check out Okie Grown Farms for those hoping to escape the bustle of life. This six-and-a-half-acre farm allows visitors to spend time on the hobby farm with their farm animals and natural splendor.
Broken Bow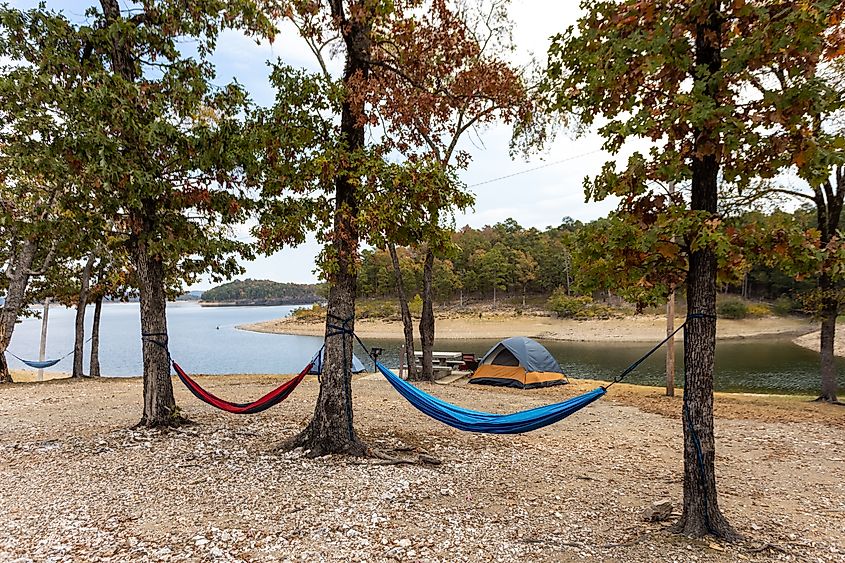 Broken Bow is a beautiful small city in southeast Oklahoma in McCurtain County. It is a township known for its warm, welcoming, close-knit community that values its roots in Native culture and pioneer settlers. For the adventurer, this town is a gold mine of outdoor activities.
Beavers Bend State Park and Nature Center is only a few miles outside the town's border and provides endless opportunities outdoors. However, if you prefer exploring a small town's shopping and eating, Broken Bow won't disappoint. The Oaks Steakhouse offers traditional American cuisine in a hospitable environment. They offer grilled steak, catfish, and delicious wine and beer.
Have you been seeking a place to escape the chaotic world and get in touch with nature? The gorgeous towns of Oklahoma await, with their vast natural splendor. Visiting Oklahoma opens doors to America's native heritage, with over 90 Native American heritage sites. However, it is also a state with massive prairie grass fields, giving tourists a glance into what the old state looked like centuries ago. If you love nature, history, and a welcoming environment, Oklahoma should be on your bucket list of destinations.