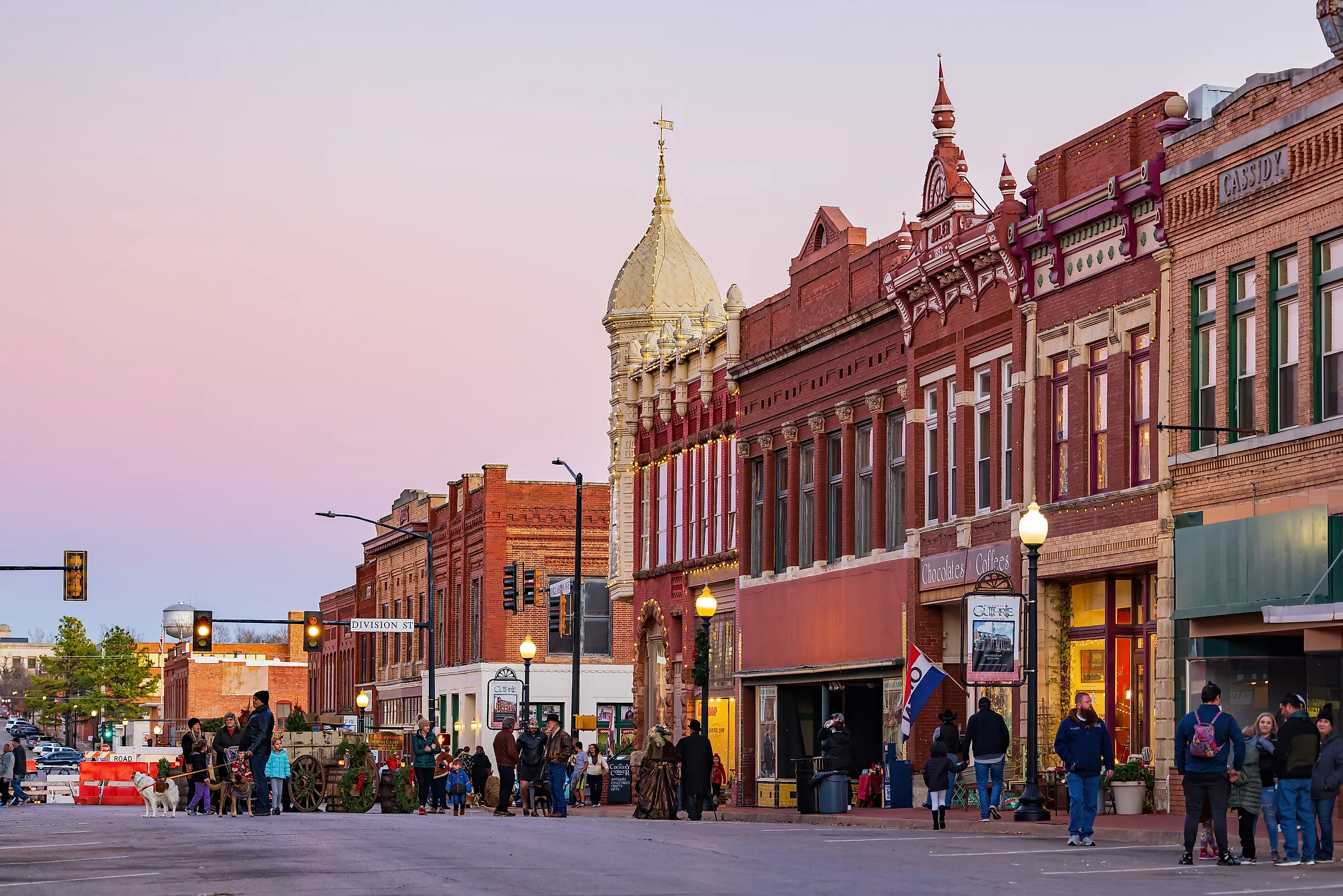 These 8 Towns in Oklahoma Have The Best Main Streets
Graced with inviting main streets that pulsate with life and charm, the small towns of Oklahoma each present their unique allure. For some, the draw lies in the alluring access to nature, providing a burst of fresh air and a gateway to the majestic outdoors. Others offer the appeal of a personal touch, fostering intimate connections that make you feel more than just a face in the crowd. There are those where the rhythm of life is unhurried and serene, a welcome retreat from the frantic pace of bigger cities. Common to most is the uncrowded expanses they afford. For many, there is nothing quite as delightful as meandering down these quaint, cobblestone streets, taking in the captivating architecture and absorbing the essence of the small-town charm that they exude.
Guthrie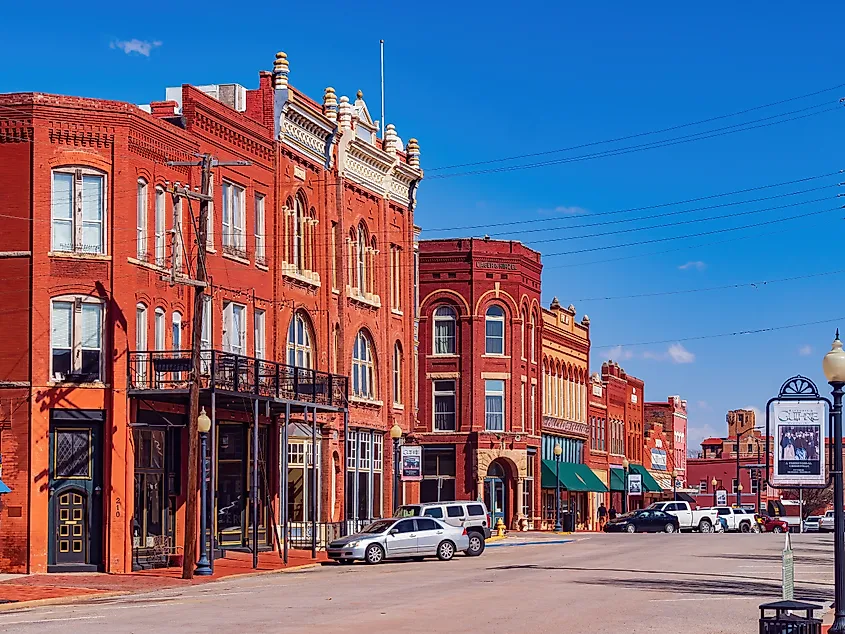 One cannot talk about Oklahoma without mentioning Guthrie, a town graced with imposing Victorian-era architecture that paints a complete picture of the past. Travel back in time with a visit to the Blue Belle Saloon, a hub of Wild West lore, where live performances fill the air with energy. Delve deeper into Oklahoma's past at the Oklahoma Territorial Museum, a treasure trove of historical artifacts and tales. Just a short stroll away, the State Capital Publishing Museum, a former publishing house, brings the history of media and print to life.
Guthrie's culinary scene is a highlight, exemplified by Gage's Steakhouse. With a menu boasting local flavors, this steakhouse is a local favorite. Amidst the restaurants and museums lies the Pollard Theatre, a beacon of the performing arts, known far and wide for its brilliant stage performances. As the day winds down, there is nothing like a peaceful visit to Mineral Wells Park. With its gentle ambiance, it is an oasis for relaxation and bird-watching.
Stillwater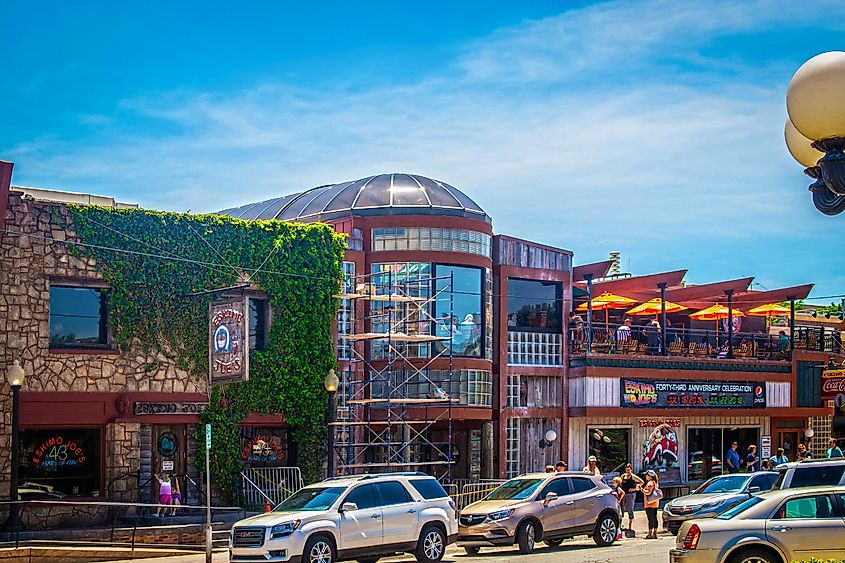 Stillwater, an Oklahoma town known for its inviting main street, is an enchanting destination waiting to be explored. A must-visit here is Eskimo Joe's, an All-American sports bar brimming with enthusiasm and beloved for its cheese fries. Just around the corner, you will find the National Wrestling Hall of Fame, paying homage to the wrestling giants of America.
Zannotti's Wine Bar provides a warm sanctuary for wine aficionados, while the Oklahoma State University Botanic Garden offers a breathtaking display of the state's native plant life. As you saunter through town, stop at the Sheerar Museum of Stillwater History to immerse yourself in local history. Finally, satiate your hunger at The Original Hideaway Pizza, a cherished establishment famous for its mouthwatering pizza.
Pawhuska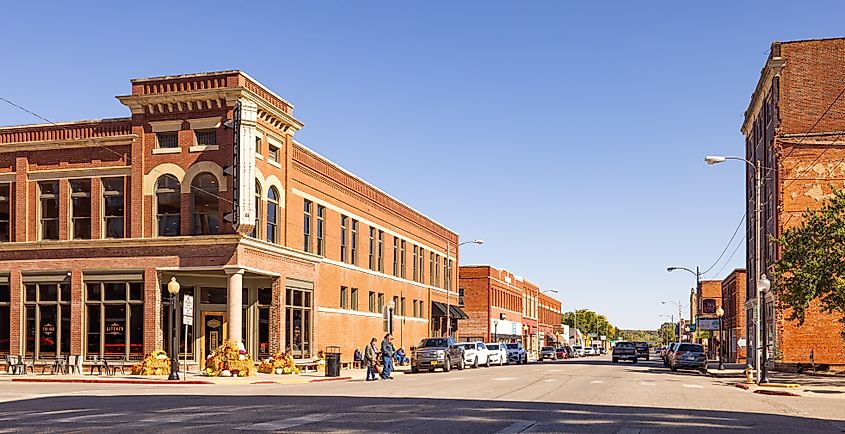 Pawhuska, a place where the past meets the present, features a welcoming main street that serves as the heart of this vibrant town. At its core, the Pioneer Woman Mercantile beckons devotees of Ree Drummond to a world filled with delicious comfort food, coffee, and shopping. Not far from the bustling downtown, the Tallgrass Prairie Preserve stretches out, home to free-ranging American bison, a symbol of the town's commitment to preservation.
Osage County Historical Museum, mere steps from the main street, provides an immersive trip down memory lane, unveiling Pawhuska's captivating past. This journey into history is made even more profound by Roaming The Osage Historic & Scenic Tours, as they guide visitors through the town's most noteworthy sites. The Swinging Bridge, a landmark connecting two sides of the city, offers a memorable walk with sprawling views. To cap off a visit to Pawhuska, the Pawhuska Marketplace is the place to appreciate and support the work of local artisans.
Bartlesville
Bartlesville invites visitors into its dynamic main street, where modernity and heritage seamlessly blend. Standing tall as a testament to architectural prowess, Price Tower, the only realized skyscraper by Frank Lloyd Wright, defines the city's skyline. Further down the street, Bartlesville Area History Museum archives the town's progression through the ages, adding to the contemporary spirit of the city.
Family fun is an integral part of Bartlesville's community, embodied by Kiddie Park, a historic amusement park. The town's sense of camaraderie is palpable at Painted Horse Bar and Grille, known for its locally-inspired dishes and lively music nights. Lastly, the Pathfinder Parkway weaves through the city, providing a serene trail for those wanting to experience Bartlesville's natural beauty by bike or on foot.
Ada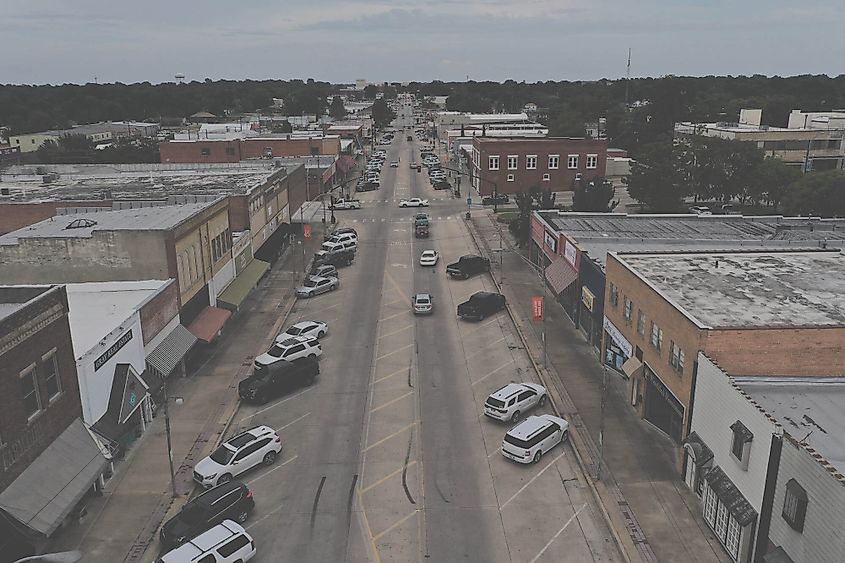 Ada is a vibrant town with a lively main street pulsating with activity. Its heart beats with the rhythm of live music, movies, and theatrical performances at the McSwain Theatre. This theater has become a crucial cultural cornerstone in the town, showcasing local talent and providing the community with entertainment. Just a stone's throw away, you'll find the Ada Arts and Heritage Center. More than a mere repository, it's a crossroads of past and present, intertwining local artistry with the town's fascinating history.
Adding to the sense of elegance downtown, Vintage 22 serves as a refined retreat. This wine and dessert bar offers an inviting atmosphere, encouraging patrons to savor the subtleties of both beverage and conversation. In contrast to the sophisticated ambiance of Vintage 22, Rusty Ridge is an antique collection of handcrafted wares and bygone relics. For a further taste of nostalgia, Folger's Drive-In transports you back in time with its burgers — as much a local tradition as they are a culinary delight. Wintersmith Park completes the tableau, providing residents with a tranquil setting for outdoor relaxation, recreational trails, and a historic public amphitheater, enhancing Ada's sense of community.
El Reno
El Reno's main street, teeming with historical significance, tells a different yet equally engaging story. The Canadian County Historical Museum, housed in a meticulously restored railroad depot, lets visitors step back in time to the days of early settlement. Meanwhile, Iron Tree Coffee serves up more than just a cup of joe. It is a gathering place where stories flow as freely as specialty coffees. At Sid's Diner, the aroma of sizzling onion burgers, an El Reno specialty, tantalizes passersby and diners alike.
Family entertainment gets a nod at El Reno Bowl, where friendly competition and laughter echo through the alley. For those seeking a more serene pastime, Crimson Creek Golf Club provides a meticulously maintained course, welcoming beginners and seasoned golfers alike. The refreshing waters of Lake El Reno complete the town's collection of attractions. Perfect for a multitude of outdoor activities, it provides an engaging expanse where residents can engage in camping, picnics, and water sports. 
Weatherford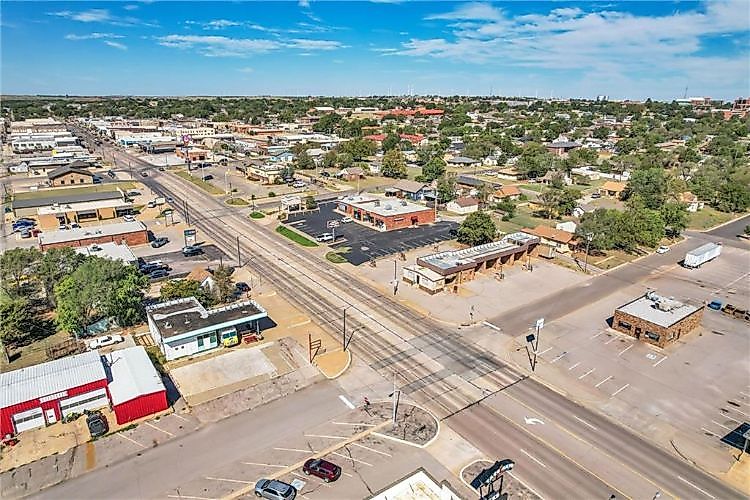 With a population of around 12,000, Weatherford is known for its inviting main street, named Custer Street. A popular stop is the iconic Stafford Air & Space Museum, where you can admire astronaut Thomas P. Stafford's spacesuits and the actual Gemini VI spacecraft. A walk down Custer Street takes you to Lucille's Roadhouse Lounge, renowned for its Route 66-themed decor and signature steaks. The Rader Park, right on N. 7th Avenue, is a delightful outdoor haven offering disc golf and beautiful picnic spots. At the intersection of E College Ave and Custer, you will find Petals Flower & Gift Shop LLC, providing handcrafted floral arrangements and charming home decor. The town's history is well-preserved at the Heartland of America Museum on Route 66, showcasing artifacts from Native American history to modern agriculture.  
Yukon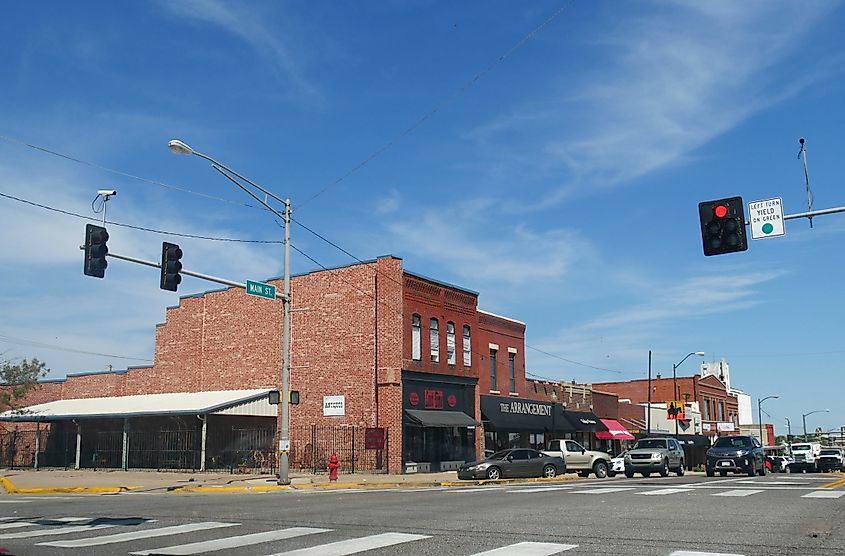 Yukon's main street strikes a balance between small-town congeniality and a sense of steadfast history. The Yukon's Best Railroad Museum stands as a sentinel to the past, paying homage to the railway legacy that once shaped Yukon. Making a culinary transition, Green Chile Kitchen Route 66 entices with its authentic New Mexican flavors. The next stop is the Yukon Veterans Museum. This beacon of remembrance honors the local veterans, encapsulating the community's respect for service and sacrifice in its display of artifacts and personal histories.
At Archery Traditions of Oklahoma, the ancient sport of archery is revered and revived. Then there's Vacca Coffeehouse, Yukon's cherished coffee corner. The aroma of freshly brewed coffee and the congenial atmosphere brews a blend of community warmth and caffeine-induced conversations. Concluding the Yukon tour, Chisholm Trail Park comes alive with cultural festivities. As host to the annual Oklahoma Czech Festival, it ties the knot between tradition and celebration, painting an enthralling portrait of Yukon's community spirit and shared heritage.
In short, Oklahoma promises adventure. As you journey through its quirky main streets, be sure to immortalize these moments with snapshots of your travels.  From the vast expanse of its sprawling lakes to the imposing grandeur of its steep hillsides, the appeal of Oklahoma is undeniable. So pack your bags and heed the call—Oklahoma is eagerly waiting to welcome you.