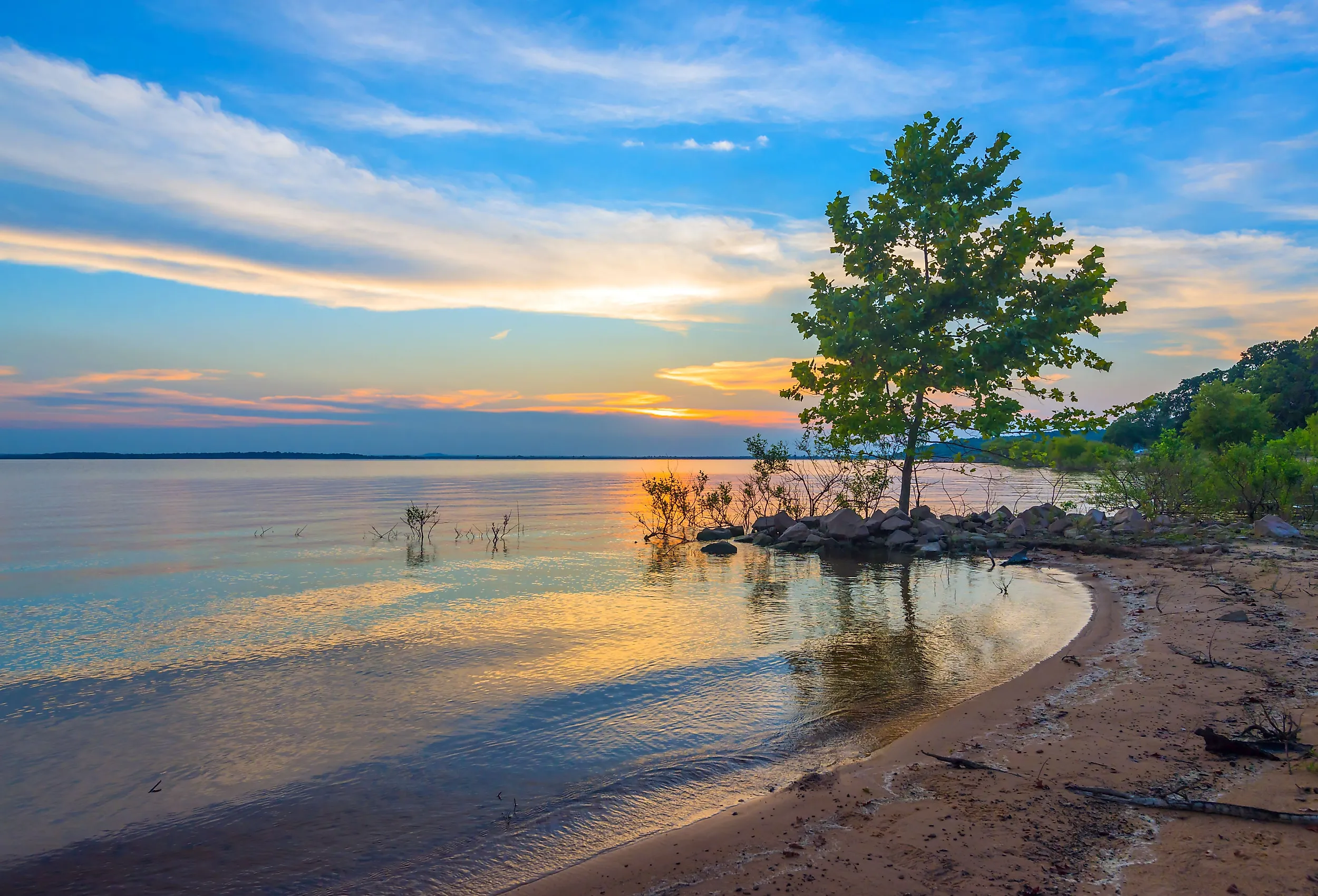 7 Oldest Founded Towns To Visit In Oklahoma
Oklahoma is home to several towns with a rich historical legacy, founded many years ago. These towns offer a glimpse into the state's past, showcasing unique stories, architectural treasures, and cultural heritage. From the first state capital to Native American heritage sites, Oklahoma's oldest towns provide a captivating experience for visitors. This guide will introduce seven historic towns with a population below 50,000.
Explore the Victorian charm of Guthrie surrounded by the Native American culture of Pawhuska, or discover the oil industry heritage in Cushing. Whether interested in history, outdoor activities, or simply experiencing the small-town charm, these destinations have something to offer, making memorable visits no matter the destination.
Guthrie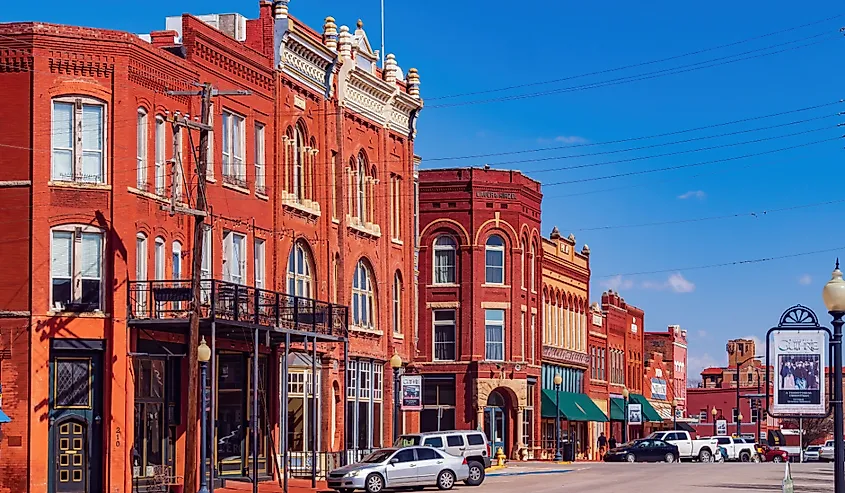 Guthrie, founded in 1887, is one of the oldest towns in Oklahoma. Once the state's first capital, it holds a rich history and Victorian charm. Its well-preserved downtown boasts over 2,000 historic buildings, immersing visitors in its significant past. Stroll along the brick-paved streets, and marvel at the impressive Victorian-style mansions, churches, and government buildings. Do not miss the Oklahoma Territorial Museum and Carnegie Library, where folks can delve deeper into the town's history.
Explore the unique shops and boutiques offering antiques, artwork, and handmade crafts. Indulge in local cuisine at charming restaurants and cafes, and try the famous fried pies at Rick's Fine Chocolates and Pies. Guthrie is also home to numerous art galleries and theaters, including the Pollard Theatre, which hosts live performances. Immerse yourself in the town's vibrant arts scene and catch a show or exhibition. Experience the beauty of Guthrie's architecture, the warmth of its community, and the echoes of its fascinating past.
Pawhuska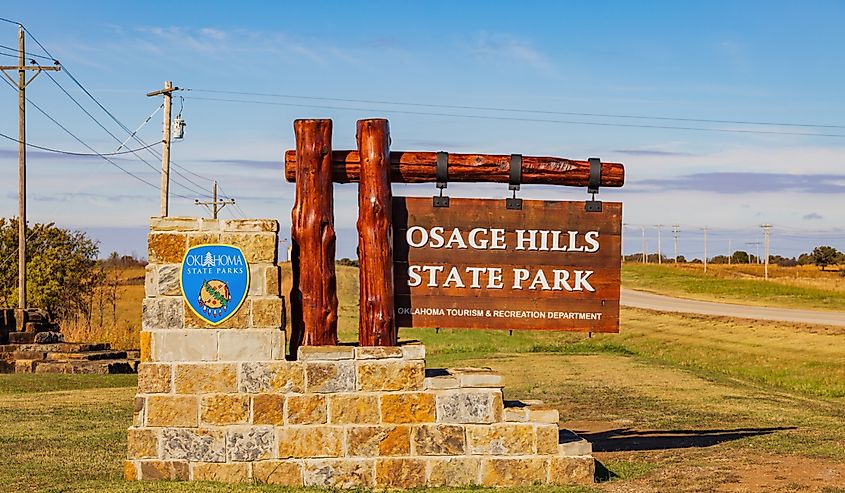 Pawhuska, founded in 1872, is a beautiful town in Oklahoma known for its rich Native American heritage and charming Main Street. The town is located in Osage County and is the capital of the Osage Nation. Explore the historic downtown area, lined with beautiful buildings that showcase the town's history and architectural beauty. Be sure to check out the iconic Pioneer Woman Mercantile, owned by Food Network star Ree Drummond!
Indulge in delicious comfort food and browse through unique gifts and kitchenware. Learn about the Native American culture at the Osage Nation Museum, which showcases art, artifacts, and exhibits highlighting the history and traditions of the Osage people. Enjoy outdoor activities at the nearby Tallgrass Prairie Preserve, where visitors can hike scenic trails and observe the stunning prairie landscapes. Pawhuska offers a delightful blend of history, culture, and natural beauty, making it a must-visit destination in Oklahoma.
Cushing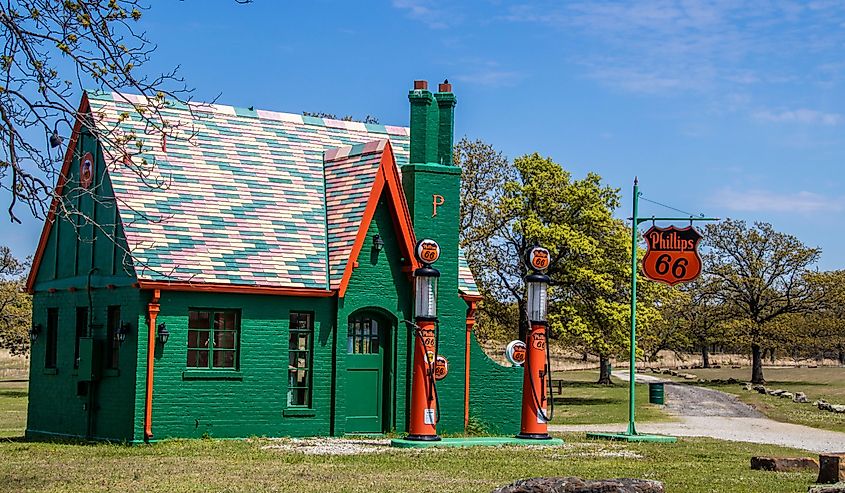 Cushing, founded in 1892, is a charming town in Oklahoma called the "Pipeline Crossroads of the World." Located in Payne County, Cushing has a rich history tied to the oil industry. Explore the town's downtown area, where you can visit the Cushing Historical Museum and learn about the town's oil heritage through exhibits and artifacts. Check out some shopping locations on Cushing's Main Street and discover unique shops, boutiques, and antique stores.
Another exciting attraction is the Cushing Aquatic Center, a popular spot for swimming and water activities in the summer. If interested in outdoor adventures, head to the nearby Cushing Lake, where there is ample opportunity for fishing, boating, or picnicking by the water. Cushing offers a blend of history, small-town charm, and recreational opportunities, making it a delightful destination for a day trip or weekend getaway in Oklahoma.
Eufaula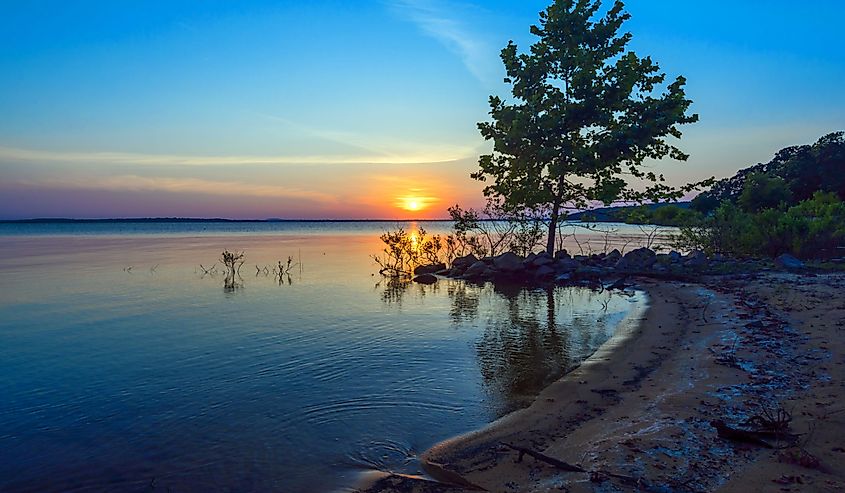 Eufaula, founded in 1837, is a historic town located on the shores of Lake Eufaula in McIntosh County, Oklahoma. This picturesque town offers natural beauty, history, and outdoor recreation. Explore the downtown area, which features charming shops, boutiques, and antique stores, perfect for strolling and finding unique treasures. Visit the Eufaula Cove Marina and indulge in water activities such as boating, fishing, and swimming in the crystal-clear waters of Lake Eufaula.
History enthusiasts can explore the Eufaula Historic District, featuring well-preserved Victorian-era buildings, including the McIntosh County Courthouse and the George M. Murrell Home, a historic plantation house. For outdoor lovers, the Eufaula National Wildlife Refuge offers birdwatching, hiking, and wildlife spotting opportunities. Whether visitors are passionate about history, outdoor adventures, or simply enjoying the scenic beauty of the lake, Eufaula offers a delightful getaway in Oklahoma.
Tahlequah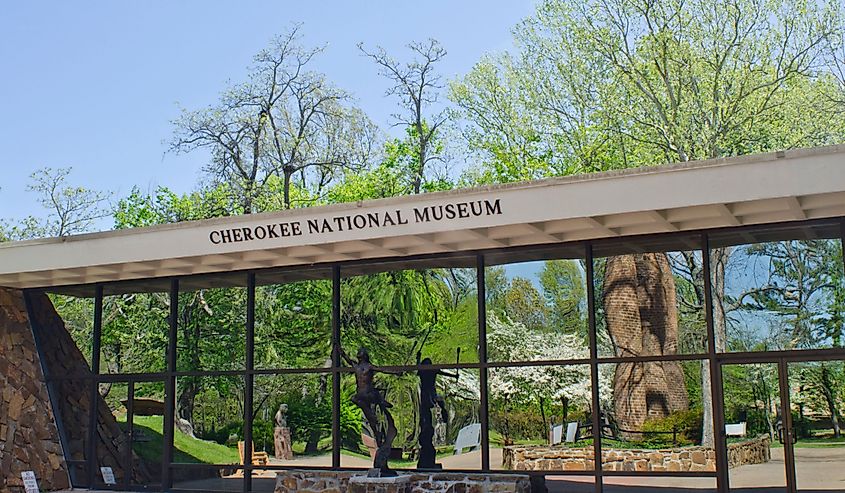 Tahlequah, founded in 1839, is a charming town in Cherokee County, Oklahoma. As the capital of the Cherokee Nation, it holds significant historical and cultural importance. Explore the rich Native American heritage at the Cherokee Heritage Center, where visitors can learn about the Cherokee people's history, art, and traditions. Check out the beautiful campus of Northeastern State University, Oklahoma's oldest institution of higher learning.
Discover the scenic beauty of the Illinois River, perfect for canoeing, kayaking, and fishing. Visit the Cherokee National Supreme Court Museum, which showcases the judicial history of the Cherokee Nation. Enjoy the vibrant arts scene with galleries, theaters, and live music performances. Plan a trip to align with the annual Red Fern Festival, celebrating the famous novel "Where the Red Fern Grows," set in Tahlequah. Experience the unique blend of history, culture, and natural beauty that Tahlequah has to offer.
Miami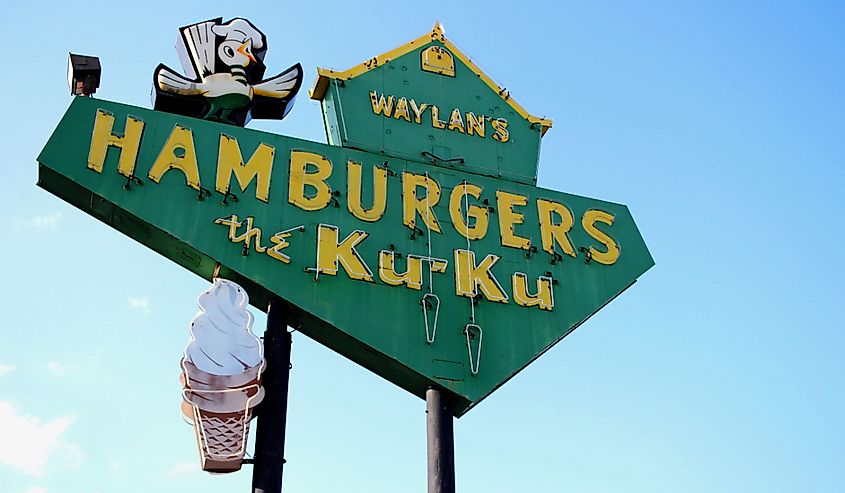 Miami, Oklahoma, founded in 1891, is a small town with a rich history and vibrant community. Explore the downtown area and discover its unique architecture, including the historic Coleman Theatre, a beautifully restored vaudeville theater that offers live performances and tours. Visit the Dobson Museum to learn about the town's history and see exhibits showcasing Native American heritage.
Enjoy outdoor activities at nearby Twin Bridges State Park for some fishing, hiking, or relaxing with a good book by the lake. Check out the charming Main Street district, which features boutique shops, antique stores, and local eateries for shopping and dining. For a more immersive experience, check out the Miami Nation Powwow, a celebration of Native American culture and traditions. With its historical attractions, outdoor recreation opportunities, and small-town charm, Miami offers a delightful getaway for visitors.
Duncan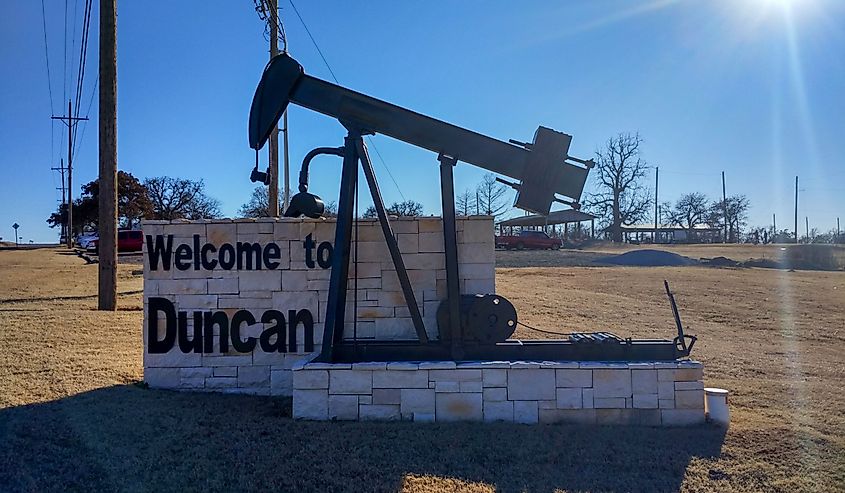 Duncan, Oklahoma, founded in 1892, is a charming town with a unique blend of history and modern amenities. It is close to Lawton, a more urbanized area however Duncan has a quaint downtown area and Main Street that is lined with cute shops, art galleries, and delicious eateries. Make a stop at the Chisholm Trail Heritage Center, where visitors can learn about the town's cowboy and cattle-driving history through interactive exhibits and displays!
Enjoy outdoor activities at Fuqua Park, which offers walking trails, picnic areas, and a scenic pond. To taste local culture, catch a performance at the Simmons Center Theater, a community venue that hosts live shows and events. Sports enthusiasts can visit the Halliburton Park Sports Complex, which features baseball fields, soccer fields, and a disc golf course. With its rich history, outdoor recreation options, and friendly community, Duncan is an ideal destination for a weekend getaway.
Conclusion
Visiting the oldest-founded towns in Oklahoma is like stepping back in time and witnessing the state's vibrant history firsthand. From the pioneer spirit of Guthrie to the cultural heritage of Tahlequah, these towns offer a unique blend of captivating stories, architectural wonders, and natural beauty. Whether exploring Oklahoma City or historic downtowns, visiting museums, or enjoying outdoor activities, tourists are sure to find rich experiences in these small, yet historically significant, communities.
Embark on a journey to discover the roots of Oklahoma and create lasting memories in these charming towns. With their welcoming atmospheres, unique cultural attractions, and historical sites, these destinations offer a lovely escape for those seeking a taste of Oklahoma's past and present!