Environment
The Biggest Lakes in Oklahoma
Oklahoma has over 200 lakes created by dams, the most of any state in the United States, Lake Texoma being the largest.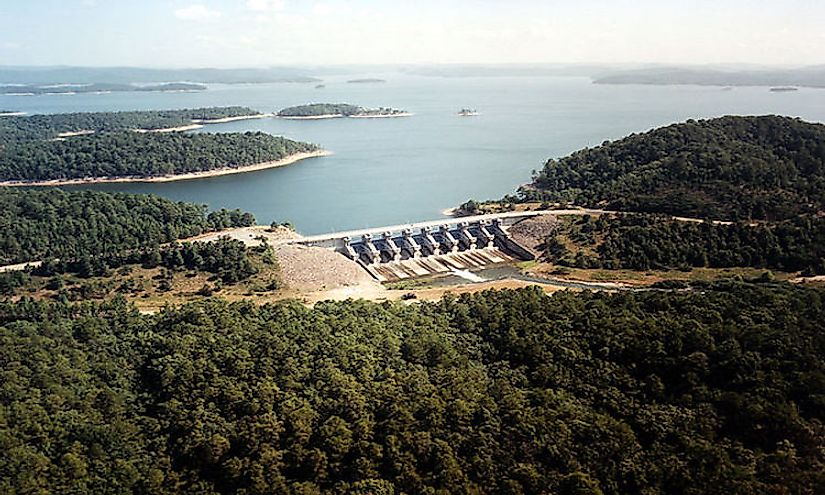 Oklahoma, a state in the United States, is unique in that the majority of its lakes are human-made. Among all US states, it has the biggest number of dam-created lakes. Of natural lakes, it has either playa lakes or oxbow lakes. Oxbow lakes are created when a meandering part of the river is cut off from the rest of the river, leaving a U-shaped lake. Playa lakes are dry depressions into which water collected then evaporated, leaving an accumulation of precipitated salts. Lake Texoma is the largest lake in Oklahoma.
Lake Texoma
At 2,643,000 acre-feet, Lake Texoma is Oklahoma's largest lake. The lake is formed from Denison Dam, with the Red River and the Washita River as its primary water sources. The original purpose of the dam and lake was flood control and to generate hydroelectric power. Plans were approved in 1938, with construction starting in 1939, and completed in 1944. The lake is home to more than 70 fish species, including several varieties of the bass and catfish. Water drains from Lake Tecoma into the Red River. At average elevation, the lake is 615 to 619 ft, increasing at flood time to as high as 645 ft; with the top of Denison Dam being at 670 ft. Every year 6 million tourists visit the biggest lake in Oklahoma, which has several attractions including two state parks, golf courses, motor boating, and sailing. This tourism has contributed to the economic growth of the area.
Eufaula Lake
Oklahoma's Eufaula Lake, which is 2,314,000 acre feet in size, is the state's second-largest lake. Its main inflows are the North and South Canadian Rivers, and the primary outflow is the Canadian River. It has an average depth of 23 ft and a maximum depth of 87 ft. Surface elevation is 585 ft. In 1946, Congress approved the construction of the dam to serve as flood control, water supply, navigation, hydroelectric generation, and recreation. The construction was done by the US Army Corps Engineers beginning in 1975 and came to completion in 1964. The dam generates 90,000 kilowatts of electricity, and its cost was $121.4 million. It is estimated that the dam has prevented almost $575.5 million of damages caused by flooding since it was completed. The dam is a tourist destination and attracts 2.5 million tourists annually.
Grand Lake o' the Cherokees
The third largest lake in Oklahoma is the 1,515,416 acre feet Grand Lake o' the Cherokee, which is created by the Pensacola Dam. The lake's location is in the foothills of the Ozark Mountains. Construction commenced in 1938 and was completed in 1940. As well as attracting tourists to its resorts, its shows, and its tour boat the Cherokee Queen, the lake is among the top fishing lakes in the US.
Broken Bow Lake
The fourth biggest lake in Oklahoma is its 918,070-acre feet Broken Bow Lake. The Mountain Fork River is both its primary inflow and primary outflow. Located in the town of Broken Bow, the lake stretches into Ouachita Mountain country, with the densely forested mountain terrain providing numerous native bird species, attracting birdwatchers to the area. Recreational activities include hiking and hunting, done in the several parks found around the lake.
Lakes in Oklahoma
Oklahoma has over 200 human-made lakes, the greatest number for any state in the United States. Some of these other lakes, in order of reducing size are the Tenkiller Ferry Lake, Keystone Lake, Oologah Lake, Robert S. Kerr Reservoir, Foss Reservoir, Kaw Lake, Gibson Lake, Skitook Lake, Sardis Lake, Waurika Lake, Maukham Ferry Reservoir (Lake Hudson), Webbers Falls Lake, and many others.
What is the Biggest Lake in Oklahoma?
The largest lake in Oklahoma is Lake Texoma with an area of 89,000 acres.
Which Is The Biggest Lake In Oklahoma?
| Rank | Name | Capacity in acre feet (normal pool) |
| --- | --- | --- |
| 1 | Lake Texoma | 2,643,000 |
| 2 | Eufaula Lake | 2,314,000 |
| 3 | Grand Lake o' the Cherokees | 1,515,416 |
| 4 | Broken Bow Lake | 918,070 |
| 5 | Tenkiller Ferry Lake | 654,100 |
| 6 | Keystone Lake | 557,600 |
| 7 | Oologah Lake | 553,400 |
| 8 | Robert S. Kerr Reservoir | 525,700 |
| 9 | Foss Reservoir | 437,000 |
| 10 | Kaw Lake | 428,600 |
| 11 | Fort Gibson Lake | 355,200 |
| 12 | Skiatook Lake | 322,700 |
| 13 | Sardis Lake | 274,330 |
| 14 | Waurika Lake | 203,100 |
| 15 | Markham Ferry Reservoir (Lake Hudson) | 200,300 |
| 16 | Webbers Falls Lake | 170,100 |
| 17 | Hugo Lake | 157,600 |
| 18 | Lake Murray | 153,250 |
| 19 | Sooner Lake | 149,000 |
| 20 | Lake Altus-Lugert | 132,830 |
About the Author
Benjamin Elisha Sawe holds a Bachelor of Arts in Economics and Statistics and an MBA in Strategic Management. He is a frequent World Atlas contributor. 
This page was last updated on May 6, 2019.
Citations
Your MLA Citation
Your APA Citation
Your Chicago Citation
Your Harvard Citation
Remember to italicize the title of this article in your Harvard citation.