Which Countries Border Ethiopia?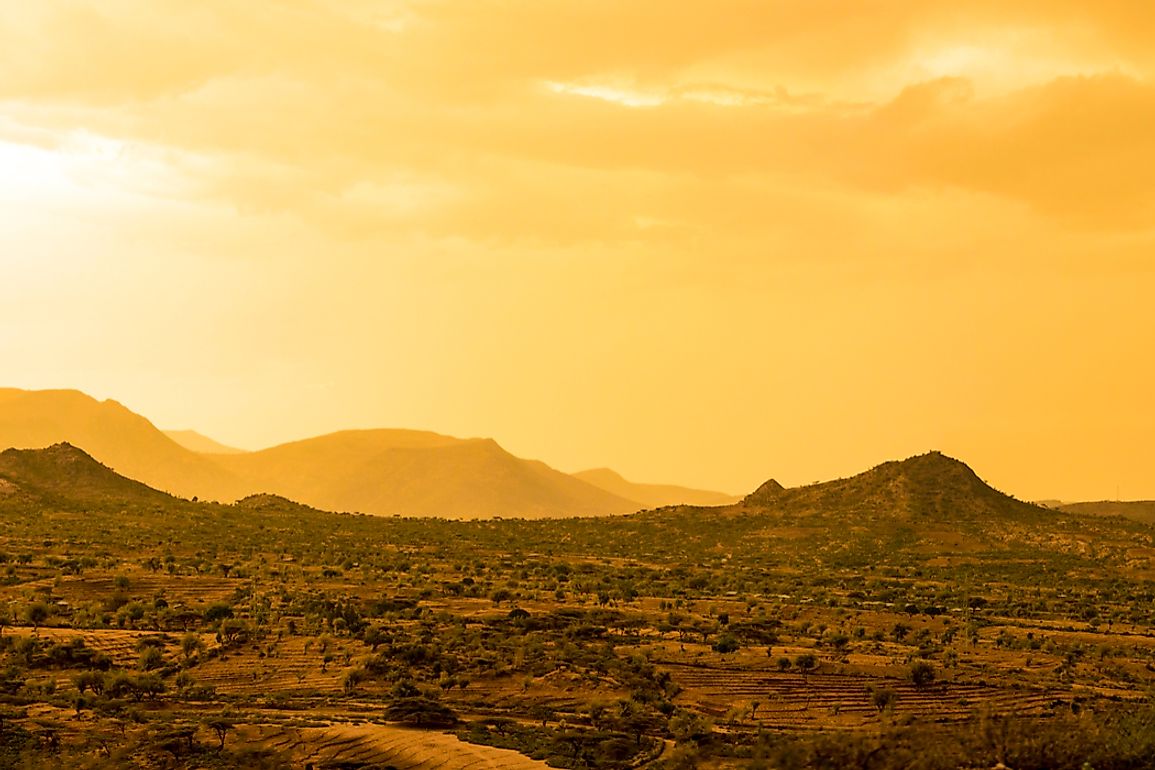 Where Is Ethiopia?
Ethiopia is located in the east African region known as the Horn of Africa. Here, it covers a total area of 426,400 square miles that stretches from the floor of the Upper Nile River valley to the Highlands region. This country has a population size of a little over 102.4 million, making it the second most populated country in Africa. These Highlands are unique in that their elevation does not gradually increase, but rather shoots straight up immediately from the flat land below. This geographic feature creates an obvious physical divide between the two regions.
Because Ethiopia does not have direct access to the open ocean, it is considered a landlocked country. This characteristic means that Ethiopia has the largest population of any landlocked country in the world. Its only access to the ocean is through Eritrea, Djibouti, Somalia, and Kenya. Ethiopia shares its border with a total of 6 countries: Somalia, Sudan, South Sudan, Eritrea, Kenya, and Djibouti. This article takes a closer look at each of these borders.
The shared border between Ethiopia and Somalia stretches over a distance of 1019.04 miles, making it the longest international border in Ethiopia. It is situated along the eastern region of Ethiopia and surrounds its entire peninsular shape. These two countries have been engaged in a border dispute that dates back to the 1940's and the era of colonial rule. During this time, British powers decided to designate an area of land known as the Ogaden to Ethiopia. This region, which covers an area of 126,282 square miles and is populated by a majority of ethnic Somalis, had previously belonged to Italian-ruled (and later British-ruled) Somalia before being handed over to Ethiopia. The Ogaden boundary is located along the southern part of the peninsular border. Over the years, these Ethiopia and Somalia have engaged in military conflict at this region. Since the presidential election and establishment of a permanent government in Somalia in 2011, the relationship between these two countries seems to be improving.
The shared border between Ethiopia and Sudan runs for a length of 462.3 miles and is located along the northwest region of Ethiopia. The boundary between these two countries has not yet been marked with border posts, which has led to a number of border disputes over the years. The governments of these two countries were working toward placing border posts, however, the project was placed on hold in 2012 when the Prime Minister of Ethiopia passed away. As recently as 2015, violent encounters between Ethiopian military groups and local Sudanese communities have ended in the loss of lives and injuries. This border is the site of illegal goods smuggling as well as human trafficking and both governments have recently agreed to work together to reduce this type of criminal activity. In August of 2017, the Presidents of both countries met publicly to dispel the idea that Ethiopia and Sudan are experiencing a border dispute.
The shared border between Ethiopia and South Sudan stretches across 807.16 miles and lies along the western and southwestern regions of Ethiopia. Some armed militant groups in South Sudan have been creating violent unrest near this shared international boundary over the last few years as they fight the government to gain control of certain border areas. Many Ethiopian UN peacekeepers have been deployed to South Sudan in an effort to reduce these violent occurrences. Another source of conflict at this border is between indigenous groups that live on either side of the international boundary. The conflicts among these individuals is primarily focused on the scarcity of natural resources, such as water. Illegal trade and human trafficking are also problems here.
The shared border between Ethiopia and Eritrea measures at a distance of 641.87 miles and is situated along the northern edge of Ethiopia. These two countries have an ongoing border dispute that lead to the Eritrean-Ethiopian War, which began in 1998 and lasted until 2000. The territory in question, and that remains disputed, is the town of Badme, which has a population of around 1,500 individuals. At the end of the Eritrean-Ethiopian War, a UN designated commission entered the disputed region and determined that Badme does belong to Eritrea. Ethiopia, however, has maintained military presence here. Tens of thousands of lives have been lost due to this conflict.
The shared border between Ethiopia and Kenya stretches for 538.72 miles and is located along the southern edge of Ethiopia. Like many of the previously mentioned countries, and others in the Horn of Africa, Kenya and Ethiopia have an ongoing conflict over their border. Interestingly, this border is home to the city of Moyale, which is distributed on either side of the border between the two countries. A number of indigenous groups have engaged in violent conflict along several border locations as well. Rather than fighting over territory, these groups tend to fight over natural resources and one of the most contested resources in this border area is water. Desertification, climate change, and an Ethiopian dam along the Omo River have all lead to conflict over water supplies along this international border.
The shared border between Ethiopia and Djibouti runs over a distance of 213.13 miles and is located along the northeastern region of Ethiopia. It is the shortest international border in this country. Because of the tense relationship between Eritrea and Ethiopia, Ethiopia tends to rely on Djibouti for access to the ocean. Despite this relationship, both Ethiopia and Djibouti have experienced border disputes in the past, although seem to have resolved most of their pressing border issues. In 2015, for example, government representatives from these two countries came together to reach an agreement on international border policy, including the issue of imports and exports. Additionally, both countries have been investing in border crossing infrastructure in order to further strengthen their economies. Additionally, these agreed upon policies were aimed at reducing human trafficking, eliminating illegal border crossings, and improving conditions of security along this shared border.