Ecological Regions Of Tanzania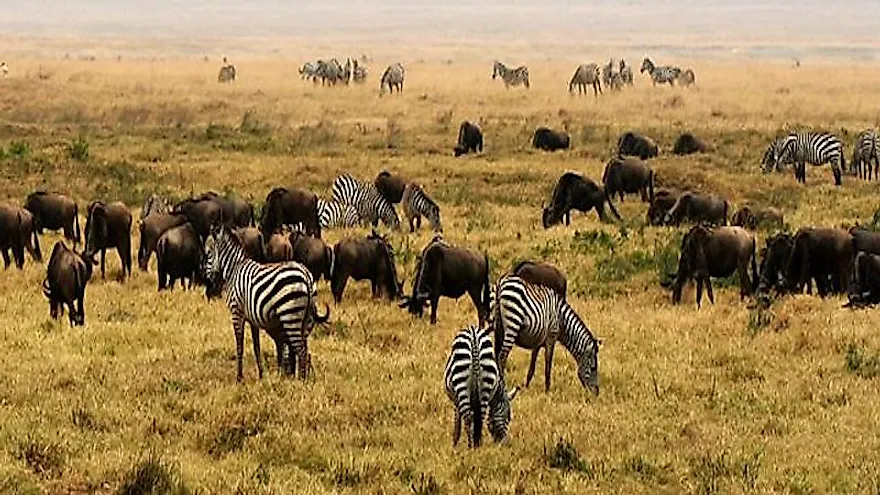 The United Republic of Tanzania is a country within the Great Lakes Region. While most of Tanzania is in East Africa, part of it is in southern Africa too. The country is bordered by Kenya, Uganda, Rwanda, DRC, Zambia, Burundi, Mozambique, Malawi, and by the Indian Ocean. Mount Kilimanjaro in Tanzania is the highest mountain in Africa. With a total land area of 947,303 km2, Tanzania is Africa's 13th largest country and world's 31st largest country. The country is densely populated and mountainous to the northeast area of Mount Kilimanjaro. The country is divided into several ecological zones including;
Albertine Rift Montane Forests
This region is categorized under the tropical moist broadleaf forest Biome and mainly covers Afromonte tropical Africa. This ecological region comprises the western parts of Uganda and Tanzania in East Africa and significant parts of Burundi, Rwanda, and DRC. Albertine Rift Montane Forests is characterized by endemic fauna and flora. The cooler climate supports a rich variety of Afromontane flora and fauna. There are 14 species of butterflies and 37 species of birds like Ruwenzori Batis, Collared Apalis, and owlet while some of the mammals include mountain gorilla and L'Hoest's monkey. The ecoregion also supports over 1000 species of plants. Much of the forest is being cleared for agriculture and by loggers. However, the Ruwenzori National Park management has put in conservation measures to preserve this ecoregion.
East African Montane Forests
East African Montane Forests is common in South Sudan, Uganda, Kenya, and Northern Tanzania. This region consists of several montane forest patches of different sizes. East African Montane Forests covers the areas around Mount Kilimanjaro, Ngorongoro, and Mount Meru in Tanzania and is characterized by temperate and seasonal climate. Temperature range is between 100C and 300C with an average annual rainfall of 1500mm. East African Montane Forests contains the low rate of endemic species including eight restricted species of birds and mammals. Human population is relatively high in this ecoregion leading to the transformation of the region. Most of the land has been converted to tea and pyrethrum plantations. However, the area around Mount Kilimanjaro is protected by the government of Tanzania.
Eastern Arc Forests
Eastern Arc Forests extends from Taita Hills in Kenya through eastern Tanzania to between Mount Rungwe and Udzugwa Mountains. The ecoregion comprises of metamorphosed basement rocks which have been uplifted by faulting and weathering over time. The soils in this region are less productive compared to the soils in the volcanic mountain of East Africa. The topography of this ecoregion is characterized by rugged mountain blocks with exposed rocks. The forest formation is divided into upper montane, montane, and submontane forests. Open vegetation can be found in the higher areas while grassland and bamboo cover the lower areas. Eastern Arc Forests contains some endemic species of both flora and fauna.There are over 2000 species of plants. The endemic species in the region include amphibians and reptiles. The exploitation of this area is low due to the high protection. However, logging continues in this area which threatens some species of trees.
Conclusion
The ecological regions of Tanzania are divided into several biomes including Tropical and Subtropical Moist Broadleaf Forests, Savannas, and Shrublands, Tropical and Subtropical Grasslands, Flooded Grasslands and Savannas, Montane Grasslands and Shrublands, Mangroves, and Great Lakes-Freshwater.
Ecological Regions Of Tanzania
| | Ecological Regions of Tanzania | Biome |
| --- | --- | --- |
| | Albertine Rift Montane Forests | Tropical and Subtropical Moist Broadleaf Forests |
| | East African Montane Forests | Tropical and Subtropical Moist Broadleaf Forests |
| | Eastern Arc Forests | Tropical and Subtropical Moist Broadleaf Forests |
| | Northern Zanzibar-Inhambane Coastal Forest Mosaic | Tropical and Subtropical Moist Broadleaf Forests |
| | Southern Zanzibar-Inhambane Coastal Forest Mosaic | Tropical and Subtropical Moist Broadleaf Forests |
| | Central Zambezian Miombo Woodlands | Tropical and Subtropical Grasslands, Savannas, and Shrublands |
| | Eastern Miombo Woodlands | Tropical and Subtropical Grasslands, Savannas, and Shrublands |
| | Itigi-Sumbu Thicket | Tropical and Subtropical Grasslands, Savannas, and Shrublands |
| | Northern Acacia-Commiphora Bushlands and Thickets | Tropical and Subtropical Grasslands, Savannas, and Shrublands |
| | Serengeti Volcanic Grasslands | Tropical and Subtropical Grasslands, Savannas, and Shrublands |
| | Southern Acacia-Commiphora Bushlands and Thickets | Tropical and Subtropical Grasslands, Savannas, and Shrublands |
| | Victoria Basin Forest-Savanna Mosaic | Tropical and Subtropical Grasslands, Savannas, and Shrublands |
| | East African Halophytics | Flooded Grasslands and Savannas |
| | Zambezian Flooded Grasslands | Flooded Grasslands and Savannas |
| | East African Montane Moorlands | Montane Grasslands and Shrublands |
| | Southern Rift Montane Forest-Grassland Mosaic | Montane Grasslands and Shrublands |
| | East African Mangroves | Mangroves |
| | Lake Malawi | Great Lakes-Freshwater |
| | Lake Rukwa | Great Lakes-Freshwater |
| | Lake Tanganyika | Great Lakes-Freshwater |
| | Lake Kiva | Great Lakes-Freshwater |
| | Lake Edward | Great Lakes-Freshwater |
| | Lake George | Great Lakes-Freshwater |
| | Lake Victoria | Great Lakes-Freshwater |
| | Eastern Coastal Basins | Eastern and Coastal Freshwater |
| | Malagarasi-Moyowosi River System | Eastern and Coastal Freshwater |
| | Pangani River | Eastern and Coastal Freshwater |
| | Southern Eastern Rift | Eastern and Coastal Freshwater |
| | East African Coral Coast | Marine |