The 10 Longest Rivers in Maine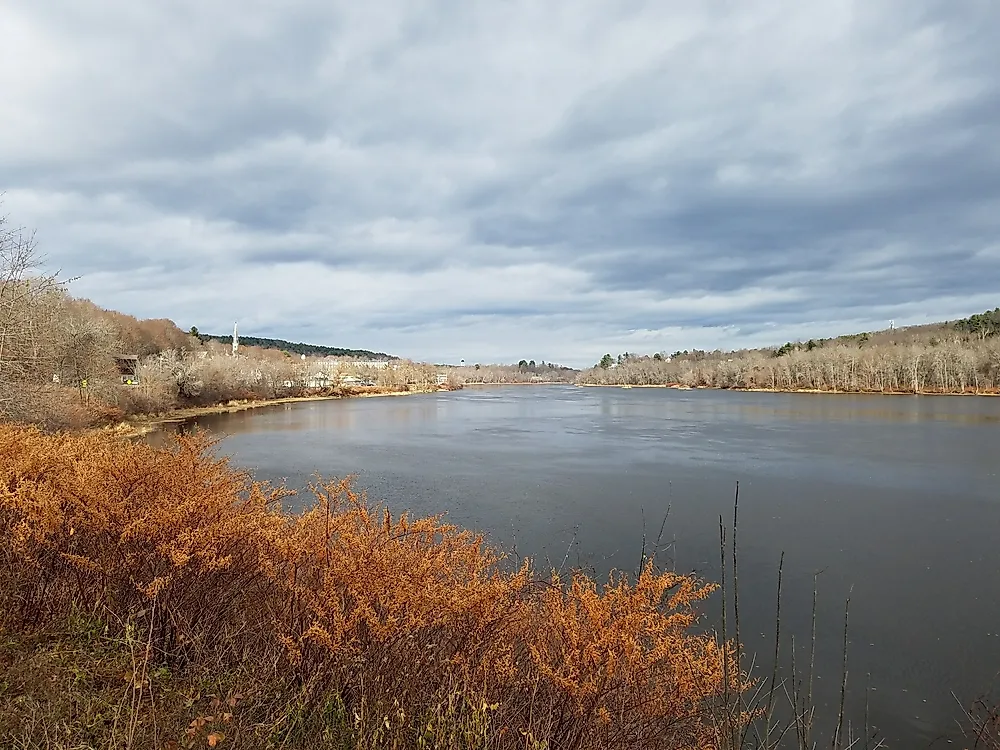 Maine is the ninth least densely populated and twelfth smallest US state. Maine is bordered by Quebec, New Brunswick, New Hampshire, the Atlantic Ocean. Maine is known for its heavily forested interior, rocky coastline, and scenic waterways composed of over a hundred rivers. Saint John Riverand Androscoggin River are the longest rivers flowing through the state while Kennebec River is the longest river which is entirely within the state.
Longest Rivers in Maine
1) Saint John River
The 418 mile long Saint John River is in Maine, New Brunswick, and Quebec. The river forms part of the United States-Canada border in two places. It drains a watershed of about 55,000 square miles (50% of Saint John River's basin is in New Brunswick). The river is controlled by numerous hydro-power dams at Grand Falls, Beechwood, and Mactaquac. Its southern tributary rises from the Little St John Lake on the Quebec-Maine border, and it forms a part of the international boundary as it flows towards the northeasterly direction to merge with Baker branch.
2) Androscoggin River
Androscoggin River is a 178 mile long river in New Hampshire and Maine. The river has a 3,530 square mile drainage basin. The river rises from Errol in New Hampshire where Lake Umbagog's outlet merges with Megalloway River. It then joins with River Kennebec at the Merrymeeting Bay before emptying into the Maine Gulf.
3) Kennebec River
The 170 mile long Kennebec River rises from Lake Moosehead in Maine. Its west and east outlets merge at the Indian pond and flow towards the southerly direction where its joined by the Dead River before flowing through various cities including Waterville, Skowhegan, and Madison. The river then flows through Merrymeeting Bay to the Maine Gulf.
Saco River is a 136 mile long river which drains about 1,703 square miles of farmland, forests, and the southwestern parts of Portland and empties into the Atlantic Ocean. Saco River is in New Hampshire and supplies water to over 250,000 residents of 35 towns. It also provides water power and transport thus playing a vital role in the development of towns like Hiram and Fryeburg and cities like Saco and Biddeford.
5) West Branch Penobscot River
The 117 mile long West Branch Penobscot River is one of Penobscot River's tributary. It rises from Lake Seboomook and flows through Baxter State Park to Medway in Penobscot County where it merges with Penobscot River.
6) Aroostook River
The 112 mile long Aroostook River is in New Brunswick and Maine. It is one of St. John River's tributary which rises from the confluence of Munsungan and Millinocket streams in Maine. Aroostook River's basin is the largest sub-drainage of Saint John River. The territory which encompasses the river's drainage region was the scene of a boundary dispute between the United Kingdom and the United States (the Aroostook war) during the late 1830s.
7) Penobscot River
Penobscot River is a 109 mile long river in Maine. Together with its south and west branches, Penobscot River's length increases to 264 miles making it the second longest Maine's river system. Penobscot River drains an area of about 8,610 square miles. The river rises from four tributaries in Maine. After the east and west tributaries merge with Penobscot River at Medway, the river flows through Bangor into Penobscot Bay where it empties into the Atlantic Ocean.
Other Rivers in Maine
Maine has some of the longest river systems in the country with its top ten rivers being over 75 miles long. Saint Francis River which ranks tenth is 75 miles long, and it forms part of the United States border. The 83 mile long Moose River is ranked eighth while East Branch Penobscot River is ninth. The 75.3 mile long East Branch Penobscot River flows through Penobscot and Piscataquis counties.
The 10 Longest Rivers in Maine
| Rank | River | Length (miles) | Length (km) |
| --- | --- | --- | --- |
| 1 | Saint John River | 418 | 673 |
| 2 | Androscoggin River | 178 | 286 |
| 3 | Kennebec River | 170 | 270 |
| 4 | Saco River | 136 | 219 |
| 5 | West Branch Penobscot River | 117 | 188 |
| 6 | Aroostook River | 112 | 180 |
| 7 | Penobscot River | 109 | 175 |
| 8 | Moose River | 83 | 134 |
| 9 | East Branch Penobscot River | 75 | 121 |
| 10 | Saint Francis River | 75 | 121 |