Louisiana Geography Statistics of
Land Area:
(land) 43,562 sq miles
(water) 8,277 sq miles
(TOTAL) 51,839 sq miles
Land Area: (all states)
Horizontal Width: 266 miles
Vertical Length: 364 miles

Note: Maximum lengths and widths are point-to-point, straight-line measurements from a Mercator map projection, and will vary some using other map projections
Bordering States: (3) Arkansas, Mississippi and Texas
Parishes: (64) Map
Parish: (largest by population)
E. Baton Rouge 443,580

Note: Due to damage inflicted by Hurricane Katrina and the relocation of Louisania residents, any population numbers shown for Louisiana are now considered estimates.
Geographic Center: approximately 4 miles to the southeast of Marksville, in Avoyelles Parish.
Highest Point: Driskill Mountain, 535 ft.
Lowest Point: is along the Mississippi River in the city of New Orleans (-9 ft.)
Mean Elevation: (average) 98 ft.
Louisiana Photographs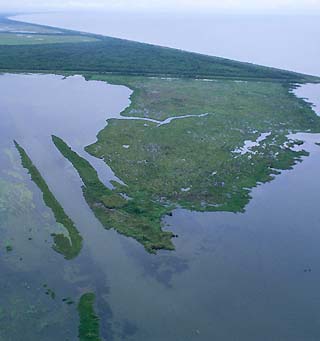 Louisiana Gulf of Mexico Wetlands
Louisiana Cities, Counties & Area Codes
This page was last updated on November 16, 2017.