Hawaii Geography Statistics of
Land Area:
(land) 6,423 sq miles
(water) 4,508 sq miles (the number shown for water
is over 99% Pacific Ocean territorial waters)
(TOTAL) 10,931 sq miles
Land Area: (all states)
Land Measurements: The Hawaiian Archipelago includes 18 islands (7 inhabitable) and 113 (small and uninhabitable) coral atolls that strectch across the Pacific Ocean for some 1,500 miles. On our map (upper left) we show the eight largest islands. Width and length numbers shown (below) use Hawaii (the Big Island).
Horizontal Width: 95 miles
Vertical Length: 82 miles

Note: Maximum lengths and widths are point-to-point, straight-line measurements from a Mercator map projection, and will vary some using other map projections
Bordering States: (0)
Counties: (4) Map
County: (largest by population) Honolulu, 876,156
Geographic Center: (using the 8 largest islands) 16.5 miles southwest of the southern coastline of Lanai.
Highest Point: Mauna Kea, 13,796 ft.
Lowest Point: Pacific Ocean, 0 ft.
Mean Elevation: (using 8 largest islands) 3.092 ft.
Hawaii Photographs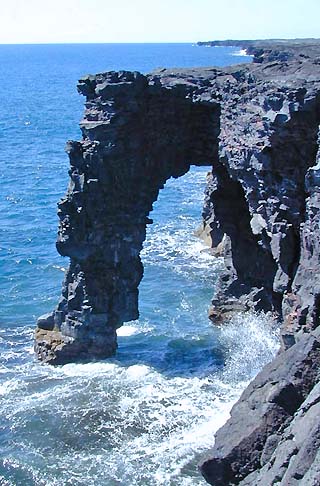 Sea Arch, Big Island
Hawaii Cities, Counties & Area Codes
This page was last updated on November 16, 2017.