Also referred to as the "Drainpipe of the Pacific," Thor's Well is a natural wonder situated on the edges of the Pacific coast of the US State of Oregon. The well forms a part of the large Cape Perpetua Scenic Area in Siuslaw National Forest and is located approximately 5km south of the small coastal city of Yachats in Oregon's Lincoln County. Thor's Well has been named after Thor – the Scandinavian God of Thunder and Lightning. As per legends, Thor himself struck the Earth in a fit of rage, creating this 6m deep well. 
About Thor's Well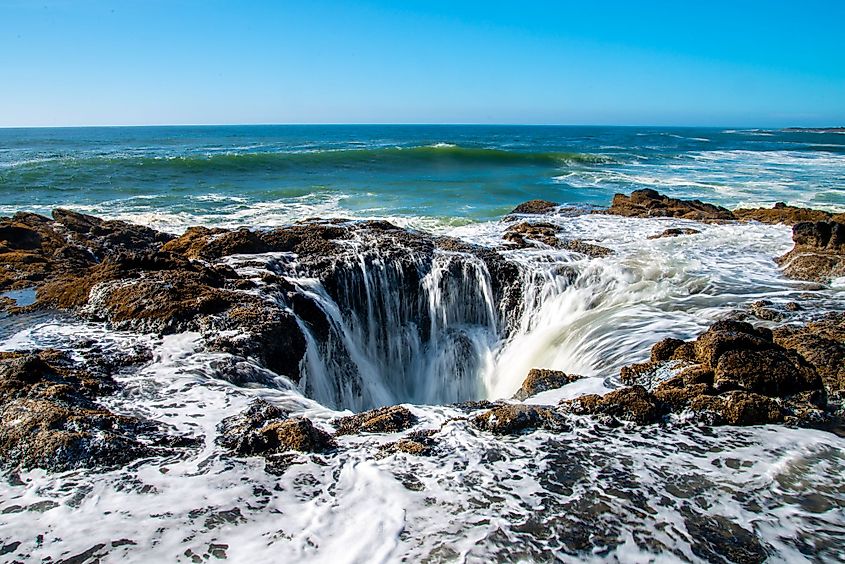 Studies have revealed that Thor's Well is a bowl-shaped sinkhole that has been carved out of the rough basalt shoreline. As per different theories, the well was initially a sea cave that the waves had dugout. However, the continuous beating by the enormous waves over the same spot eventually led to the collapse of the cave's roof, creating openings at the top and the bottom through which the ocean water surges in and out. This natural well reaches a depth of about 6.096m.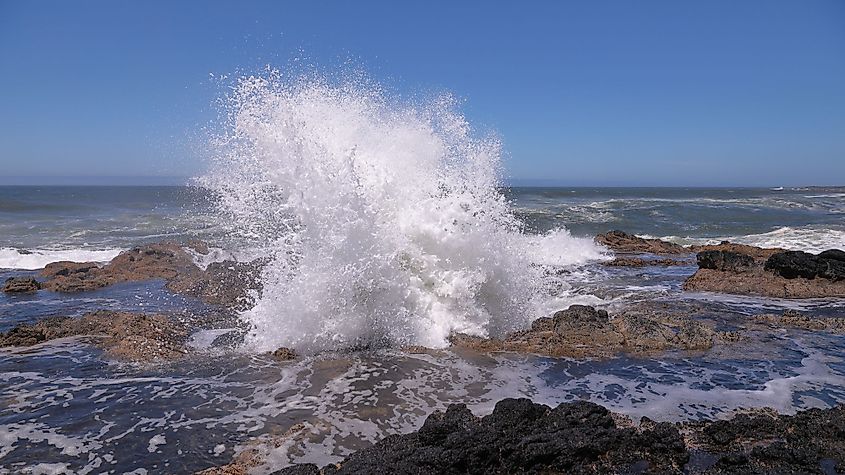 The best time to see this spectacular feature is during the high tide or during storms when the high waves push the waters in various ways into and around the Thor's Well. During this time, the high waves of the oncoming tides surge water underneath the bowl and fill it from the bottom. The water keeps filling the bowl until bubbles start rising and shoot up in violent sprays over the surrounding rocks creating a unique sight. But, as soon as the waves recede, it looks like the ocean is draining away into a bottomless hole before the same process starts all over again, making Thor's Well appear to fill and drain endlessly. Despite its notorious reputation, Thor's Well is not much dangerous compared to the other spots that are located along the same coast. However, the real risk comes from the sharp volcanic rocks and the sudden large and powerful waves that can make it quite dangerous, especially during high tide and winter storms. Some sources have therefore referred to Thor's Well as a "huge gaping sinkhole," "the Gate to hell," and the "Drainpipe of the Pacific."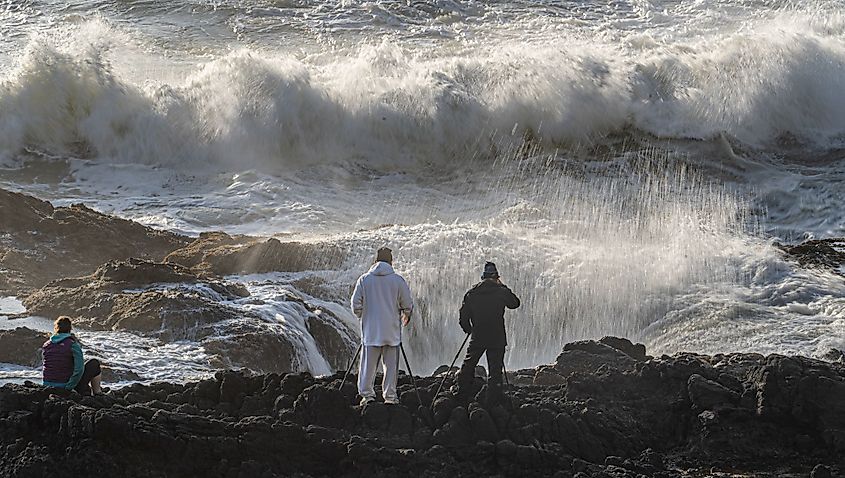 Thor's Well features on the bucket list of every adventurous tourist and can be reached by a 1.2km round trip paved trail that starts at the Cape Perpetua Visitor Center. Tourists can visit Thor's Well about one hour before the high tide to see it without water and then an hour after the high tide to observe how it fills up with water. Besides Thor's Well, the other unique natural features such as the Devil's Churn, Spouting Horn at Cook's Chasm, etc., that are located along the Cape Perpetua coastline, also serve as popular sites for the visitors, attracting numerous tourists, nature lovers, and photographers every year.