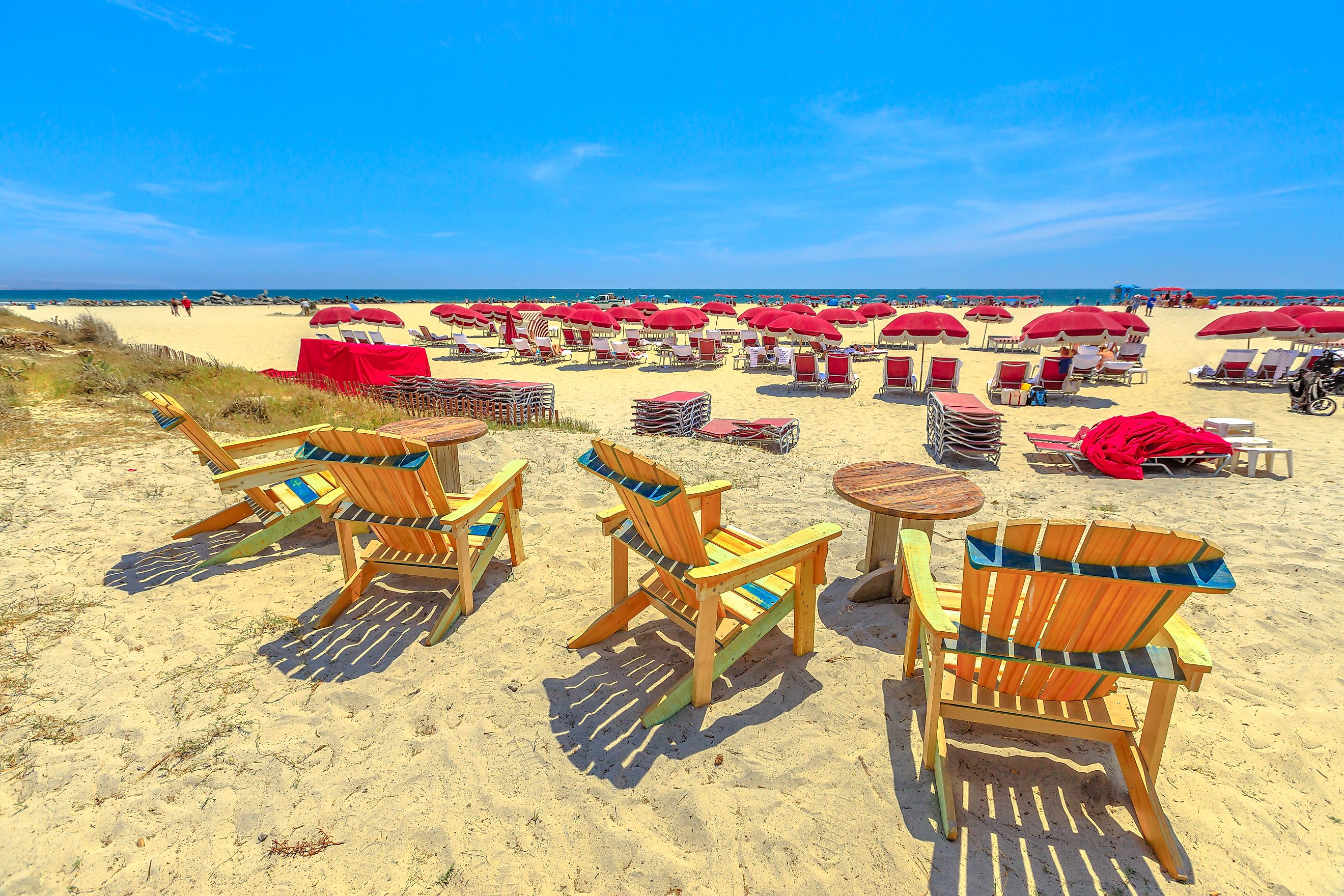 Coronado Beach, San Diego
Coronado Beach is one of the most-visited beaches in Southern California. It is approximately 1.75 miles long and is flanked by US Naval Bases on either side. It is situated to the southwest of San Diego in the small resort city of Coronado. Coronado Beach is known for its wide sandy stretches and, for the most part, gentle waves, making it a go-to destination for beach lovers and water sports enthusiasts. It is a family-friendly beach with parks and playgrounds to its south and a dog-friendly beach area to its north. Coronado Beach experiences over 265 sunny days per year and low precipitation of around 11 inches per year, making it an all-year-round beach destination. The best months to visit Coronado Beach are June, September, and October.
Tourism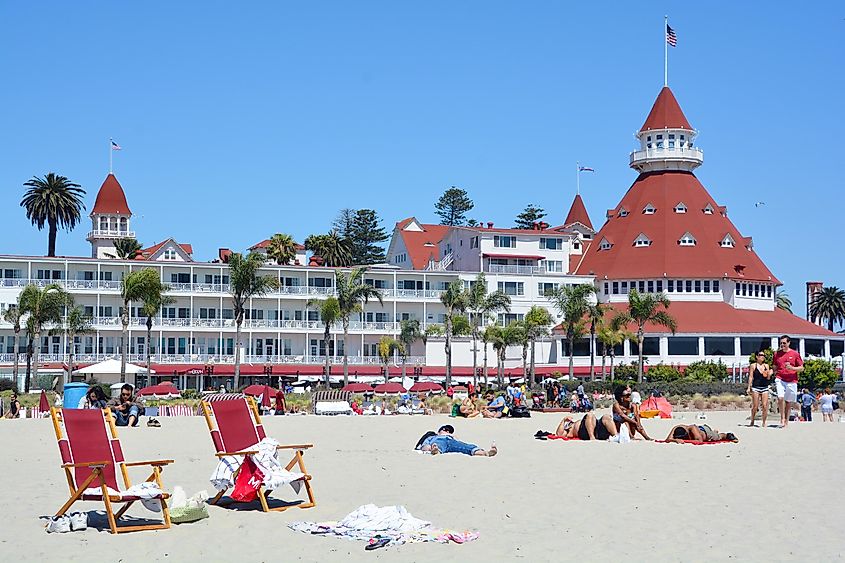 Conveniently located just 6.7 miles from downtown San Diego, Coronado Beach is connected to the main city by the toll-free San Diego-Coronado bridge. Its location, along with the historic Hotel del Coronado as its backdrop, makes it one of the most popular beaches in San Diego County. It was ranked No. 15 on Tripadvisor's 2022 Travelers Best tally of best beaches in the United States. The drive to the beach itself offers spectacular views of the city from the bridge. There are plenty of activities to be enjoyed at Coronado Beach, such as surfing, paddle boarding, and boogie boarding. The west-facing waves are gentle enough for a relaxing swim. Orange Avenue north of the beach is dotted with shops selling high-end beachwear, vintage clothing, and souvenirs, as well as restaurants famous for their tacos.
One of the most unique aspects of this picturesque beach is that it literally sparkles under the sun due to the high content of the mineral mica in its sand. Its beauty can be attributed as much to its long, glistening stretches of sand as to its backdrop of grand and charming beach-facing mansions. The most iconic landmark of the beach, Hotel del Coronado, was where the Marylin Monroe classic Some Like It Hot was filmed. A pint of beer from the hotel's award-winning Coronado Brewing Company is a must-have for brew connoisseurs.
Marine Life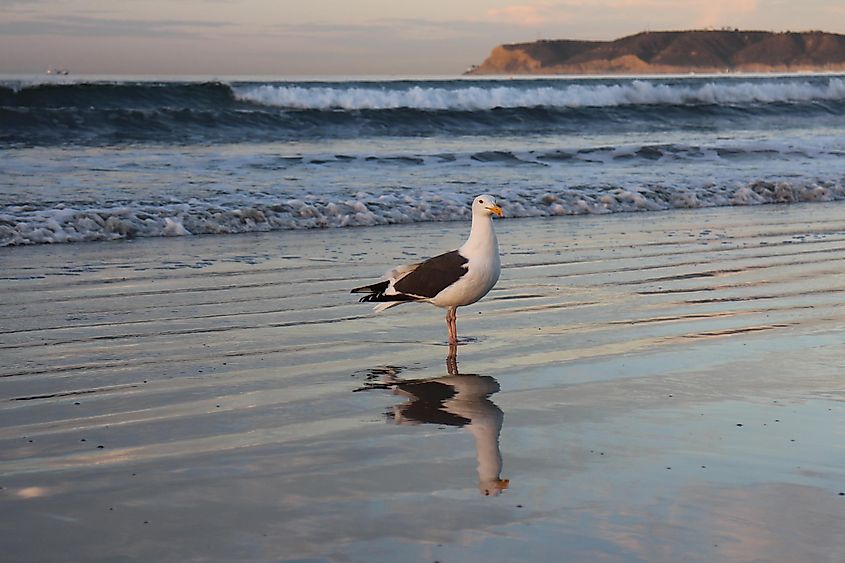 Situated along the Pacific Ocean, home to the most diverse marine life, Coronado Beach has its fair share of unique flora and fauna. During low tide, the tide pools are brimming with small fish and hermit crabs. Burrowed under the sand are the sea urchins with exquisite skeletons known as sand dollars, but be advised that it is illegal to collect live sand dollars. Mid-December to late March is whale-watching season as that is the time of the 10,000-mile gray whale migration from Alaska to Baja Strait. If you are out in the sea, it is common to see dolphins, sea turtles, and sea lions too.
Threats
Although by far pristine, the increase in human population and the resultant rise in pollution levels often affect the water quality on the beach, rendering it unsafe for swimming. In June 2022, a sewage spill in Tijuana from the US-Mexico border led to beach closures due to water contamination. Pollution also poses a threat to the already delicate marine ecosystem. Tourist activities like whale watching, if done without care for the animals, can be intrusive and damaging to marine life. Operators often chase the whales, which can cause them stress and affect their health. If you plan to go whale watching, make sure it is with an ethical company that follows safe practices and maintains a reasonable distance from the whales (the law requires that a distance of at least 900 ft is maintained from the whales).
With glittering sands, clear blue waters, eclectic homes, and a wide range of activities for everyone, Coronado Beach is the perfect summer playground just a bridge away from the city of San Diego. Although busy at all times, it is big enough for anyone to have a fun and relaxing time on the beach.