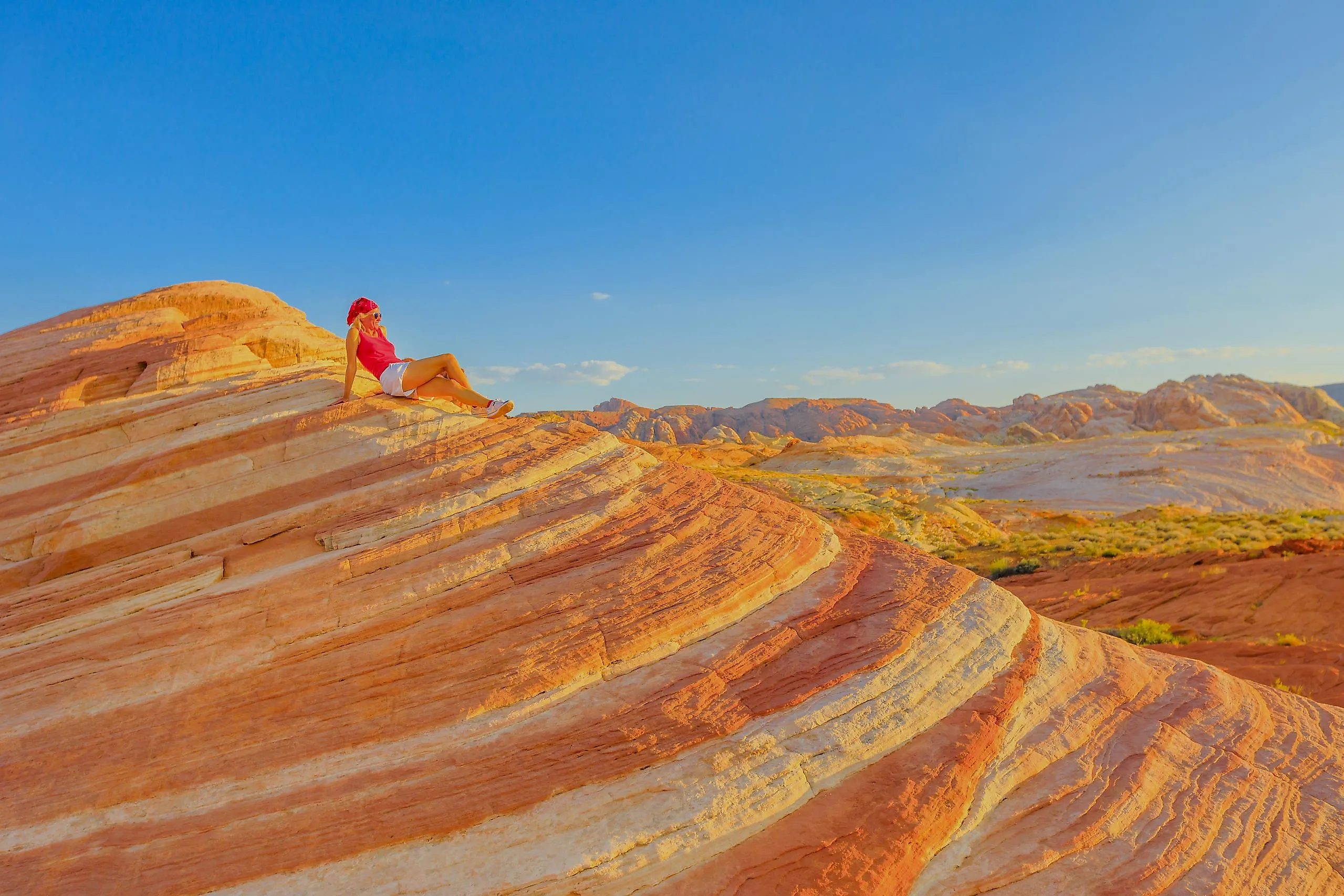 Bright lights, grand hotels, and a gambler's paradise, Nevada is known for, more than anything else, man made wonders. But the "Sage State" is so much more than just a world class example of modern opulence, it is also home to awe-inspiring natural wonders including Red Rock Canyon, Death Valley, and The Valley of Fire. Each of these sites, along with many others, is populated by hiking trails perfect for the novice explorer all the way to the experienced adventurer. With an average winter temperature that is well above freezing, native Nevadans, and tourists alike, are able to participate in outdoor activities all year round. From its many deserts, cool lakes perfect for hot summer days, and combined fifteen national and state parks, Nevada is the home to natural wonders just as exciting and breathtaking as its modern counterparts. So the next time you travel to Nevada do not forget that there is more than just "Sin City" to explore, the outdoors of Nevada are waiting for you, so do not make them wait long!
Monkey Rock Trail, Lake Tahoe Nevada State Park, Nevada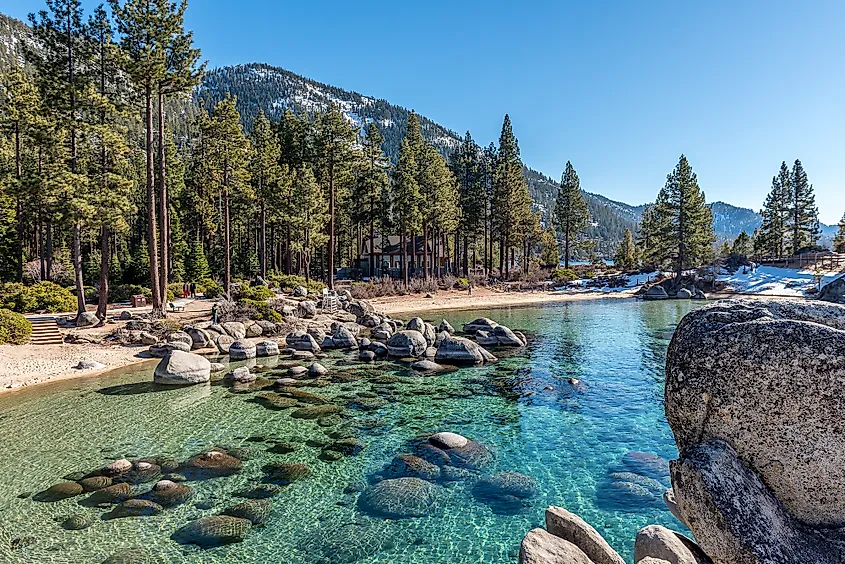 With stunning views of Lake Tahoe, and a great photo opportunity beside the trail's namesake monkey rock, Monkey Rock Trail is the perfect hike for a full day excursion into the great outdoors. Located in Spooner Backcountry, this 2.5 mile trail is recommended for intermediate to advanced hikers. The average out-and-back timeframe is an hour and a quarter, but most hikers take their time, often stopping to capture photos of the majestic scenery from the elevated vantage points provided by this trail. With its proximity to Lake Tahoe, this trail is great on a hot day, the cool waters of the lake ensuring pleasant weather even during Nevada's notoriously hot summers. With a convenient trailhead located just past Bullwheel parking lot, this trail is easy to find and well worth the time.
Turtlehead Peak Trail, Red Rock Canyon, Nevada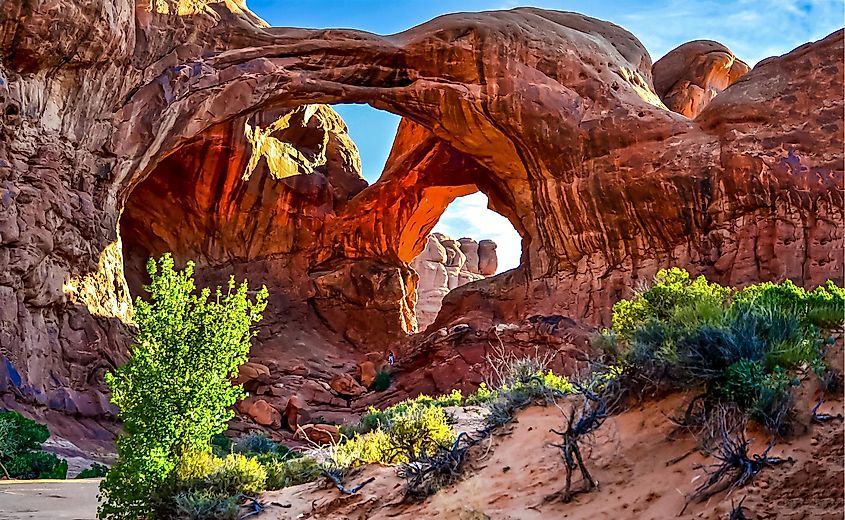 Located just outside of Las Vegas, Nevada in Red Rock Canyon, Turtlehead Peak Trail is a 4.6 mile out-and-back hike to the summit platform. This trail has an elevation change of nearly 2,000 feet, bottom to top, and is recommended for more advanced hikers, with proper footwear being a necessity. This trail takes between three to four hours to complete, so plan to be spending your entire day hiking. On the way to the summit, hikers have the opportunity to see various petroglyphs carved into stone, as well as a decommissioned sandstone quarry. From the highest point of this hike, Las Vegas can be seen in the distance, and, if timed properly, hikers will have a spectacular view of the sun setting behind the Vegas skyline.
Cathedral Gorge Trail Network, Cathedral Gorge State Park, Nevada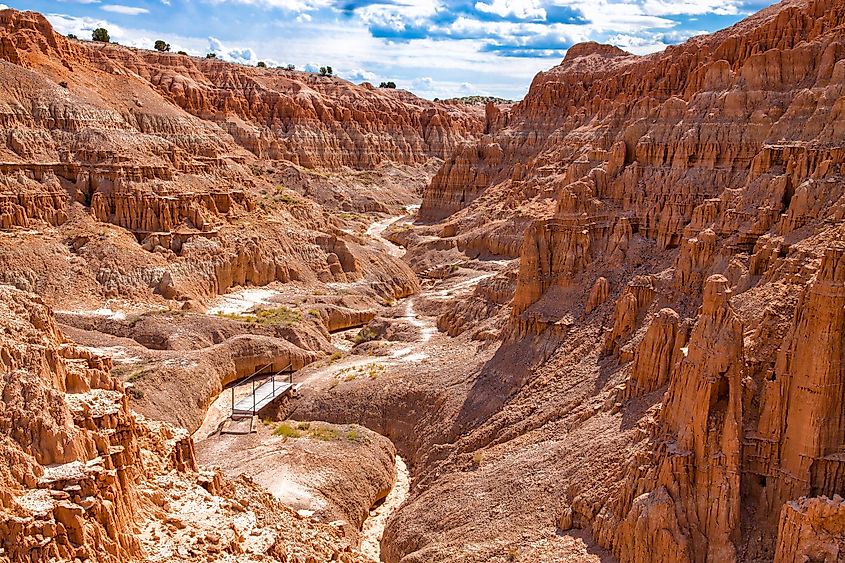 Found within one of the most popular state parks in Nevada, Cathedral Gorge State Park has a network of seven hiking and walking trails. Open to both hikers and bikers, these trails range in length from less than a mile to just over four miles. The most popular trail in the park is Juniper Draw Loop Trail, a 3.29 mile loop with an elevation change of 217 feet. Considered an easy hike, this trail usually takes less than two hours to complete. Open to dogs and bikes, this is a popular trail, so if you are looking for a quiet experience the early morning or late evening is suggested. For those wanting just a taste of what Cathedral Gorge State Park has to offer, Moon Caves Trail is the perfect choice. At 0.2 miles long, and almost no elevation change, this trail brings hikers up close to the beautiful slot canyon's of Cathedral Gorge without exerting too much effort.
Calico Tanks Trail, Red Rock Canyon National Conservation Area, Nevada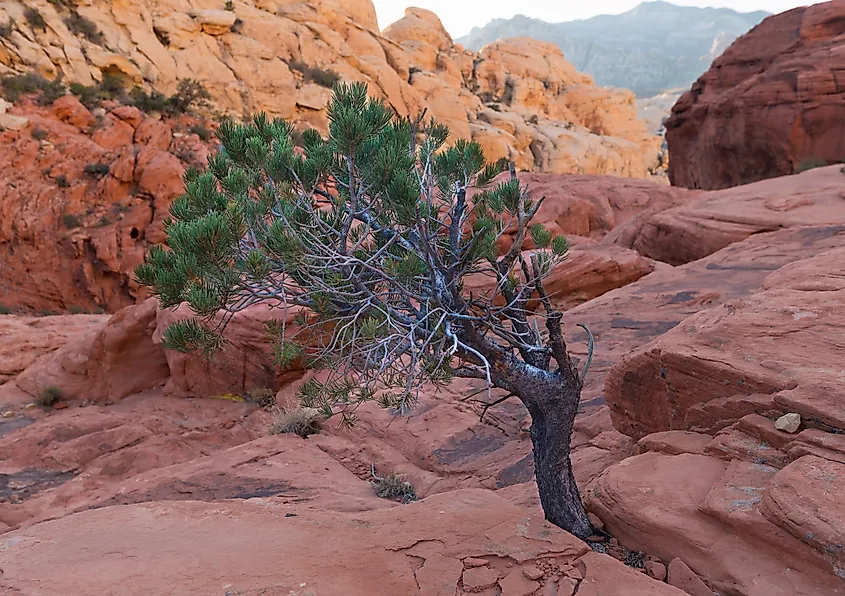 With one of the most spectacular views in all of Nevada is Calico Tanks. True to its name, this wavelike geological formation, with striations of orange, red, and beige sandstone, is an extraordinary site to see. Calico Tanks Trail runs 2.3 miles round trip, taking approximately two hours to complete. Accessible from the Sandstone Quarry trailhead, it is the end of this hike, which takes hikers into the majestic Calico Tank, that provides the best view of Las Vegas in the entire conservation area. This hike is considered moderate to strenuous, and has a steep elevation change of 400 feet so be prepared, wear good shoes and bring lots of water. This trail is a wonderful way to get to know the geology that surrounds Las Vegas, while staying close enough to "Sin City" to make that late night dinner reservation. 
Tahoe Rim Trail, Lake Tahoe Nevada State Park, Nevada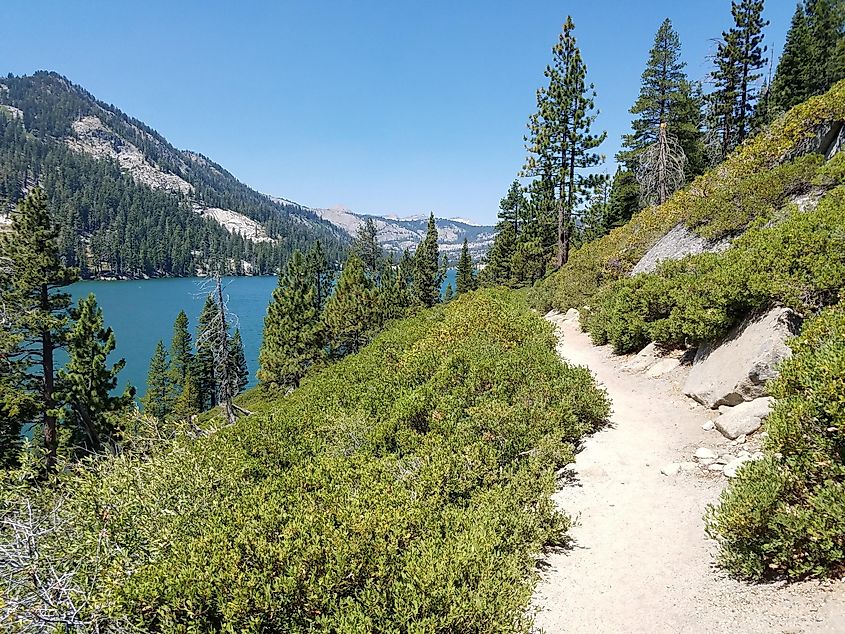 Calling all expert hikers and outdoors-people! This one if just for you. Tahoe Rim Trail is a 165 mile, multi-day, trek that loops around the entirety of Lake Tahoe, Nevada. The entire trail is open to dogs (on leash), while the north half of the trail is open to both bikes and horseback riders. While this trail is open all year round it is suggested that those thru-hiking the entire trail with the plan to spend the night camping, schedule this adventure between late-spring to early-fall, as the temperatures at night outside this period are often below freezing. Access to Tahoe Rim Trail can be found at nine different trailheads conveniently located throughout the entire trail, making it convent for those who only want to hike part of the trail.
Goldstrike Hot Springs Trail, Lake Mead National Recreation Area, Nevada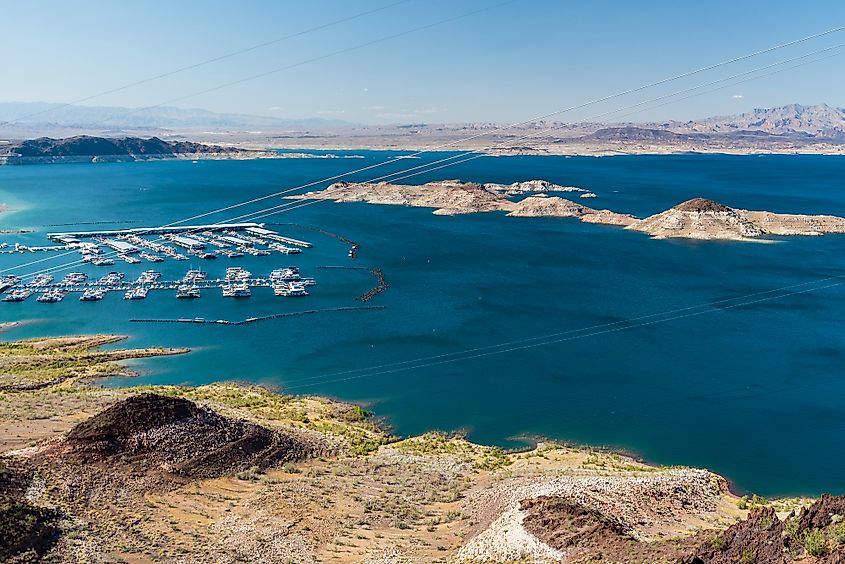 A hidden treasure of a hike, located just outside Las Vegas in Lake Mead National Recreation Area, is Goldstrike Hot Springs Trail. This 4.54 mile trail, with an option of hiking past the springs another 0.7 miles to the Colorado River, is unique not only for the eight rope assisted rock scrambles along the way, but also because it is closed during the hottest summer months. Due to this trail's strenuous nature and steep elevation change of 1,293 feet, Goldstrike Hot Springs Trail is closed to the public between May 15 and September 30 every year. To have the best experience on this trail bring gloves for using the trail ropes and make sure to pack lots of extra water! Please note: Trespassers during the closed months of this trail will be given a severe fine.
Historic Railroad Trail, Lake Mead National Recreation Area, Nevada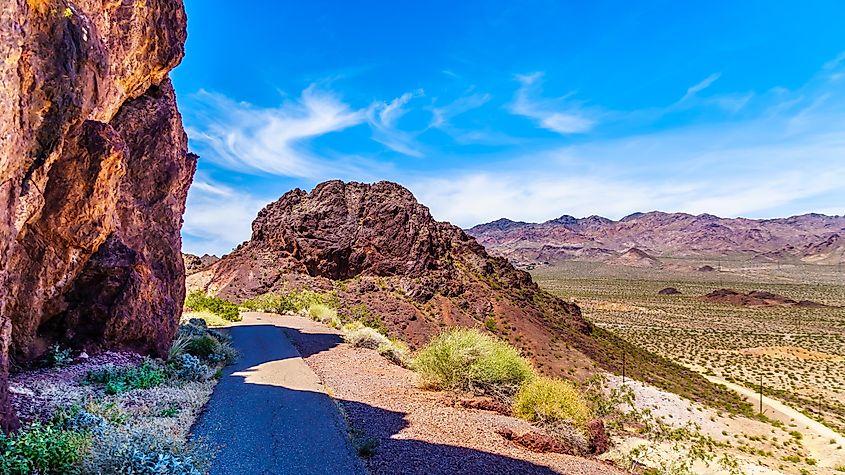 The Historic Railroad Trail is not only an excellent hike, it is also part of Nevadan history by way of its connection with the creation of Hoover Dam and Lake Mead. This trail is perfect for hiking beginners, young families, and is even wheelchair accessible. It is 7.4 mile in-and-out trail that runs through five tunnels created to facilitate train tracks up to the site of the new dam during its construction in 1931. In 1962 the railway tracks were removed, leaving the rail bed to become the Historic Railroad Trail. If hikers are so included there is also an extra 1.5 mile extension to this trail that will bring them to the Hoover Dam itself, where there is tourist admission every day of the week from 5:00 AM to 9:00 PM. 
La Madre Springs Trail, Red Rock Canyon National Conservation Area, Nevada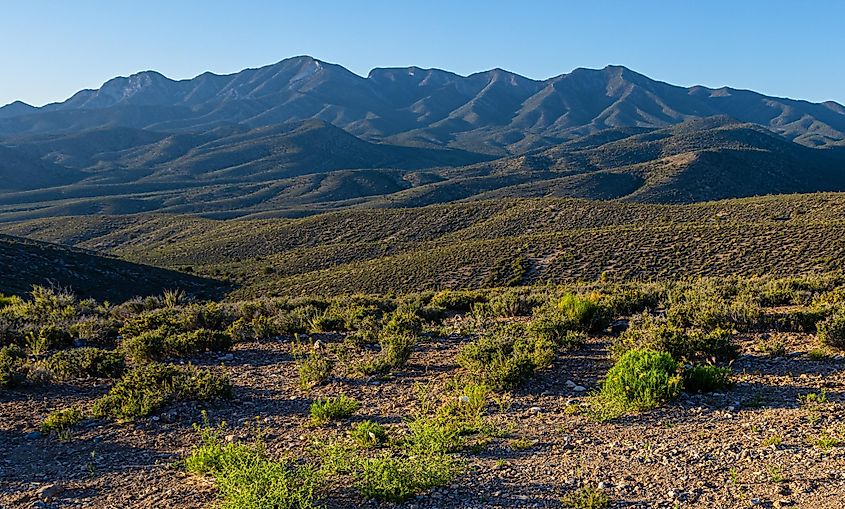 Considered an intermediately difficult hike, La Madre Springs Trail is located in Red Rock Canyon, Nevada. This trail takes hikers into a small canyon with extremely steep cliffs which are popular with rock climbers, whom you will most likely see scaling impressive cliffs along your way to La Madre Springs. From Willow Spring trailhead this hike is 7.2 miles out-and-back, with the turn around point being an abandoned cabin, purported to have been used by outlaws and cowboys. Here you will have the opportunity to rest or enjoy a picnic lunch at the adjacent Willow Springs Picnic Area. If you are hiking during the summer months this trail experiences potentially dangerous daily temperature highs, so make sure to hydrate and plan to be hiking early in the morning or in the evening when the temperature cools down. 
Mary Jane Falls Trail, Spring Mountains National Recreation Area, Nevada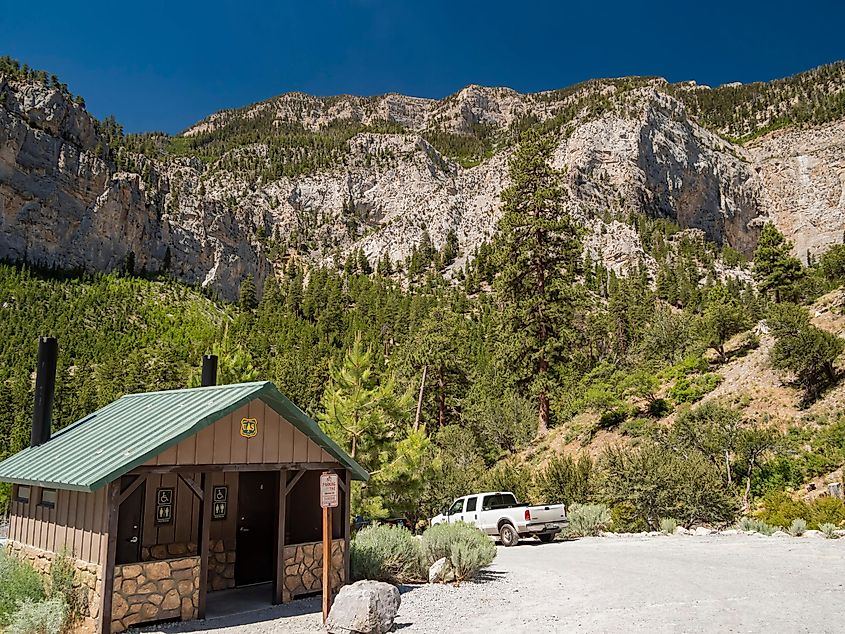 With a round trip distance of 3.2 miles, Mary Jane Falls Trail is the perfect trek for a morning spent in the wilderness. With a convenient parking lot at the trailhead, this hike is relatively difficult, taking approximately two hours to complete a round trip hike. The elevation change of this trail is nearly a thousand feet, so this trek is not for the faint of heart. However, the beautiful waterfall at the end of the trail is well worth the effort of getting there, and perfect for an instagrammable photo-op. This trail is popular with locals and tourists, so if you are looking for a less populated hike, avoid the weekend and plan for an early morning start.
Fire Wave Trail, Valley of Fire State Park, Nevada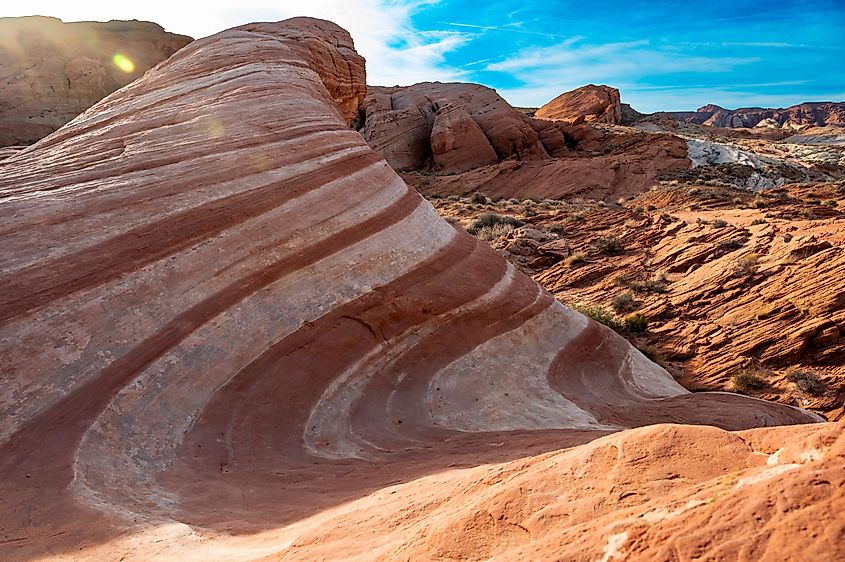 Located in Nevada's oldest state park, Fire Wave Trail has an average daily high of over 100°F during the summer months. As such, this trail is subject to a heat closure from the beginning of June to the beginning of October. This 1.5 mile round trip hike provides gorgeous views of the striated sandstone geological formations that gave Fire Wave Valley its name, and is considered an easy hike with little elevation change, perfect for young families and novice hikers. Make sure to bring lots of water and wear sunscreen, this trail has little to no natural shade for the entire length of the hike and can easily lead to heatstroke if precautions are not taken. 
White Domes Trail, Valley of Fire State Park, Nevada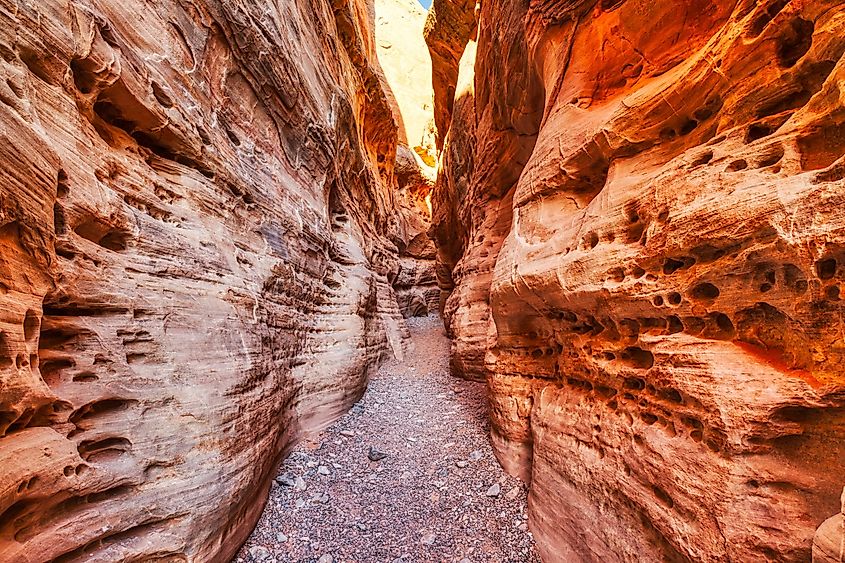 Less than an hour drive outside of Las Vegas sits Valley of Fire State Park, the oldest state park in Nevada. With 24 trails in the park to choose from, ranging from easy to expert, you cannot go wrong if you choose the White Domes Trail. This 1.1 mile loop trail is a great way to spend the morning before it gets too hot in the Mojave Desert. With an estimated curation of thirty minutes to complete, this hike is suitable for those of all ages and experience levels. This entire trail is filled with spectacular views, including the slot canyons that the trail runs through. And make sure you check out the abandoned movie set of the western film "The Professionals" located approximately 0.25 miles after the trailhead for White Domes Trail. 
White Owl Canyon Trail, Lake Mead National Recreation Area, Nevada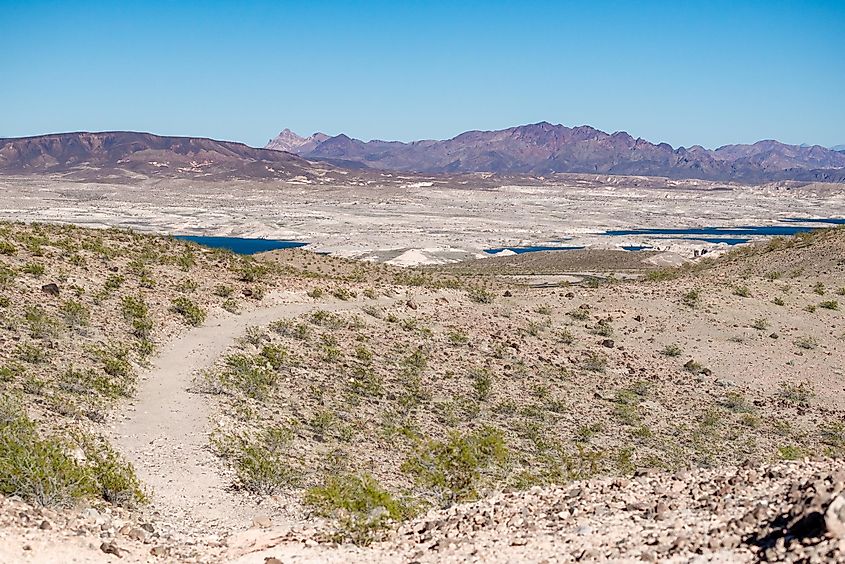 As the name suggests the White Owl Canyon Trail is perfect for bird watchers of all levels. Named for the white barn owls who populate the canyon, this trail has a round trip distance of 2.25 miles. White Owl Canyon Trail is appropriate for everyone, no need for hiking expertise to enjoy the geological and aviary delights. For your best shot at seeing owls make sure to arrive in the early morning or late evening when they will be out hunting. Located a mere thirty minute drive south of Las Vegas, this trail has the unique feature of being partially along dried lake flats that used to be covered by Lake Mead almost a century ago when the building of Hoover Dam created this man made lake.
Sloan Canyon Petroglyph Trail, Sloan Canyon National Conservation Area, Nevada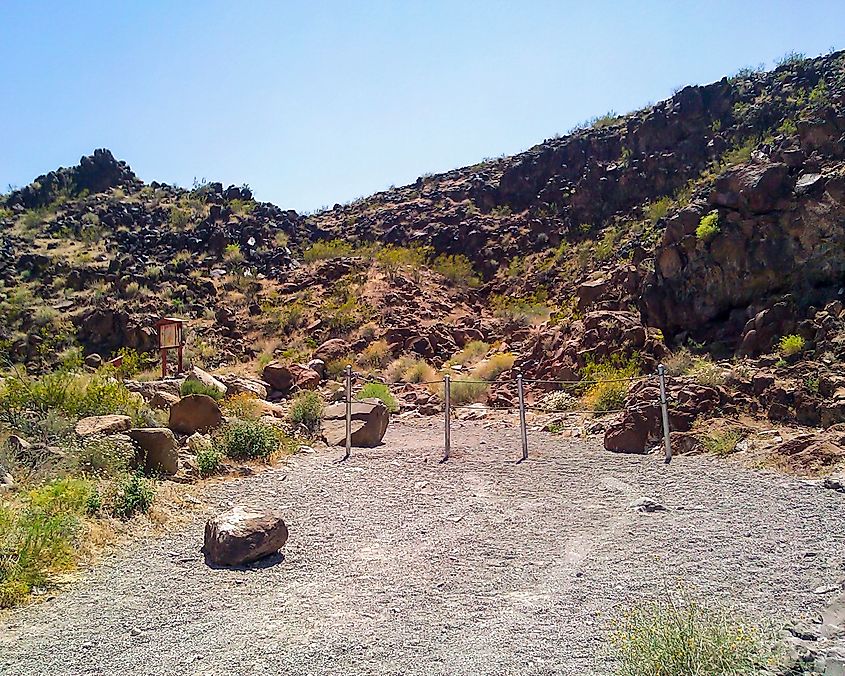 Sloan Canyon is one of the most unique hikes in all of Nevada, providing the opportunity to explore volcanic geology and pre-history human petroglyphs, all in the same day. Located in Sloan Canyon National Conservation Area, the Petroglyph Trail, also known as Sloan Trail 101, is a moderately difficult trek. It is 4.1 miles out-and-back, and it takes hikers through hardened lava fields from between 12 and 16 million years ago when this area was volcanically active. Today, the most popular aspect of Sloan Canyon Petroglyph Trail are its namesake petroglyphs. Found along the entire trail, the oldest glyphs are approximated to be 4,000 years old, with the most recent being from the pioneer era of American history. While it might be tempting to add your own marks along the trail, there is a fine associated with doing just that.
With some of the most extraordinary and unique geological formations in the United States, a visit to Nevada would not be complete without getting out into the wilderness and taking a trek through the Mohave Desert or around Lake Mead. With an abundance of state and national parks, multiple national recreation ares, three historic trails, and a diverse range of geological regions, Nevada is so much more than just bright lights and big hotels. So next time you find yourself in the state, do not miss out on these unbeatable hikes, no matter what time of year you visit.