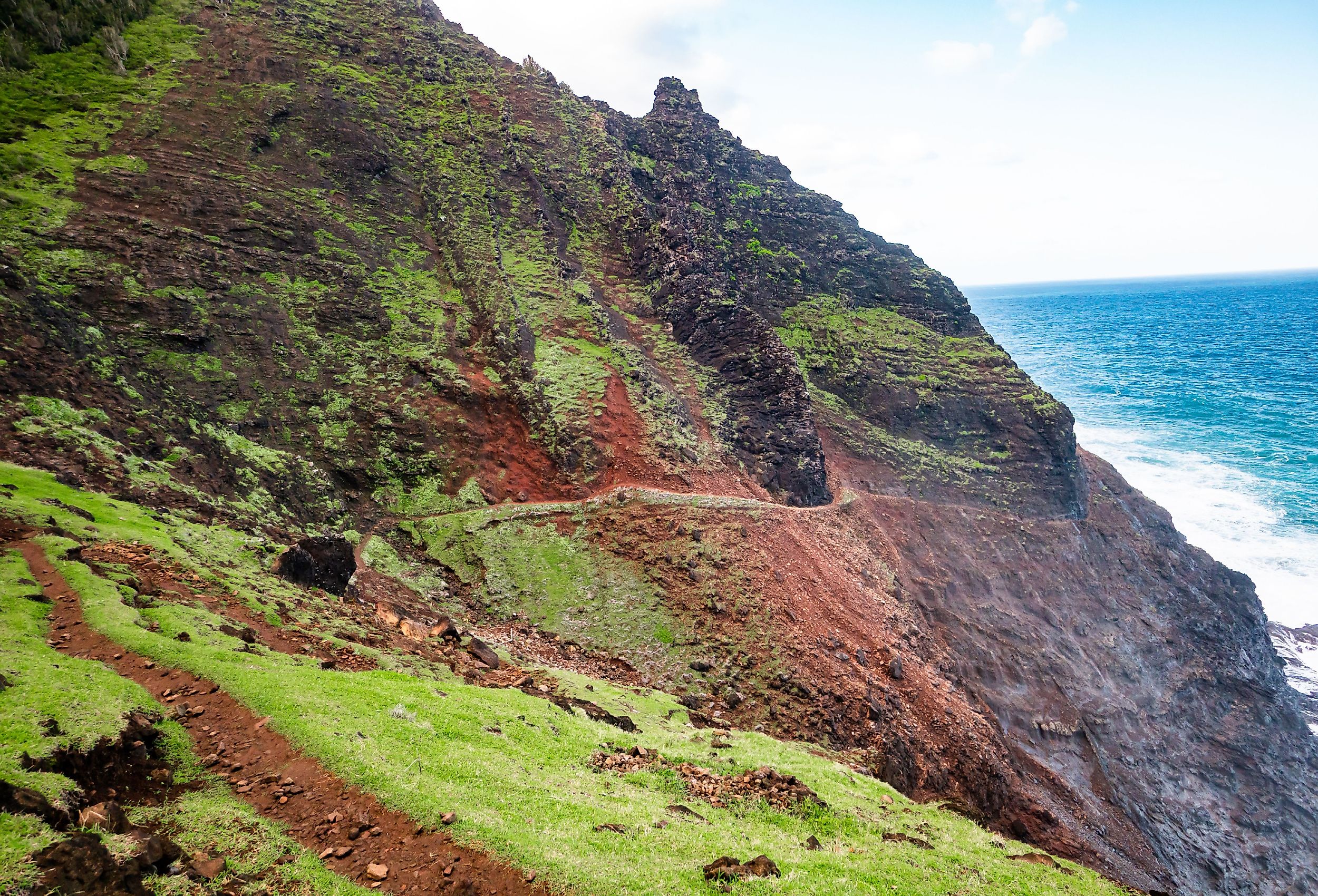 12 Best Hikes to Take in the US
The sun is shining, nature is calling, and those expensive Gore-Tex shoes are begging for adventure. What better way to seize the day than with a wholesome and memorable hike? The only trick is deciding where to go—a delightful problem proposed by the plethora of mind-blowing trails throughout the United States. So if you cannot decide where to begin, why not click off a couple of these twelve diverse adventures? Throughout this list, you will find some hikes that are suitable for all and others that are best left for experienced wilderness buffs. So know thyself, but also aim high!
Appalachian Trail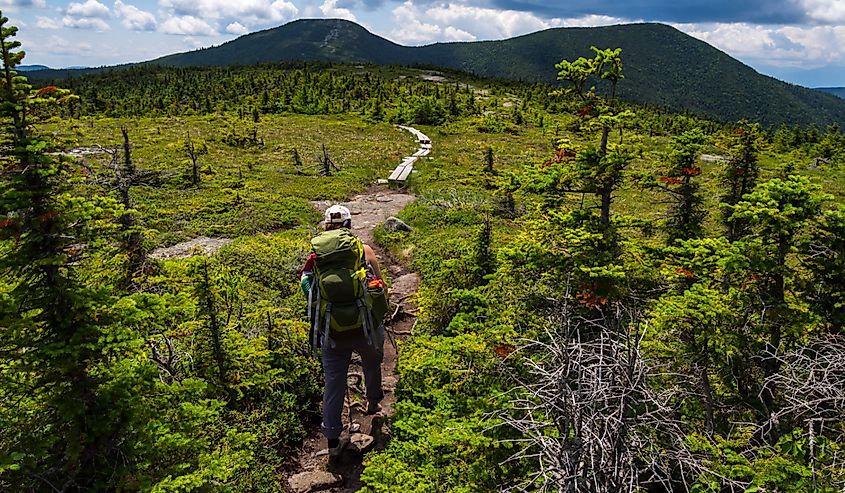 At 2,190 miles, the Appalachian Trail is the world's longest hiking-only trail. The approximately 4,000 annual thru-hikers that attempt to conquer this daunting footpath meander partially across fourteen states throughout the Eastern US—from Georgia to Maine, or vice versa. Completed in 1937, the Appalachian Trail owes its longevity to the National Park Service, the US Forest Service, the Appalachian Trail Conservancy, and countless state-level organizations and volunteers. Vast stretches of ubiquitous woods, hidden lakes, farmland, rolling hills, steep mountains, intermittent towns, and adored national parks are among the many features you can expect throughout the trek. If that still is not sufficient, zealous vagabonds can add on the Pinhoti Trail, which goes another 339 miles South of the Georgia trailhead.
Dune Shack Trail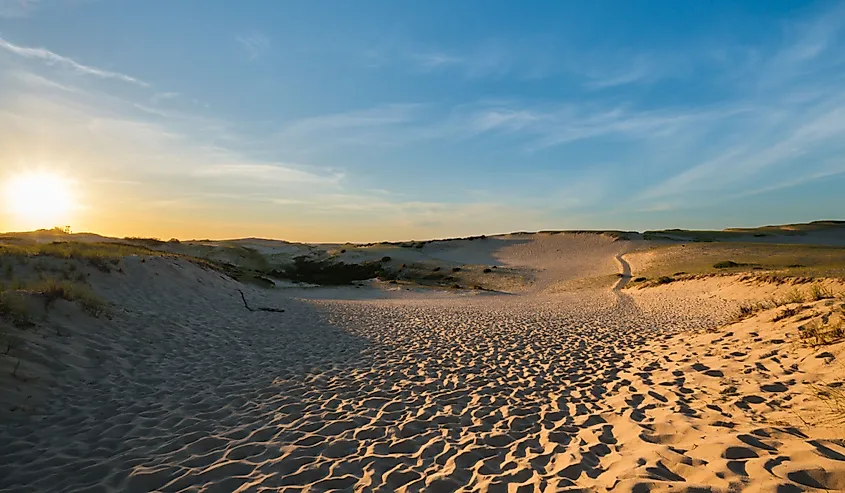 This unique hike is neither marked, nor particularly far (approximately 1 mile in length, plus improvised wandering), but it takes place entirely on the sand and in full view of the North Atlantic Ocean. Starting off of Hwy 6 (Grand Army of the Republic Highway), near Provincetown, Massachusetts, the Dune Shack Trail heads toward the ocean, and the run-down, but character-rich dwellings after which this hike takes its name. These basic shelters were partially built using salvaged shipwreck lumber in order to provide refuge for future stranded sailors. In the 1920s, these isolated and muse-inspiring huts became popular spots for squatting artists. You can complete this out-and-back journey in a couple of hours, but water, sunscreen, and bug-repellent are still essential if taking on this exposed route during the summertime.
Wonderland Trail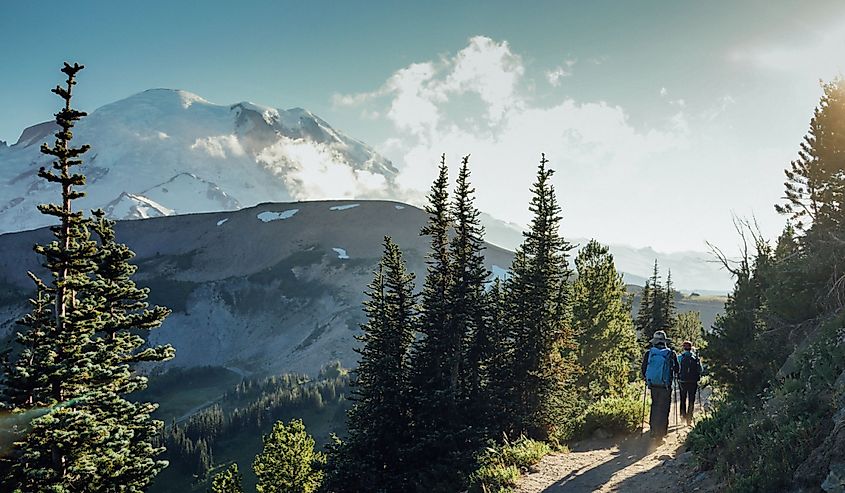 There is something endlessly satisfying about an immersive, circuitous hike through the crisp mountainous wilderness. The Wonderland Trail is a 93-mile jaunt, which gains 22,000 feet in cumulative elevation as it circumvents Mount Rainier, in Mount Rainier National Park, Washington. The 18 backcountry campsites provide ample options for breaking up the journey. Each day promises to reveal new aspects of the pristine Northwest landscape, including luminous glaciers, verdant meadows, roaring waterfalls, and volcanic ridges stretching out from the omnipresent and iconic central peak.
Half Dome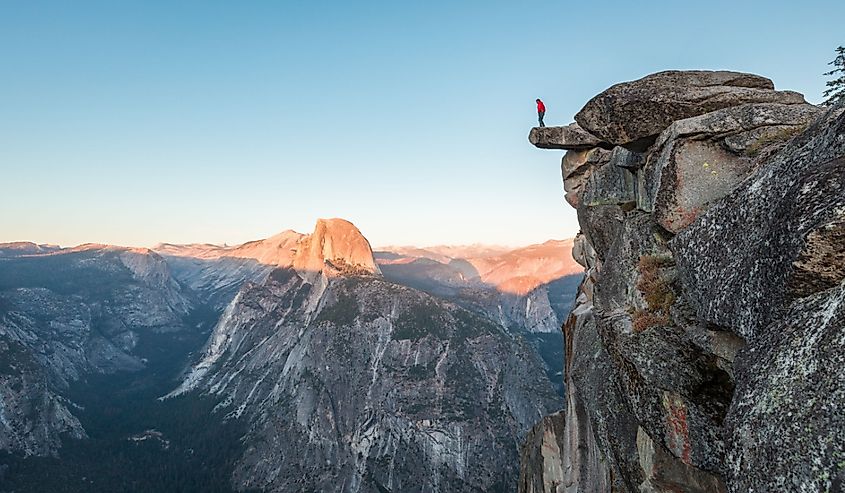 Half Dome is an iconic peak in California's famous Yosemite Valley. If you are a world-class climber, you can take the vertical route. However, if you are a mere mortal who still enjoys dramatic views and a worthy challenge, then the hike up Half Dome awaits. Good fitness, surefootedness, and permits are all required before heading up this popular route. An early start is also essential for the 16-mile (round trip) outing that gains almost 4,800 feet of elevation from base to summit. The final crunch includes an exposed, hands-on, tourist-queuing trudge up the steep and smooth backside of the mountain. Remember to pack enough food, water, and essential gear, as the hike crosses varied terrain, and the weather can present problematic twists, especially near the summit.
Kalalau Trail
Located on the island of Kauai, the Kalalau trail, protected by the Hawaii State Parks system, stretches 11 miles along the Nāpali coast, from Ke'e Beach to the secretive Kalalau Beach. The rugged coastline, numerous tropical valleys, and paradisiacal beaches make this a must for any avid (and experienced) hikers looking for something different. The Kalalau trail offers the only land access to these parts of the island, leaving them particularly untouched. Given the otherworldly surroundings, it will be hard to avoid checking over your shoulder for dinosaurs.
Teton Crest Trail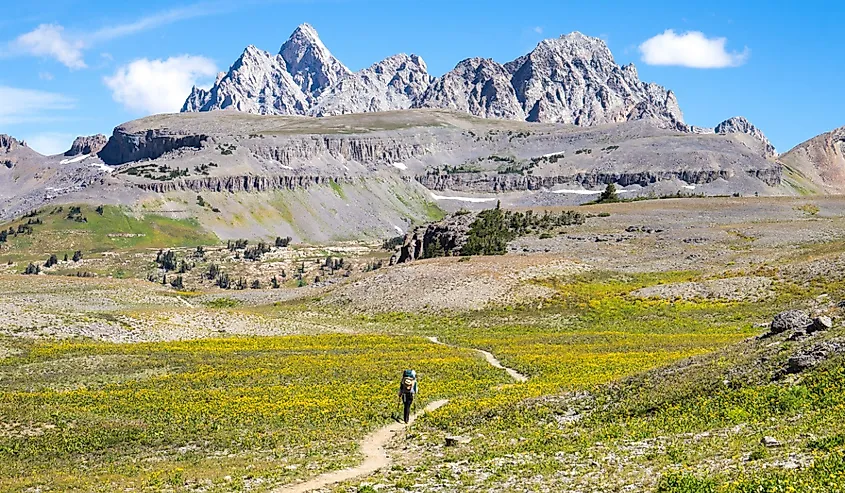 This 35 to 45-mile (depending on your route), point-to-point, high-altitude backpacking trip, is all about big views, big animals, and a big effort. The Teton Crest Trail snakes its way through the Jedediah Smith Wilderness Area, Bridger Teton and Caribou-Targhee National Forests, and Grand Teton National Park—all within the state of Wyoming, and predominantly over 8,000 feet above sea level. Hikers will have to grit their teeth to get through some tough sections, but by doing so, they can expect to see granite peaks, snowy passes, pretty wildflowers, and even some elusive mammals such as moose, mountain lions, wolves, and bears (plus the less intimidating bighorn sheep, deer, and elk).
Rim-to-Rim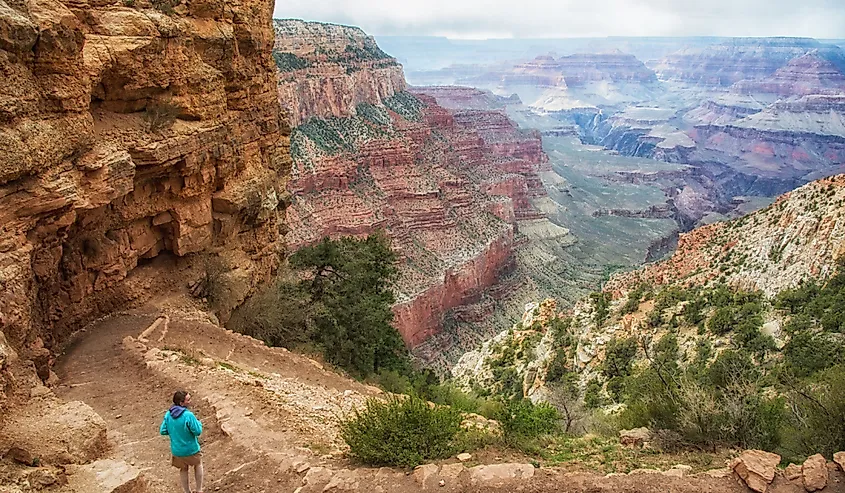 If you are fit and well-stocked, the Grand Canyon's Rim-to-Rim trek will be a life-changing challenge. The 24-mile, point-to-point halfpipe will require a bit of preparation for transportation and/or lodging. However, if you are averse to logistics but in supreme shape, there is also the Rim-to-Rim-to-Rim, out-and-back-style, multi-day hike, or single-push ultramarathon. In any case, each switchback will bring you through time as you move between millions of years of slowly carved strata and toward the Colorado River. Less than 1% of the 5 million annual visitors to the Grand Canyon make the trek down to its base. For those who do, starting with a sustained downhill can be deceivingly invigorating (though tough on the knees). Unlike most hikes, no matter which way you go, the hardest part comes last.
John Muir Trail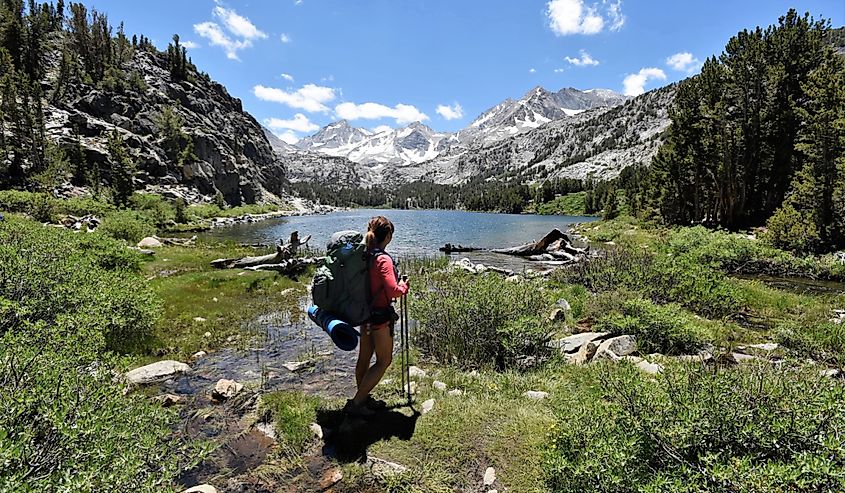 This 211-mile hike, which parallels part of the Pacific Crest Trail as it spans from Yosemite Valley to Mount Whitney, receives its name from the legendary conservationist and inspired nature-writer, John Muir. Muir was so taken aback by the beauty of Yosemite Valley that he became a lifelong champion for the creation of national parks and the preservation of America's organic marvels. Hikers of the John Muir Trail can expect a generally pleasant climate, but a grueling effort, as the trail ascends six mountain passes in the High Sierra range. Anyone bold enough for the challenge will enjoy endless, striking vistas, and an immersive experience that will connect you with California's remarkable wilderness, and perhaps even with the spirit of Muir himself.
Logan Pass Hikes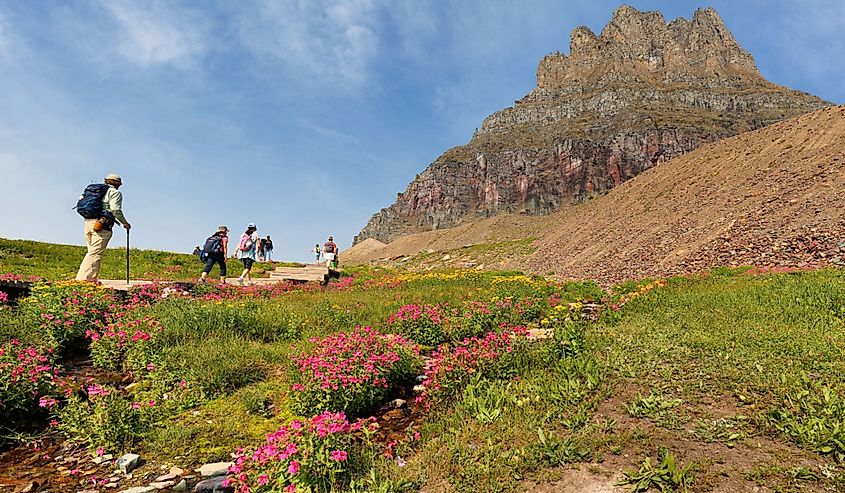 The 6,646-foot-high Logan Pass is a premier stop along Montana's Going-to-the-Sun Road in Glacier National Park. This subalpine environment produces fields of colorful wildflowers which look like offerings to the towering Reynolds and Clements Mountains. Logan Pass is also home to mountain goats, bighorn sheep, marmots, pikas, and even some black and grizzly bears. However, because this area is accessible by car, it is a tourist magnet within an already highly-visited park. Therefore, the best way to quietly explore the beauty of the pass, is to go for a hike. There are many options to choose from based on fitness, experience, and duration. Those wanting to stretch their legs can stroll the alpine meadow boardwalk. The moderately-challenging 5.2-mile out-and-back hike to Hidden Lake is a great option to shed pedestrians and gain some peace beside a glacial lake. And finally, the refreshingly exposed Highline Trail delivers a little more mountainside action, multiple turnaround options, and even a free shuttle between trailheads.
Pacific Northwest Trail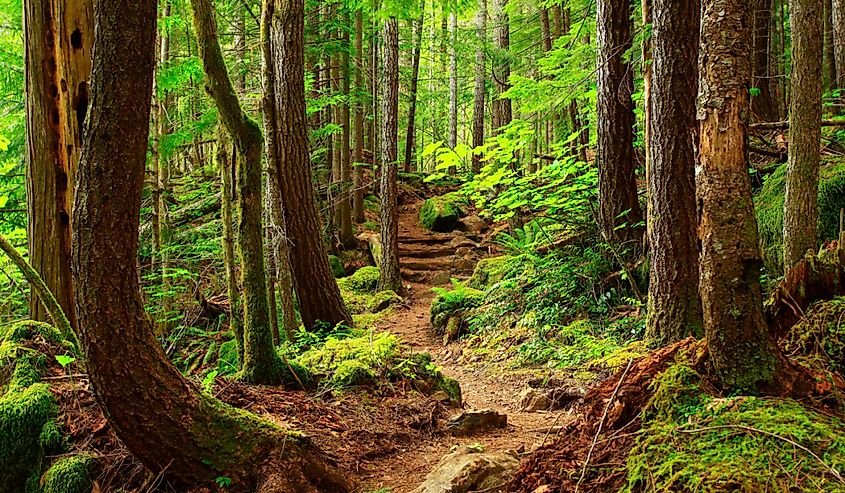 The Pacific Northwest Trail (PNT) is "America's Wildest National Scenic Trail" not only for its immense distance (1,200 miles) but also because of the strenuous and remote terrain that it crosses. The PNT bridges the gap between the Continental Divide and the Pacific Ocean. Along the way, it passes through seven mountain ranges, three National Parks, and deep sections of National Forests. Hikers will also uncover hidden trail towns and cute, waterfront communities. Of the many challenges that the PNT presents to prospective hikers, transportation and resupplies rank near the top of the list, but bear encounters are also common. Over 400 miles of the trail traverse grizzly bear territory, and black bears frequent 94% of the established route.
Rim Trail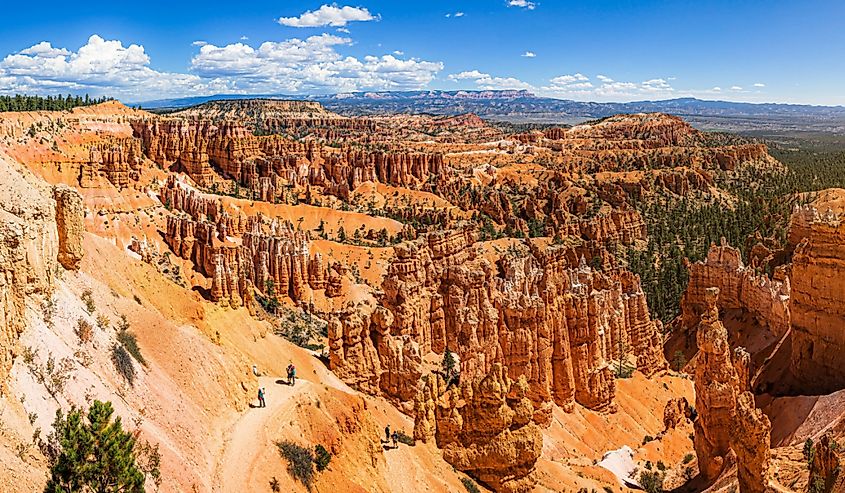 If the Grand Canyon's Rim-to-Rim trail feels a little out of reach, then the equally scenic Rim Trail, in Utah's Bryce Canyon National Park is an excellent alternative. This 11-mile (out-and-back) hike overlooks the park's Main Amphitheater as it climbs from Fairyland Point to Bryce Point. Visitors will be immediately struck by the world's largest collection of hoodoos. Plus, the changing seasons provide variable aesthetics for any returning red-rock-roamers. Given the ubiquitous beauty and approachable specs of this day hike, the Rim Trail is a great hike to plan for regular viewpoint breaks.
Mount Eielson Loop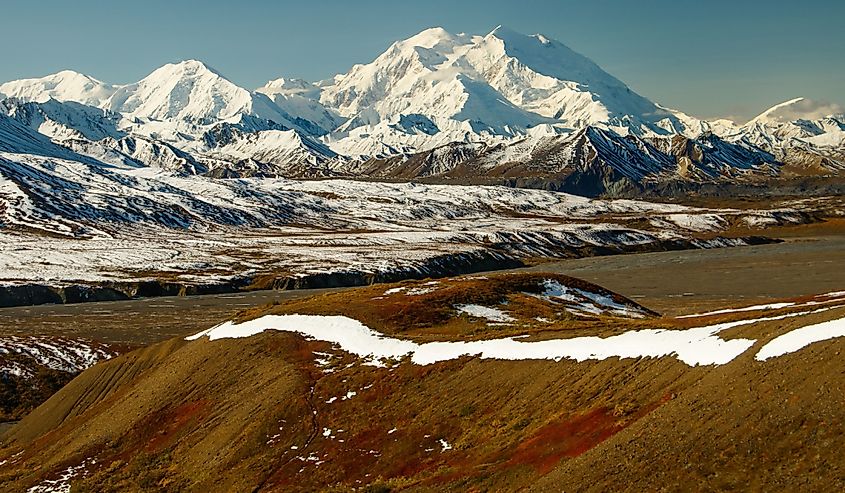 Mount Eielson Loop in Denali National Park, is approximately 14.6 miles, depending on your route. This circuit does not follow a set path, as blazed trails are not supported by the park. Instead, hikers utilize a map and compass to find their way around the 5,802-foot titular mountain. Along the way, the few lucky adventurers permitted to set out into these wild and capricious lands each day will experience inspiring views of the snow-capped peaks in the Alaskan Range (including North America's highest, Denali). You can complete the hike in a single push, or if you secure the proper permit, bold adventurers can enjoy an evening in the unadulterated wilderness (complete with gargantuan Alaskan brown bears).
Think you have what it takes to break trail through God's country? Would you prefer a more relaxed outing in which to breathe fresh air amidst good company? Either demographic can find enough hikes in the United States to fill a lifetime. Hopefully, this highlight reel inspires your next great outdoor adventure, and may your ensuing blisters and pictures spark an ongoing pastime.