There are 63 different National Parks in the United States, spreading over 30 states and two American territories. The landscape, terrain and ecosystem of each offer stunning views, impressive wildlife, or natural phenomena to wow any nature enthusiast. Though each of the national parks have something to offer to visitors, this list aims to compile the ten best national parks. Of course, the 'best' list can be subjective, so take this as a starting off point to dive into the world of stunning American National Parks. This list includes some of the most iconic parks, and the most highly visited per year. 
Yellowstone National Park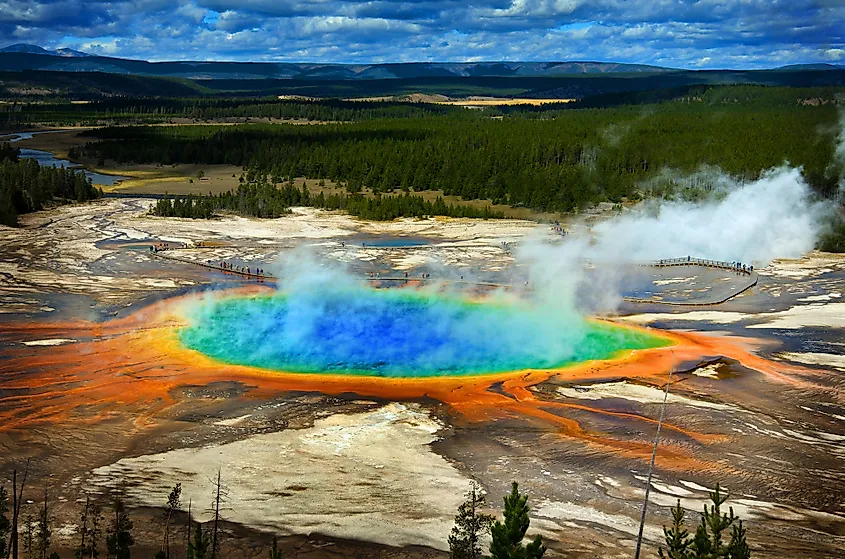 The very first National Park in the United States was Yellowstone National Park, which is located across three states: Wyoming, Montana and Idaho. It has become an iconic fixture within the U.S. and is by far one of the most well known National Parks in the country. It was first established on March 1st 1872, and covers an area of approximately 8990 square kilometers. The park sits atop volcanic land, which is why there is an abundance of thermal basins including thousands of hot springs, mudpots, fumaroles, and geysers in the area. In fact, more than half of the active geysers in the world can be found in Yellowstone, including the famous Old Faithful. More than 4 million visitors come to Yellowstone every year to see these natural phenomena.
Grand Canyon National Park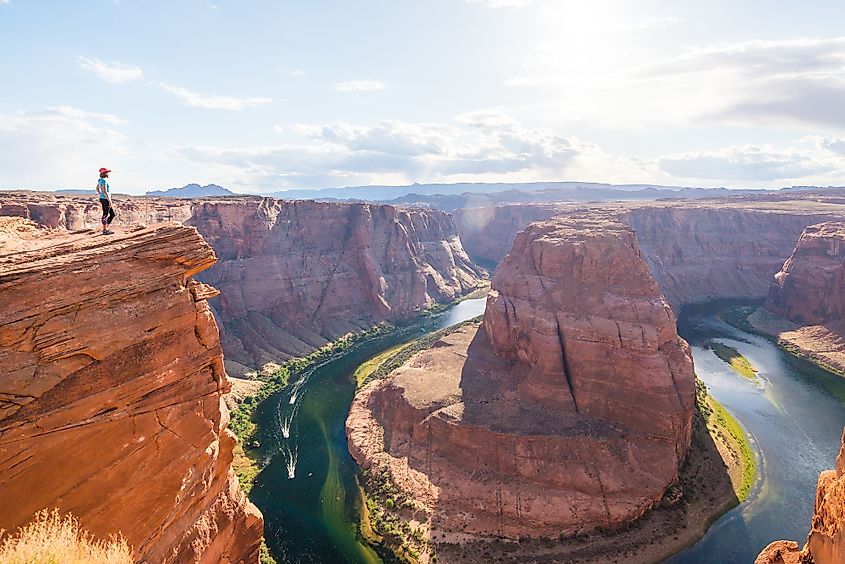 The Grand Canyon National Park in Arizona is another one of the most famous and well known parks in the United States. Featuring 446 kilometers of the Colorado River and surrounding highlands, it offers magnificent views from various viewpoints and lookouts along the canyon ridge. The Canyon itself is roughly 1.6 kilometers deep, and as wide as 29 kilometers across, making it one of the most astounding canyons in the world, and certainly the most impressive in the United States. For the more adventurous, there are a number of hiking trails, as well as rafting and kayaking activities, making the Grand Canyon National Park a must-visit location. Some 6.2 million visitors travel to the Grand Canyon yearly, which means it is the second most popular National Park by numbers. 
Yosemite National Park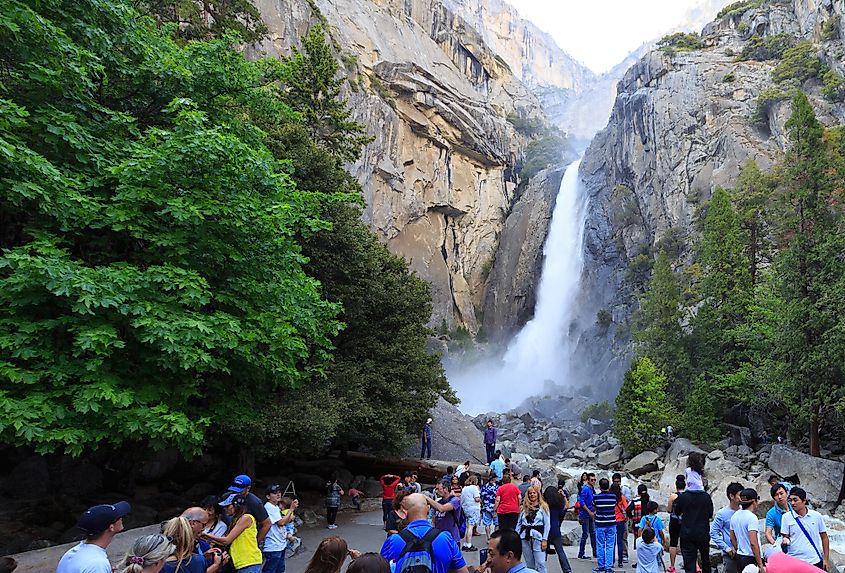 Yosemite National Park in the northern region of the state of California is another iconic park with amazing views. The park measures 3,027 square kilometers in the Sierra Nevada mountains. It's vistas and viewpoints are beautiful, specifically Tunnel View which features the Bridalveil waterfall, a stunning natural water feature. The park also includes the impressive cliffs of Half Dome and El Capitan. Yosemite gets upwards of 4.2 million visitors yearly, making it one of the more popular National Parks in the United States. 
Rocky Mountain National Park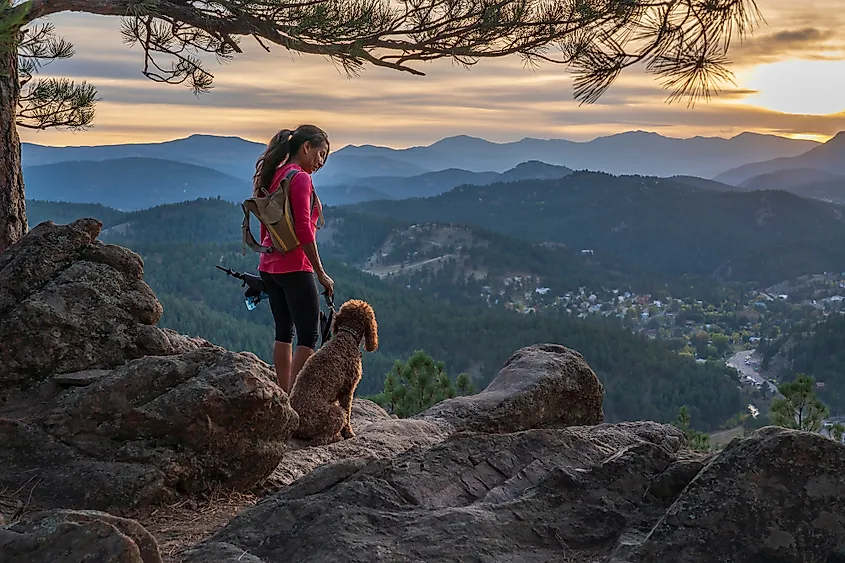 Rocky Mountain National Park is located in the mountain ranges of Colorado, along the continental divide. This park is at a high elevation, and includes a number of beautiful towering mountain peaks and expansive forests. The area measures 1,075 square kilometers of lush landscapes from aspen tree forest and alpine tundra, to a number of bountiful rivers. Popular natural visitor attractions include the Trail Ridge Road, and the Old Fall River Road for drivers, or the Keyhole Route which is a hike and climb that ventures up the rock faces to Longs Peak, the highest point in the park. Perfect for nature lovers and outdoor activities, the Rocky Mountain National Park is a stunning display of nature which is visited by 4.6 million people every year.
Zion National Park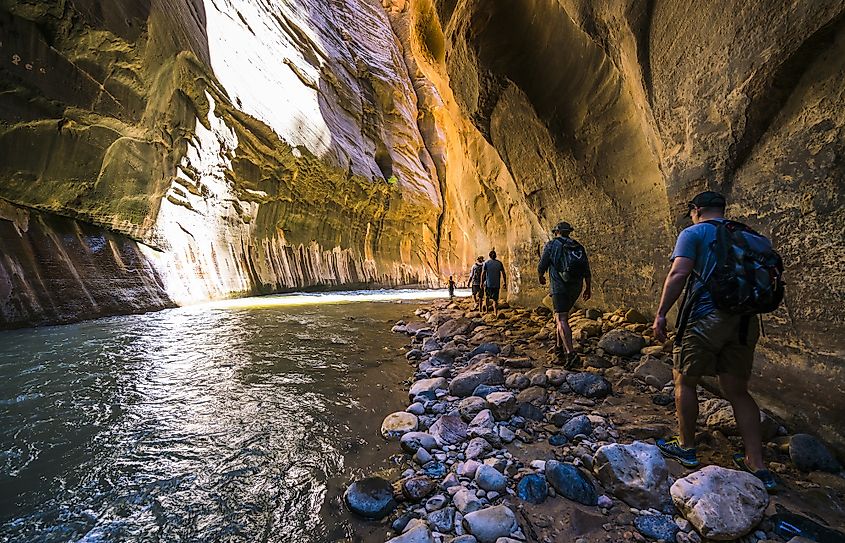 Zion National Park is one of several national parks in the southern portion of Utah state which are known for their rust-red rocks and curiously shaped rock formations. Zion offers excellent walking and hiking experiences amongst canyons and geological phenomena. It is most well known for the striking steep red cliffs that frame the Virgin River below. Also popular are the Emerald Pools and hanging garden. This visually impressive park had over 4.4 million visitors on average, yearly.
Great Smoky Mountain National Park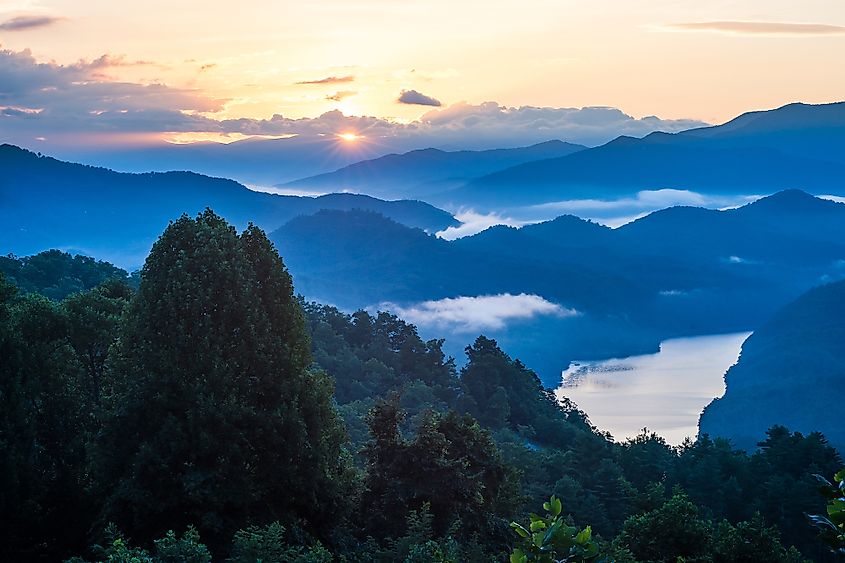 The Great Smoky Mountains National Park runs along the border between North Carolina and Tennessee. This range is part of the larger Appalachian Mountains, and features ancient weathered mountains which have been softened and worn down over thousands of years. As a result, the landscape is full of rolling hillsides and soft mountain peaks covered in dense forest. It is an excellent location for hikers, and anyone hoping to spot some local wildlife. Black bears and elk are common here, and can be spotted along numerous hiking trails. The park is particularly popular in the fall when the trees begin to turn colour and paint the scenery various shades of red, rust and orange. An average of 12 million visitors venture to Smoky Mountain each year, making it the most popular National Park (by numbers) in the country.
Acadia National Park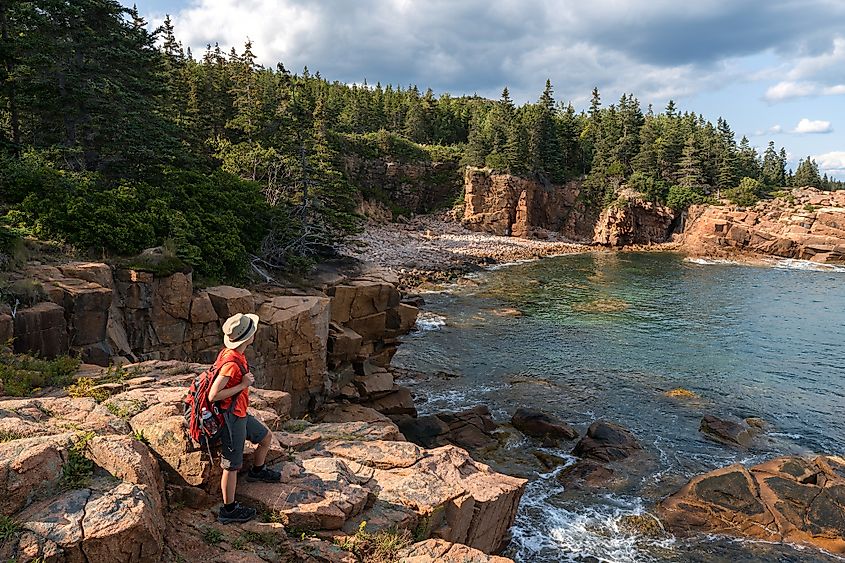 Acadia National Park is a beautiful area covering 198.60 square kilometers of woodland, rock beaches, and granite peaks. Forests and peaks rise up around clear blue bays for a picturesque view that can be appreciated in any season. Visitors often prefer travelling to Acadia in the fall, when autumnal colours and leaves are at their peak, or in the winter, when the hills and beaches are blanketed in a soft covering of snow. Roughly 3.5 million people visit this park yearly to enjoy the scenery, nature, and abundant wildlife which includes bears, moose and deer, as well as significant marine life including whales and seabirds.
Glacier National Park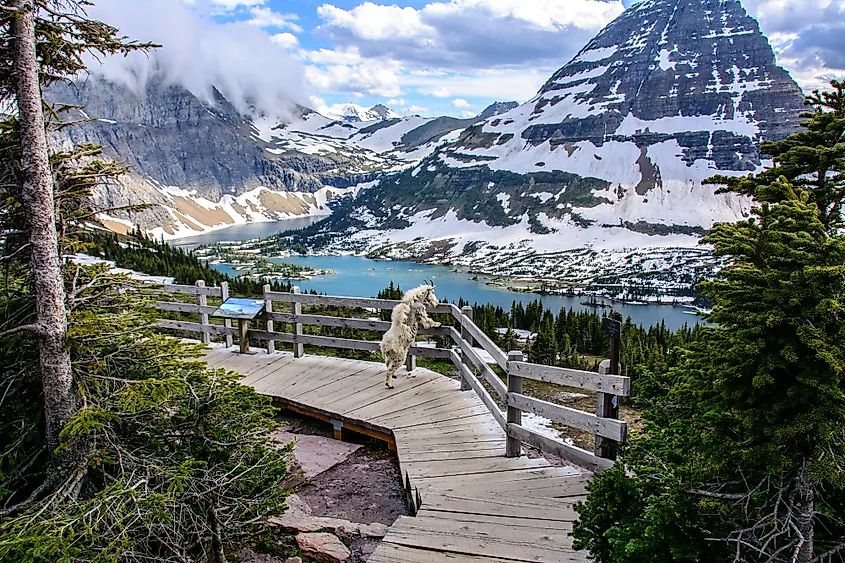 The Glacier Mountain Park is located in the highlands of Montana, and like the Rocky Mountain Park, is located in part of the Rocky Mountain Range. The park covers an area over 4,000 square miles, and mainly consists of steep mountain ranges, glacial lakes, and forest. This area is especially popular for its stunning turquoise lake water, caused by minerals from glacial runoff above. Some 3 million visitors come to the park yearly to hike, camp and seek wildlife such as mountain goats and grizzly bears.
Olympic National Park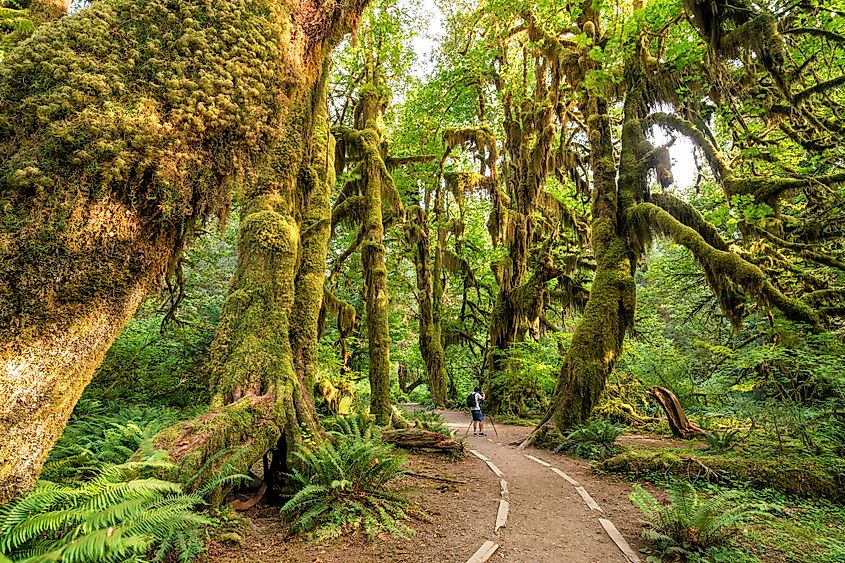 Olympic National Park is located in the Pacific Northwest, in Washington State. This area includes a range of ecosystems and landscapes, from the beautiful shoreline to dense old growth forests, and the snowy peaks of the Olympic mountains. The park is particularly popular with hikers and climbers looking to scale the mountain range, but less adventurous visitors can enjoy the lower elevations with boating, camping or fishing. The park is accessible year round, and has a variety of winter-weather activities as well. It is visited by approximately 3.2 million visitors yearly.
Joshua Tree National Park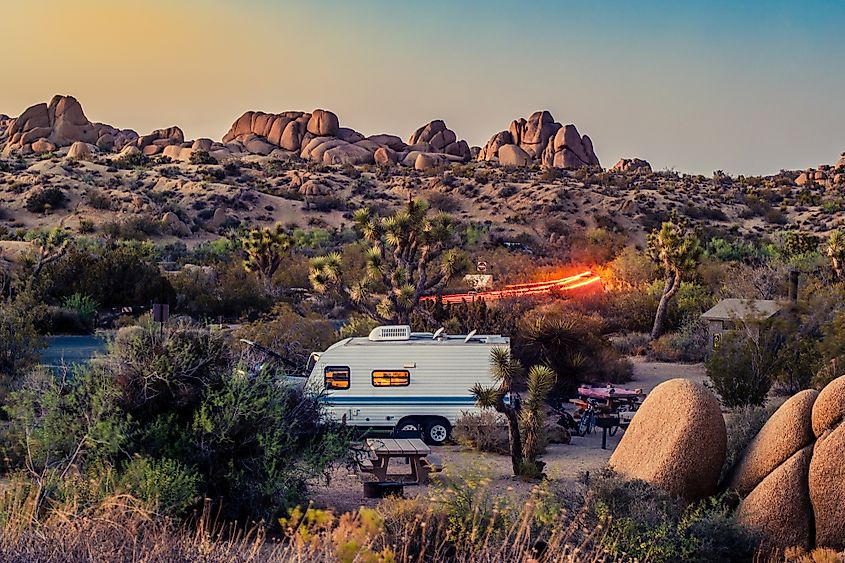 Another popular park in California state is Joshua Tree National Park. It is visited by approximately 2.9 million people per year. Joshua Tree is located in the southern part of the state, in the Colorado Desert. The landscape is a relatively barren desert, dotted by Joshua trees and cacti. Hiking is the most common activity here, as visitors hike amongst the boulders of Hidden Valley, or climb their way to a view of Coachella Valley. The park is especially popular during sunrise and sunset, as the expansive land lends itself to a wide view of the open skies. Similarly, overnight campers can experience beautiful starry skies on clear nights.