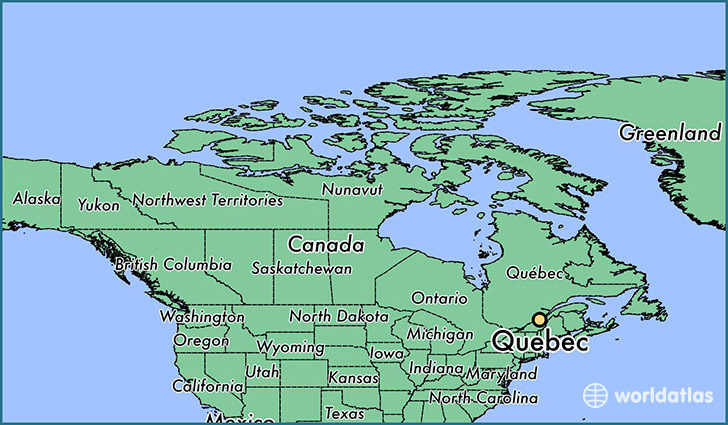 Quebec is a city found in Quebec, Canada. It is located 46.81 latitude and -71.21 longitude and it is situated at elevation 54 meters above sea level.
Quebec has a population of 528,595 making it the 2nd biggest city in Quebec. It operates on the EDT time zone, which means that it follows the same time zone as Montreal.
Quick facts
| | |
| --- | --- |
| Country | Canada |
| Province | Quebec |
| Population | 528,595 |
| Elevation | 54 m over sea level |
| Time Zone | EDT |
| Longitude | -71.214540 |
| Latitude | 46.812280 |

Quebec City is the capital of the Canadian province of Quebec and was the capital of Canada from 1859 to 1865.
Over 400 years old, this city is incredibly romantic and teems with European culture. Quebec City offers a rich and unique French history extending far beyond its cobblestone streets.
Quebec City is the only city within Canada or the United States to still have its original city walls. Located on a cliff near the St. Lawrence and St. Charles rivers, Quebec City has something unique to offer in every season: brilliant gardens in the spring and summer, rich foliage in early autumn, and plenty of snow activities in the winter. The famous Quebec City Carnival has been celebrated every winter since its inception in 1880.
A popular Canada vacation destination, nearly 4 million people visit each year. Lovely Montreal is just an hour south along the river and the U.S. state of Maine not far beyond.
Founded in 1608 by Samuel de Champlain, the old city, with its elegant French architecture, is one of the most popular places in Canada for tourists and locals alike.
Nearly 700,000 people reside in Quebec City, attracted by its unique ambiance, gorgeous surroundings, and a strong economy based on timber, pulp and paper, metals, hydro-power and aerospace.


Quebec City is home to the narrowest house in North America. The 3.7 meter (12 feet) wide building can be found on the rue Donnaconna.
Most of the city's population is bilingual, capable of speaking both French and English.
The Saint-Jean-Baptiste Society was founded in Quebec City and is dedicated to all things French Canadian and to the goal of a sovereign Quebec.

Check out the following places for some great things to do on your Quebec vacation!
Chateau Frontenac
Located in old Quebec, this historic French hotel is located in the part of the city within the original walls. Chateau Frontenac is a landmark inn that has hosted many notable individuals including Alfred Hitchcock, Winston Churchill, and Franklin D. Roosevelt. The most photographed hotel in the entire world, guided tours are available for this popular Quebec attraction. Built in 1894, the hotel is rich with architectural detail, antique furnishings, and old fashioned luxury. Sitting high on a bluff above theSt. Lawrence, the Chateau Frontenac is artistically lighted at night and always visible from miles around.
Quebec City Cathedrals
The elegance of old Quebec architecture is most evident in the city's beautiful churches. The following cathedrals are some of the finest examples of French influence in the New World. Notre Dame Des Victoires: Originally built in 1688, this beautifully restored church had been largely destroyed by British bombardment in 1759. Exhibiting the best of French colonial beauty, the church serves as a landmark for tourists in the heart of Place-Royale, as well as a place to worship. The church was named a historic monument in 1929. Cathedral of Holy Trinity: Consecrated in 1804, the Cathedral of Holy Trinity was the first Anglican cathedral built outside of the British Isles. This church serves as the focus for Anglican life and worship in Quebec and is home to a fine collection of religious art and antique altar vestments.
Musee De La Civilisation
The 'Museum of Civilization' historical building is a unique architectural innovation in downtown Quebec City. The museum houses permanent and temporary collections featuring the diverse aspects of human civilization, ranging from inhabitants of Canada to individuals from around the world. The Musee de la Civilisation highlights the lives of artists, explorers, inventors, and everyday folk and their various cultures. Some of the permanent exhibits include Territories, People of Quebec, Then and Now and Encounter With The First Nations. The museum also offers workshops, children's interactive exhibits and guided tours.
Maps
This page was last updated on October 2, 2015.