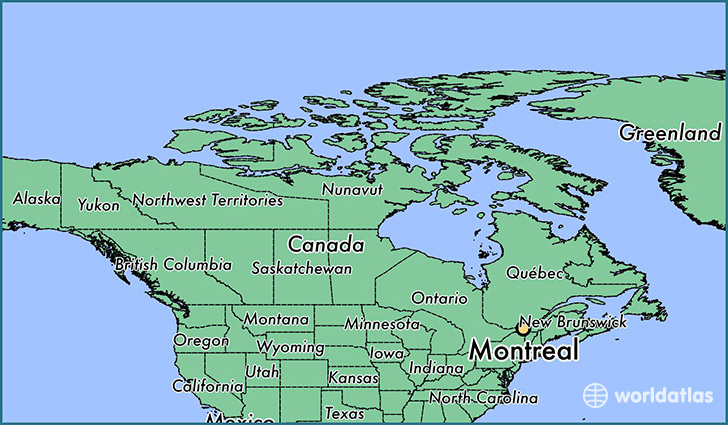 Montreal is a city found in Quebec, Canada. It is located 45.51 latitude and -73.59 longitude and it is situated at elevation 216 meters above sea level.
Montreal has a population of 1,649,519 making it the biggest city in Quebec. It operates on the EDT time zone.
Quick facts
| | |
| --- | --- |
| Country | Canada |
| Province | Quebec |
| Population | 1,649,519 |
| Elevation | 216 m over sea level |
| Time Zone | EDT |
| Longitude | -73.587810 |
| Latitude | 45.508840 |

Montreal is the largest city in Quebec with a population of 1.6 million people (3.4 million in the whole urban area), and is one of the most diverse cities in North America with an intriguing blend of English and French Canadian.
French speakers, representing approximately 70% of the city's population, gracefully mingle with the remaining 30% of English speakers and other significant cultural groups who speak neither English nor French.
Located at the confluence of the Saint Lawrence and Ottawa Rivers with the capital Quebec City just to the north, Montreal enjoys warm, pleasant summers and snowy winters.
Boasting a wealth of unique and beautiful architecture, a sound economy and a distinct cultural flavor, Montreal is home to many famous festivals, such as the Just for Laughs comedy festival, along with a lively downtown and neighborhoods each with their own ambiance and history.


Montreal is the second-largest primarily French-speaking city in the world, after Paris.
The first permanent European settlement was created in Montreal in 1639.
After New York, Montreal has the highest number of restaurants, per capita, in North America.
Hiroshima, Japan is the 'sister city' of Montreal, Quebec.

Check out these great places to visit during a Montreal, Quebec vacation!
Mount Royal
Montreal is named after this 761-foot hill, which serves as a home to the famous Mount Royal Park, one of Montreal's largest green spaces. Some of Canada's favorite attractions are here, including Two Belvederes, Beaver Lake, a short ski slope and a sculpture garden. Nature lovers, walkers, joggers, cyclists, skaters and dog owners all share this lovely green space throughout the year. During winter, the hill is popular with cross-country skiers and snow enthusiasts. Mount Royal is also home to two major cemeteries, one of them the final resting place for some famous Canadians.

Old Montreal
A major tourist draw, Old Montreal is the oldest area in the city of Montreal, dating back to New France. Located in the borough of Ville-Marie, Old Montreal is one of the oldest urban areas in North America and home to imposing buildings dating back to the 1600s. Wonderful architecture, including preserved colonial mansions such as the Chateau Ramezay, cobble-stoned streets and horse-drawn caleches add to the area's charm and elegance. The old town's riverbank, taken up by the Old Port, is surrounded by a variety of museums and attractions.

Montreal Botanical Gardens
The Montreal Botanical Gardens is a fragrant year-round haven spread across 185 acres. Countless orchids, begonias, ferns, African violets and flora from the rainforest bloom in a frenzy of color housed in ten conservatory greenhouses. The grounds of Montreal Botanical Gardens are covered by lilacs in May, lilies in June and roses from mid-June to the first frost. Other highlights include an exotic Chinese Garden complete with pavilions and ponds, and a Japanese Garden with a tearoom and stunning bonsai collection.
Maps
This page was last updated on October 2, 2015.