A state that is unfortunately overlooked when the topic of outdoor activities and natural beauty is brought up, Connecticut is perhaps one of the most underrated places in the United States. A hidden gem of the northeast, Connecticut has quietly been home to an impressive amount of lush forests and pristine lakes since it was first established in 1788. 
Often overlooked by its larger neighbors New York and Massachusetts, it is long overdue that Connecticut got its time in the sun and was finally recognized for being one of the most stunning states in the region. 
Lake Waramaug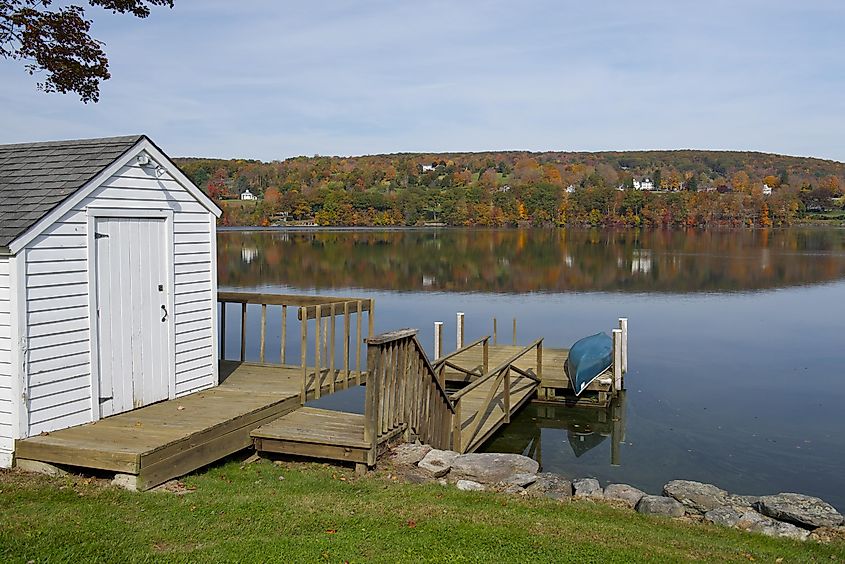 Located within the Lake Waramaug State Park, this body of water is one of the most popular destinations for locals looking to spend a relaxing day on the lake. The park itself is one of the most highly rated in the state and is equipt with all the bells and whistles that you would expect. 
Camping grounds, hiking trails, and stunning lookout points all surround the area around Lake Waramaug. This lake gets particularly pretty during the fall when the leaves start to change color. Swimming and boating are all allowed on the lake however, motorized boats are heavily restricted. 
Squantz Pond
Squantz Pond is situated deep into the nearby mountains along the border with New York state. The surrounding landscape is perhaps some of the most stunning on this list. Tall, tree-topped hills and mountains engulf this body of water and instill a feeling of awe and sanctuary. 
As isolated as this lake might feel at certain times of the year, during the summer months Sqantz Pond can fill up quickly. Its parking lot is limited to around 200 vehicles but that does not stop others from walking in. 
Water skiing and other boating activities are a common sight here along with hiking up the nearby mountains. 
Lake Lillinonah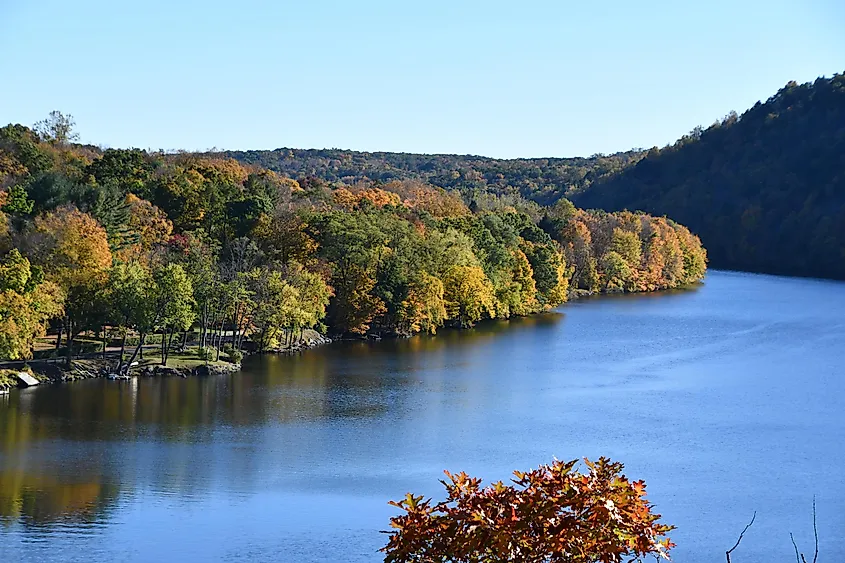 One of the largest lakes in Connecticut is none other than Lake Lillinonah in Lover's Leap State Park. This lake is man-made as well and first took its shape in the 1950s after the construction of the Shepaug Dam along the Housatonic River.
This damming created one of the most beautiful lakes in the region. Thick forests and towering cliffs dominate the shoreline of Lillinonah. These cliffs are a popular spot for people to go diving or even fish if they are close enough to the water. This 1900-acre monster has tons of places to explore and discover both on land and water. Kayaking and biking seem like the most popular and efficient ways to traverse this lake. 
Bantam Lake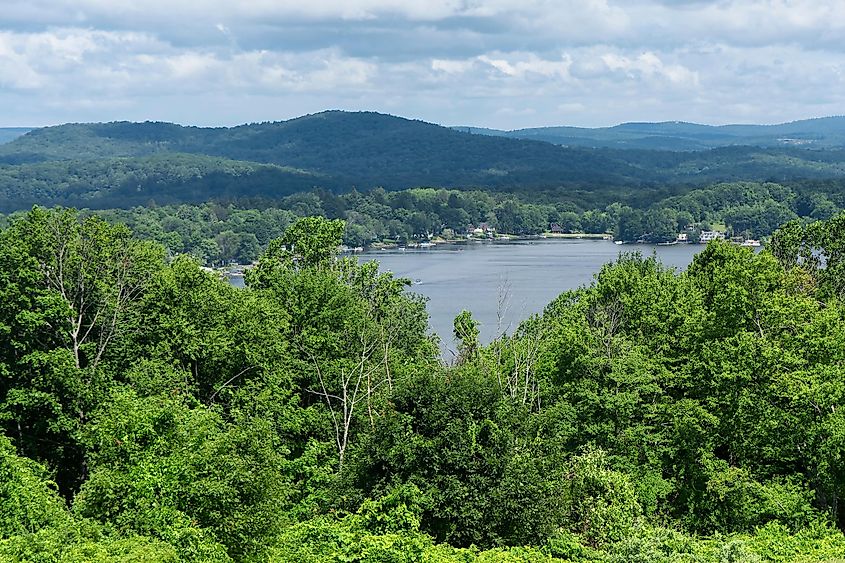 Bantam Lake is the largest naturally forming lake in Connecticut. Due to its sheer size, this lake has been outfitted with two separate beaches. If you are wanting to soak up some sun, picnic, or BBQ, then either Morris Town Beach or Sandy Beach are the perfect places to go. 
This lake is a well-known hot spot for bird migration. It is not uncommon to see a plethora of various species stopping to rest at Bantam Lake whether they are going north into Canada or south towards Mexico. No matter what your taste is, there is always something entertaining to do at Bantam Lake.
Bolton Lake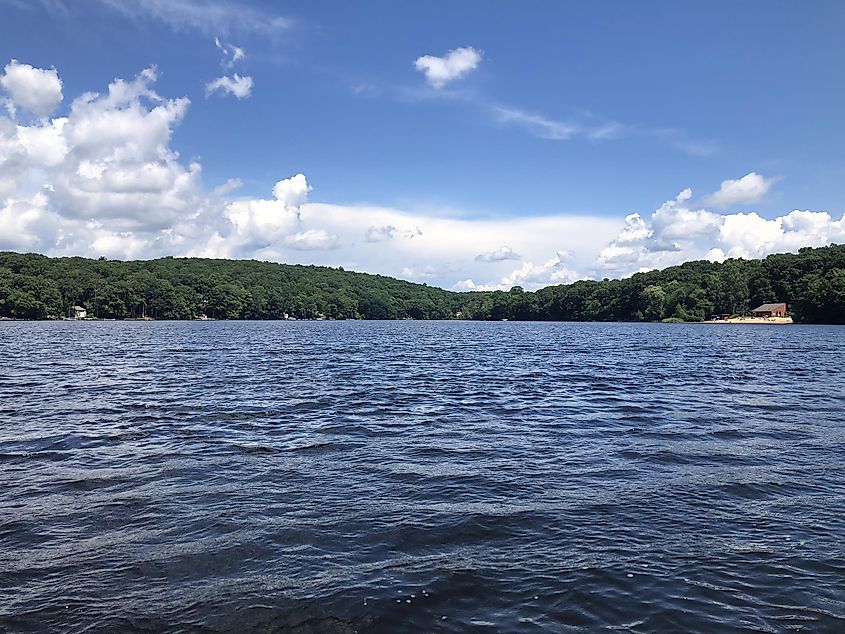 Bolton Lake is actually a combination of three smaller bodies of water. These three lakes are often regarded as one and the same simply as the Bolton Lakes. These lakes are popular vacation spots for those living in Harford. 
Dozens of vacation homes dot the shores along with smaller motorboats and canoes. The fishing here is often regarded as some of the best. Especially when taking into consideration the relatively small size of the lakes.The Bolton Lakes is a great place to go if you are wanting to spend a relaxing weekend by the water. 
Burr Pond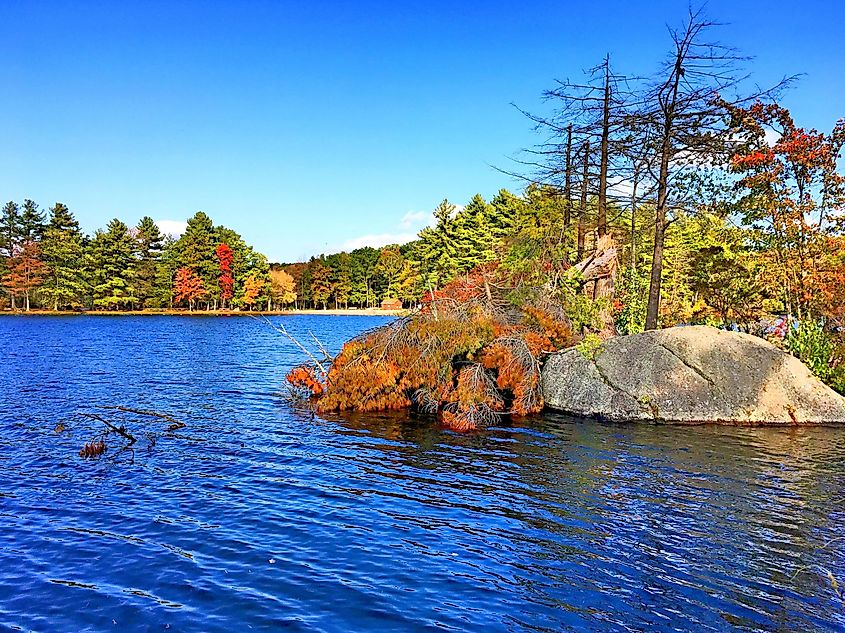 Burr Pond is one of the smaller lakes in Connecticut but it certainly makes up for this small size in sheer beauty alone. Just over 90 acres, Burr Pond can be found in the middle of a state park bearing the same name.
This lake is very popular among the locals and is outfitted with all of the infrastructure that you would expect. Picnic areas, hiking trails, swimming areas, and clean washrooms are all at your disposal. The cleanliness of Burr Pond is perhaps its most notable feature. On sunny days the calm water of the lake essentially turns into a large mirror and reflects the stunning surrounding environment back onto the lake. 
Lake Mohegan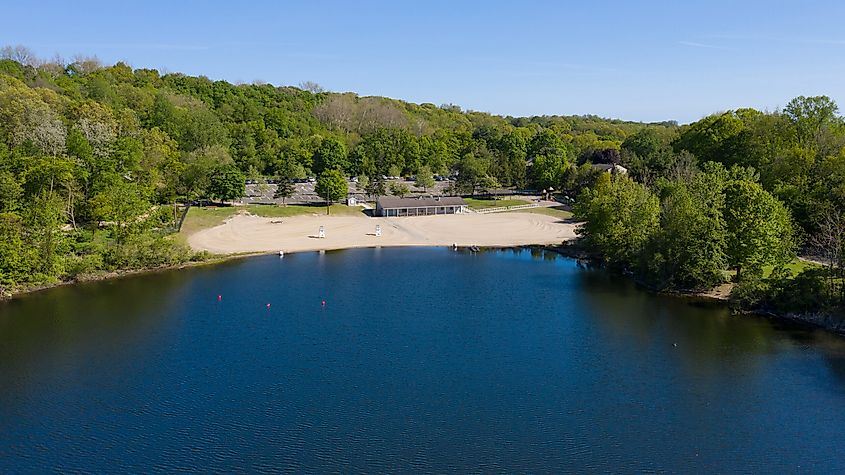 Another man-made beauty, Lake Mohegan is another popular destination during the summer months. Its small beach is a great place to relax with friends and family for the Fourth of July or other special events. 
Lake Mohegan is certainly tailored towards families rather than young adults, the nearby by water park is the perfect place to visit if you have children with you. The nearby woods are also a great place to go for a relaxing walk. Keep in mind that Lake Mohegan is only open during the summer so those who are wanting to visit at other times throughout the year are sadly out of luck. 
Candlewood Lake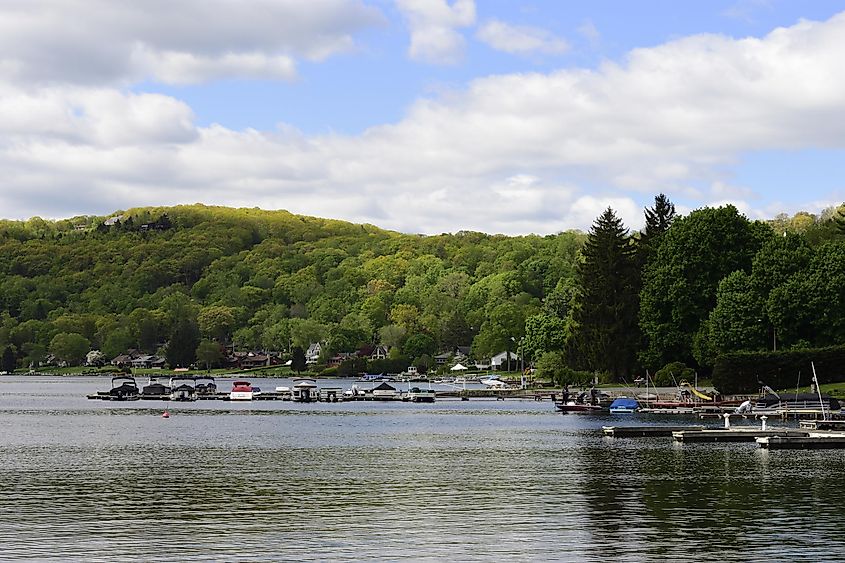 Measuring a staggering 8.4 square miles, Candlewood Lake is the largest body of water in all of Connecticut. Stretching across two county lines and with nearly 90 miles of shoreline, this lake has an almost endless supply of things to do. 
Boating is one of the most popular activities. With 10 marinas attached to the lake, there can be hundreds of various boats out on the water at one time. However, due to its sheer size, congestion is almost never a problem. The nearby hills are outfitted with great trails that all lead up to breathtaking views of the lake. Make sure you bring your camera with you if you do decide to take the journey up. 
Mansfield Hollow Lake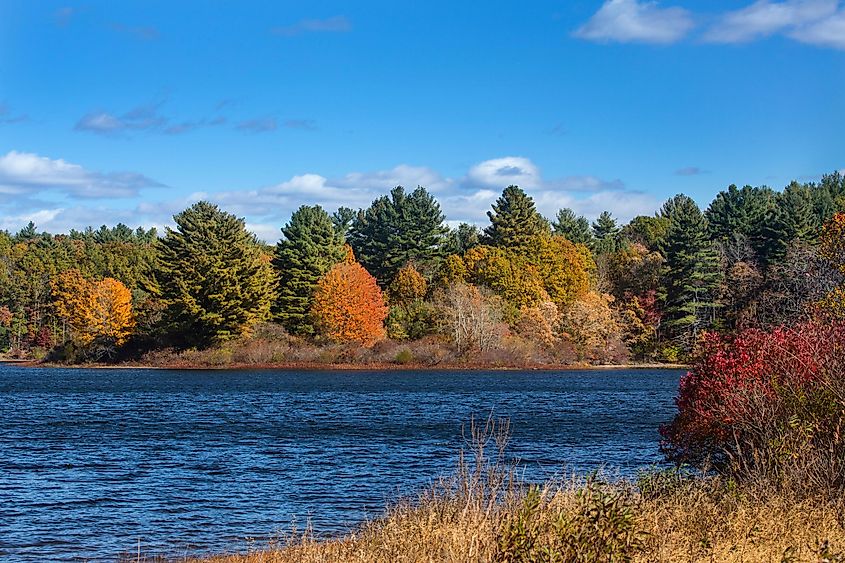 This enchanting lake can be found deep inside the Mansfield Hollow State Park. Surrounded by colorful foliage and towering trees, the calm waters of Mansfield Hollow Lake will be sure to give nothing but relaxation and tranquility to those who visit. 
The lake was first created when the United States military dammed the nearby Natchaug River and redirected some of its water to form a reservoir. The lake is still used as drinking water and for other practical purposes. Because of this swimming in the lake is strictly off-limits, however, boats and other watercraft are still allowed. Fish are bountiful too if you are wanting to break out the fishing poles. 
Summary
Next time you are in the great state of Connecticut then make sure you take a look at some of these lakes. It is a shame that many of these places are overlooked for other more well-known places in nearby states. Whether it is hiking, swimming, fishing, or a gentle boat ride, the stunning lakes of Connecticut have you covered.