The southernmost state in the New England Region of America, Connecticut has a vast array of lovely sights and attractions. Whether this is the beautiful fall colors, cultural diversity, or even the historical Yale University, there is lots to do. With lovely areas such as Kent Falls State Park and Pachaug State Forest, you can find many acres of preserved land in this state. With so much to offer, Connecticut is a great place to visit no matter what your interests are. Although, which towns should you visit for the most picturesque sights in Connecticut? Well, to answer this question, let's take a look at the 7 Most Picturesque Small Towns In Connecticut.
Mystic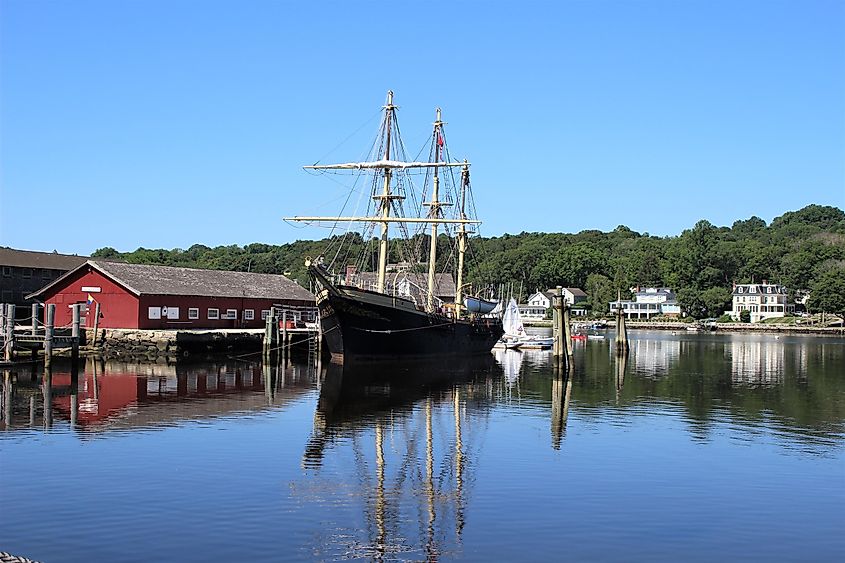 Similar to its name, Mystic is a unique city with amazing history, attractions, and more. Located in Groton and Stonington along the Mystic River, this town was once a major seaport in Connecticut. With more than 600 ships built in Mystic between 1784 and 1910, the town houses a rich history and connection with maritime attractions. One of the most prominent sites you can visit is the Mystic Seaport, the region's largest maritime museum! It houses everything from sailing ships such as the "Emma C. Berry" to buildings like the Mystic Seaport Light lighthouse. Apart from this, you'll find everything reminiscent of a 19th-century seafaring village from a working shipyard to amazing fishing sites.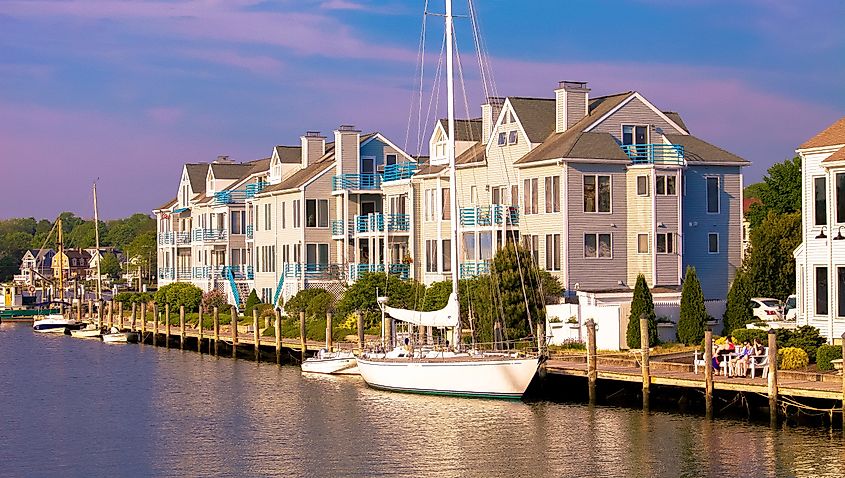 Making the most of its riverside location, Mystic is also home to the famous Mystic Aquarium. This aquarium houses an impressive 10,000+ animals and has been operational since 1973. As of today, you can visit it and enjoy the many exhibits such as the ray and shark touch pool, an African penguin exhibit, as well as the rare Stellar sea lions. While these two places are more than enough for a complete weekend, the 3.8 sq. mile (9.8 sq. km.) offers a lot more. For example, you can take part in the waterside fun by boating, fishing, swimming, etc. Just take a stroll down to Paddle Mystic-Mystic River Adventure Company and spend the day paddle boarding or kayaking away!
Cornwall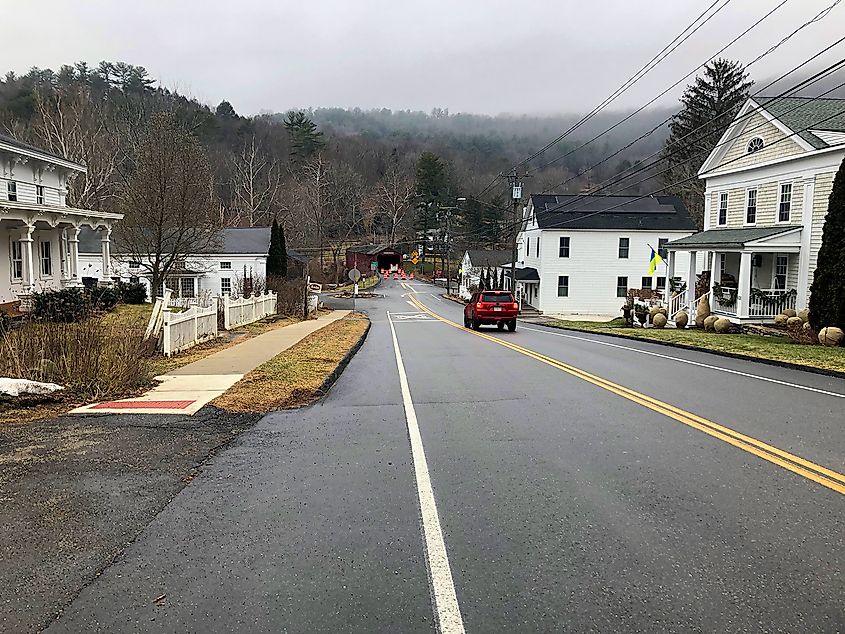 Located in Litchfield County, Cornwall is a small town home to 1,567 individuals. Among many picturesque things to see and do, the most popular place to visit in Cornwall is the West Cornwall Covered Bridge. This bridge was built in 1864 and with its unique wooden covered appearance, has become a well-known tourist destination. Testament to this, the bridge was added to the National Register of Historic Places in 1975 and is also the reason Cornwall is nicknamed "Home of the Covered Bridge." The town is also home to the concrete arch bridge, Cornwall Bridge, another historic site that people visit.
However, if bridges aren't your cup of tea, there's a lot more you can do. This is because Cornwall is also nestled within immense natural beauty whether this is the ski mountains, state forests, or lovely lakes. For example, the Mohawk Mountain Ski Area sits within Cornwall and is both the oldest and largest ski area in Connecticut. Here, you can enjoy more than 100 acres of skiable area with 25+ trails for all skill levels! Apart from skiing, take a stroll down to the Housatonic River which features activities such as fly fishing, rafting, canoeing, and more. So, there are an ample amount of picturesque sights whether you want to enjoy nature or history in Cornwall.
Monroe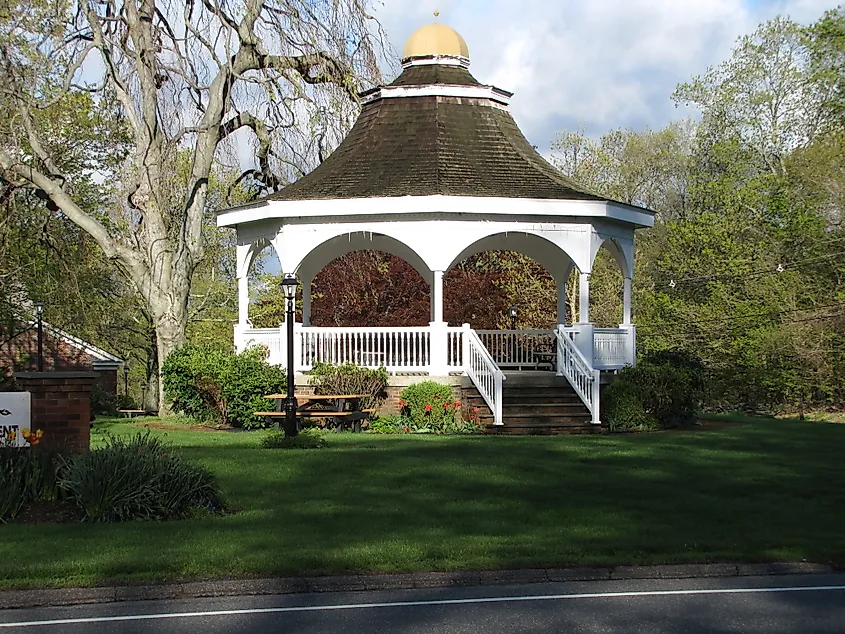 About 2 hours away from New York City, Monroe is close enough to the bustling metropolis to be a perfect weekend retreat. Named after James Monroe, the fifth president of the US, this town in Fairfield County exudes peaceful small-town vibes. With nearly 19,000 residents and an area of 26.3 sq. miles (68.1 sq. km.), you can find enjoyable conversation and friendly faces everywhere. Monroe is also filled with relaxing activities such as apple picking at Beardsley's Cider Mill & Orchard. Here, you can spend the day collecting hundreds of unique apples, peaches, honey, etc. for a delicious day out. Or, spend your evening at Veracious Brewing Company which is one of the town's best breweries. With a lovely taproom that is filled with locals and tourists alike, it is a great place to make new friends.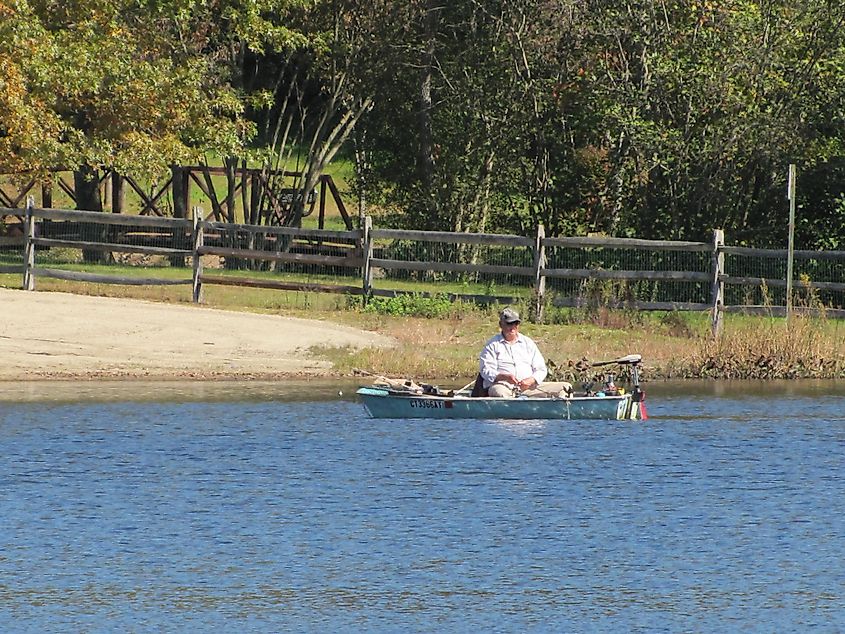 If you want an even more quaint experience, step out of the city to Webb Mountain Park. With an area of 135 acres, this park has a load of fun activities within the peace of mother nature. For example, you can try out one of the many hiking trails such as the Paugussett Trail which runs through many scenic views. Moreover, Webb Mountain Park is home to rock climbing tracks, camping sites, and much more for a complete adventure. So, whether it is to get away from the urban hustle and bustle or just to enjoy some amazing beer, Monroe is a must-visit for New Yorkers!
Chaplin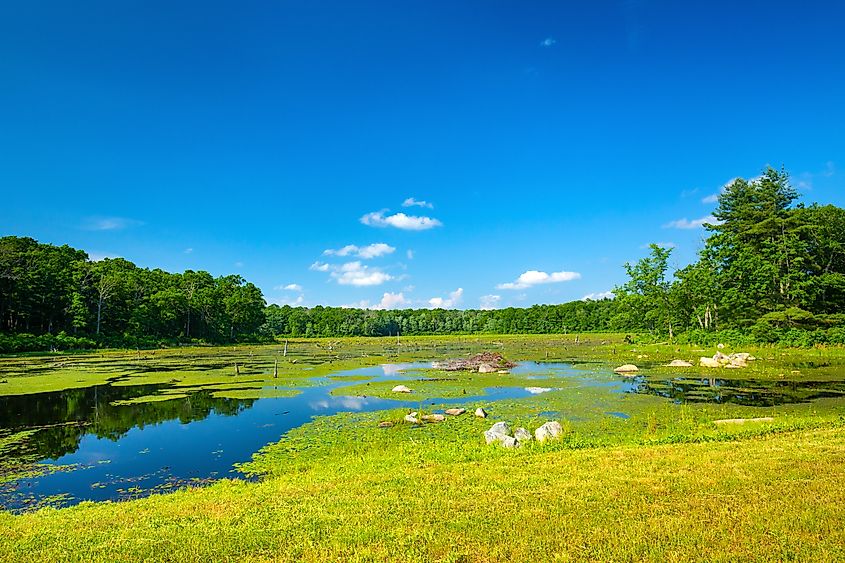 Combining tranquil rural living with rich history and culture, Chaplin is a lovely small town in Windham County. Home to more than 2,100 people with an area of 19.6 sq. miles (50.8 sq. km.), this town offers ample space to relax and cool down. So, you can take a step back from the fast-paced social media lifestyle for a few days in Chaplin. While doing so, be sure to check out some of the local historic sights such as the Chaplin Museum and the Historic District. Listed on the National Register of Historic Places, the historic district is filled with structures such as the Witter House, a notable brick structure from the 1820s.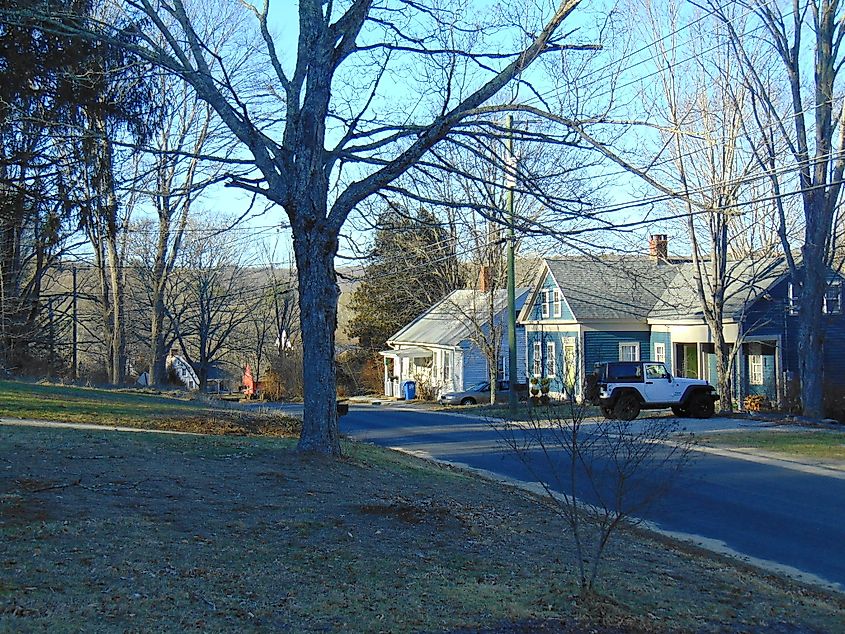 While it may be peaceful, the town of Chaplin does come to life during winter. This is thanks to the lovely local culture and residents who wholeheartedly celebrate festivals and holidays. So, as a visitor, you can check out Harmony Farm, a beautiful Christmas tree farm where you can cut out your own tree! Or, take a day out to visit the Bats of Bedlam Maple Farm. As the name suggests, this farm is filled with everything maple syrup such as maple cream, butter, sugar, vinegar, and much more. With all this and more, Chaplin is a lovely place where you can enjoy some unique experiences.
New Canaan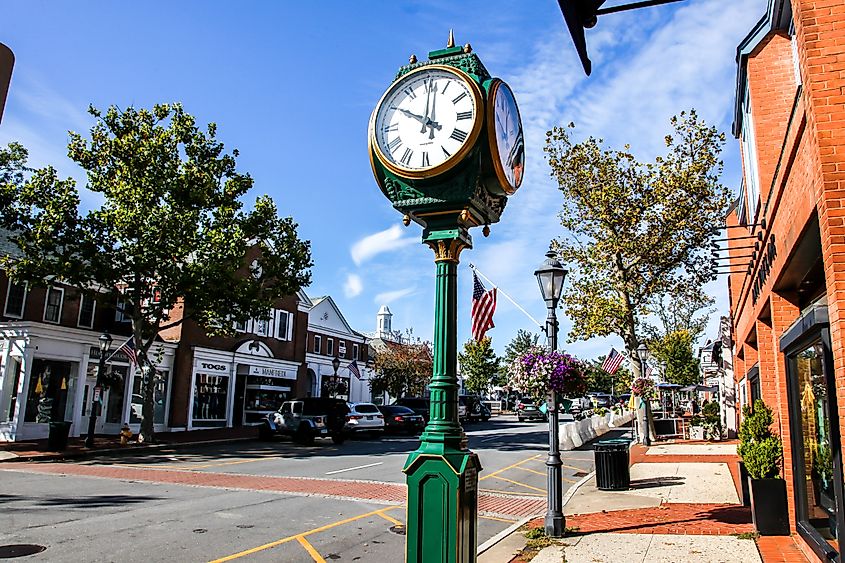 Another town near the urban hub, New York City, New Canaan is a unique getaway in Connecticut! Located in Fairfield County and home to 20,000, this town is known for its upscale environment, affluent residents, and delicious eateries. Testament to this, New Canaan is part of Connecticut's Gold Coast, a well-known affluent area in the state. So, with its large downtown area, you can find a plethora of lovely shops and cafes to visit no matter where you go. For example, spend your day at "Sole," a lovely Italian restaurant followed by a trip to "Gelatissimo" for some delicious artisanal gelato. While it may be a bit expensive, everything here is high-quality and perfect for a vacation splurge!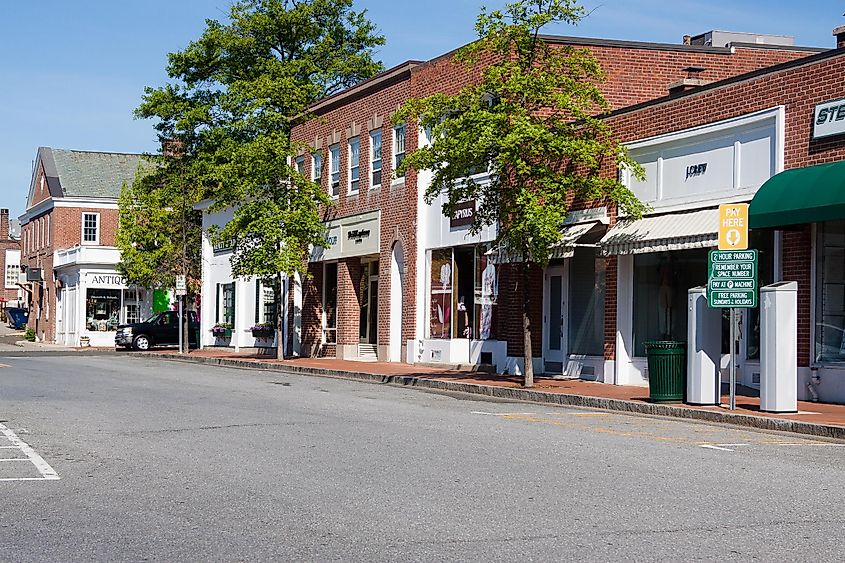 Parallel to its upscale environment, New Canaan has a plethora of lovely places to visit. One of the most popular is the Philip Johnson Glass House. Built by Philip Johnson in 1949, this house is a stunning architectural feat made with transparent glass walls. Thus, you can see the entire house and its modern design from all angles for a serene experience. That being said, located in Connecticut, New Canaan also has some great natural parks with fun activities. Waveny Park is one of the most popular with 300 acres of protected land which offers amenities like an open-air pool, tennis court, and more. All in all, if you're willing to spend some money on vacation, New Canaan should be on your list.
Old Saybrook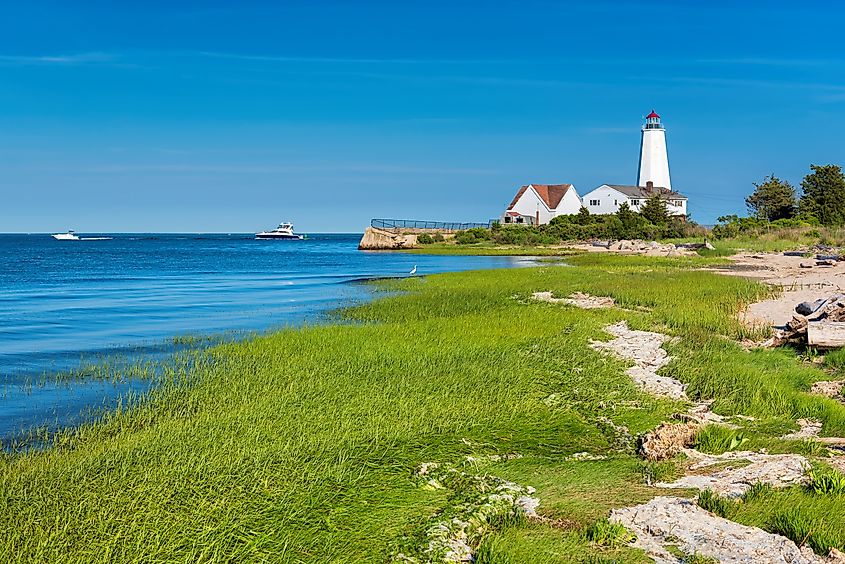 As its name suggests, Old Saybrook is one of Connecticut's oldest towns. Situated along the southern end of the state in Middlesex County, the town is home to a tight-knit community of 10,500. The area of Old Saybrook was initially a factory by Dutch Settlers in the early 1600s which was built into a larger fort and community. Following many battles, the town became an English colony and was even the location for events such as a witch trial in 1661. As the population progressed, Old Saybrook was settled in 1738 thanks to which it is loaded with historical sites. The Black Horse Tavern is a famous spot as it was built in 1712, making it one of the oldest in town. The nearby Lynde Point Lighthouse is also a well-known location with nearly 2 centuries of history along the Connecticut River. Listed on the National Register of Historic Places, these and more than 10 other sites are perfect for history enthusiasts.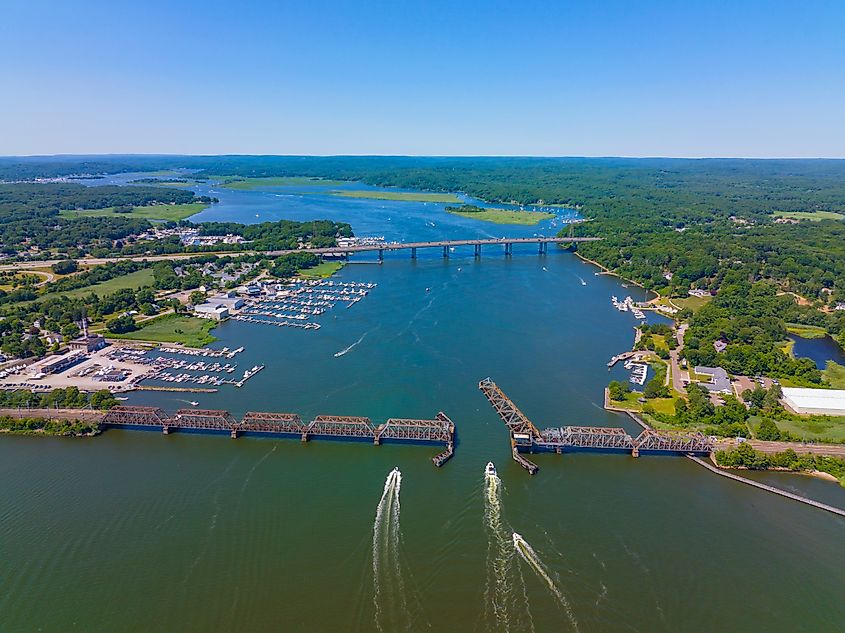 Apart from its unique history, Old Saybrook is also an ideal place to relax and enjoy Connecticut's natural beauty. It is filled with lots of green space where you can find golf courses, scenic walking trails, and more. So, you can spend the day playing a game of golf with your friends or enjoy a riverside walk with family. With so much to do, Old Saybrook is the place to be if you want to learn about the state's history with a side of natural fun!
Washington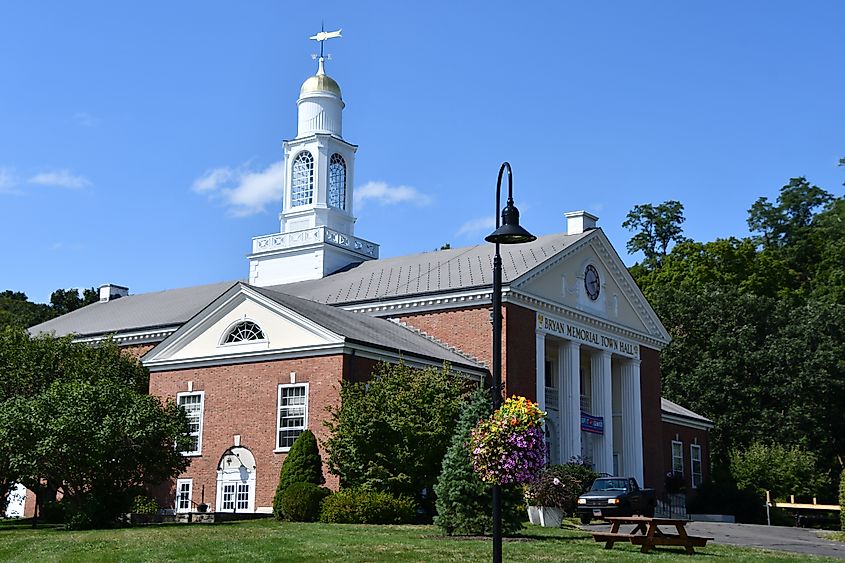 Ending off the list, Washington is another picturesque small town with a wide array of things to offer. With a population of 3,600 and incorporated more than 2 centuries ago, Washington is filled with culture, history, and rural beauty. The entire town portrays a small-town vibe that makes it an amazing place to go if you want to cool down and take in Connecticut's relaxing vibe. Moreover, the city houses three municipal historical districts as well as one which is on the National Register of Historic Places. So, no matter which one you go to, there is a wide range of historical sites on offer. These sites are known for their Georgian, Greek Revival, and Italianate styles that are seldom seen elsewhere.
Washington is also a great place for scenic views from a natural perspective. Just grab some water and head to one of the many walking trails such as Shepaug River. This route winds through Hidden Valley Preserve which is filled with lovely waterside sights. Speaking of the waterside, you can also visit Lake Waramaug which is known for having a beautiful ambiance throughout the year. After all this, grab some delicious dinner at the Mayflower Dining Room and end your day right!
Looking at these towns, it is quite obvious that Connecticut is filled with many hidden beauties. Ranging from picturesque architectural sights to beautiful natural scenery, each town has multiple unique features. For example, you can visit New Canaan for a taste of upscale living while Old Saybrook is a blast to the past. No matter where you go, Connecticut