Society
The 50 US States Ranked By Population
California, Texas, and Florida are the most populous U.S. states, while Wyoming, Vermont, and Alaska are the least populous.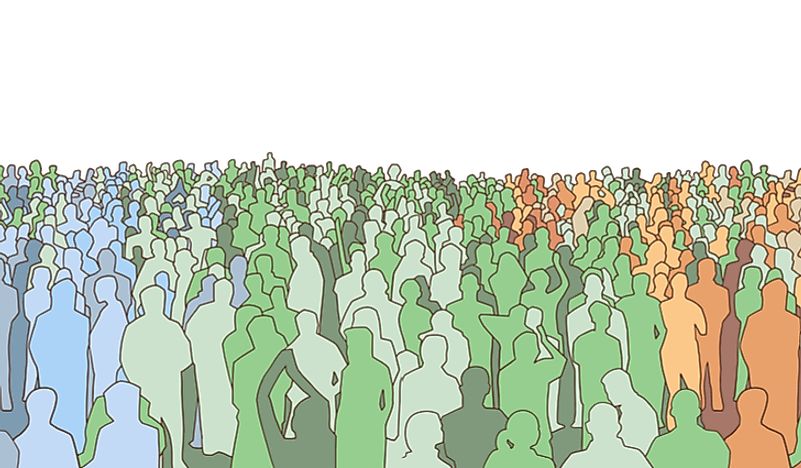 The United States of America (USA) is a federal republic consisting of 50 states, a federal district and five other territories that are self-governing. The population of about 324 million people is spread across an area of 3.8 million square miles. The population varies from state depending on several factors. The US population distribution like any other country is centered around economic regions with strong economic activities. While the most populated states are California, Texas, and Florida, the least populated states are Wyoming, Vermont, Alaska.
Two Most Populated US States
California
California is the most populated state in the US with a total population of 39,536,653. The state also happens to be one of the fastest growing in the country. California is the third largest state by land area. On the economic front, the state of California has the highest output in the agricultural industry. The economy is concentrated on finance, real estate, business services and the film industry. Chevron, Apple, and McKesson, three of the world's largest firms, also have their headquarters in California. With such robust economic activities, the population is bound to be high as people look to exploit the available opportunities. If California were a country, it would rank as the 6th largest economy in the world, and such are the pulling factors that attract people to California.
Texas
Texas is the second most populated state in the US with a population of 28,304,596. The state is the second largest in the country by land area. Texas was earlier associated with the cattle industry, but oil discoveries in the state initiated an economic surge at the beginning of the twentieth century. The state invested in education and had developed into a diversified economy, leading in many industries such as energy, electronics, aerospace, and biomedical sciences. The state of Texas has been a leader in export revenue since 2002. The strong economy and different economic opportunities keep attracting people to the state.
Two Least Populated States Of The US
Wyoming
Wyoming is the least populated state in the country. It is home to only 579,315 people. Due to its large land area, Wyoming ranks as the second least densely populated state in the country. A lack of population centers and a relatively harsh climate are some of the reasons why Wyoming has not attracted a large population. One of the biggest industries in Wyoming is tourism. The state is home to a number of famous national parks including Yellowstone National Park.
Vermont
Vermont is the second least populated state in the country, with a total population of 623,657. Located in the country's New England region, the capital of Vermont is Montpelier. Like Wyoming, Vermont may have a low population due to its climate, which includes very harsh winters. The largest city in Vermont is Burlington.
US States By Population
| Rank | State | Population |
| --- | --- | --- |
| 1 | California | 39,536,653 |
| 2 | Texas | 28,304,596 |
| 3 | Florida | 20,984,400 |
| 4 | New York | 19,849,399 |
| 5 | Pennsylvania | 12,805,537 |
| 6 | Illinois | 12,802,023 |
| 7 | Ohio | 11,658,609 |
| 8 | Georgia | 10,429,379 |
| 9 | North Carolina | 10,273,419 |
| 10 | Michigan | 9,962,311 |
| 11 | New Jersey | 9,005,644 |
| 12 | Virginia | 8,470,020 |
| 13 | Washington | 7,405,743 |
| 14 | Arizona | 7,016,270 |
| 15 | Massachusetts | 6,859,819 |
| 16 | Tennessee | 6,715,984 |
| 17 | Indiana | 6,666,818 |
| 18 | Missouri | 6,113,532 |
| 19 | Maryland | 6,052,177 |
| 20 | Wisconsin | 5,795,483 |
| 21 | Colorado | 5,607,154 |
| 22 | Minnesota | 5,576,606 |
| 23 | South Carolina | 5,024,369 |
| 24 | Alabama | 4,874,747 |
| 25 | Louisiana | 4,684,333 |
| 26 | Kentucky | 4,454,189 |
| 27 | Oregon | 4,142,776 |
| 28 | Oklahoma | 3,930,864 |
| 29 | Connecticut | 3,588,184 |
| 30 | Iowa | 3,145,711 |
| 31 | Utah | 3,101,833 |
| 32 | Arkansas | 3,004,279 |
| 33 | Nevada | 2,998,039 |
| 34 | Mississippi | 2,984,100 |
| 35 | Kansas | 2,913,123 |
| 36 | New Mexico | 2,088,070 |
| 37 | Nebraska | 1,920,076 |
| 38 | West Virginia | 1,815,857 |
| 39 | Idaho | 1,716,943 |
| 40 | Hawaii | 1,427,538 |
| 41 | New Hampshire | 1,342,795 |
| 42 | Maine | 1,335,907 |
| 43 | Rhode Island | 1,059,639 |
| 44 | Montana | 1,050,493 |
| 45 | Delaware | 961,939 |
| 46 | South Dakota | 869,666 |
| 47 | North Dakota | 755,393 |
| 48 | Alaska | 739,795 |
| 49 | Vermont | 623,657 |
| 50 | Wyoming | 579,315 |