When the United States was founded on July 4, 1776, there were: Connecticut, Delaware, Georgia, Maryland, Massachusetts (included Maine at the time) New Jersey, New York, New Hampshire, North Carolina, Pennsylvania, Rhode Island, South Carolina, and Virginia. The first three to become states were Delaware, Pennsylvania, and New Jersey, joining in 1787; the final three were Arizona (1912), Alaska (1959) and Hawaii (1959).
Let us not forget that the U.S. also has seven major territories. These are Puerto Rico, the Northern Mariana Islands, the U.S. Virgin Islands, Guam, and American Samoa. As the U.S. Constitution specifies, the way to become a state is to first become a territory. Territories need to be organized, then request statehood from Congress.
It makes sense that all of the top 10 highest populated states have one border that meets a body of water, including lakes and oceans. Here are all 50, ranked by population. 
The Largest Population: California 39,937,489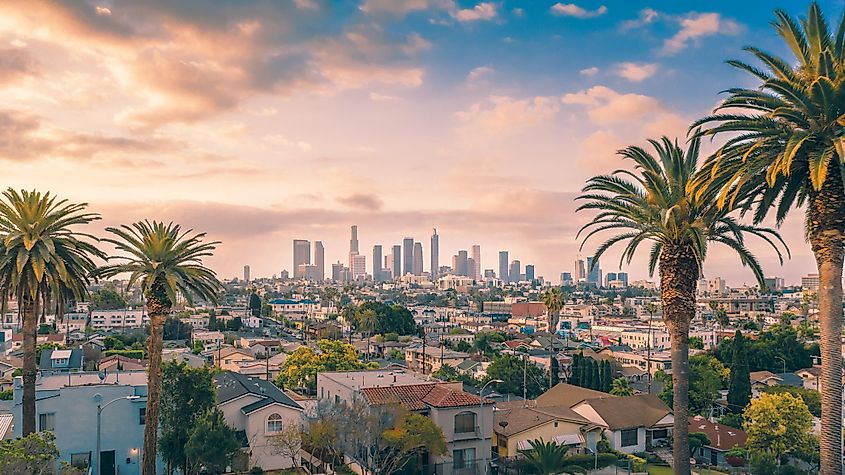 According to the Public Policy institute of California, one of every eight United States residents lives here in the Golden State (according to their 2019 data). World Population Review's statistics show that Cali is way ahead of Texas, with close to 10 million more people. Texas is also much larger. Third-place Florida has around 7.5 million less than Texas and is much more diminutive in size than either.
So why is California home to so many? At the start of the 1900s, there were only two million people here. As people moved out west, the population grew to 10 million by the 1950s. Although the rate of growth has slowed, it certainly has not stopped. Migration here has shifted, though, and rather than being mostly domestic, more people move here from other countries: More than 10 million of the people who call California home are immigrants. This is more than any other state in the country; New York was second at 23 percent. The majority of these immigrants hail from Mexico, the Philippines, China, Vietnam, India, El Salvador, and Korea.
Here are some more 2018 Cali stats:
39% of California state residents are Latino
37% are white
15% are Asian American
6% are African American
3% are multiracial
Less than 1% are Pacific Islander or American Indian
It sure is a melting pot, and also has some of the most famous cities in the world, including San Diego, Los Angeles, Santa Monica, and San Francisco. Natural beauty abounds here too, with Yosemite National Park, Lake Tahoe, Napa Valley, and Big Sur. Additional tourist attractions include Beverly Hills, Hollywood, Disneyland, Monterey, and Newport Beach. The weather here is also legendary, with plenty of high temperatures and sunshine year-round.
Recent California Population Trends
In recent years, news outlets have reported that more and more California residents are moving out to other states. KSBW News reported that from 2007 to 2016, around one million decided to relocate. The U.S. Census Bureau claimed that in 2018, around 691,000 moves out, and around 501,000 moved in. The main reason is the high cost of living, especially skyrocketing home costs. One resident who was interviewed said that the median home price in Santa Cruz was $827,000; she was planning a move to upstate New York's Niagara County, where median home prices were in the neighborhood of $150 to $155K.
Many citing high taxes and an unfriendly attitude towards businesses from the government.
The Smallest Population: Wyoming 567,025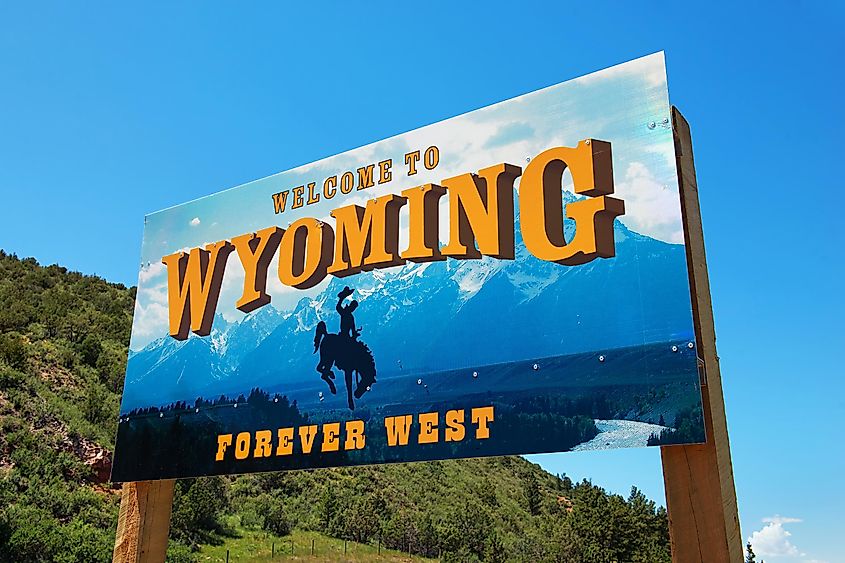 As the tenth-largest state in square miles, Wyoming has the smallest population at just 567,025. In fact, it has been called "a small town with a very long main street." It is landlocked, with a landscape that is not as livable as other states. It has sparse rainfall, wide valleys and plans, flat, treeless basins, and rugged, high terrains. There are many large ranches here, which makes the towns and cities far apart.
On top of this, close to half of Wyoming's land is used for grazing and not much else.  The U.S. Government owns a lot of the state's land, meaning that they control its mining, logging, and grazing.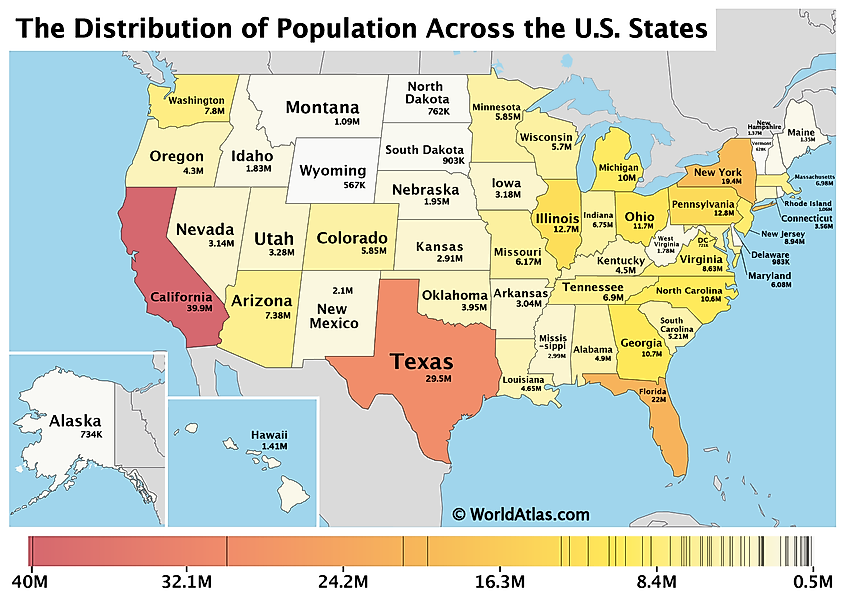 Size-Wise
The states come in all different sizes and shapes. Alaska is called "The Last Frontier," and with good reason: Though it is the largest, almost half of it is also unpopulated. It ranks 49th on the list, with 734,002 residents.