World Facts
The Longest Beaches In The World
While some beaches are unique in their temperature and sand color, others stand out for their long reaches along coasts.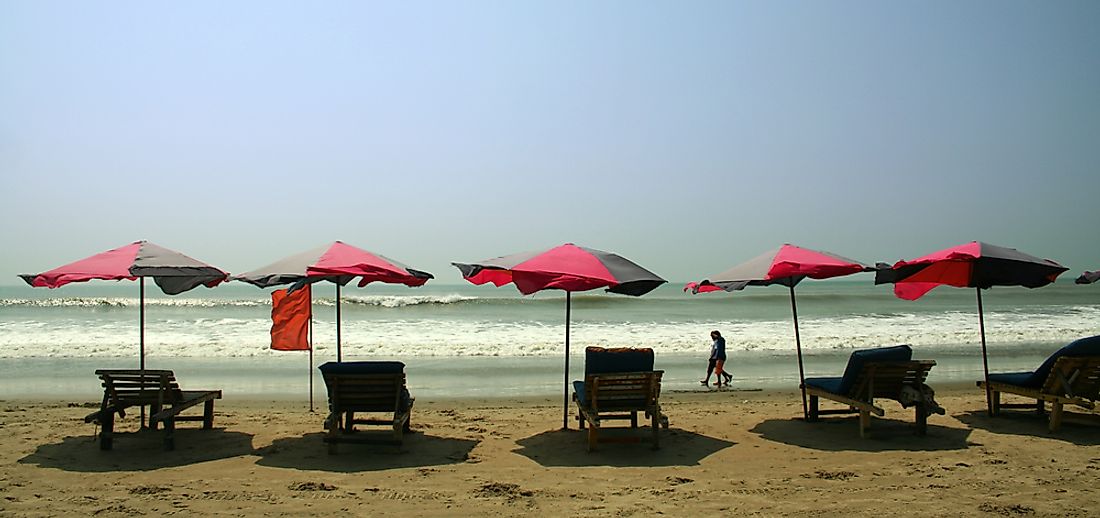 Some beaches around the world have garnered fame for the world-renowned lengths of their extensive shorelines. May of the beaches we know of today are swamped by people over the weekends or on holidays, thereby making it impossible for beach-goers to completely enjoy themselves. People who come across this situation often would be glad to know that there are some beaches in the world that are long and wide enough for them to totally unwind and lose themselves. Below are listed the absolute longest beaches on the planet.
Brazil's Praia do Cassino is the Longest Beach in the World
Extending to reach around 150 miles in length, the longest beach in the world is the Praia do Cassino Beach in Brazil. This is longer than the entire coastline of New York State (127 miles) or New Jersey State (130 miles). Length aside, this beautiful beach is known for its white sand, welcoming locals, and warm temperatures as well. Although the temperature here remains on the border of hot for most of the year, there are plenty of water activities that beach-goers can enjoy to help them cool off. Of these, surfing happens to be the most popular of them all. For a better perspective of its size, consider the fact that this beach is so long, it stretches all the way from the Rio Grande seaport to the mouth of the Chui stream adjacent to Uruguay.
A Long Beach Down Under
Next on this list is the Ninety Mile Beach in Australia. As the name implies, this beach is close to 90 miles long. The beach is dotted with charming coastal towns and is particularly popular amidst dolphin and whale watchers, swimmers and fishermen alike. Ninety Mile beach doesn't offer the right swimming or surfing conditions, but it is the perfect spot for those looking to relax, unwind and take great beach photographs. It is located in the Gippsland region on Victoria's south-eastern coastline and separates the Gippsland Lakes from Bass Strait.
The Natural Sands of Bengal
Stretched along the Bay of Bengal, the third longest beach in the world is found in the sands along the coast at Cox's Bazar in Bangladesh. What makes this beach stand out is the fact that it is the world's longest 'natural sand' beaches. Although one of the most popular tourist attractions in all of Bangladesh, Cox's Bazar is little known amidst global beachgoers in general, as Bangladesh isn't considered a top tourist destination. There are three especially attractive spots on this beach for visitors to relax and have fun. The first is Laboni Beach (the main beach closest to town), Humchari Beach (known for its beautiful waterfalls) and Inani Beach (which promises to be among the best spots in the world for those interested in getting an incredible sun tan).
Other Very Long Beaches
There are quite a few other beaches noteworthy for their world-class lengths. Fourth in line is the Padre Island National Seashore in Texas, US, where the beach is spread over a length of 70 miles. Next there is the Playa Novillero in Mexico, itself nearly 56 miles in length. There's another 'Ninety Mile' Beach in New Zealand as well, though unlike its Australian counterpart, it only spreads to a span of 55 miles. Not far from the national capital, Virginia Beach in the United States is 35 miles in length, and has a booming economy.
There are plenty of beaches around the world for people to have fun on, but the longest beaches on our globe offer uninterrupted spans of seaside fun that go unmatched anywhere else.
Where is the World's Longest Beach?
Praia de Cassino in Brazil is the longest beach in the world. It measures around 150 miles, which makes it longer than the entire coastline of the state of New Jersey!
World's Longest Beaches
| Rank | Beach and Country | Length (miles) |
| --- | --- | --- |
| 1 | Praia do Cassino Beach, Brazil | 150 |
| 2 | Ninety Mile Beach, Australia | 90 |
| 3 | Cox's Bazar, Bangladesh | 75 |
| 4 | Padre Island National Seashore, United States | 70 |
| 5 | Playa Novillero, Mexico | 56 |
| 6 | Ninety Mile Beach, New Zealand | 55 |
| 7 | Virginia Beach, United States | 35 |
| 8 | Long Beach, United States | 28 |
| 9 | Muizenberg, South Africa | 25 |
| 10 | Stockton Beach, Australia | 20 |
This page was last updated on April 25, 2017.
Citations
Your MLA Citation
Your APA Citation
Your Chicago Citation
Your Harvard Citation
Remember to italicize the title of this article in your Harvard citation.