The Sunniest Cities In Canada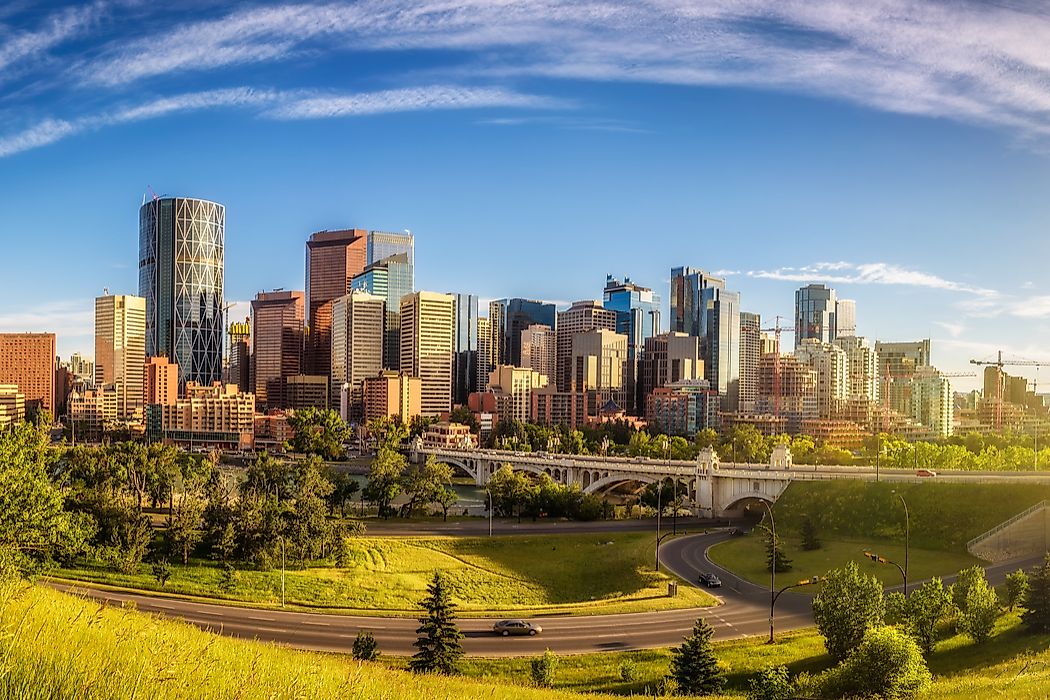 Sunny weather is preferred by most people as sunny days are known to uplift spirits and create a positive atmosphere. To find out which cities in Canada are the sunniest, Environment Canada collected the sunshine data of 26 largest Canadian metropolitan areas, each with a population of over 100,000. The data was collected over a period between 1981 and 2010. A few large cities were, however, left out from the survey. Of all the cities, Calgary ranks number one as the sunniest city in the country.
The Sunniest Canadian Cities
Calgary
Located in the province of Alberta, Calgary is the sunniest city in the country in all respects. It receives 2396 hours of bright sunshine on an average every year and experiences about 333 sunny days annually. 52% of the daylight hours in the city are sunny. In all these respective areas, Calgary ranks number one among the Canadian cities. The city is located at the confluence of two rivers and is surrounded by prairie land and foothills of the Canadian Rockies. Calgary experiences a climate type that can be described as humid continental. Summers here are quite warm with daytime temperatures of more than 30 °C while winters are quite cold with temperatures falling below −20 °C on some days.
Edmonton
Another city in Alberta, Edmonton is also famous for being a sunny city in Canada. The city is the capital of Alberta and is located on the banks of the North Saskatchewan River. It is North America's northernmost city with a population of over 1 million. Edmonton also experiences a humid continental climate with extremely cold winters and cool summers. The city receives 2345 hours of bright sunshine a year, 325 days with some bright sunshine, and 50% of sunny daylight hours.
Other Sunniest Cities In Canada
Manitoba's Winnipeg is also one of the sunniest cities in Canada. Winnipeg experiences 2353 hours of bright sunshine a year, 316 bright, sunny days, and 51% sunny daylight hours. Two cities of Saskatchewan, Regina and Saskatoon, are also among the 10 sunniest cities in the country. Hamilton, Toronto, Thunder Bay, and Ottawa are some of Ontario's sunniest cities. Victoria in British Columbia receives 2109 hours of bright sunshine a year and 308 sunny days a year.
The Sunniest Cities In Canada
| City | Average number of hours of bright sunshine a year | City | Average number of days annually with some bright sunshine | City | Percentage of daylight hours that are sunny |
| --- | --- | --- | --- | --- | --- |
| Calgary, Alberta | 2396 | Calgary, Alberta | 333 | Calgary, Alberta | 52 |
| Winnipeg, Manitoba | 2353 | Edmonton, Alberta | 325 | Winnipeg, Manitoba | 51 |
| Edmonton, Alberta | 2345 | Regina, Saskatchewan | 322 | Edmonton, Alberta | 50 |
| Regina, Saskatchewan | 2318 | Saskatoon, Saskatchewan | 319 | Regina, Saskatchewan | 50 |
| Saskatoon, Saskatchewan | 2268 | Winnipeg, Manitoba | 316 | Saskatoon, Saskatchewan | 49 |
| Thunder Bay, Ontario | 2121 | Victoria, British Columbia | 308 | Thunder Bay, Ontario | 46 |
| Hamilton, Ontario | 2111 | Montréal, Quebec | 305 | Hamilton, Ontario | 45 |
| Victoria, British Columbia | 2109 | Toronto, Ontario | 305 | Ottawa, Ontario | 45 |
| Ottawa, Ontario | 2084 | Thunder Bay, Ontario | 305 | Toronto, Ontario | 44 |
| Toronto, Ontario | 2066 | Kelowna, British Columbia | 304 | Montréal, Quebec | 44 |