Travel
Longest Hiking Trails In The United States
The American Discovery trail covers a total of 6,800+ miles along its two route options.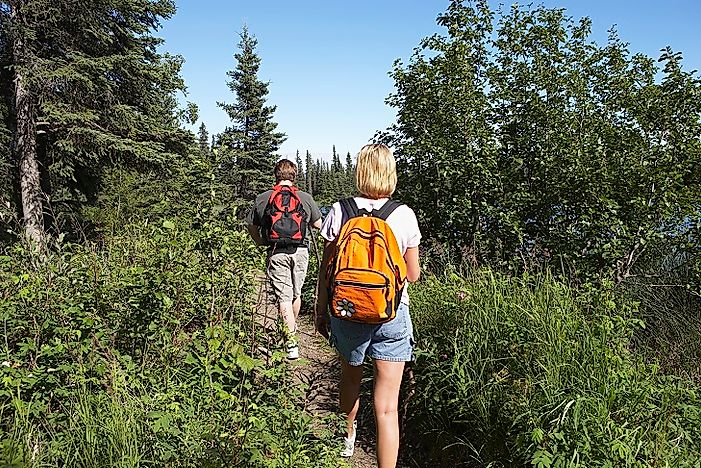 Hiking is a favorite pastime for people from all over the world. This activity often involves long, intense walking along trails in undeveloped, rural areas. People enjoy hiking for both the healthful exercise and beautiful views it proffers. Below is a list of some of the longest hiking trails in the US.
Longest U.S. Hiking Trails
American Discovery Trail
The 2 longest trails in the US have the same length, each at 6,800 miles. The first of these is the American Discovery trail, which is also the only such path that leads from the Pacific to the Atlantic coasts. This hiking trail crosses through 15 states and Washington, D.C., starting in Delaware and ending in California. Passing through 16 National Forests, 14 National Parks, and over 10,000 historical sites, the American Discovery trail connects urban centers to wilderness areas.
Great Western Loop
The second of the two 6,800 mile trails is the Great Western Loop. Only one person has ever completed this trail that stretches over 9 states. It passes through New Mexico, Colorado, Wyoming, Montana, Idaho, Washington, Oregon, California, and Arizona. During this trek, hikers cross through the Mojave and Sonoran Deserts, 12 National Parks, and 75 wilderness areas.
Eastern Continental Trail
Taking second place in length is 5,400-mile Eastern Continental trail. This path runs the eastern coast from Key West, Florida in the US to Belle Isle of the Newfoundland and Labrador province in Canada. Hotels, hostels, and campgrounds can be found all along the way. The Eastern Continental trail has a 6,643-foot elevation gain when it passes Clingman's Dome in Tennessee, US.
North Country Trail
The North Country trail is next on the list with 4,600 miles. This trail begins in New York state and ends in North Dakota, crossing 7 states along the way. It winds through 12 National Forests, open grasslands, and running rivers. Several trail towns can be found in every state to help ensure services for hikers. Hikers can see the Finger Lakes in New York and the Great Lakes along the way.
Great Western Trail
The Great Western trail runs 4,455 miles from Canada to Mexico and 5 western states in the US. Hikers can see the Mormon Honeymoon trail, Beale's Wagon Road, and Moqui Stage Station that have retained their original state since the days of the pioneers. Northern sections of the trail are often closed during winter time due to snow.
Continental Divide Trail

Next on the list is the Continental Divide Trail which comes in at 3,100 miles. This trail offers hikers a look into the wild west while passing from Canada to Mexico through US states New Mexico, Colorado, Wyoming, Idaho and, Montana. Along the way, the trail crosses glacial valleys, the rocky Needle Mountains, the desert, and the tundra.
Pacific Crest Trail
Also on the west coast is the Pacific Crest trail which stretches 2,638 miles. This trail runs along the highest points of the Sierra Nevada and Cascade mountain ranges. Beginning almost in Mexico, the Pacific Crest ends in Manning Park of British Columbia, Canada.
Appalachian Trail
Back on the east coast, the Appalachian trail extends 2,174 miles from Georgia to Maine. The trail gains elevation from 124 feet in Bear Mountain State Park to 6,643 feet over Clingman's Dome. The Appalachian trail is unique in that it doesn't cross any highways or roadways making it the longest hiking-only trail. There are over 250 campsites and shelters along the way as well as several trail towns where locals offer assistance to hikers. Of the many species of flora and fauna, 2,000 of those found on this trail are endangered.
Buckeye Trail

The Buckeye trail stands out on this list because it is contained within just one state. The 1,444 miles loop through the state of Ohio. This trail passes through many natural settings as well as small towns and even includes Lake Erie as one of its access points.
Florida National Scenic

The final trail on this list is the Florida National Scenic trail. All 1,400 miles, like those of the Buckeye trail, are contained only within one U.S. state, that of Florida. Hikers on this path will see the Big Cypress National Preserve and the Gulf Islands National Seashore. Scenery along the way includes swamps, forests, and grasslands.
US Trail System
The US National Trails System is a large network of scenic natural byways that crisscross all over the country. These trails provide recreation opportunities for tourists and much needed environmental protection to sensitive ecosystems that are the homes of many plants and animals. These systems of trails around the country are great venues for people to get involved in outdoor activities.
Longest Hiking Trails In The United States
| Rank | Hiking Trail | Route Length |
| --- | --- | --- |
| 1 | American Discovery | 6,800+ total; 5,057 miles (Southern Route alone); 4,834 miles(Northern Route alone) |
| 2 | Great Western Loop | 6,800 miles |
| 3 | Eastern Continental | 5,400 miles |
| 4 | North Country | 4,600 miles |
| 5 | Great Western | 4,455 miles |
| 6 | Continental Divide | 3,100 miles |
| 7 | Pacific Crest | 2,638 miles |
| 8 | Appalachian Trail | 2,174 miles |
| 9 | Buckeye | 1,444 miles |
| 10 | Florida National Scenic | 1,400 miles |
This page was last updated on April 25, 2017.
Citations
Your MLA Citation
Your APA Citation
Your Chicago Citation
Your Harvard Citation
Remember to italicize the title of this article in your Harvard citation.