E.B. White's description of "peace and goodness and jollity" is the best-suited phrase to describe the hidden lakes of Massachusetts, where recollections of outings with friends and family have formed foundational memories for centuries. Calm waters, awe-inspiring sunsets, and the glory of a good catch enthralled recreational swimmers and fishermen during their visits to each watering hole. For some, a mouth-watering barbecue in the foreground of a living mise-en-scène is everything needed to conclude a perfect afternoon, so thank the heavens for the folk who keep the picnic areas pristine in each of these 11 locations.
Walden Pond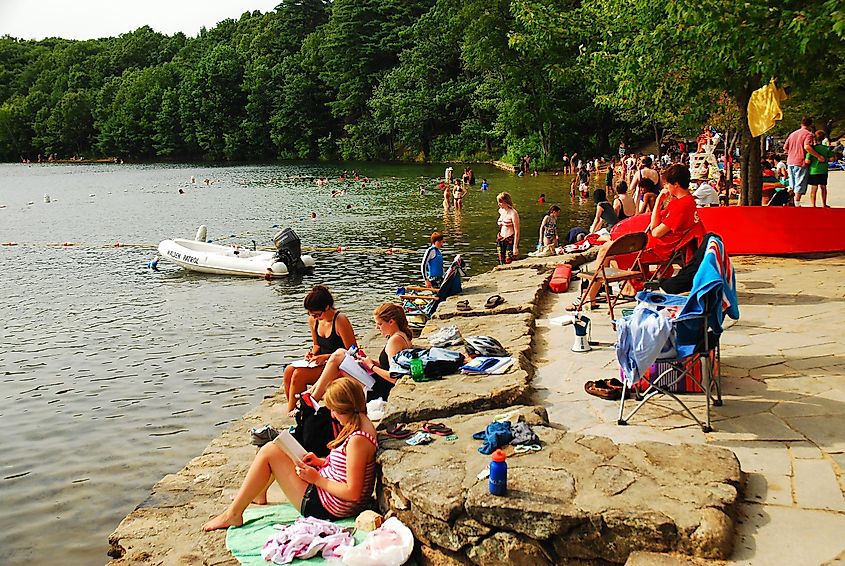 Walden Pond has been a staple of serenity for a hundred and fifty years since it occupied the main stage of Hendry David Thoreau's Walden; or, Life in the Woods. Located in Concord, this 61-acre marvel is surrounded by trails that shine gloriously during the winter season. The rock formations complement the mirror-like features of the water's surface, which observers can peer through to see another world of aquatic life. Fishing, swimming, boating, and picnicking are common recreations for visitors at Walden Pond, but the best way to experience it is with your own eyes and ears. 
Lake Cochituate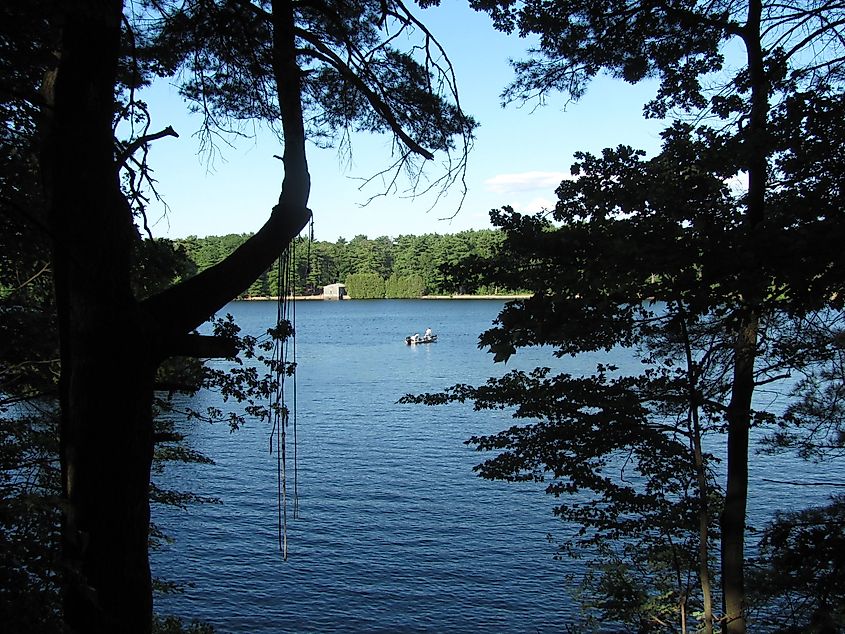 Situated in Middlesex County, Lake Cochituate is a human-made reservoir created by a dam in the 1800s. Although it is no longer used to supply water to the city of Boston, the lake still serves the people of Massachusetts. Wayland Town Beach is a hidden stretch of sand that has formed countless memories with well-maintained swimming docks and shaded resting areas. The adjacent Cochituate State park is also known for quiet beach barbecues and lazy days spent lounging on small sailboats. With several breweries in nearby Natick, Lake Cochituate has a perfect balance between daytime harmony and nighttime revelry.
Lake Onota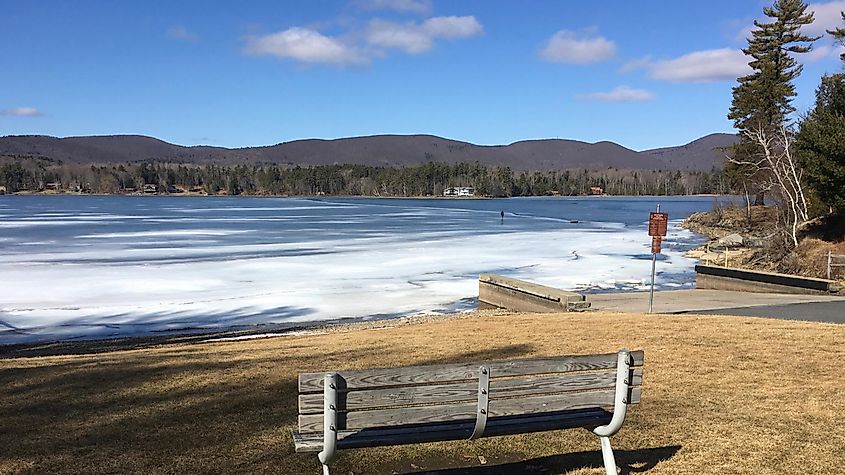 An iconic place for couples to go, the endless sunset scapes of Lake Onota have dazzled residents of Pittsfield for over a hundred years. Cloud-crested hills hang in the backdrop of this expansive, 617-acre, public treasure. Well-maintained boat launches and recreation areas dot the shores, and stumbling into an active volleyball tournament is essentially a given. A sunken railroad divides the lake into northern and southern segments, creating the perfect opportunity for a diving expedition. Jet skiers and sailors frequent this lake, as do summer concert events that give a platform for local bands throughout July and August.
Lake Chaubunagungamaug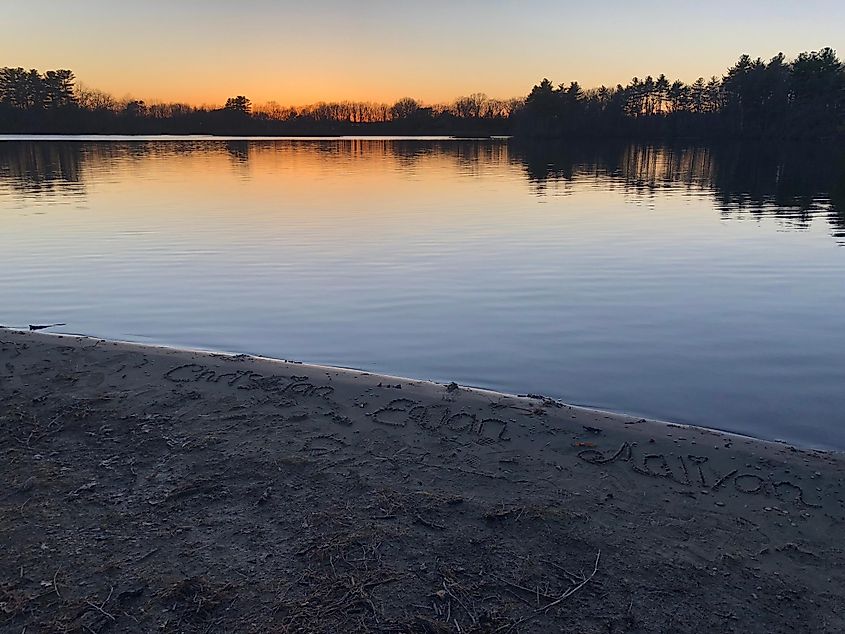 A crowd-favorite mouthful, this body of water is also known as 'Webster Lake' and hosts a surface area of almost 15 hundred acres. For over 300 years, the breadth of the lake has been a hotspot for fishermen of both native and settler backgrounds, and currently, it hosts two sizable marinas. Point Breeze is a gorgeous lodge resting on a hill above the lake, which boaters look forward to passing by while on their way to explore the islands sprinkled here and there. Memorial Beach is a quiet stretch of public shore that also hosts tennis and basketball courts. A family favorite due to the quality of the lake and the activities available, make sure to jot this lake down into your bucket list (if you can even fit the name on a page).
Crystal Lake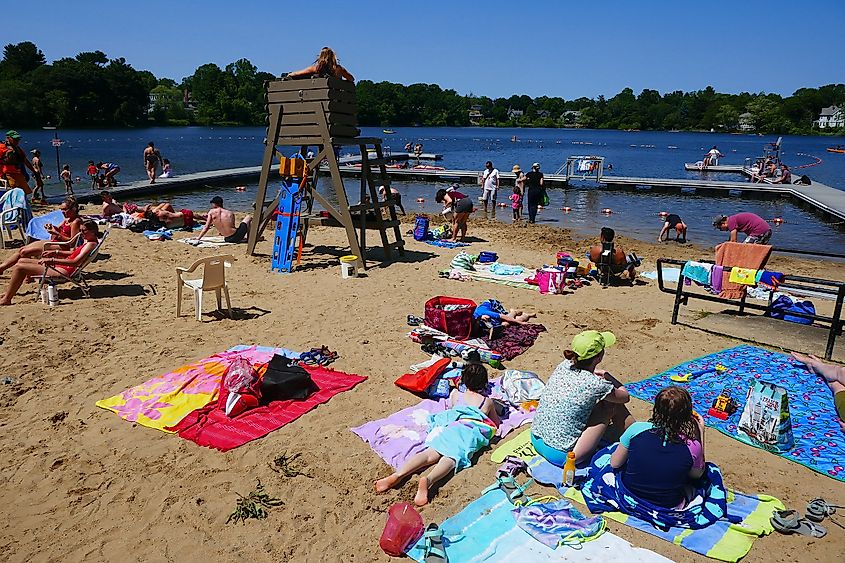 Accessible? Check. Gorgeous? Check. Pristine waters? The name says it all. Lake Crystal is a modest lake occupied by two coves and a beach that is known for being cozy and well-maintained. Painfully hot summer days are turned into memorable delights by visitors who bask in the cool waters, surrounded by a serene wrapping of New England woodland. Animals are not too shy to get up close and personal, such as Canadian geese, because they know they can count on well-behaved visitors. The calm surface is ideal for beginners learning how to paddleboard, and night owls never miss a chance to stargaze on the quiet grassy shores here.
Lake Ashmere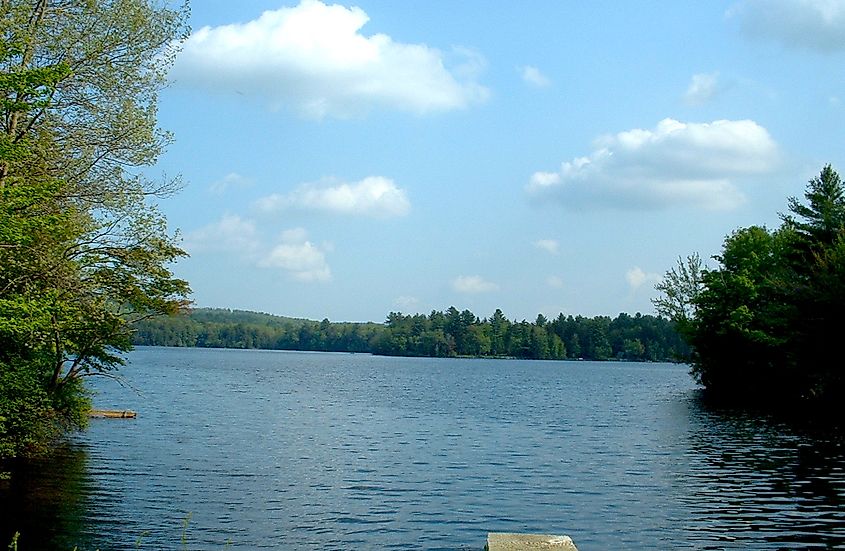 Over in the western region of Massachusetts, Lake Ashmere dominates the competition in terms of alfresco delight. Civilization is close enough to assure convenience, but far away enough to not distract from the glory that is the wild country. The lake features boat ramps, excellent bass fishing, campgrounds and fire pits, and wildlife that is just as curious about guests as the guests are about the wildlife. Ashmere lights up during the fall when the presence of autumn hues radiates off the glassy surface of the lake. For the camper that is in all of us, Lake Ashmere is the answer to our wandering nature.
Lake Monomonac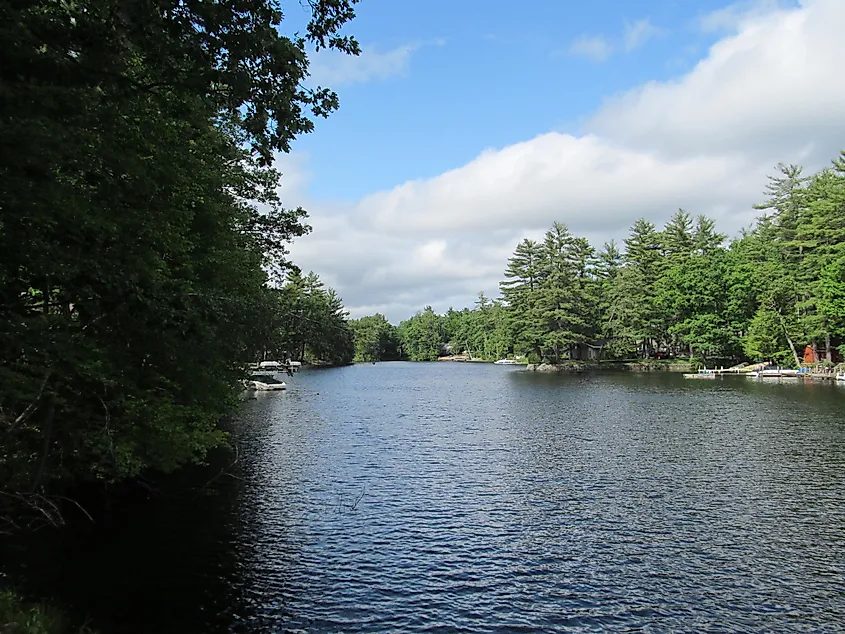 As a warm-water fishery, this artificial lake meets all the needs of the marine-minded, containing species of white perch, bluegill, largemouth bass, chain pickerel, green sunfish, and more. Isolated away from major cities, the 600-acre lake straddles the northern border of Massachusetts into New Hampshire. Most visitors know it for the rentable cabins that hug the water's edge, as well as the boating enthusiasts who use the plentiful docks. Cookouts are a typical form of retreat in this area, so pack a proper lunch to help resist the tempting aromas of barbecue floating on the breeze. Tranquil and hidden Lake Monomonac is a reminder of youthful summers spent shoreside with family and friends.
Lake Wyola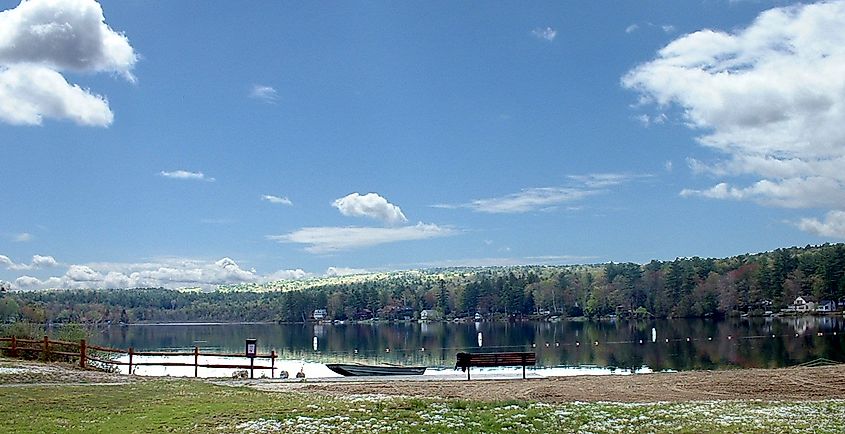 Created in 1883 as a source of hydropower, Lake Wyola hosts an array of delights. Here, sandy beaches are watched over by lifeguards while children become masters of their very own sandcastles. Charcoal grills are tactfully placed, and tidy facilities are a welcome feature in the event of a day trip. Even in the winter, Wyola offers ice fishing and snowmobiling, which creates a grand opportunity to meet up with locals. Picturesque trails hug the attached streams where waterfowl glide along the river's edge, right up against warm green lawns that are perfect for basking in the sun. A small lake that leaves a big impression, Lake Wyola is sure to capture your heart.                   
Lake Quinsigamond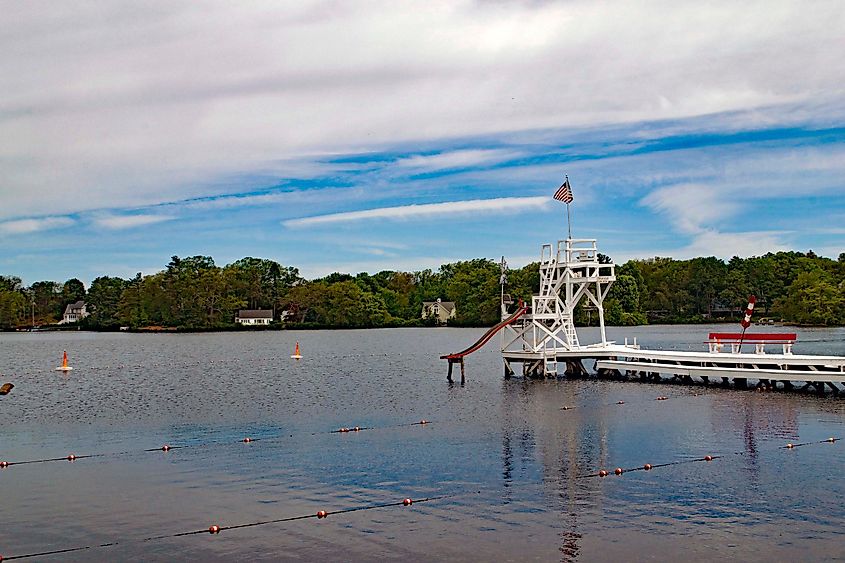 Lake Quinsigamond has been a rower's favorite for generations due to the islands that act as natural turning points and are fantastic to check out along the way. Plenty of history surrounds the area, where settlers had to overcome the unusual shape without access to complicated bridge designs while journeying westward. Rentable vessels like canoes, swan boats, and sailboats ensure that a visit will have picture-worthy moments, but there are multiple boat rams for those who bring their own. Ice cream stations keep the heat in check, and walkways are available for those just looking to stroll. Boat races get pretty competitive here, so make sure to bring binoculars to avoid missing a single moment.
Lake Attitash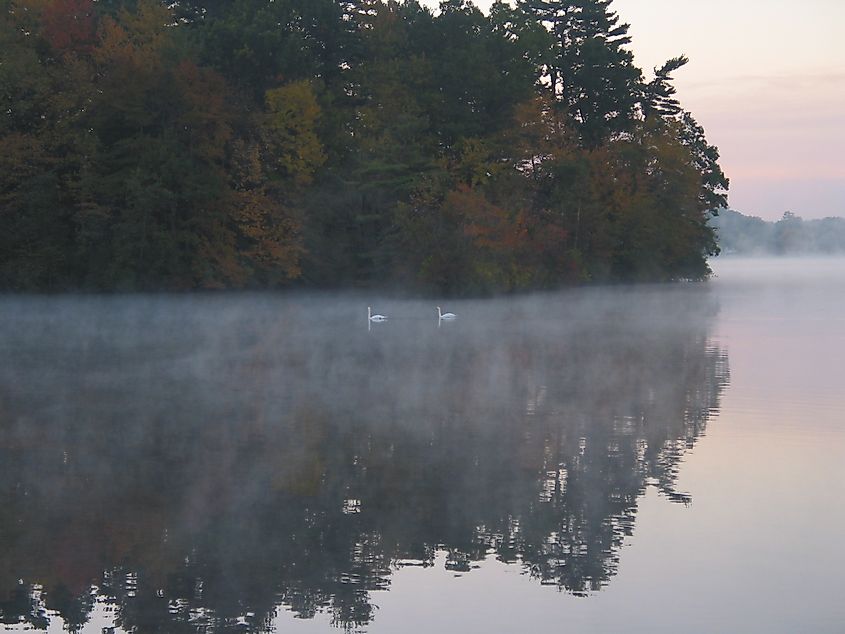 West of Newburyport and just north of the Merrimack River, Lake Attitash is a 360-acre reservoir designed to support the community of Amesbury. Many forms of recreation are common here, including windsurfing. Kayaks and motorboats are free to roam without worry of hazards, although shallow areas by the shore are used as swimming spots. The unequivocal beauty of sunsets over the lake draws daily guests, who enjoy staying even later for the legendary night sky. Plenty of largemouth bass and brown bullhead fill the lake, and the best months to fish are typically spring and fall, with ice fishing tournaments occurring in the winter.
The benefit of an outdoorsy trip to a lake in Massachusetts is the predominance of breweries and quality restaurants scattered statewide. That relationship of wilderness to nourishment makes a spontaneous visit to the great outdoors all the more carefree and, therefore, more likely. In the fall, New England explodes in autumn magic, and these lakes gain an entirely rejuvenated appeal. Whether guests come for a meditative walk by the lakeside or a joyous romp across the waters in a jet ski, the grand state of Massachusetts has it all.