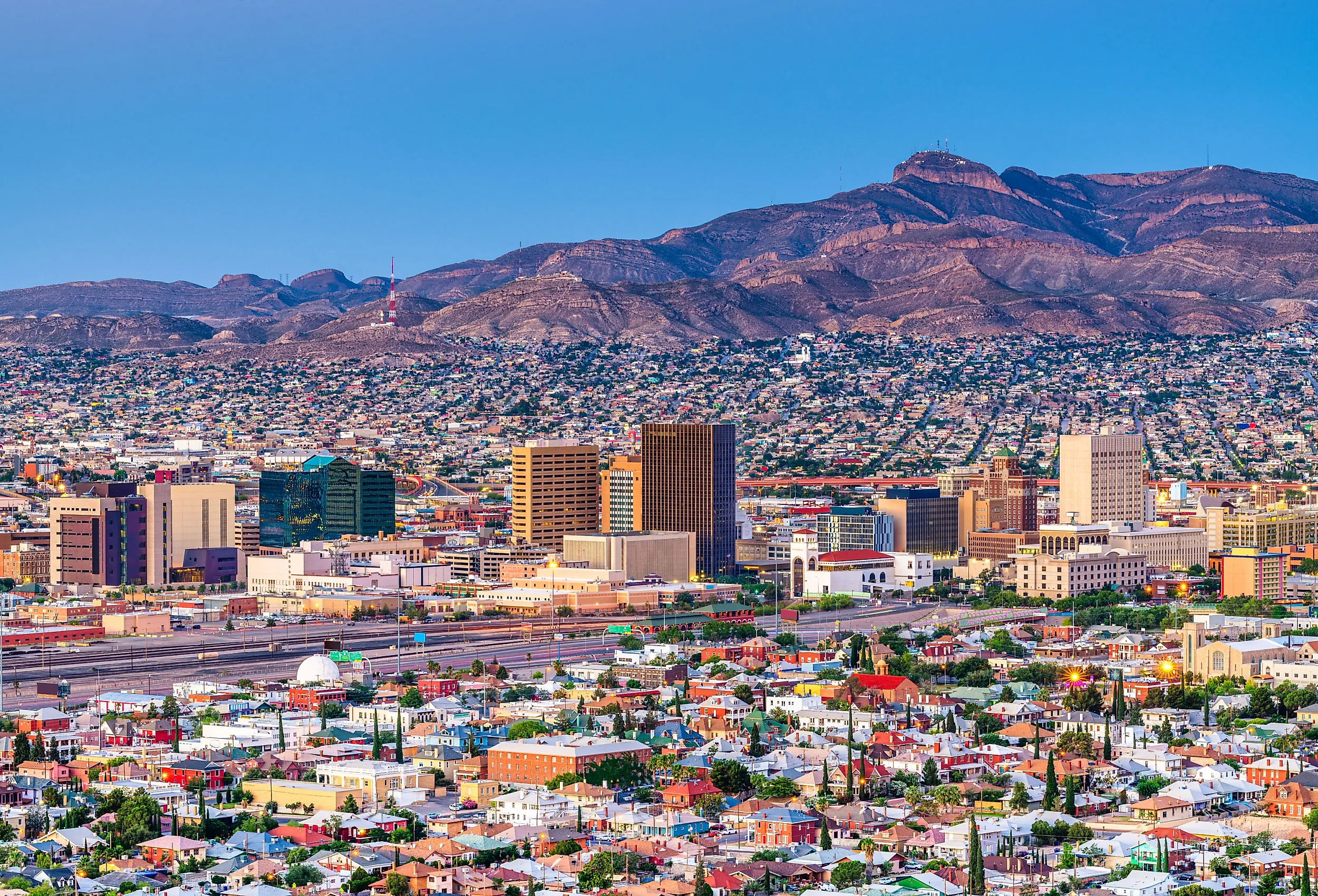 The 15 Sunniest Cities in the US
Nothing beats a glorious, mood-boosting, Vitamin D-generating kind of day. Even though human beings lack chlorophyll, those unobstructed photons still have a way of filling us with energy. For many Americans, sunny days are a joyous respite from harsh winters or gloomy springs. However, in some parts of the country (particularly the Southwest), those golden rays shine down on the countryside and cities for long streaks at a time. Based on the average monthly hours of sunshine (between 2009 to 2021), these are the 15 sunniest cities in the United States.
El Paso, Texas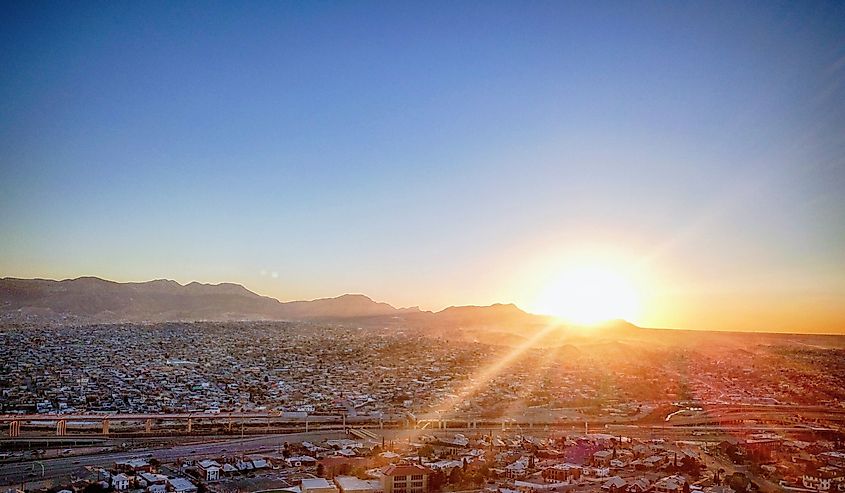 Taking the golden crown for the sunniest city in America is El Paso, Texas, aptly nicknamed Sun City. With a stupendous 358.81 monthly sun hours, and a pleasant average temperature of 68.2°F, this city in El Paso County all but guarantees a beautiful day, at any point across the calendar. So if you want to lift those spirits and enjoy the fruits of some of Texas' finest vineyards, head to the tip of the Lone Star State's Western wing.
Las Vegas, Nevada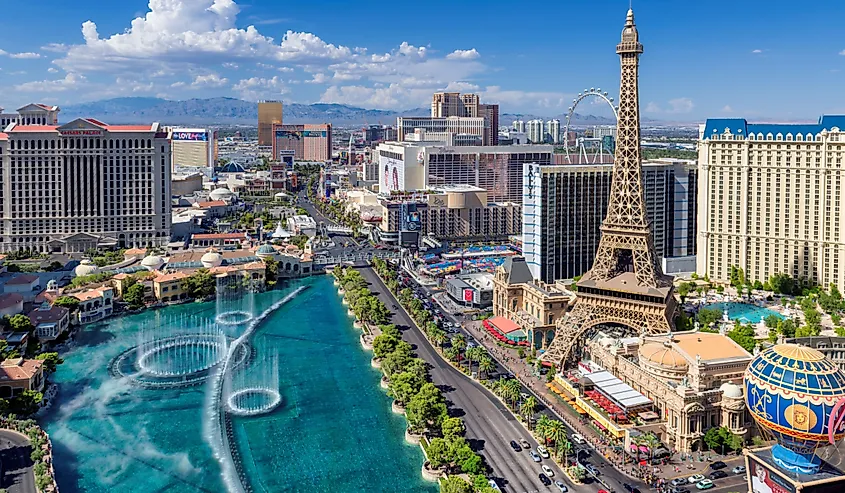 Sin City could just as easily be named Sun City. Las Vegas, Nevada, the seat of Clark County, sees 357.18 hours of beaming light per month, and a modest annual average temperature of 66.4 degrees. There are endless captivating shows to catch, and dice to roll on the famed Vegas Strip, but do not spend all day inside if you want to soak up another one of this eclectic city's (free) attractions.
Henderson, Nevada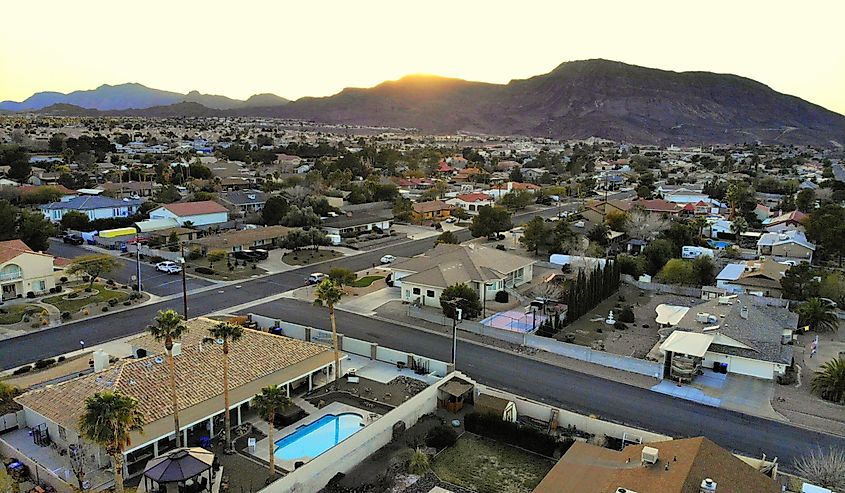 A smidge southeast of Las Vegas, Henderson, Nevada is another beacon for sunseekers. Like Vegas, Henderson is part of Clark County, in the southeastern corner of the Silver State. The second largest city in Nevada is also the second sunniest, with 356.45 monthly hours of bliss, but also a significantly toastier 72.6-degree average temperature. Henderson is a perfect jumping-off point for visiting Hoover Dam and Lake Mead, two places that are well-served by the presence of the sun.
Tucson, Arizona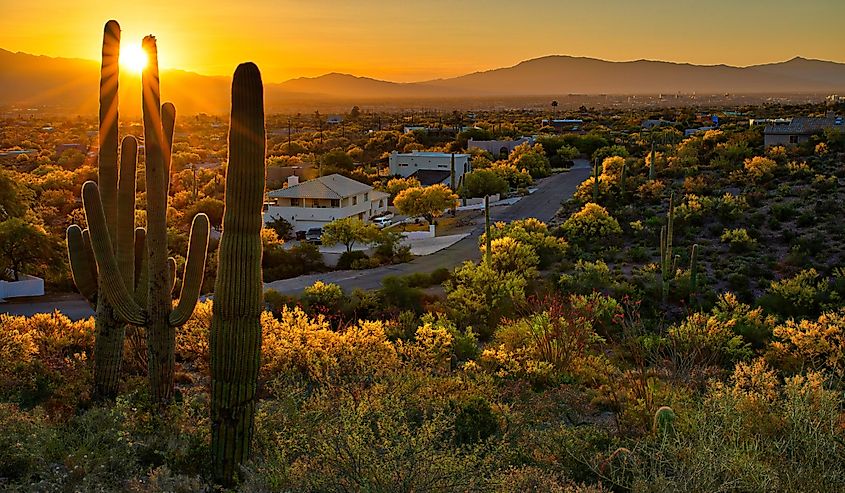 Tucson is the second largest city in The Grand Canyon State, and the sunniest of the three to make this list. This seat of Pima County (in south-central Arizona) receives 355.46 sun hours in a typical month, which helps contribute to a balmy 72.5-degree average temperature. Why not hop around a few patios in this UNESCO City of Gastronomy?
Bakersfield, California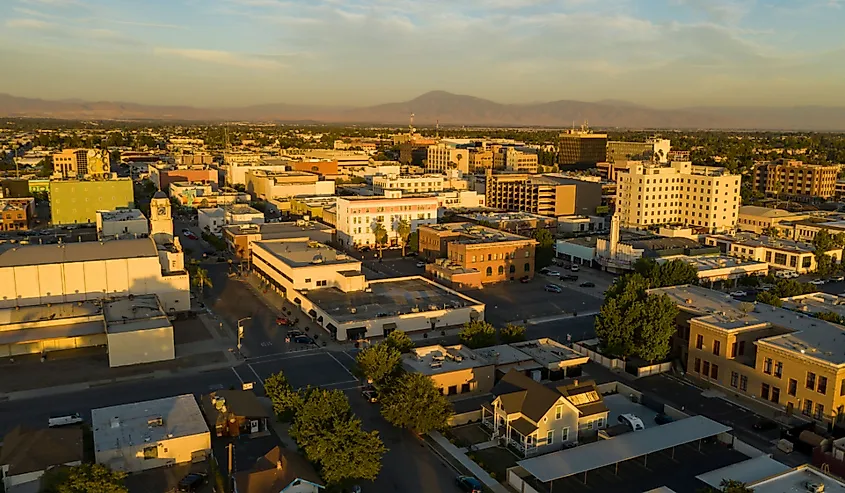 California has many entries in these jovial rankings, truly earning it the nickname, The Golden State. Bakersfield is in Kern County, about 112 miles North of Los Angeles (a common focal point for the natural spotlight). This Central California city clocks a scintillating 355.15 monthly hours of sunshine but settles into a reasonable average temperature of 65 degrees (the lowest on this list). So if you like the sun but cannot take the heat, Bakersfield is the place for you.
Phoenix, Arizona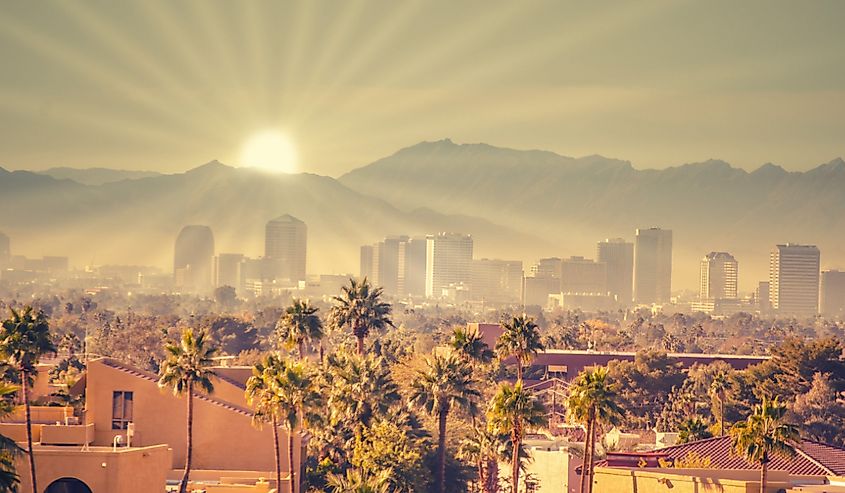 Phoenix comes in hot with 354.53 hours of sunshine per month, and a sizzling average temperature of 77.1 degrees (the highest on this list). The 1.6 million people that call Arizona's capital city home must be well-adapted to this exceptional exposure. Catching a Coyotes National Hockey League game (with a cool beverage in hand) could go a long way in the height of summer.
Mesa, Arizona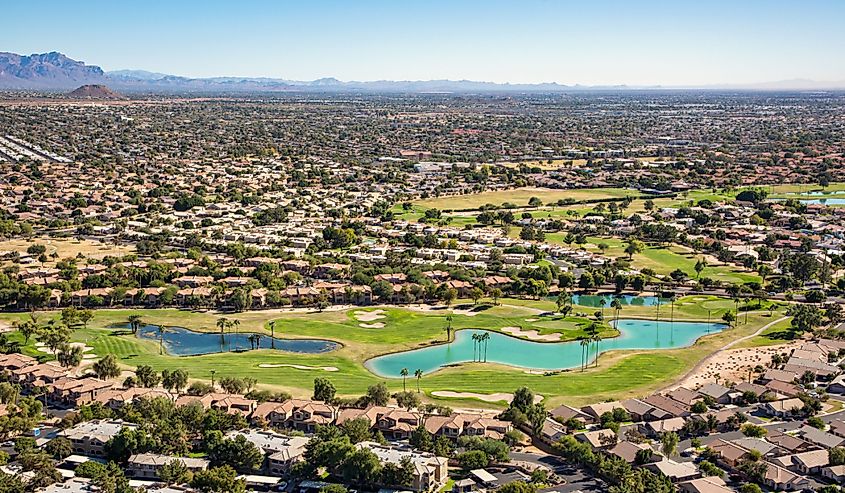 Mesa, Arizona, is but a hop and skip to the east from Phoenix, which is why they also share similar figures. The half-million residents of this first Maricopa County city get to bask in 354.49 monthly hours of sunshine, and a whopping average temperature of 76.8 degrees, perfect for exploring the Sonoran Desert landscape.
Santa Ana, California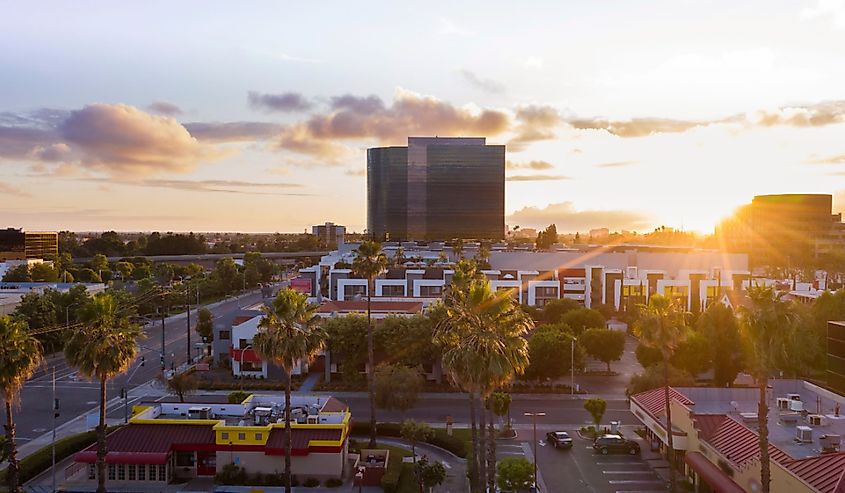 California dominates from here on out. Every month around 352.12 hours of sun shine down on Santa Ana, California. This Orange County hotspot also has an average temperature of 67.8°F. What better way to enjoy Apollo's blessings than by hitting the beaches along the San Pedro Channel, or maybe even a visit to the zoo?
Anaheim, California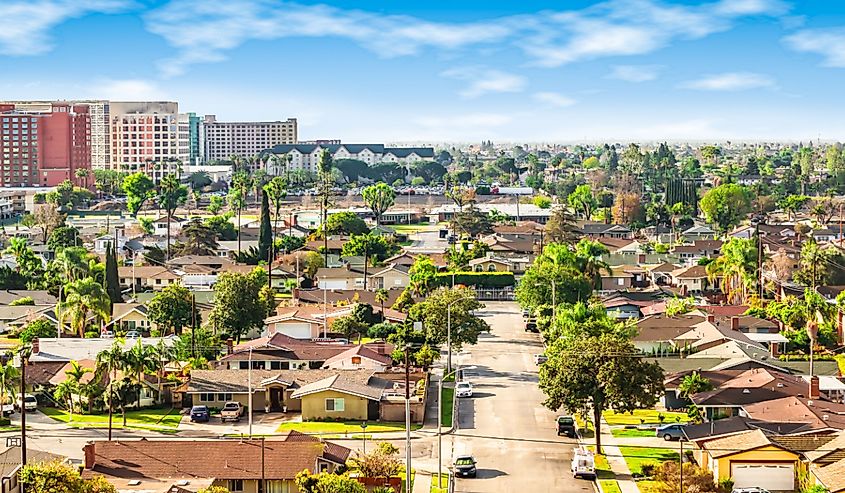 Adding to the luminous southern California mixture is the city of Anaheim, which is just ten miles north of Santa Ana, and still in Orange County. These sister cities actually share the same exact specs. Anaheim also experiences 352.12 monthly hours of sunshine and also registers an average temperature of 67.8 degrees. Sure, Orange County beaches are cool, but if in Anaheim on a sunny day, why not check off some of the many outdoor theme parks?
Long Beach, California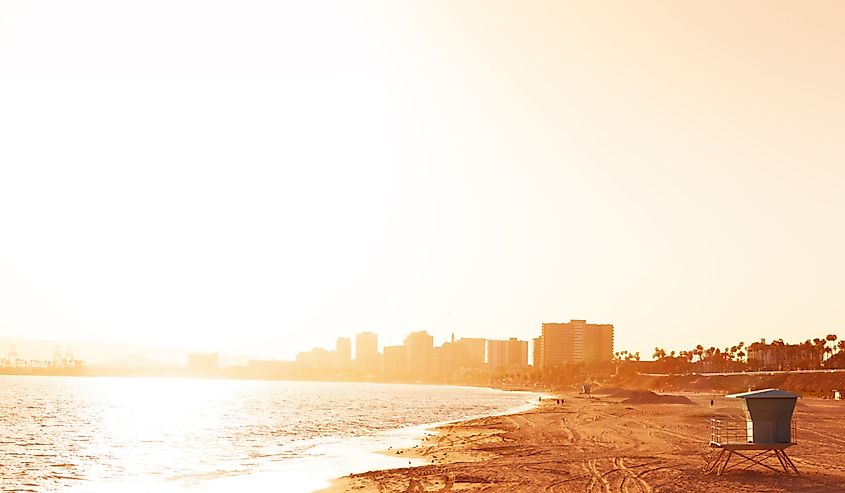 Long Beach is another super SoCal spot that is right on the shore of the San Pedro Channel. This city in Los Angeles County (just twenty miles south of downtown LA) receives an average of 351.14 hours of sunshine per month. With an average annual temperature of 67.9°F, Long Beach is a stupendous spot to aim for if you enjoy year-round beach days.
Los Angeles, California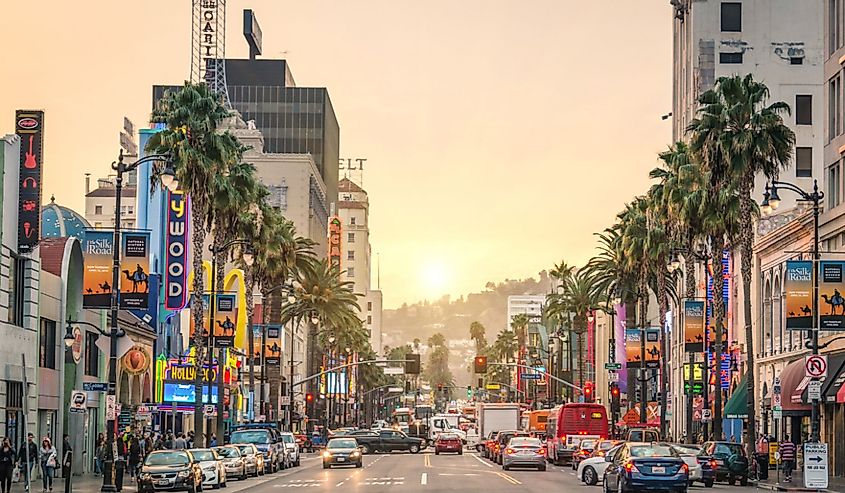 The City of Angels glows like a halo for 350.83 hours, on average, each month. Along with all the glitz and glamor, one star in particular stands above the rest (literally). Along with an average annual temperature of 70.5 degrees, an action-packed financial, commercial, and cultural scene, and loads of wilderness to the north in which to enjoy the rays, it is no wonder that LA is the second-most populous city in the United States (after New York).
Riverside, California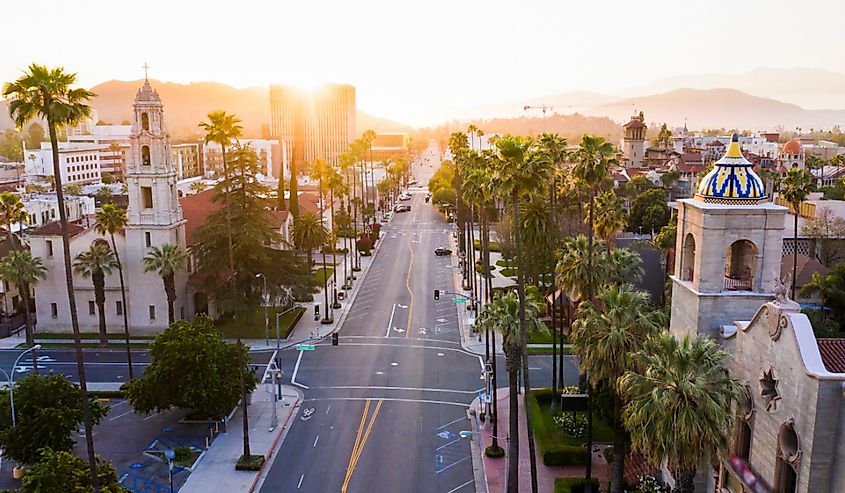 A little further inland from this sunny SoCal cluster is Riverside, in Riverside County. This Inland Empire city receives 350.69 sunshine hours per month, and coasts along a pleasant average temperature of 66.80 degrees. This blend creates a perfect atmosphere for the budding of California's citrus industry, as well as the state's very first golf course.
Fresno, California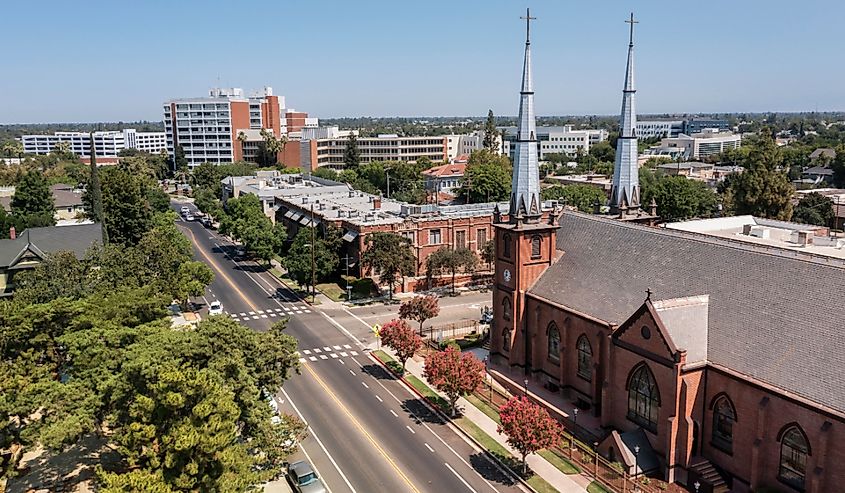 The last city to crack the 350 monthly hour barrier, at 350.56 sunshine hours, is Fresno, the seat of Fresno County. Located in the San Joaquin Valley of central California, this city takes full advantage of its abundant photons, as well as a favorable average temperature of 69.6 degrees, with its surrounding country farms. Just outside of the state's most populous inland city are fields of almonds, pistachios, tomatoes, peaches, and more.
San Diego, California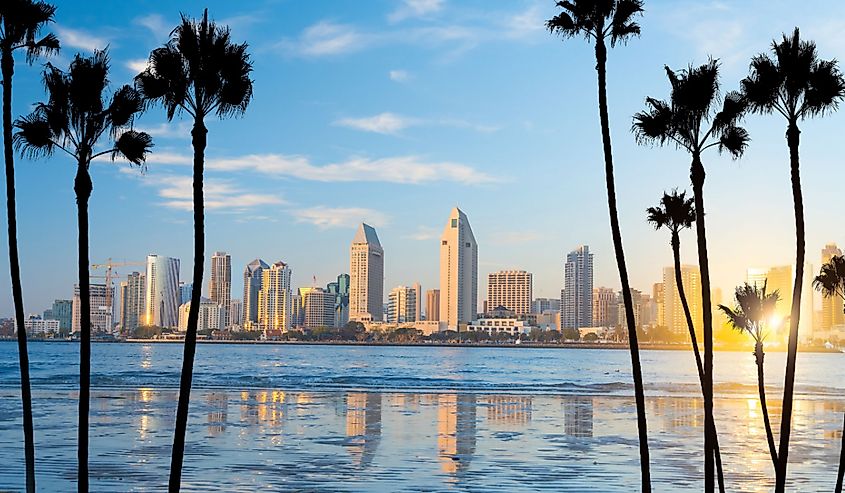 Our second-last stop on this sunshine tour is in, you guessed it, California! San Diego is the seat of San Diego county, situated on the East coast of San Diego Bay, just North of the Mexican border. America's Finest City benefits from 348.12 monthly hours of sunshine and a consistent climate (66.9-degree average annual temperature and only 42 rainy days per year), long stretches of enticing beaches, and that pleasant Pacific Ocean breeze to keep things in that Goldilocks zone.
Honolulu, Hawaii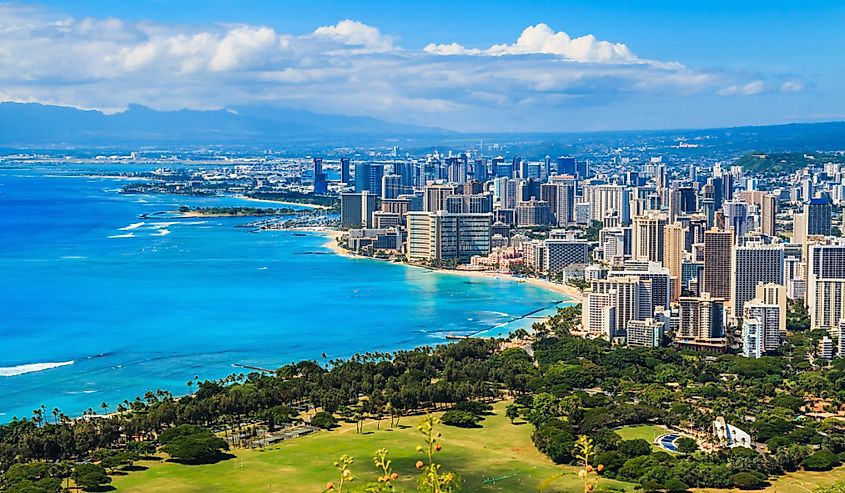 Hawaii simply had to make an appearance on this list. The classic connotation of this island state always involves sunny skies illuminating golden oceanfront beaches. The capital city of Honolulu, on the island of Oʻahu, enjoys 345.77 monthly hours of sunshine, with a rocking 76.5-degree average annual temperature. Not a bad combination for surfing, snorkeling, or strolling the Malecon while saying aloha to all the smiling locals (and boatloads of visitors).
The sunny Southwest is where Americans should head for increased exposure to that great ball of fire in the sky. Our closest star nourishes both body and soul, but do not overdo it, of course. Hats, sunscreen, and a strategic base tan can go a long way in these radiant cities.
Sunniest Cities in the US
| Rank | City | State | Average Monthly Sun Hours |
| --- | --- | --- | --- |
| 1 | El Paso | Texas | 358.81 |
| 2 | Las Vegas | Nevada | 357.18 |
| 3 | Henderson | Nevada | 356.45 |
| 4 | Tucson | Arizona | 355.46 |
| 5 | Bakersfield | California | 355.15 |
| 6 | Phoenix | Arizona | 354.53 |
| 7 | Mesa | Arizona | 354.49 |
| 8 | Santa Ana | California | 352.12 |
| 9 | Anaheim | California | 352.12 |
| 10 | Long Beach | California | 351.14 |
| 11 | Los Angeles | California | 350.83 |
| 12 | Riverside | California | 350.69 |
| 13 | Fresno | California | 350.56 |
| 14 | San Diego | California | 348.12 |
| 15 | Honolulu | Hawaii | 345.77 |
| 16 | Irvine | California | 345.35 |
| 17 | Tampa | Florida | 343.95 |
| 18 | Miami | Florida | 343.57 |
| 19 | San Jose | California | 340.16 |
| 20 | Stockton | California | 340.12 |
| 21 | San Francisco | California | 337.56 |
| 22 | Oakland | California | 335.87 |
| 23 | Orlando | Florida | 333.09 |
| 24 | Sacramento | California | 332.96 |
| 25 | Jacksonville | Florida | 326.73 |
| 26 | New Orleans | Louisiana | 325.92 |
| 27 | Oklahoma City | Oklahoma | 312.6 |
| 28 | Corpus Christi | Texas | 311.82 |
| 29 | Raleigh | North Carolina | 306.83 |
| 30 | Houston | Texas | 304.28 |
| 31 | Atlanta | Georgia | 303.29 |
| 32 | Fort Worth | Texas | 302.82 |
| 33 | Charlotte | North Carolina | 302.04 |
| 34 | Tulsa | Oklahoma | 301.37 |
| 35 | Dallas | Texas | 300.39 |
| 36 | Memphis | Tennessee | 294.39 |
| 37 | Arlington | Virginia | 293.93 |
| 38 | Austin | Texas | 290.44 |
| 39 | San Antonio | Texas | 289.34 |
| 40 | Nashville | Tennessee | 287.68 |
| 41 | Ventura | California | 263.91 |