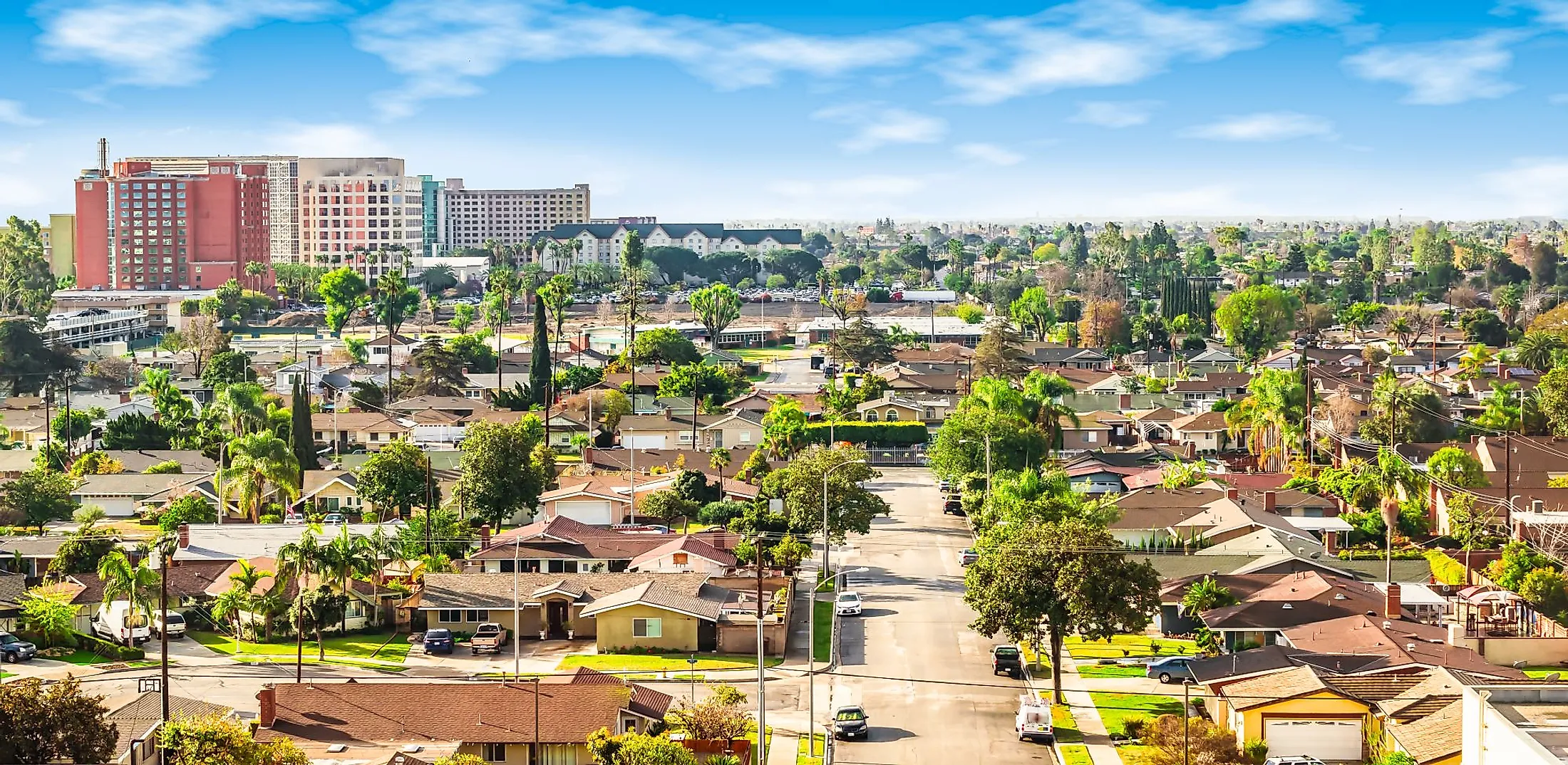 The Anaheim Ducks and the Disneyland Resorts, what do these have in common? They all call Anaheim, California, home. A beloved family vacation destination, Anaheim offers favorable weather year round for taking up sports, shopping, and enjoying a theme park or a day on the greens. On a national scale, it is the 10th largest city in California by population and 56th in the entire United States. Come for fun in the sun and leave with an unforgettable visit to Anaheim and its many attractions.
Geography And Climate Of Anaheim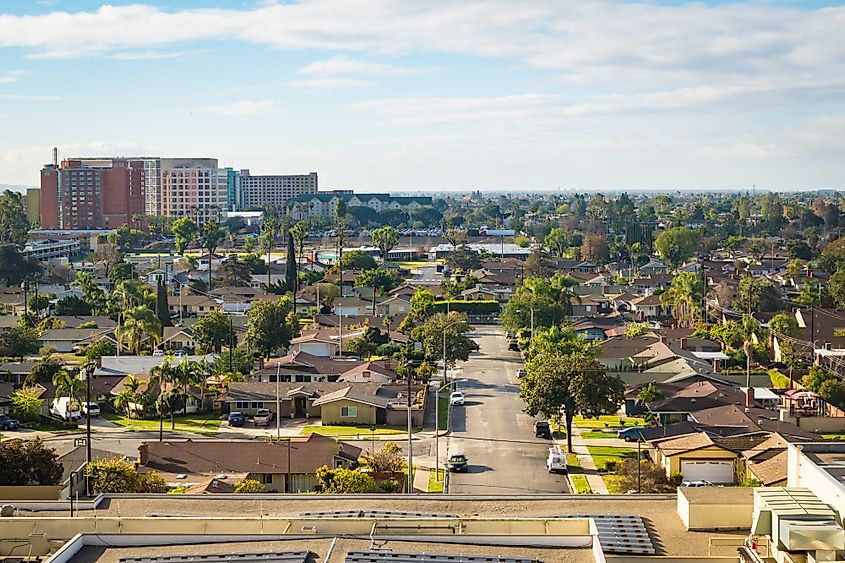 Anaheim is the second largest city within Orange County in southern California. Speaking of southern California, the Santa Ana River, which is the largest in this region, runs 96 miles through the heart of Anaheim, joining the Pacific Ocean. To the southeast are the Santa Ana Mountains, that span 61 miles from the Los Angeles Basin. On this note, the City of Los Angeles resides 25 miles to the northwest. Of other substantial nearby cities: Buena Park is about 7 miles to the northwest, Fullerton is about 3 miles north, Placentia is about 5 miles northeast, and Orange is about 7 miles southeast. As for day trips: Joshua Tree National Park is about 115 miles east, the San Diego Zoo is 92 miles southeast, Laguna Beach is 25 miles south, and the Santa Monica Pier is 42 miles northwest.
As per the Köppen Climate Classification, Anaheim teeters between a Hot Arid Climate and Mediterranean Climate. It experiences short and arid summers and long and cool winters. August is the year's warmest month, which sees an average temperature of 75°F. Alternatively, December is the year's coldest month that sees an average temperature of 55°F. Of the 34.8 days that produce precipitation, there is a rainfall of 13.7 inches and no recorded snowfall. Furthermore, February is the year's wettest month, which sees approximately 2.25 inches of precipitation. 
History Of Anaheim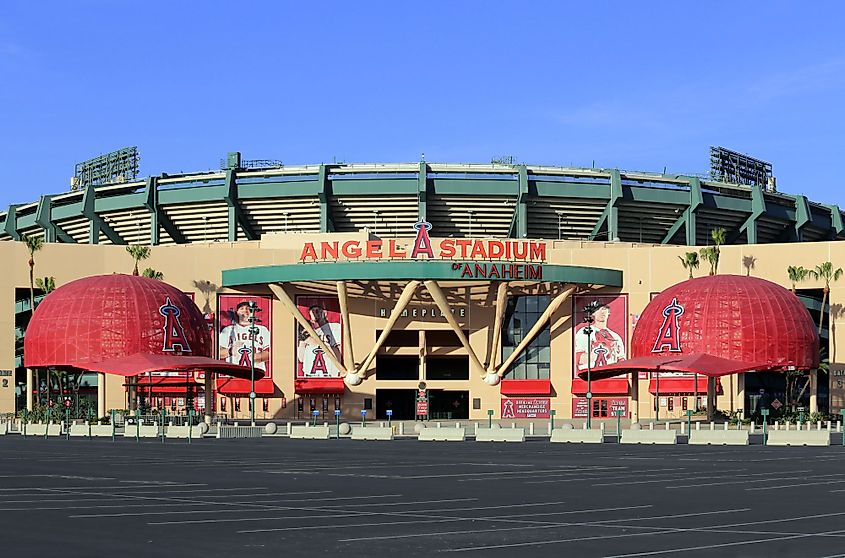 Before the first permanent structures were established, the present-day Anaheim area belonged to the Tongva indigenous people as early as 3,500 BCE. During the 19th century, Anaheim was a part of the Mexican rancho grant that expanded across Placentia, Fullerton, and Anaheim. It was known as Rancho San Juan Cajon de Santa Ana and passed hands into the Public Land Admission following the Conquest of California. German-American families from San Francisco arrived in 1857, and 1,160 acres were taken from Rancho San Juan Cajon de Santa Ana to be plotted out for homes and farmland for grapes. With George Hansen at the helm, the Anaheim Vineyard Company was formed. The name was taken from the German word "annaheim," meaning "home by the Santa Ana River," but later adjusted to Anaheim. Although being the largest wine industry in California for 25 years, in 1884, a disease would wipe out the vineyards among other produce, indefinitely stopping this industry. Sometime during the early 20th century, Rudolph Boysen created a hybrid berry. This was later coined as the "boysenberry" by Knott's Berry Farm Founder, Walter Knott. In the later years, Disneyland opened its doors to the public, setting forth a tourism boom in Anaheim. Hotels, restaurants, and shops were quickly erected around the theme park. Due to its rapid growth, Major League Baseball (MLB) relocated the California Angels to Anaheim and attracted the National Hockey League (NHL) to form the Mighty Ducks of Anaheim in 1993.
The Population And Economy Of Anaheim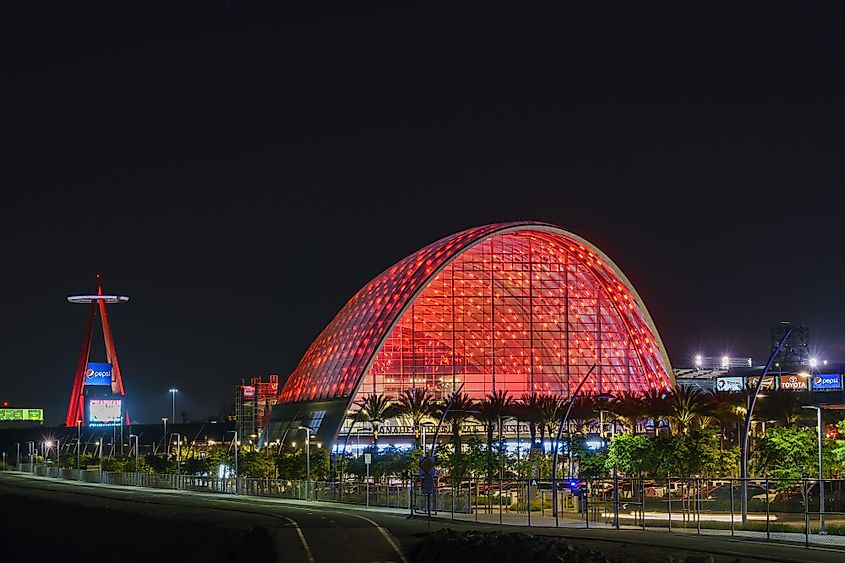 As per the latest US Census, Anaheim has a population of 348,936 inhabitants. This is an increase of 0.61% since the last reported Census in 2010, which saw a population of 346,824 inhabitants. Encompassing an area of 131.78 sq. km, there is a population density of 2,663.78 people per sq. km. Of the population, the average age is 34.5 years, with females attributing 51.15% and males with 48.85%. The median household income is $92,330, and the gross monthly rent is $1,743. Meanwhile, 13.84% of residents live below the poverty line. As for cultural or racial breakdown: 60.04% identified as white, 17.31% were Asian, 10.57% were of another race, 8.20% were two or more races, 2.75% were African American, 0.66% were Native American, 0.48% were Native Hawaiian or Pacific Islander.
The primary industries that constitute Anaheim's economy are healthcare and social assistance at 11.9% overall, retail trade at 11.2%, and accommodation and food services at 9.1%. The top-earning jobs come from public administration with $70,735, finance and insurance with $66,670, and scientific and technical services at $62,235. Of the 186,000 employed, 22,253 work in manufacturing, 22,300 work in healthcare and social assistance, and 20,663 work in accommodations and food services.
Attractions In And Around Anaheim
Disneyland Resort
Undeniably the top attraction in Anaheim and among one of the most popular theme park chains in the world is Disneyland Resort, which entertains children and adults alike. Among the highlights are Tomorrowland, Space Mountain, Fantasyland, Adventureland, and Star Wars. But do not forget to meander through Main Street USA or ogle at the firework from Disney After Dark. There is absolutely no end to the attractions available for the visitors at Disneyland Resorts.
CtrCity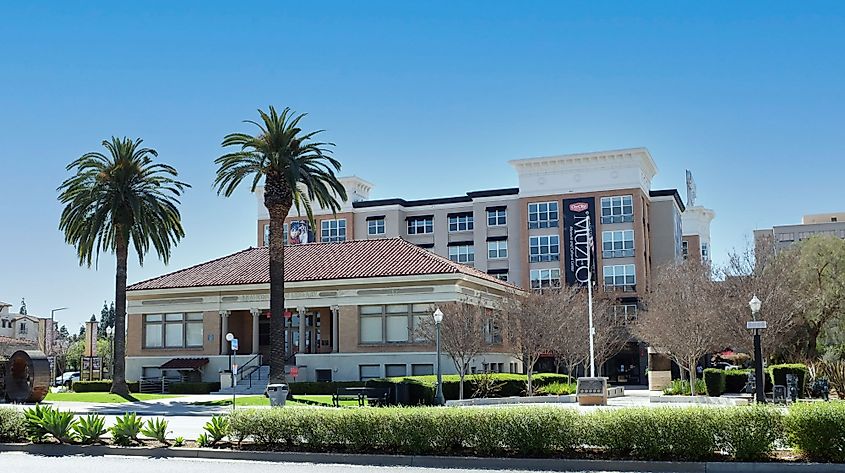 Ctr City, also known as Central City, is a trendy area of Anaheim's historic downtown. Whether looking for a bite to eat or some retail therapy, one will not want to miss out on the chance to hit up the Center Street Promenade. If shopping among boutiques is not to one's preference, the Carnegie Library can be accessed as part of the Muzeo Museum of Culture.
Anaheim is one of California's largest cities, attributed to its early grape industry and Walt Disney's erection of the Anaheim branch of Disneyland. As of today, it offers endless activities for all to do. But it does not end there, with proximity to many of the large cities of southern California, there are many sights to see. It is highly recommended to visit for five days to really experience Anaheim and everything it has to offer.