Long Beach is a city in the US state of California. It is one of several cities located in the greater Los Angeles area. Inhabited by Native Americans for thousands of years, what is now Long Beach first took the form of large, privately owned cattle ranches. But by the beginning of the 20th century, a modern city began to take shape, growing at a rate faster than any other city in the country. Over time, different industries came to Long Beach, making it grow even further. Today, Long Beach is a bustling locale with a multilingual, multicultural population of more than 400,000 residents.  
Geography Of Long Beach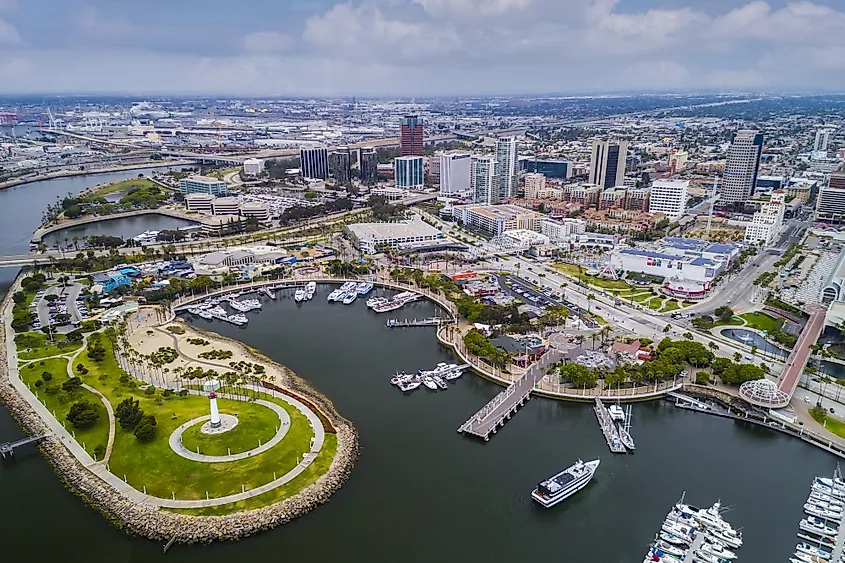 Long Beach is located on southern California's Pacific coast. It is part of the jurisdiction known as Los Angeles County, which is consists of several other cities, including the city of Los Angeles itself. To the north of Long Beach are the cities of Lakewood, Paramount, and East Compton. The city of Compton is located to the northwest of Long Beach, while the city of Cerritos is located to the northeast. East of Long Beach is where the cities of Cypress and Los Alamitos are situated, while Seal Beach, which includes the Seal Beach National Wildlife Refuge, is located to the southeast. To the west of Long Beach is the Los Angeles neighborhood of Wilmington and the city of Carson. The Los Angeles River flows south through Long Beach, with most of the city being on its east bank. A much smaller section of the city, consisting of the neighborhoods of West Side, Lower West Side, and the Port of Long Beach is located on the Los Angeles River's west bank. Downtown Long Beach is located where the Los Angeles River drains into the Pacific Ocean. The city limits of Long Beach surround the much smaller city of Signal Hill. Long Beach has a total area of 133.2 sq. km. 
Population Of Long Beach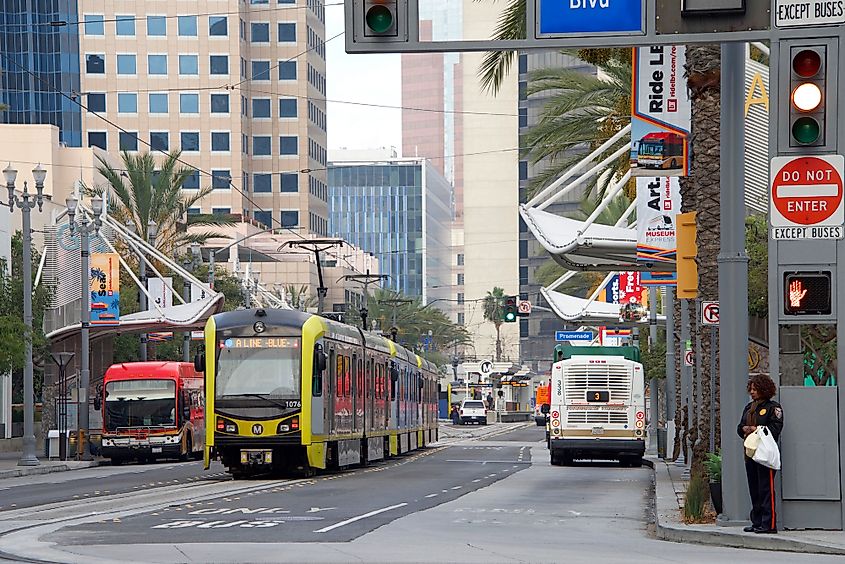 The population of Long Beach is 456,154, making it the 7th largest city in California. A little over half of this population is considered white, of whom 23.9% are considered Hispanic and 28.4% non-Hispanic. People of Hispanic ancestry as a whole make up close to 45% of the city's total population. People of Asian descent make up the next biggest group, followed by African Americans. Almost 54% of Long Beach's population speaks only English, while 34% speak Spanish. Just over 9% of people in Long Beach speak Asian or Pacific Island languages. Close to three quarters of Long Beach's residents were born in the United States, with 59.19% born in California. Non-US citizens, about three quarters of whom are Latin American, make up 12.21% of Long Beach's population. 
Economy Of Long Beach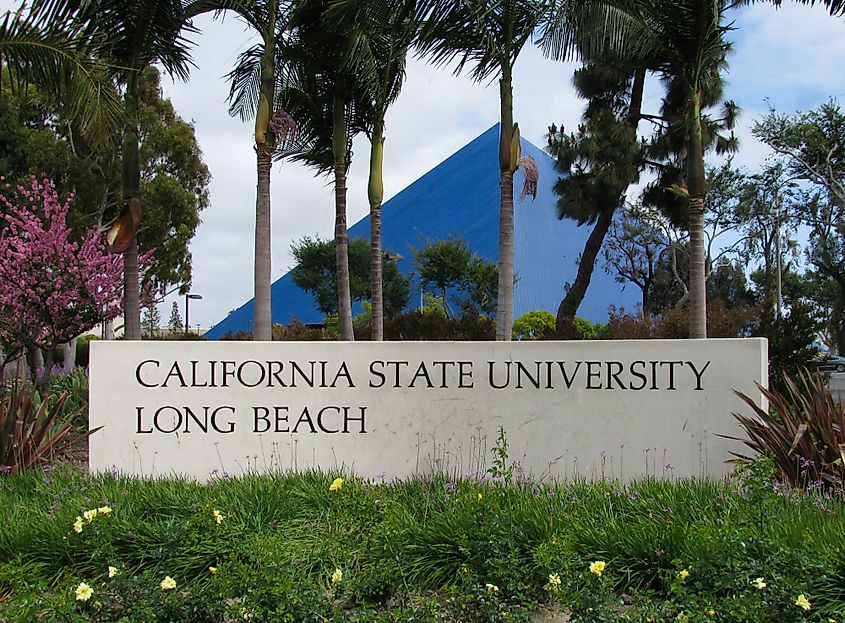 Average earnings in Long Beach are $41,181. The city's poverty rate is 16.83%. The largest employers in Long Beach are the Long Beach United School District, Long Beach Memorial Medical Center, the City of Long Beach, Boeing, and California State University at Long Beach. The largest economic sectors in terms of number of employees in Long Beach are healthcare & social security, Educational Services, and Manufacturing.
History Of Long Beach
Indigenous peoples have inhabited the area that is now Long Beach, along with the rest of coastal southern California, for 10,000 years. When Spanish explorers first visited the area in the 16th century, the most prevalent Native American population there were the Tongva people. In the 19th, these Native Americans were forced to relocate because of Christian missionization, political change, and European diseases, which drastically reduced their numbers.
Permanent settlement in present-day Long Beach began in 1784, when the Spanish king gave a soldier named Manuel Nieto a land grant in the form of Rancho Los Nietos, dividing it from nearby Rancho Los Cerritos and Rancho Los Alamitos. In 1843, a man named Juan Temple bought Rancho Los Cerritos and turned it into a cattle ranch. In 1866, he sold the land to a sheep-raising company. This company chose a person named Jotham Bixby to manage Los Cerritos. Bixby eventually bought into the property and sold 4,000 acres of it to someone named William E. Willmore, who wanted to build a farming community there. But Wilmore's venture failed, and he was bought out by a syndicate that called itself the "Long Beach Land and Water Company". In 1888, residents of Willmore's failed community renamed it Long Beach because of its long, wide beaches. The city was incorporated in 1897.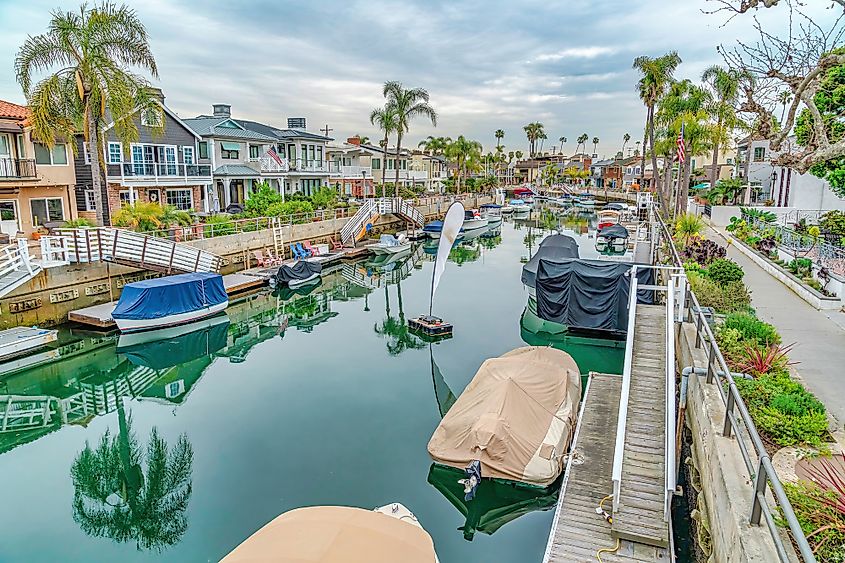 Between 1902 and 1910, Long Beach was the fastest growing city in the United States. The port of Long Beach was established in 1911. Ten years later, oil was discovered in the aforementioned community of Signal Hill, triggering a building boom in the city's downtown area. In 1941, the US Naval Shipyard dry dock was built in Long Beach to serve the navy's largest ships. The oil industry and the navy shipyard would eventually become the mainstays of Long Beach's economy. Before World War II, Long Beach had a large Japanese population, but after they were forcibly interned during the war, very few of them returned. The Douglas Aircraft Company plant in Long Beach produced many of the planes that the US military used during WWII. Other aircraft manufacturers also set up in Long Beach, making the city a key hub for the aviation industry.    
Attractions In Long Beach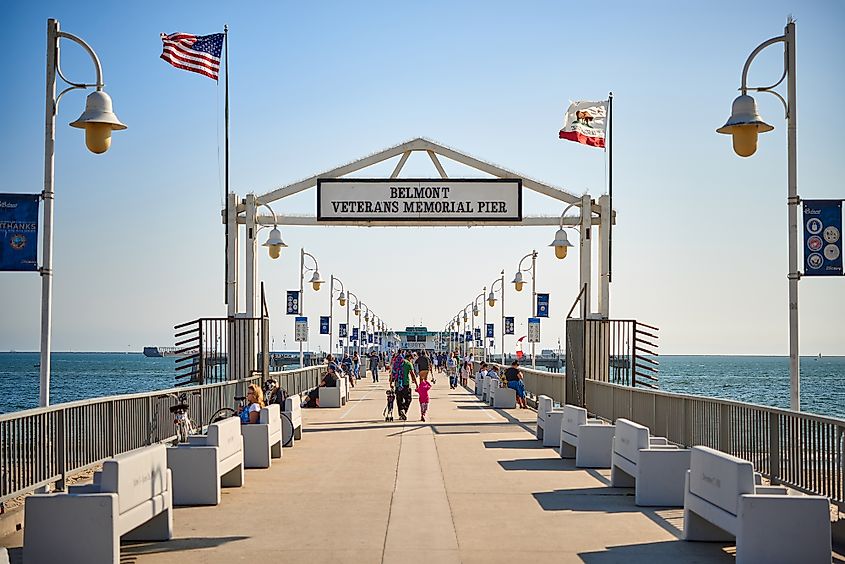 Historic attractions in Long Beach include vestiges of Rancho Los Alamitos and Rancho Los Cerritos. These were two of the original ranchos established in the Long Beach area. Rancho Los Alamitos includes five agricultural buildings, including a working blacksmith's shop. In addition, it features 4 acres of gardens and an adobe ranch house that dates back to around 1800. Rancho Los Cerritos has adobe buildings, which date back to the 1880s. It is also home to a research library for the history of California. Another historical attraction in Long Beach is the Queen Mary, an ocean liner dating back to 1936. This ship was the fastest ocean liner in the world from 1936 to 1952. It also served as a troop transport ship during WWII.
Long Beach has two other attractions that are perfect for people who want to learn about the natural world. One is the Aquarium of the Pacific, which is the largest aquarium in southern California. This aquarium displays about 12,000 animals and has more than 100 exhibits. The other attraction is known as the El Dorato Nature Center, a 105-acre sanctuary for plants and animals. It is part of the El Dorato Regional Park, which features lakes, a stream, trails, meadows, and forested areas.