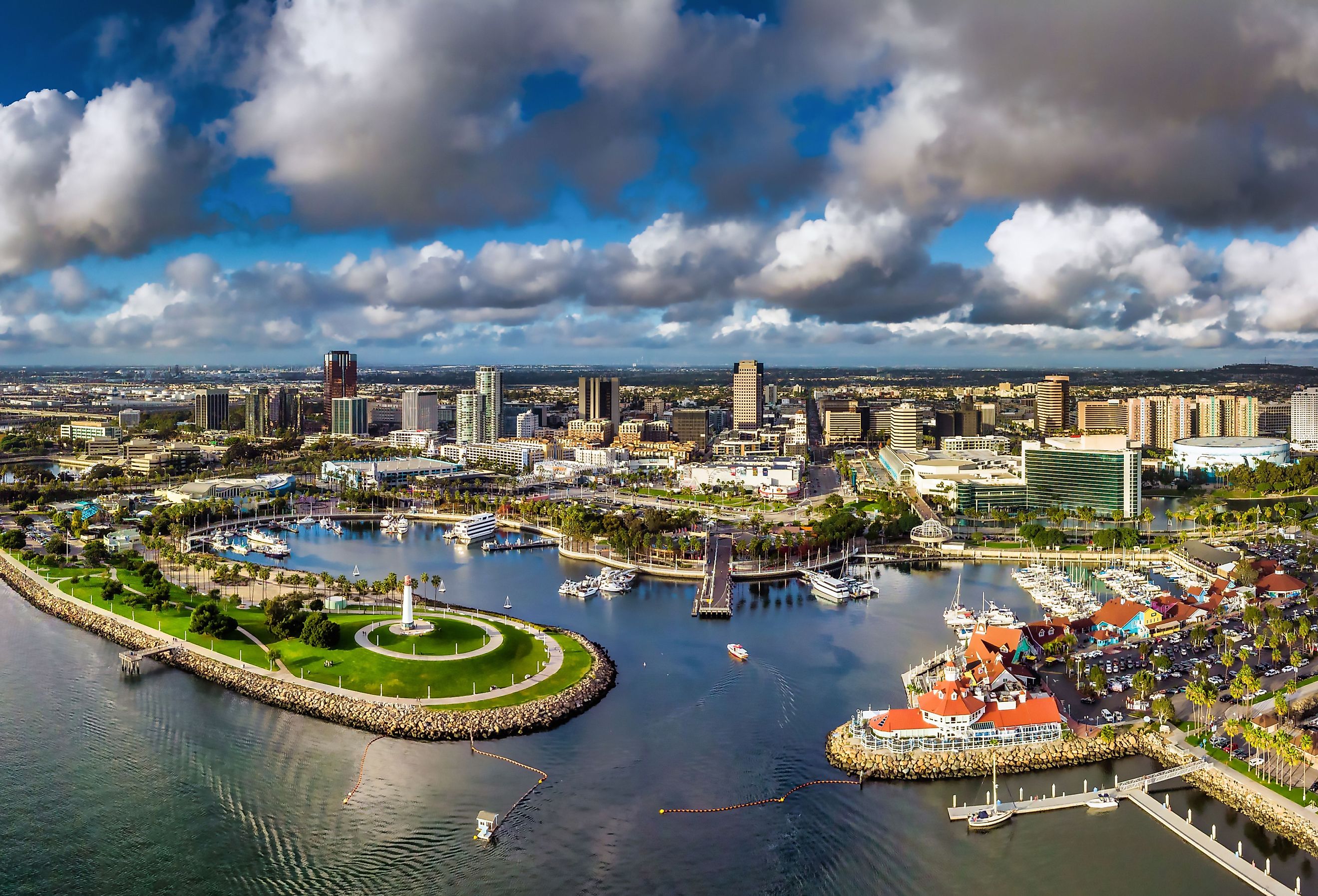 When people think of California, they often think of California's busiest cities like Los Angeles, San Francisco, or San Diego. However, port cities like Long Beach are notable in the Sunshine State. Nestled in Los Angeles county, Long Beach, California, is bustling with port activity. This seaside city also boasts a diverse population and is home to some of California's most popular attractions. Plus, Long Beach is also a great destination for tourists of California due to only being 24 miles away from Los Angeles!
Geography And Climate of Long Beach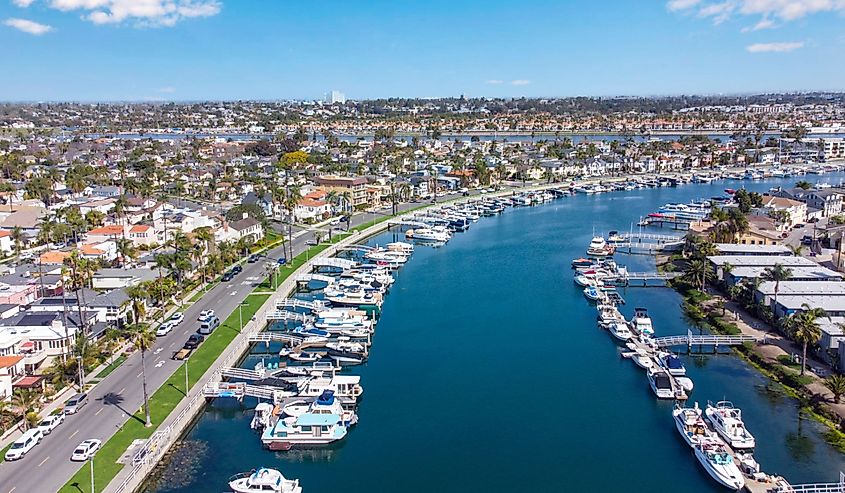 Long Beach sits along San Pedro Bay, encompassing multiple islands, and surrounds historic Signal Hill. Complete with a port, Long Beach boasts one of the world's busiest container ports, especially busy with trading partners like the Pacific Rim nations (i.e., Japan, China, Taiwan, and Korea). Long Beach's Port is also connected to the Los Angeles harbor, further increasing its activity.
There are several neighborhoods to explore around Long Beach, which include Central Long Beach, North Long Beach, Eastside, Westside, Downtown Waterfront, and East Waterfront. Long Beach is home to about 4,000 marina facilities, 83,000 street trees, and 815 miles worth of streets.
The city experiences short summers, which are warm, arid, and clear. The hottest month in the city is August, with a recorded average high of 82.5°F during the month. Meanwhile, the winters can be long yet cool and partly cloudy. The coldest month in Long Beach is December, with a recorded average of 50°F.
Rainfall is often higher in February, with average rainfall measurements recorded at 3 inches. However, Long Beach may experience rainless periods from April to October, especially during the month of July. Based on its climate, travelers often visit Long Beach between June to October for warm and pleasant weather.
Population of Long Beach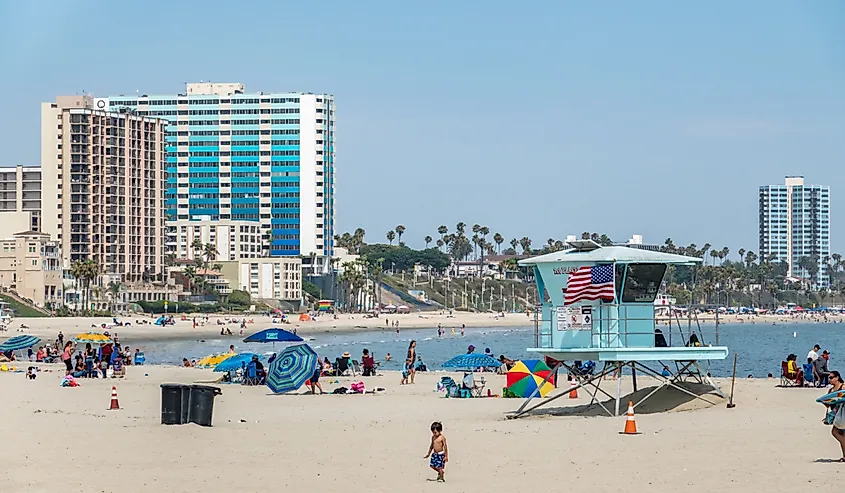 Long Beach is one of the most populous cities in Los Angeles County, with a higher population than other cities like Santa Clarita, Glendale, and Lancaster. According to the most recent US Census, the population of Long Beach hovered around 456,062 residents.
The population of the city encompasses residents who identify as white (47.0%), African-American (12.1%), American-Indian/Alaska Native (1.0%), Asian (13.0%), Pacific Islander (0.5%), Hispanic/Latino (43.9%), among others. 
The city's workforce is primarily involved in aerospace, education, and oil production. The Port of Long Beach also employs a lot of jobs in the city, which adds to the city's workforce and economic prosperity.
In total, there are about 208,000 addresses across Long Beach. As per the US Census, the median household income in Long Beach hovers around $71,150, with a poverty rate of about 15.4%.
History of Long Beach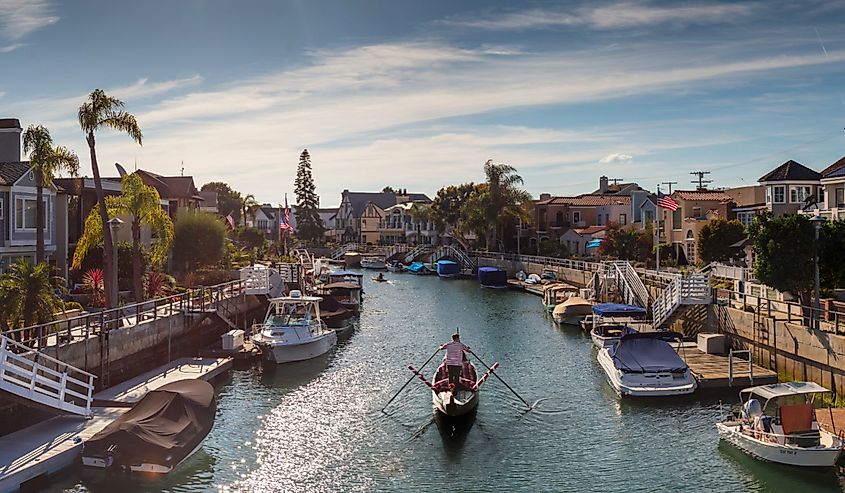 The area that makes up Long Beach was once occupied by the Native Americans, who used the hilltop (now known as Signal Hill) to send smoke signals as a form of communication. Eventually, the area that currently makes up the city was settled in 1784 through a Spanish land grant. During the time, Spanish soldier Manuel Nieto was granted 28,000 acres of land for Ranch Los Alamitos and 27,000 acres for Rancho Los Cerritos.
Founded in 1882 by William E. Willmore, a developer who originally named the city Willmore City, the city quickly grew. In 1885, the city experienced a real estate boom due to the Santa Fe Railroad and the Southern Pacific Railroad construction. However, unfortunately, Willmore could not further carry out city developments, and the Long Beach Land and Water Company eventually bought the land.
In 1888, residents of Willmore City renamed their home "Long Beach," a name inspired by the long beaches in the area. However, while Long Beach was officially incorporated in 1888, the city faced disincorporation for a short period until its reincorporation in 1897.
Top Attractions In Long Beach
Tourism is one of Long Beach's growing industries, with its attractions alluring 5.5 million visitors yearly. The city's Long Beach Convention and Entertainment Center is a major part of its tourist industry, complete with over 224,000 square-foot exhibit space (as well as an arena and two theatres)! Besides this premier convention center, Long Beach boasts other attractions that are a big hit with visitors.
The Queen Mary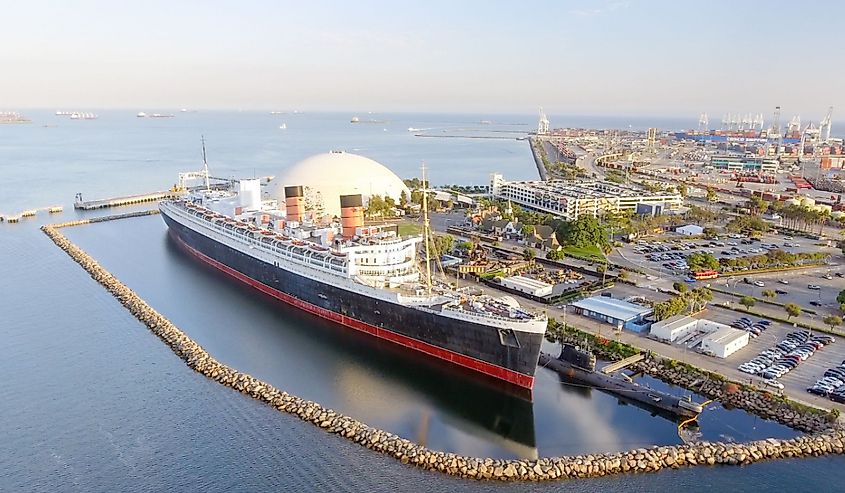 Also known as RMS Queen Mary, The Queen Mary is a piece of British history that history buffs can appreciate. In 1967, Long Beach purchased the luxury transatlantic cruise liner as a hotel and attraction for the city's tourists. Throughout the decades, the luxury cruise ship has made appearances at Long Beach's iconic events, including the 2006 "Royal Rendezvous," which involved sailing of the Queen Mary 2 into Long Beach Harbor, which saluted its successor. 
Today, RMS Queen Mary still sits in the city as an attraction, functioning as a maritime museum, meeting venue, and hotel. Visitors can easily access the Long Beach Convention and Entertainment Center from the Queen Mary, as it adjoins the attraction.
Walter Pyramid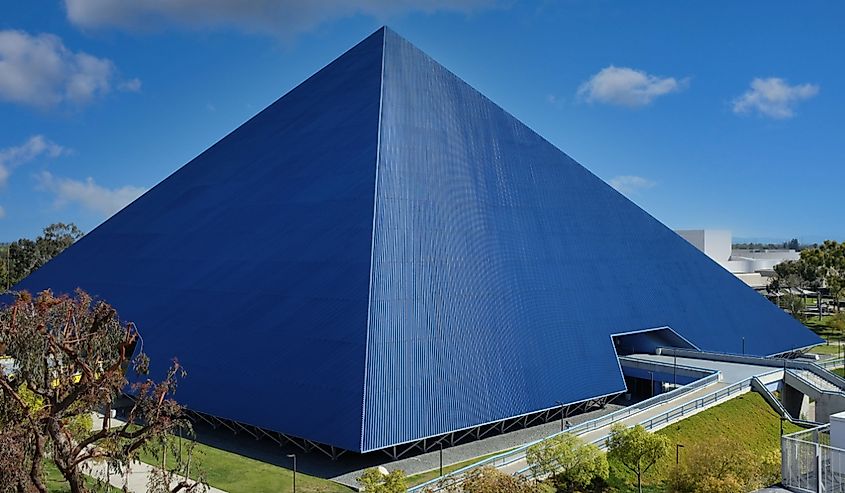 The Walter Pyramid is a pyramid-shaped, multi-sport stadium at Long Beach State University. Notably, this venue has been the home for the school's basketball and volleyball teams for around 20 years. It was named after Dr. Mike and Arline Walter, generous donors to the university's athletic department. The Walter Pyramid is a unique venue and is famous for its dramatic and unusual pyramid shape. Its bold cobalt color is also striking against conventional architecture around Long Beach, which may be due to its coating of dark blue corrugated aluminum sheets.
The pyramid's dimensions are impressive, measuring 345 feet above a perfectly square foundation. The structure cost $22 million to construct but was built to last due to its composition of hot-dip galvanized steel that provides corrosion protection. The Walter Pyramid is so large it can accommodate nine volleyball courts, three full-basketball courts, four half-basketball courts, a conference center, and a strength/conditioning center.
Aquarium of The Pacific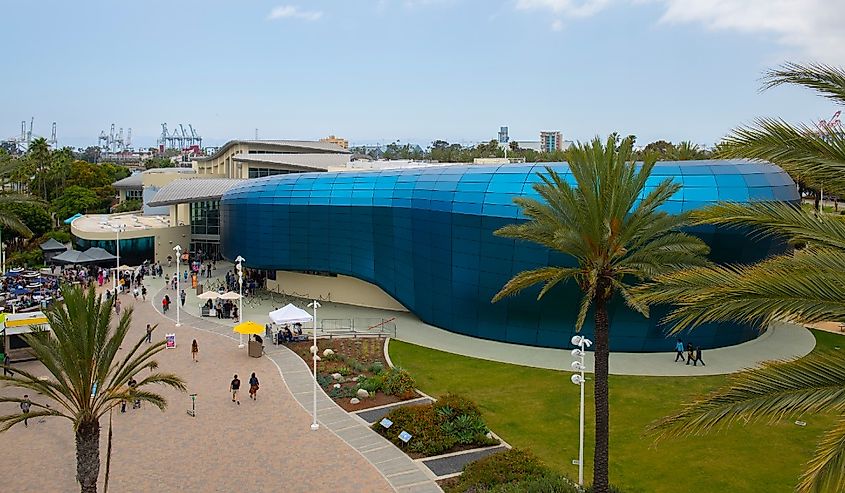 Long Beach's Aquarium of the Pacific is Southern California's largest aquarium. This premier aquarium attracts about 1.7 million visitors yearly and is one of Los Angeles' famous attractions. This aquarium is home to over 12,000 species of animals from three water bodies around the Pacific Ocean. Tourists can encounter marine species in water bodies like the Northern Pacific, Southern California/Baja area, and lagoons (and reefs) surrounding the Pacific Tropics.
Several points of interest at the aquarium include the Honda Blue Cavern, a 142,000-gallon, three-story-high "tank" in the Southern California/Baja Gallery. Here, visitors can find species found around Catalina Island. The aquarium also boasts its 350,000-gallon Tropical Reef Habitat, complete with coral, fish, sea turtles, and two species of sharks.
Los Angeles and San Francisco remain among the most popular destinations and cities many people think about when it comes to California. However, Long Beach has its charm that is worth exploring as a visitor to the Sunny State. Long Beach has bustling port activity and fascinating waterside attractions, from The Queen Mary to the Aquarium of the Pacific.