Henderson is a moderate-sized city found in Clark County, on the southeastern edge of the Las Vegas Valley metropolitan area in the US State of Nevada. It is the state's second-largest city by population, outside of Las Vegas. With proximity to both the Las Vegas Strip and Lake Mead, which houses the Hoover Dam, visitors are drawn to Henderson from all over the globe for its entertainment and attraction options. The temperatures are warm most of the year and are fueled by the arid Mojave Desert, which is an attraction in itself for outdoor recreation. Thus, this desert community is known for its many vintages, restored homes, and the nearby upscale resort area of Lake Las Vegas. As such, Henderson has all the allure of a big city with small-town charm.
Geography And Climate Of Henderson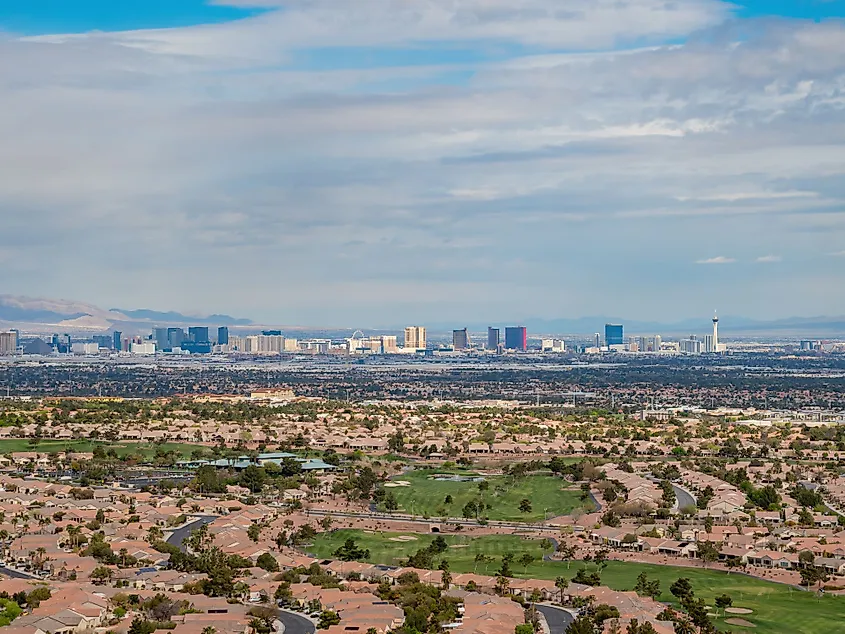 Henderson can be found in southern Nevada, in the northeast of Sloan Canyon National Conservation Area and southwest of Lake Las Vegas. Furthermore, it is centrally located in the Mojave Desert. The largest city outside of Henderson is Las Vegas, which is only 16 miles to the southwest. Furthermore, Henderson is one of many towns that comprise the Las Vegas Valley, a major metropolitan area of southern Nevada. Other large cities nearby include North Las Vegas, which is 16.1 miles to the northwest, and Boulder City, which is 14.8 miles east southeast of Henderson.
According to the Köppen Climate Classification, Henderson experiences a desert climate. With sweltering summers and cool winters that rarely see snow, Henderson experiences four seasons annually. The median annual temperature is 67.8°F, with an average high of 104.2°F observed in July and an average low of 38.0°F in January. Henderson sees precipitation over 26.7 days, whereas the US average 106.2. Rainfall totals to 4.9 inches annually, and snowfall equals 0.2 inches. The dry season runs from March to July, with June being the driest month with 0.6 days receiving rain. 
History Of Henderson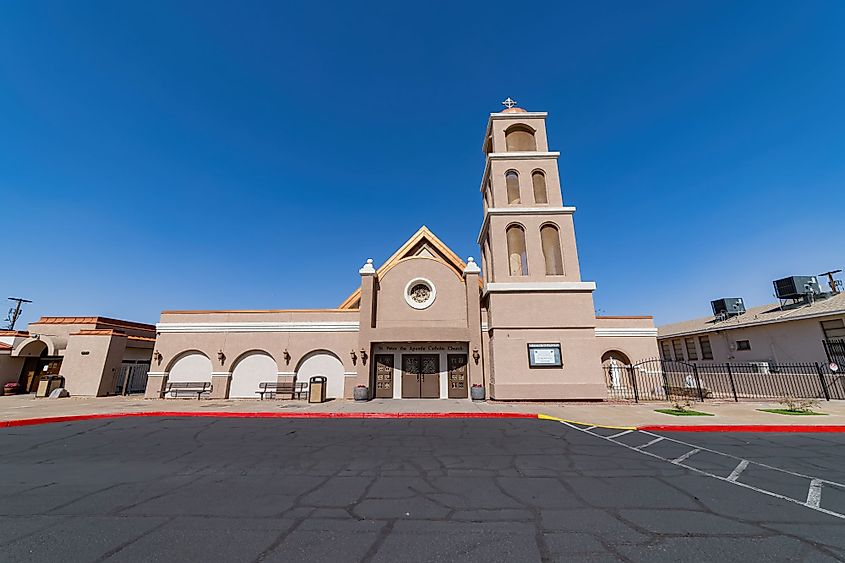 Around the 1940s, Henderson was established for the surplus of magnesium naturally found nearby. With the declaration of World War II, magnesium was referred to as the "miracle metal" for its various uses, including airplane components and ammunition casings. Thus, at World War II's beginning, Henderson had a primary magnesium plant, and by the height of the war, it became the leading supplier in the United States. The Hoover Dam was used as a power source to separate magnesium from its ore by electrolysis to form aluminum, another significant metal demanded during World War II. By 1947, magnesium demand dropped with the war's conclusion, and the population began to dwindle. The Black Mountain Industrial Complex saw 14,000 workers leave during this period. On April 16, 1953, Henderson was incorporated as a city and started with a mere 34 sq. km of developed land. As of today, Henderson encompasses over 240 sq. km.
The Population And Economy Of Henderson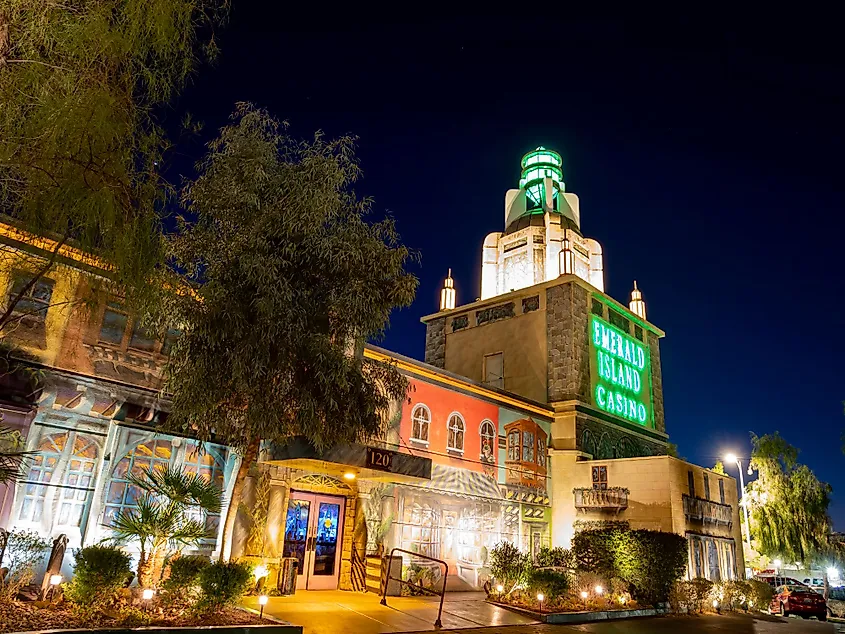 As per the latest US Census, Henderson has a population of 352,202 inhabitants. This is an increase from 2010, which saw a population of 257,452. With over an area of 276.14 sq. km, the city's population density is 1,164.90 people per sq. km. Of this population, males account for 49.51%, and females make up 50.49%. Moreover, the median household income is $99,631, and the gross monthly rent is $1,360. Yet, 7.97% of the population lives below the poverty line, with Henderson ranking as the 7th highest when it comes to per capita income. As for the racial/cultural backgrounds, 72.18% identified as white, 8.73 were Asian, 6.82% identified as two races, 6.01% were African American, 4.98% identified as other races, 0.74% were Hawaiian or Pacific Islander, and 0.56% were Native American.
The unemployment rate in Henderson was 4.40%, whereas the US average was 3.6% over the same period. The top industries that constitute Henderson's economy are retail trade of 13.6% overall, accommodation and food services of 13.3%, and art, entertainment, and recreation of 9.7%. The top-paying careers come from the following sectors; utilities with earnings of $91,341, scientific and technical services of $91,161, and mining, quarrying, oil, and extraction of $81,810. Henderson employs approximately 150,000 workers, with 17,996 employees making up retail trade, 16,563 in food and accommodation services, and 15,104 accounting for healthcare and social assistance.
Attractions Around Henderson
Lake Las Vegas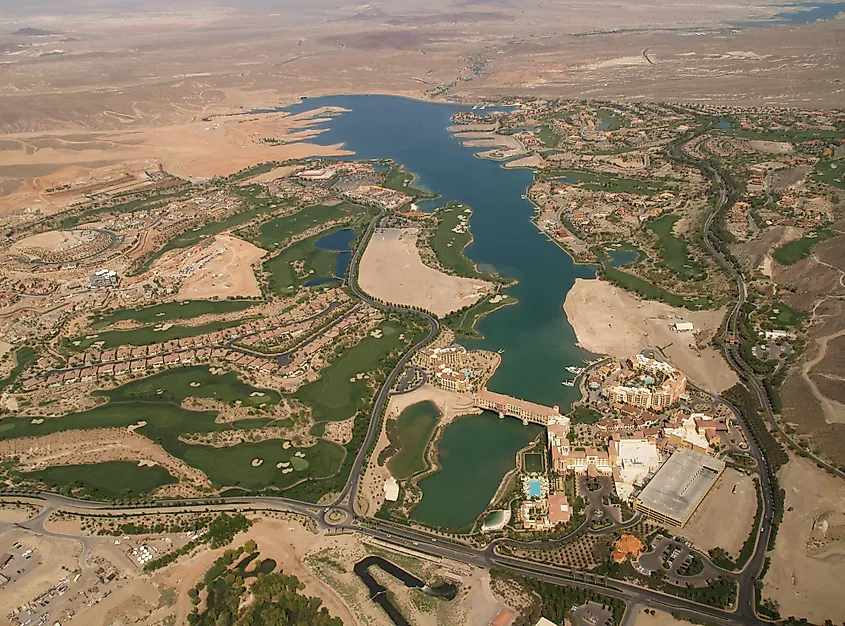 To the northeast of Henderson is the 3,592 acres reservoir known as Lake Las Vegas. With names such as Aston MonteLago Lake Village, Westin Lake Las Vegas Resort, and Hilton Lake Las Vegas, this luxury vacation area is referred to as Lake Las Vegas Resort. Visitors can go to the casino located at MonteLago, while outdoor enthusiasts can enjoy boating, fishing, and paddleboarding on the lake.
Sloan Canyon National Conservation Area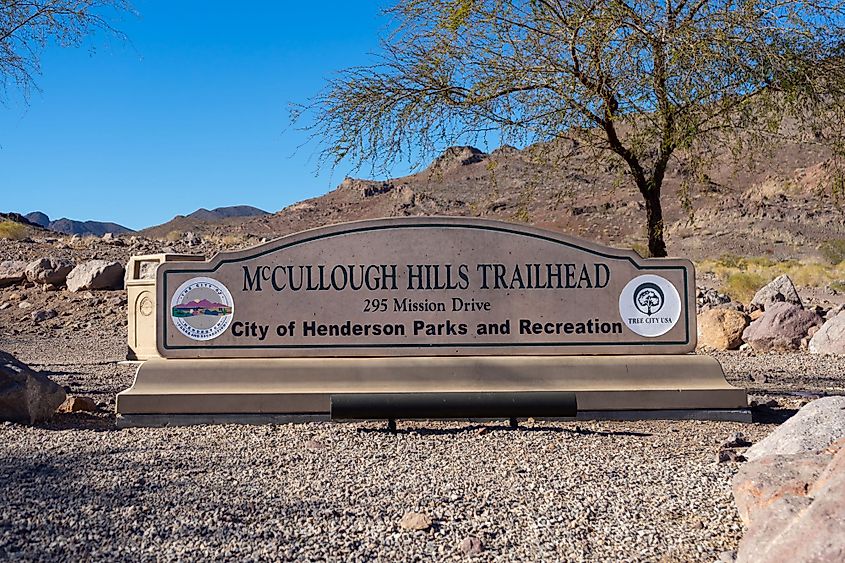 Sloan Canyon National Conservation Area is nearly 50,000 acres of designated preserve to protect the Mojave Desert for generations to come. Moreover, the southern ledge has become a synopsis of the Las Vegas and Henderson Skyline. Throughout the conservation area, many petroglyph sites include 300 rock panels and 1,700 designs of Native art. The Northern McCullough Wilderness is also contained in this area and has examples of lava flows, ash falls, and glassy zones in a raw and untouched wilderness.
Ugo Rondinone's Seven Magic Mountains
A creative burst of expression is found in the Mojave Desert; these colorful art installations are the vision of Swiss artist Ugo Rondinone. Seven Magic Mountains is a series of brightly painted boulders that have been stacked as high as 35 feet and serve as a favorite location for photos. The installations are free to access and are located southwest of Sloan Canyon National Conservation Area.
Henderson offers all the glitz and glam associated with the bright lights of Las Vegas without compromising its small-town appeal. It is considered the gateway to the nearby Sloan Canyon National Conservation Area, the Las Vegas Strip, and the Hoover Dam, with only being a stone skip away. Henderson continues to be a place to enjoy the rigid desert skyline while offering visitors a quiet desert community to unwind. Yet, its proximity to all the entertainment, arts, and outdoor attractions are what draws visitors to its doorstep, eager to explore.