Have you ever traveled to the Northeast part of the United States and wished that you could stay forever? The small towns in this area have a unique beauty to them, with charming brick-lined streets, colonial houses nestled among rolling hills, and locals who are friendly and welcoming. From tiny hamlets off the beaten path to bustling waterfront cities, these places all will make your heart swell with admiration for their incredible beauty. Explore some of the most beautiful towns and discover the hidden gems hiding amongst America's landscape.
Bar Harbor, Maine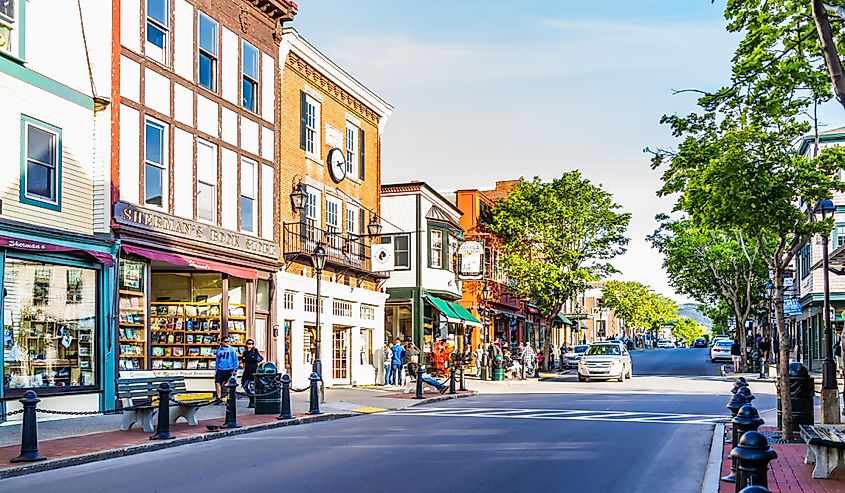 Bar Harbor, Maine, is one of the most beautiful towns in the Northeast and is a gateway to Acadia National Park, offering amazing opportunities to explore nature. Visitors can take a ferry ride and get a close-up look at some of the spectacular coastline or take a tour with Acadian Boat Tours. Kayaking is also available for those who want to explore further out on the water. For even more adventure, visitors can join Bar Harbor Whale Watch for an unforgettable experience of watching whales in their natural environment. There is something for everyone in this charming town.
Mystic, Connecticut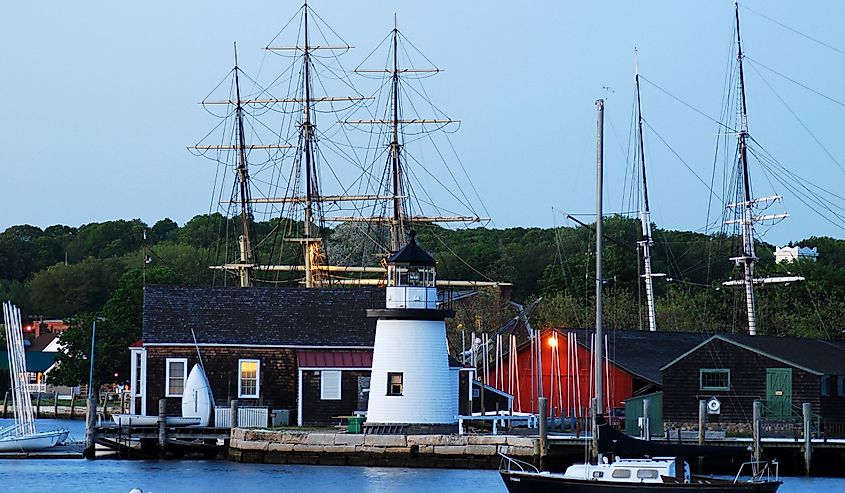 Located on the Mystic River, this charming town is truly a serene oasis. Visitors can explore Mystic Seaport Museum and soak in some maritime history or board a boat tour with Mystic Boat Adventures. There are many shopping options, including the Mystic Knotwork souvenir shop and Hang the Moon gift shop, which features products from women-owned businesses. Whether you are looking to explore history or find a unique memento to take home, Mystic has it all.
For outdoor enthusiasts looking to explore Connecticut's stunning natural beauty, Mystic is the perfect place to start. From its unique shops and attractions to its peaceful coastline setting, Mystic has something for everyone. Whether you are looking for a relaxing weekend getaway or an adventure-filled day trip, Mystic will leave you with lasting memories.
Woodstock, Vermont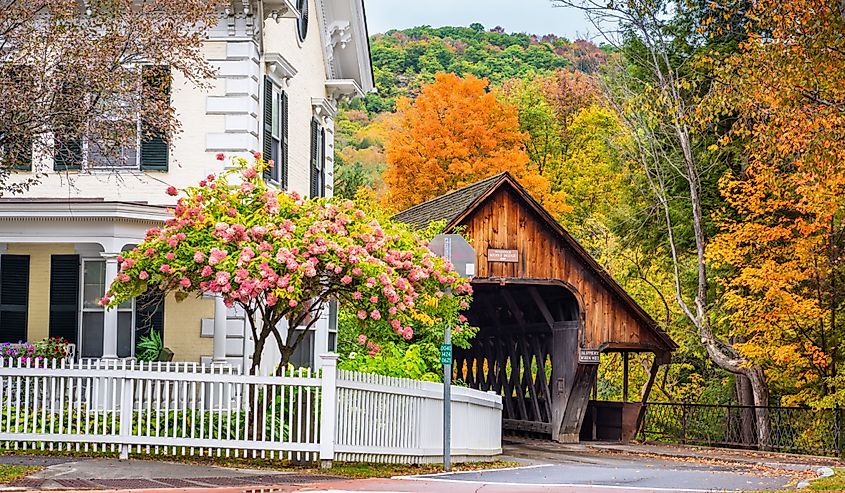 Woodstock is a picturesque town with beautiful landscapes and thriving wildlife. Outdoor activities like biking, fishing, horseback riding, hiking, and swimming are all popular pastimes in Woodstock. Skaters can choose from the indoor Union Arena or outdoor Silver Lake for a skate session. Sledding is often a favored winter activity because of the abundance of hills around town! Golfers love visiting the Woodstock Inn and Resort Golf Club or The Quechee Club nearby for an afternoon on the course.
No matter what time of year you visit, there is always something to do in Woodstock. With its stunning scenery and endless recreational activities, it is no wonder why this charming town is one of the most beautiful in the Northeast US!
Cape May, New Jersey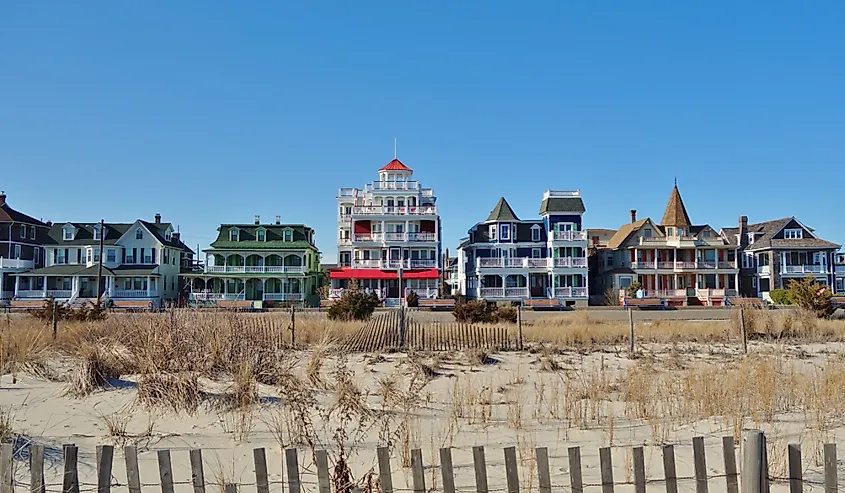 Cape May is a stunningly beautiful and diverse seaside town with pristine beaches and a picturesque promenade. Visitors come to Cape May for its natural beauty and endless outdoor activities. However, it is also known for its rich history, architectural range, and vibrant culture.
Visitors can explore the many Victorian grand mansions throughout Cape May or visit Provence Restaurant for upscale dining. Harry's Ocean Bar & Grille offers relaxed seaside fare with beachfront views of the Atlantic Ocean. For something different, stop by the Cape May County Park and Zoo, which boasts an array of exotic animals. Whether you are looking to relax on the beach, explore history and architecture, or indulge in local cuisine, Cape May has something for everyone.
Newport, Rhode Island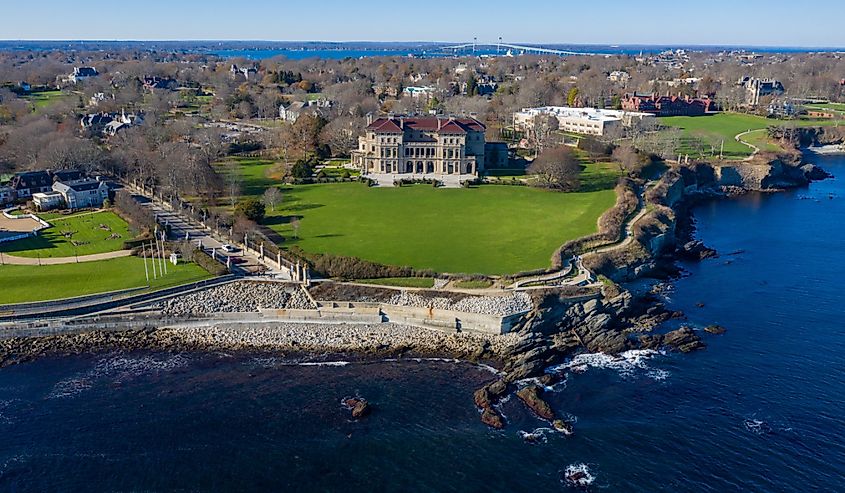 Located on Aquidneck Island, Newport boasts grand mansions from the Gilded Age, including Chepstow, The Breakers, and Marble House. During the winter months, visitors can enjoy spectacular views of the ocean and downtown Newport while taking a stroll along 3.5-mile Cliff Walk that runs along the ocean's edge.
Visitors can also take part in winter activities such as ice skating at several locations around town or attend the annual Newport Winter Festival to bask in all the best seasonal offerings. From historic sites to outdoor adventures, you will not regret visiting this charming New England town!
Lenox, Massachusetts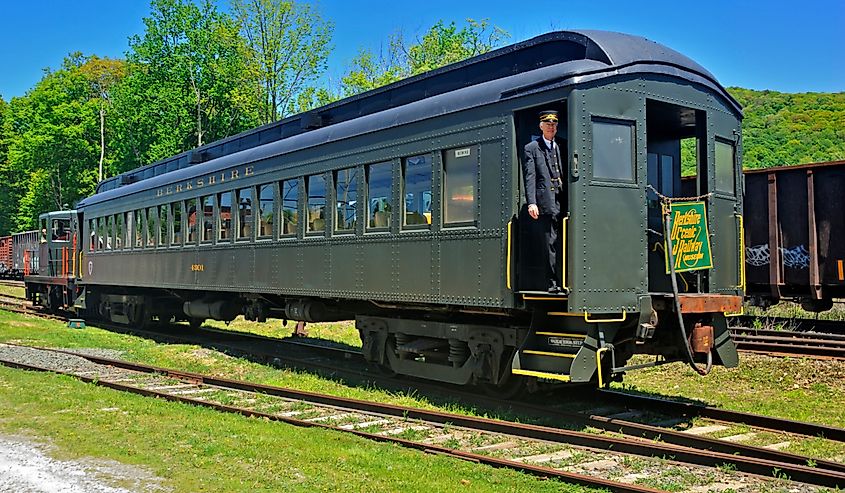 Located in western Massachusetts, nestled in the Berkshire Mountains, this quaint village exudes charm from every corner. With its rolling hills and lush forests, it offers a peaceful retreat for those looking to escape the hustle and bustle of city life.
The town has a unique cultural heritage. Visitors can explore Tanglewood, a famous summer music venue located in Lenox. Or catch a performance by Shakespeare & Company. For those who are more interested in history, the Berkshire Scenic Railway Museum provides an unforgettable experience with its collection of vintage trains and artifacts tracing back to the days when railroads were a major part of American life.
Lenox, Massachusetts is truly a special place —a hidden gem that deserves exploration and appreciation. Whether you are looking for an adventure or just need some peace and quiet, this picturesque town in the Berkshires is sure to please.
Chincoteague, Virginia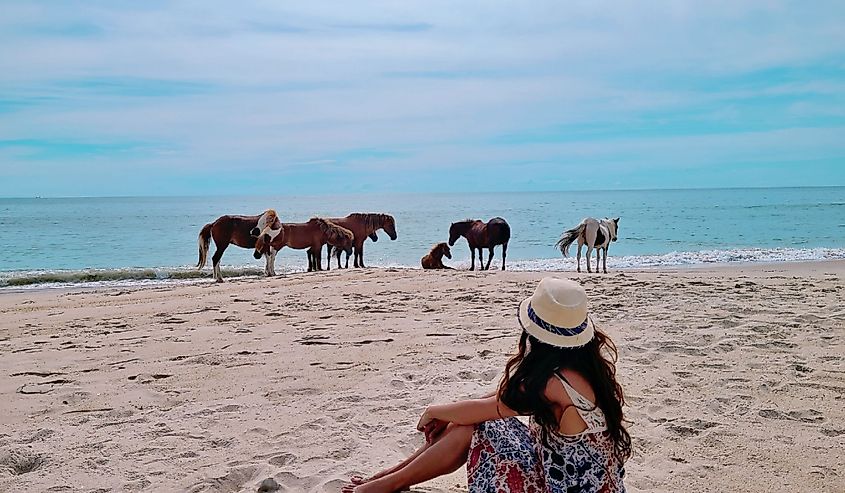 Hugging the border of Maryland, the town of Chincoteague, located on the island with the same name is home to the famous Chincoteague Wild Ponies and also offers a variety of outdoor activities such as biking and hiking. With its pristine beaches and stunning sunsets, Chincoteague Island provides visitors with an unforgettable experience.
Whether you are looking for a romantic getaway or simply to explore nature's beauty, this small town has something for everyone. From fishing on the bay to kayaking along the marshlands, there are many ways to enjoy some quality time in this picturesque part of America. So, if you are looking for an escape to nature's beauty, then look no further than Chincoteague Island.
Lancaster, Pennsylvania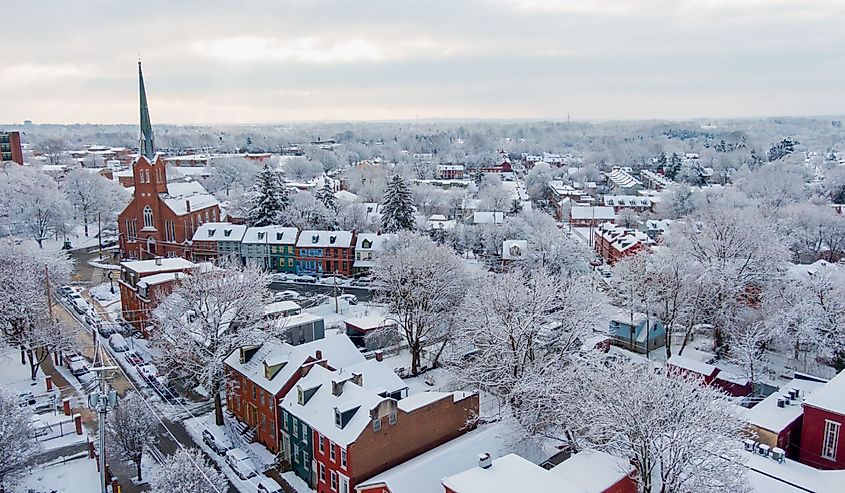 Lancaster is the county seat of Lancaster County which is home to some of the oldest Amish communities in the country. The area also boasts a variety of beautiful locales and attractions for visitors and locals alike. One of the most popular destinations is Julia Swartz Gallery, which features handcrafted art from local artisans. Visitors can explore Mary Charles Folk Art nearby, featuring a mix of traditional and modern pieces. Other popular attractions include the Lancaster Museum of Art and the nearby National Toy Train Museum, both offering unique exhibits that showcase American culture and history.
In addition to its many art galleries, Lancaster also has several outdoor activities, such as hiking trails and biking paths through rolling hillsides. For those looking for an escape from the hustle and bustle of everyday life, Lancaster is the perfect destination for a peaceful retreat.
Cooperstown, New York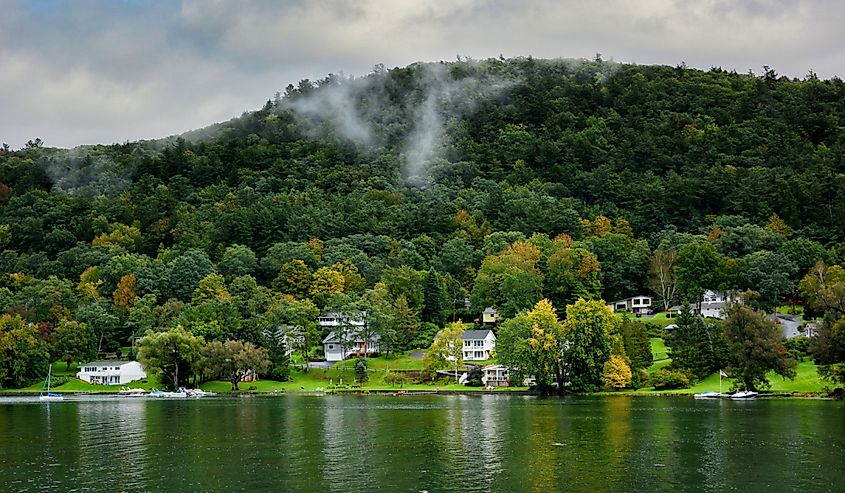 Cooperstown is home to a variety of attractions that make it an ideal destination for leisure travelers. Visitors can take in stunning views or enjoy world-class performances at the Glimmerglass Festival, which offers opera and musical theater productions each summer.
This quaint town also boasts several local breweries and eateries where visitors can sample some of the town's finest culinary offerings. The four-season climate makes it easy to partake in a range of outdoor activities, from golfing and sailing on the lake in spring and summer to snowshoeing during the winter months. However, perhaps Cooperstown's biggest draw is the National Baseball Hall of Fame and Museum, a must-see for any baseball enthusiast.
Rockport, Massachusetts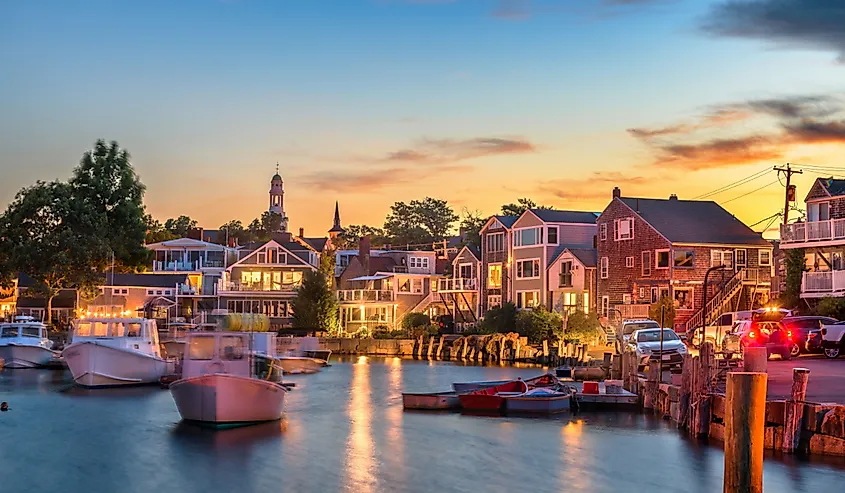 Situated on a sheltered harbor along the Atlantic Coast, Rockport offers stunning views of its rocky coastline and natural beauty. Visitors to Rockport can enjoy all kinds of outdoor activities, including whale watching, kayaking, fishing, and more. The waterfront area boasts delicious seafood restaurants serving up fresh catches from local lobster shacks.
With its charming seafaring setting and plenty of things to do, Rockport is an ideal destination for those seeking some peace and relaxation away from the hustle and bustle of city life. Explore this picturesque coastal town and discover why it is one of the most beautiful destinations in the Northeast.
Camden, Maine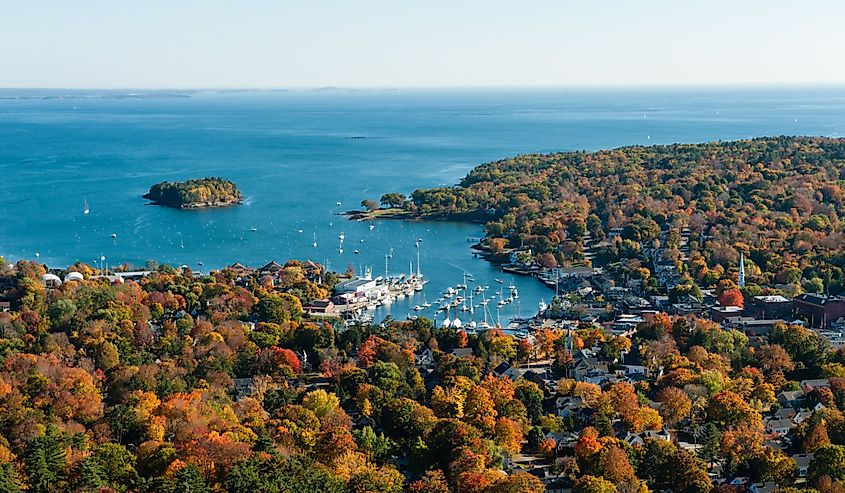 Located on Penobscot Bay, Camden is a picturesque destination for both visitors and residents alike. Throughout the year, Camden offers many cultural activities to enjoy. In March, restaurant week takes place where restaurants offer specially priced three-course meals to their guests. During the summer months, Historic Camden Walks offer an informative one-hour walking tour of Camden's historic sites. The Camden Amphitheater also holds Movies in the Park throughout summer, showcasing films from all around the world.
Additionally, each September, locals and visitors can take part in the highly anticipated Camden International Film Festival (CIFF) which brings together filmmakers, artists, and storytellers from around the globe.
Oak Bluffs, Massachusetts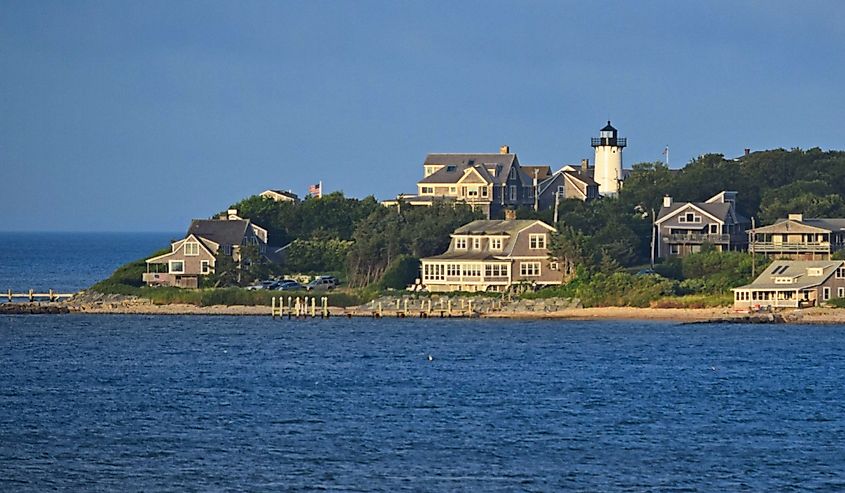 Located off the coast of Cape Cod, Martha's Vineyard island offers a plethora of recreational activities to keep you entertained throughout your stay. Oak Bluffs is a small town on the island that offers plenty of family fun. From biking and beaches to horseback riding and sailing, there are so many options. If you are looking to get out on the water, consider signing up for a charter with Party Boat Skipper or the nearby Island Time Charters. Or if you would like an equestrian experience, head over to Misty Meadows Equine Learning Center or Arrowhead Farm for some horseback riding lessons and trails!
Golf enthusiasts can also take advantage of several pristine courses while health buffs can hit the gym at any one of the many health clubs and spas. Hiking trails are available for those wanting to explore the island's natural beauty and the younger ones in the family will enjoy the Flying Horses Carousel.
New Shoreham, Rhode Island
Located 12 miles off the coast of Rhode Island, Block Island is famed for its plethora of beaches, many art galleries, and eclectic shopping experience. If you are looking for a home base, the town of New Shoreham is the perfect spot for exploring all the island has to offer. From bike riding and hiking to kayaking, horseback riding, snorkeling, birdwatching, fishing, parasailing, and sailing, there is plenty to do.
The island also boasts some remarkable views with bright blue skies dotted with colorful kites in the summer months, making it a great destination for both locals and tourists alike. With year-round events, festivals, and attractions taking place, it is easy to see why it is one of the most popular towns in the Northeast US.
Niagara Falls, New York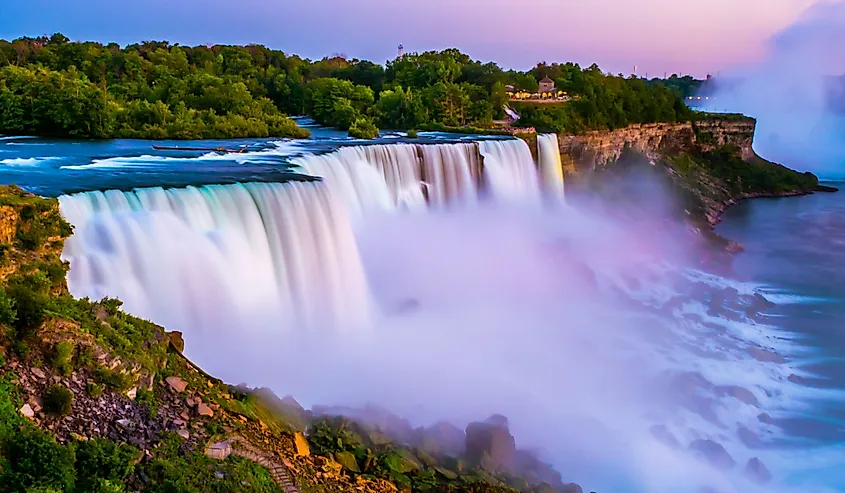 Situated along the Niagara River and across from Niagara Falls, Ontario, it offers spectacular views of the world-famous falls as well as an abundance of activities to explore. The town is home to breathtaking natural beauty with an array of outdoor activities, such as fishing in Whirlpool State Park, kayaking, and bird watching. For those who wish to take it easy, there are plenty of scenic spots for taking pictures or simply admiring the scenery.
The downtown area has a range of shopping and dining options, from local eateries that serve up delicious cuisine to upscale boutiques selling handmade gifts and more. Enjoy a stroll down Old Falls Street, which serves as an entertainment district with plenty of music, art, and street performers.
Stowe, Vermont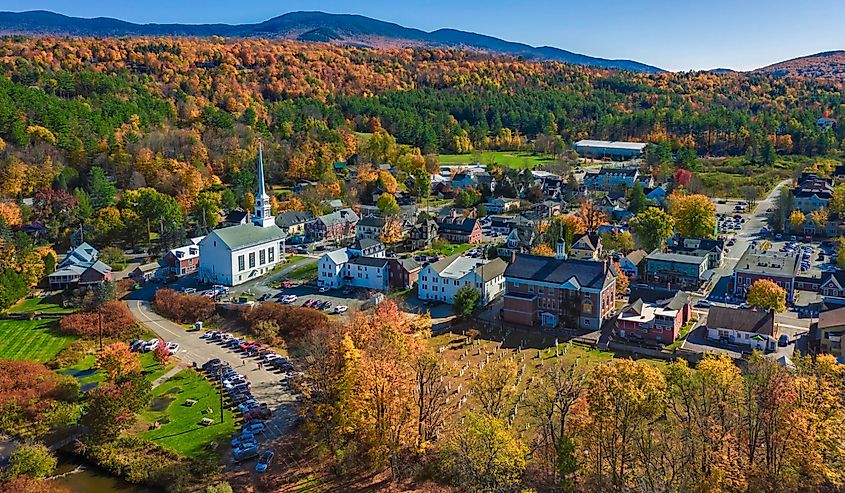 Situated at the base of Mount Mansfield, the town of Stowe offers breathtaking mountain views and access to a range of outdoor activities. The charming downtown area is full of galleries, cafes, and boutique stores that make it an ideal destination for a romantic getaway or family vacation.
In addition to its scenic beauty, Stowe also has many cultural attractions, such as the Helen Day Art Center and the Stowe Jazz Festival. Its diverse landscape allows visitors to experience many terrains, from alpine forests to rolling hills and several lakes for fishing and swimming. No matter what time of year you visit Stowe, there is something new to explore and enjoy!
When it comes to exploring the Northeast part of the United States, the list of beautiful small towns you can visit is seemingly endless. From charming brick-lined streets to colonial houses nestled in rolling hills, these towns are truly gems and well worth the visit. Whether you are in search of a peaceful escape or looking for a place to soak up some fascinating history, be sure to check out at least one of these destinations! So start planning your trip today and discover 15 hidden gems among America's breathtaking scenery and captivating culture.