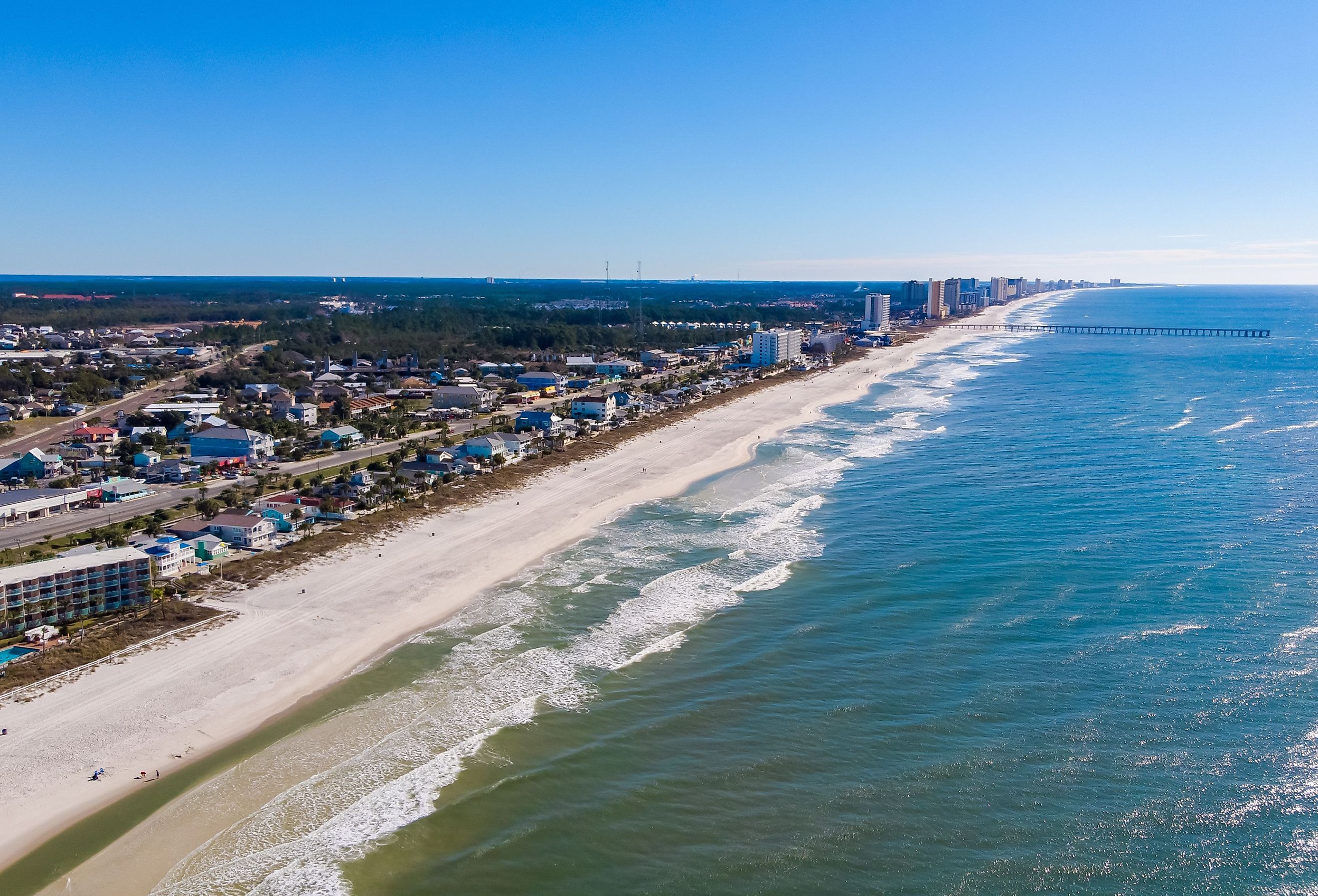 Alabama's Most Charming Beach Towns
Alabama, the "Heart of Dixie," is rich with history and culture, with famous southern hospitality and NASA's first moon rockets. The naturally beautiful state is great for summer vacationers with all tastes in pursuit, from gorgeous white-sand beaches to wildlife reserves and forest-laden mountains. The state's capital is Montgomery, and the biggest city is Birmingham, with a thriving culture and a fantastic food scene.
The southern tourist hub of Mobile, the original capital of the Louisiana territory and the first host of Mardi Gras in the US is also the famous jumping-off point for the shores. Experience all the same culture and hospitality with a tamer vibe in one of the smaller coastal towns, with even fresher seafood catches right from the waters. Find a sprinkling of popular and lesser-known beach gems for your ultimate vacation to call "Sweet Home Alabama" for the summer.
Daphne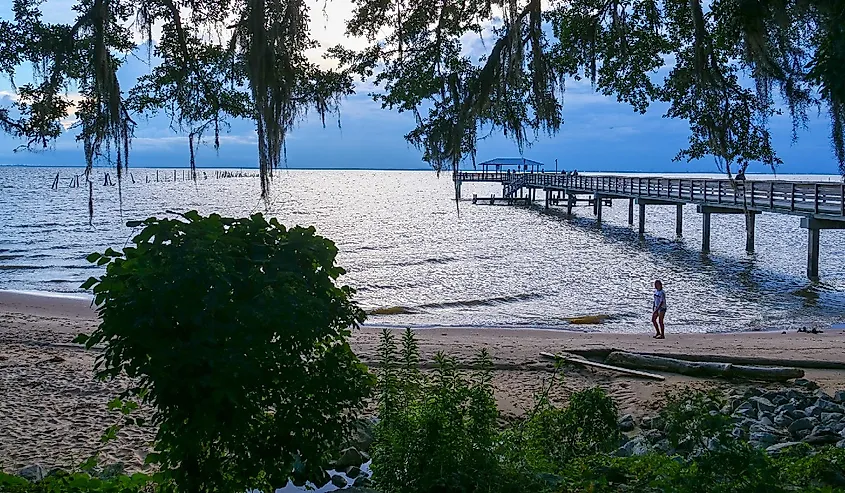 "The Jubilee City," Daphne, is a scenic community along the east shore of Mobile Bay, with a lot of activity in between the fishing camps that line the bay and the historic buildings downtown. Find culture-filled streets with great outdoor trails through parks, beach outlets, events, and restaurants to discover Cajun cooking. Head to the Gator Alley Boardwalk to see alligators in a designed natural habitat, rescued and transported from unnatural areas. The institution has an elevated platform that offers views of the alligators and even lets visitors feed and hold baby gators. One of the most beautiful towns in Alabama is close to the Village Point Park Preserve, a newer park with local, national, and global history and unlimited public access to Mobile Bay.
Learn about the area's earliest inhabitants and European colonial history, and head to one of the last public beaches along the bay. The May Day Park from 1887 served as a venue for local festivals. Now, its large oak trees along the slightly sloping bluff to Mobile Bay make it ideal for strolls, picnics, and beach access to relax and enjoy water pursuits. There is also a pier, a playground, restrooms, a bandstand, free boat launches, and a handicap-accessible boardwalk, along with free parking along the waterfront. Just 10 minutes away, the idyllic Sunset Pointe offers out-of-this-world delicacies in a warm and welcoming setting at the waterfront of Fly Creek Marina, with well-balanced seafood meals and raw oysters for a treat straight from the waters.
Dauphin Island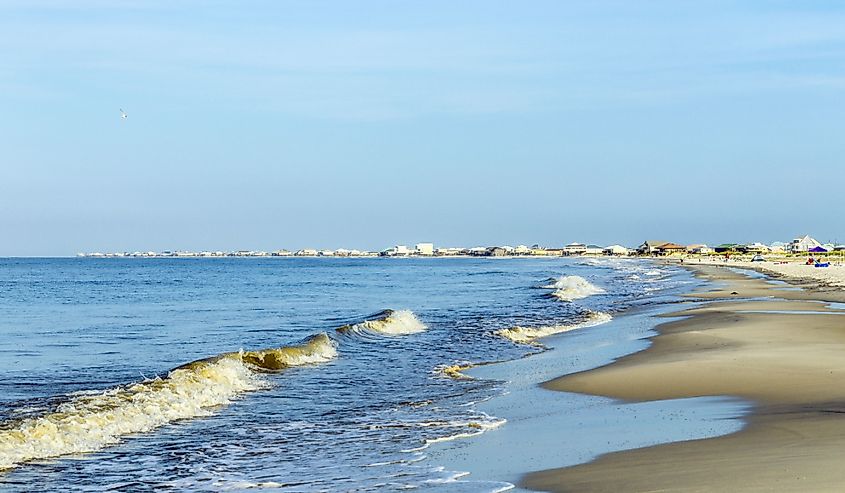 Dauphin Island, in Mobile County, is an adventurer's junkyard. The town with the telling moniker "Sunset Capital of Alabama" is a popular vacation destination at the state's southernmost point. Tourists flock from beyond the state to this beautiful town with something for everyone. Rent a bike or a canoe for wet and dry pursuits, or take a stroll along a number of hiking trails for various levels.
Dauphin Island's unique public beach is a real respite from the lively Gulf Shores and Orange Beach. You can enjoy refreshing scenery, a slower pace, and a serene environment under the same sunshine. The 14-mile island in the calm waves of the ocean, is also home to Fort Gaines from the 19th century, with original cannons. Visit this peaceful island from Gulf Shores or Orange Beach via Fort Morgan on the Mobile Bay Ferry. You can also drive south from Mobile and across the island bridge to Dauphin Island.
Fairhope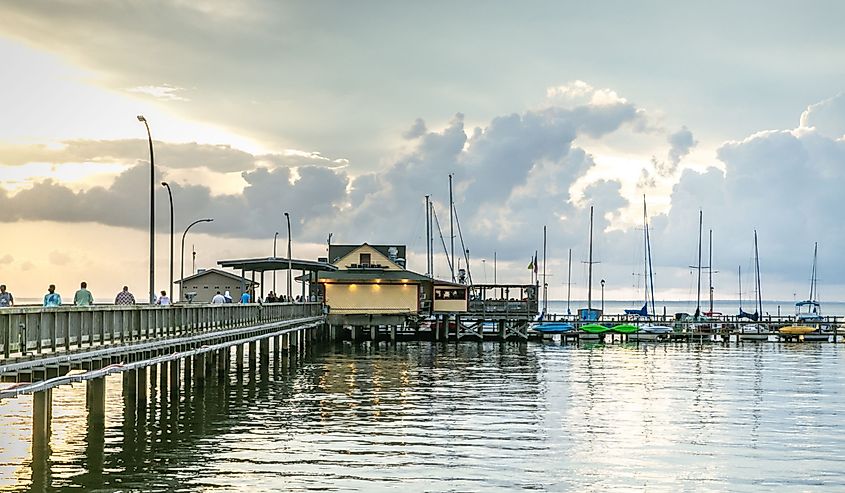 The town just 18 miles away from the Mobile-Tensaw River Delta is a portal to one of the country's most beautiful and diverse ecosystems. Fairhope is a dream summer vacation destination for the active to take daily strolls, hikes, bike rides, or even ride horseback down the beautiful Bartram Canoe Trail. Canoe through the Delta, amid the marvelous cypress swamps, marshes, and bays, with wildlife sightings like bald eagles, kingfishers, turtles, and alligators. Stop by Provision for a cold brew and head down to lounge by the waters, or browse through the town's market for trinkets, home decor, and souvenirs.
Few places along the Gulf Coast can compete scenically with Fairhope. The town on the bluffs overlooks Mobile Bay, with historic homes and oaks lining the streets of a walkable downtown and a charming main street with shops and cafes. Stay at the Grand Hotel Golf Resort & Spa from 1847 which served as a Confederate hospital during the Civil War, with great views from the brick path and a long fishing pier shooting out into the bay for unsurpassed sunsets. Find numerous picnic areas in the surrounding parks, along with beach access, shops, and gardens. Fairhope Beach is a great area for family fun and swimming, with exceptionally calm waters and gentle waves to float under the midday sun.
Foley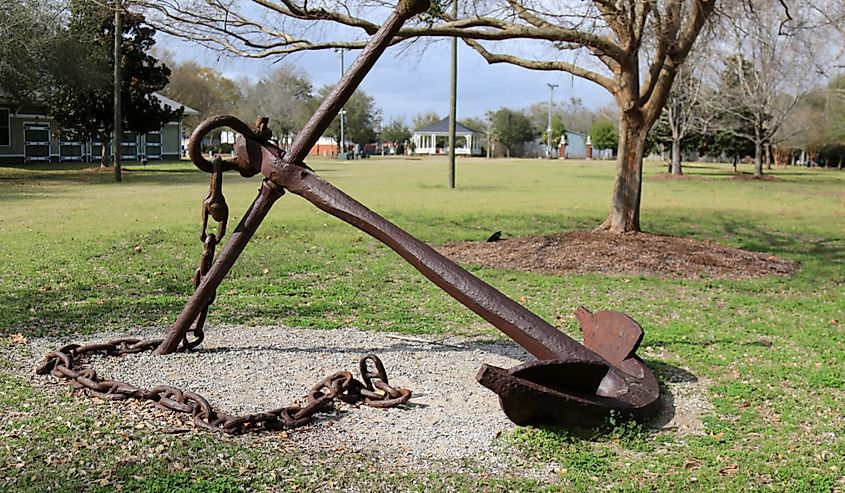 Just five miles down the road from Magnolia Springs, the larger town of Foley boasts that classic Alabama charm and local businesses you crave on the way to the coast. Check out the three mini antique malls with a variety of vendors for local memorabilia, artifacts, and unique home decor. Stop by the Foley Fish Company store for lunch on the main drag with fresh seafood and reasonably priced specialties like Cajun crawfish, shrimp gumbo, and authentic etouffee.
Culture fans will love the Jan's Art Studio with paintings and sculptures by local artists, the Foley Archives & History Museum with agricultural history and artifacts, and the popular Foley Alabama Railroad Museum with an "O" gauge model railroad exhibit. The beautiful Foley that reminisces of the past is a short drive to Orange Beach, Gulf State Park, and the tip of Gulf Shores. Stay at Foley's Hotel Magnolia, a lovely restored property, historic landmark, and elegant inn all in one that serves traditional country breakfast.
Fort Morgan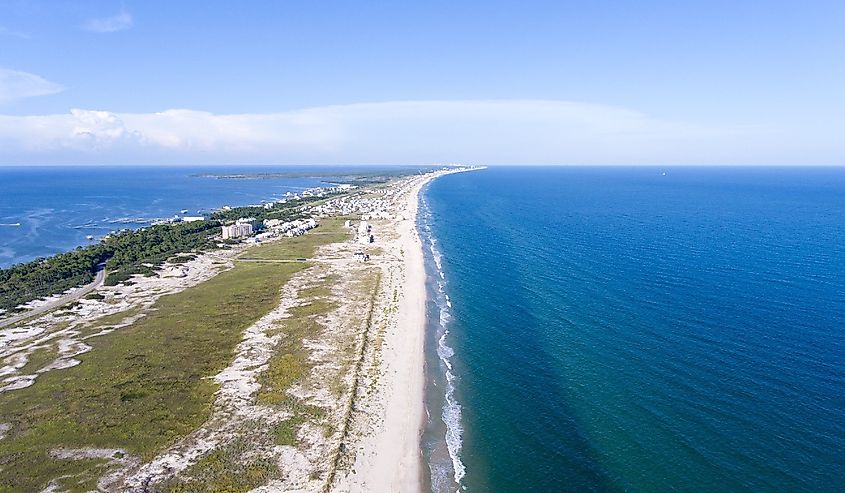 Fort Morgan is an atypical town that is ideal for a summer vacation, with a beach and the vast Bon Secour National Wildlife Refuge at the headland. It is a perfect getaway with your family to less crowded, perfect beaches on the Peninsula, with plenty of activity, natural beauty, and convenient access to everything you need. The Mobile Bay breathes through the scenic streets on a stroll under year-round perfect weather to enjoy outdoor activities. Visit the gorgeous sand dunes, coastal marshes, and beaches, with protected wildlife, fishing, and incredible birdlife. Fort Morgan's rich history is also full of adventure to discover around military forts from the Civil War.
The hidden gem of Fort Morgan, just west of Gulf Shores, is home to sugar-white sand beaches, emerald waters, and a relaxed vibe with views of the historic fort. Stroll through the serene natural parks with rare plant species found only here and head to the beach. The pristine stretch of sand along the long, finger-shaped peninsula is the serene environment you crave on a vacation. The public beach at Fort Morgan has two access points, and you can choose a vacation rental right along the shore. Fort Morgan is renowned for thrill fishing, with the most popular deep-sea fishing at Fort Morgan Beach, where the waters teem with fish. Reel them in from a local pier or join a sea fishing excursion and cook what you catch for dinner.
Gulf Shores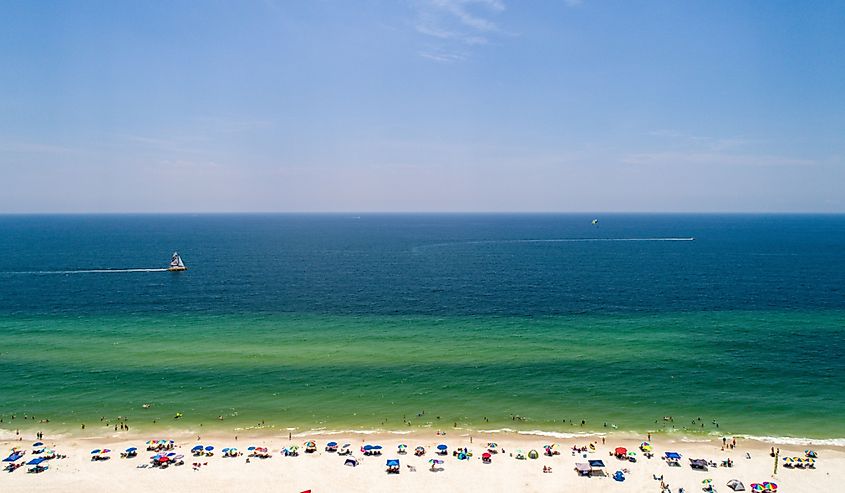 Gulf Shores, as seen on TV, remains a secret for many, with wonderful surprises to uncover right along Alabama's shores. The town is your ultimate family beach destination, along with the interactive Alabama Gulf Coast Zoo made famous by Animal Planet's "The Little Zoo That Could." Check out exotic animals and endangered species during a fun and affordable outing that will highlight your vacation, like when a lemur sits on top of your head.
Spend days along the turquoise Gulf of Mexico with warm waters and dig your toes deep in some of the world's softest sands. Choose from a luxurious beachfront condo or a colorful vacation rental along the beach for ultimate water access and views from morning to night. Try some deep-sea or pier fishing, parasailing, or join a dolphin cruise. You can also spend a day hiking or biking the backcountry trail or kayaking the back bays. Gulf Shores is a fun-filled town with attractions and renowned events, as well as endless dining options right on the Gulf, that make for the brightest summertime memories.
Magnolia Springs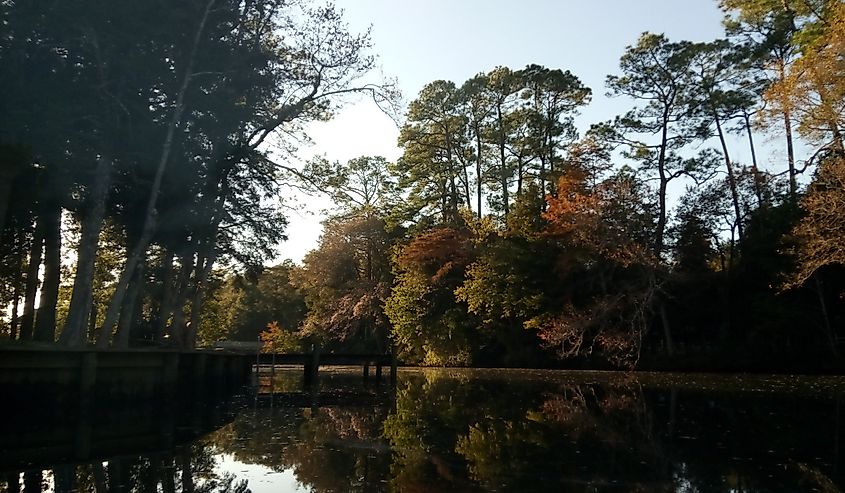 Magnolia Springs is an inspiring town with classic Victorian manor houses and cottages, manicured lawns, and magnolia trees. It was home to Winston Groom, author of Forrest Gump, and is the setting for Fannie Flagg's "A Redbird Christmas." Check out the unique tunnel of magnificent trees and the only year-round mail delivery service by water in the US. Magnolia Springs is a haven for nature fans on summer vacation looking for a real breath of fresh air along the scenic streets under a tranquil vibe and small businesses galore. Head to the lifeblood of the area, the vast river flowing right through town, for a scenic pontoon ride, and stop by the bridge that reminds you of Mark Twain's famous novel with wooden rafts and the honeysuckle scent tickling your nostrils.
The gently flowing Magnolia River is a peaceful oasis that lives up to its scenic name, with magnolias in full bloom during spring. The vast river with easy access from many parks is great for swimming, kayaking, or canoeing from the floating dock at Bartram's Landing along the Bartram Canoe Trail. Enjoy all things quaint and lovely, like afternoon teas, homemade evening desserts, and traditional turndown service with chocolates, at the restored Magnolia Springs Bed and Breakfast with its original, wooden, and Victorian architectural features, historic artwork, and antiques. Take a boat ride along the bayous and head to Jesses for a lively dinner.
Orange Beach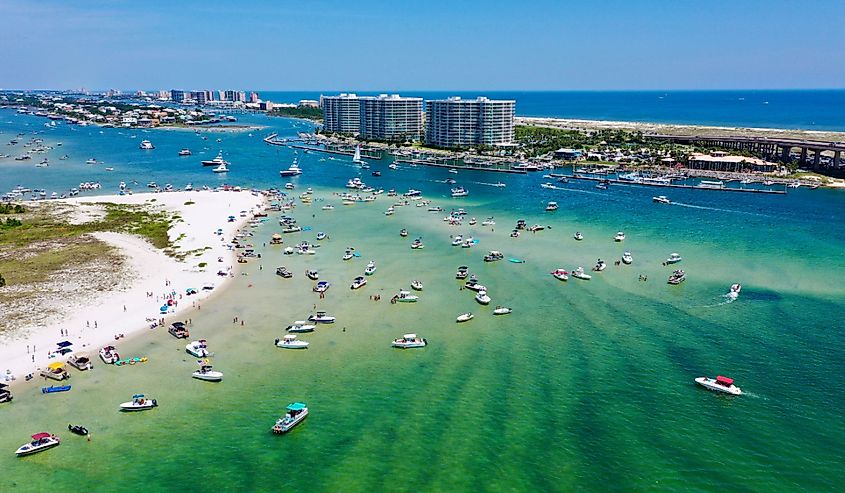 The real "Sweet Beach Home Alabama" town of Orange Beach is your dream summer vacation getaway, with eight miles of white, sugary shoreline and easy access from Interstate 10. The sugar-white sand and turquoise waves will hold you captive as you relax and bask under the sun from day to night. Stay put and join one of the largest charter fishing fleets in the Gulf on a full or half-day fishing excursion, or head inland to explore scenic hiking and biking trails.
Other experiences for relaxation, adrenaline junkies, and family adventures include kayaking, sailing, and scuba diving at the first, purposely sunk shipwreck in Alabama. The town meets demand with an appropriate number of tourist amenities, including primary beach access. Enjoy recreational activities for all tastes, from unique flyboarding or surf fishing to recreational fishing in the waters teeming with marlin, tuna, and red snapper. Enjoy family outings to the adjacent Adventure Island Amusement Park and Arcade for sun-filled memories that will last a lifetime.
Alabama's biggest draw is its scenic range of natural wonders, like the string of mesmerizing beaches along the Gulf of Mexico. Start your vacation early in May on the beaches of Gulf Shores, where Alabama celebrates its musical legacy with the annual Hangout Music Festival featuring popular artists in the past like The Red Hot Chili Peppers, Billie Eilish, and Lana Del Ray. Re-visit in autumn when the wooded foothills of the Appalachians and 21 state parks harboring caves, swamps, and cascades come alive with every color of the scenic season. The state's highest point, Mount Cheaha, with the Bunker Tower, granite boulders, and weathered trees at the summit, overlooks the Talladega National Forest and beyond, to where Alabama spreads like a giant quilt.