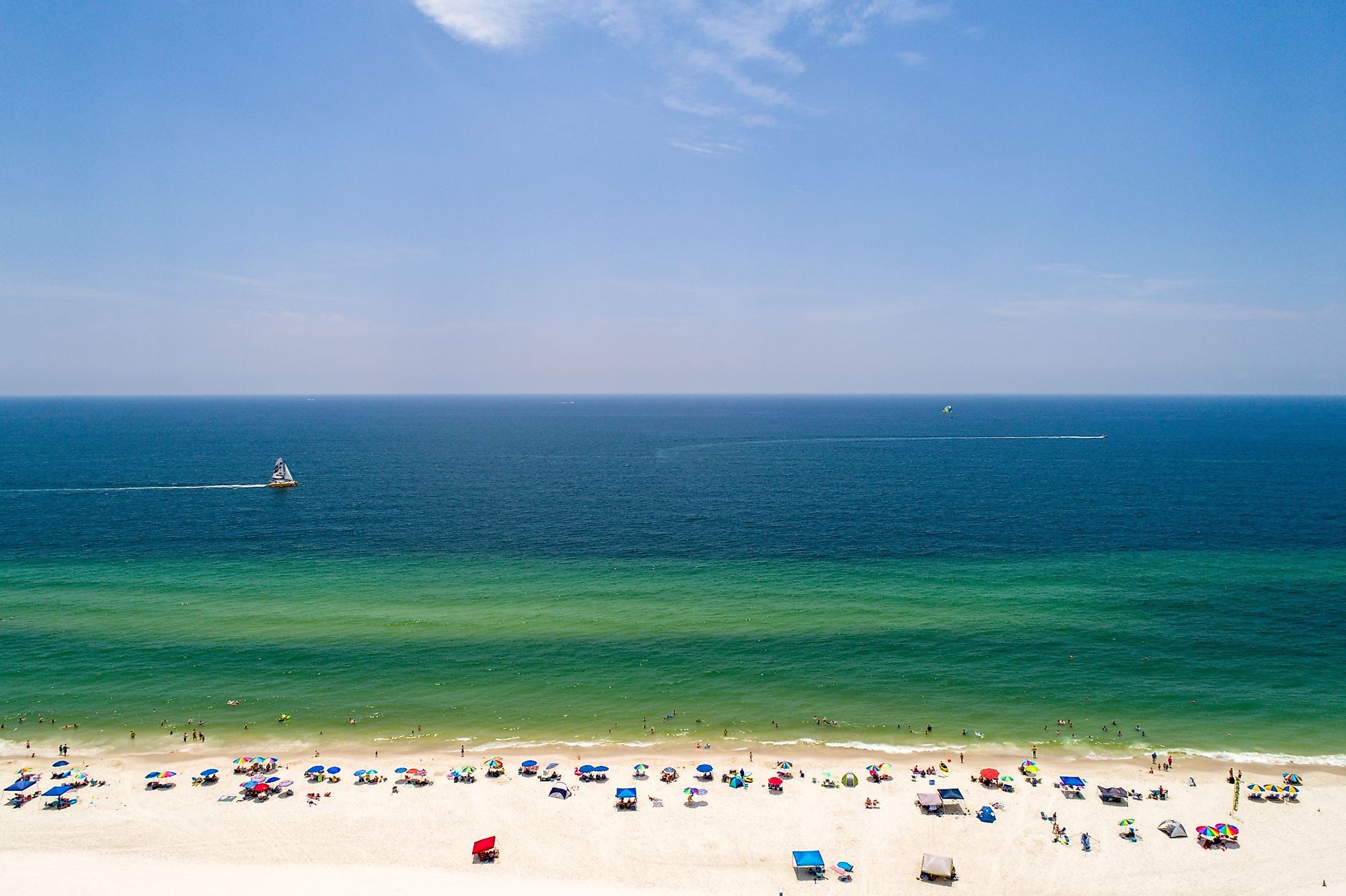 8 Best Small Towns in Alabama For A Weekend Escape
Alabama is a state with a lot of charm. From scenic natural beauty to abundant wildlife, flowing rivers, and stunning coastlines, Alabama is a wonderful place to enjoy a weekend getaway or quiet escape. Whether visitors are looking to take in the rich histories dating back to the American Civil War and beyond, view impressive historical buildings, or enjoy amazing southern cuisine, there is so much to see and do in this great state. Book an adventurous trip full of recreational activities, or relax on a white sand beach. Alabama has somewhere for everyone to unwind on a weekend getaway in these lovely small towns.
Guntersville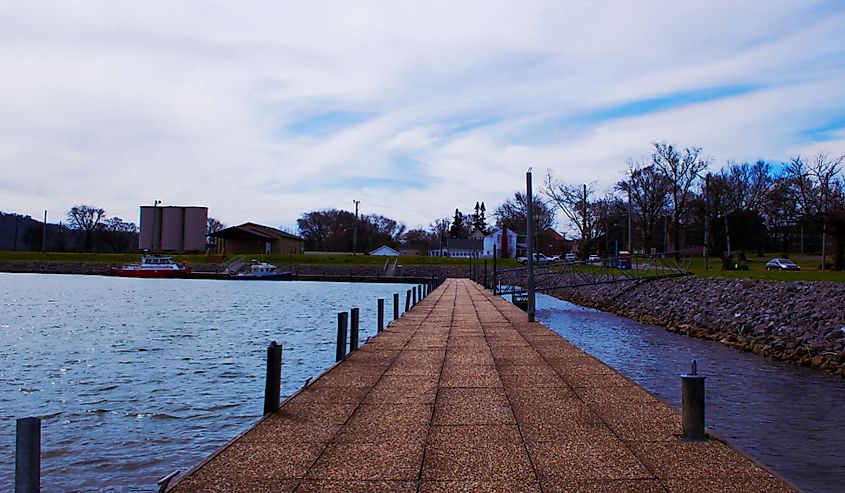 Guntersville is a town of 8,600 people and sits along the Tennessee River in northern Alabama. Guntersville is full of small-town charm and boasts examples of classic southern Americana everywhere you look. The town takes its name from John Gunter, who was the great-grandson of well-known cowboy Will Rogers. Visitors should not miss the Guntersville Museum and Cultural Center. Exhibits showcase the history and story of the area, as well as feature steamboats and race boats as part of the history of the town's nearby river system. 
Those staying for a weekend should also visit the Lake Guntersville State Park which has an area of around 6,000 acres. This lush area is a popular destination for nature and outdoor lovers and is especially well known for its population of bald eagles that frequent the area during the winter migration period. Public events and educational programs are common, especially throughout the winter months. Visit in January or February for the best chance to catch these majestic birds. For accommodation, enjoy the lodge or camping grounds right in the state park, try the Lake Guntersville Bed and Breakfast, or book a room in one of the nearby hotels.
Fairhope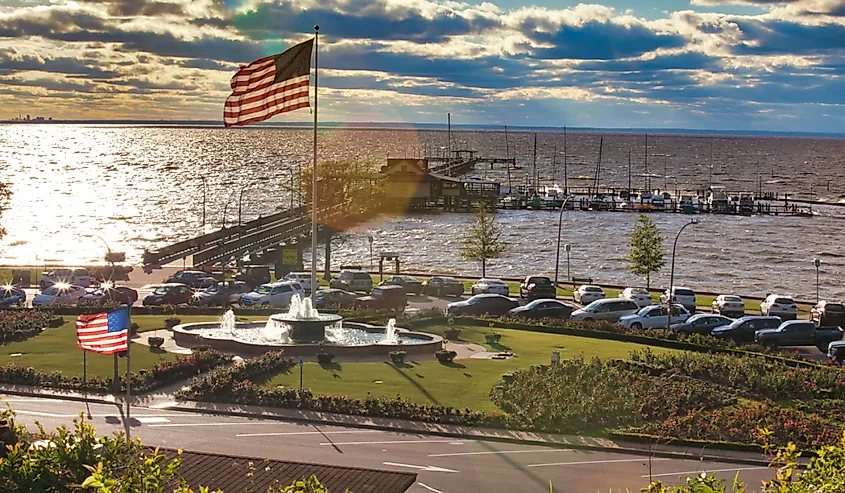 Fairhope is a beautiful city located along the eastern shoreline of Mobile Bay. The town has a history as a resort community and continues to be a popular place for weekend getaways or peaceful vacations. Hotels, campgrounds, and bay cottages offer a variety of accommodation options. The warm climate, scenic views, and peaceful atmosphere make it a great place for a weekend escape. Over the years, the area has held onto its quaint and charming atmosphere. Artists, craftsmen, and retired individuals make up the majority of the residents, while visitors are also common. This population demographic means that there is an abundance of craft shows, festivals, and art exhibits in the region, as well as boutiques, eateries, and cafes. Attractions in the area include the Fairhope Museum of History, the Eastern Shore Arts Center, and various parks and outdoor recreational options. Fishing, boating, and hiking along the Gulf Shore are all major draws to the town.
Magnolia Springs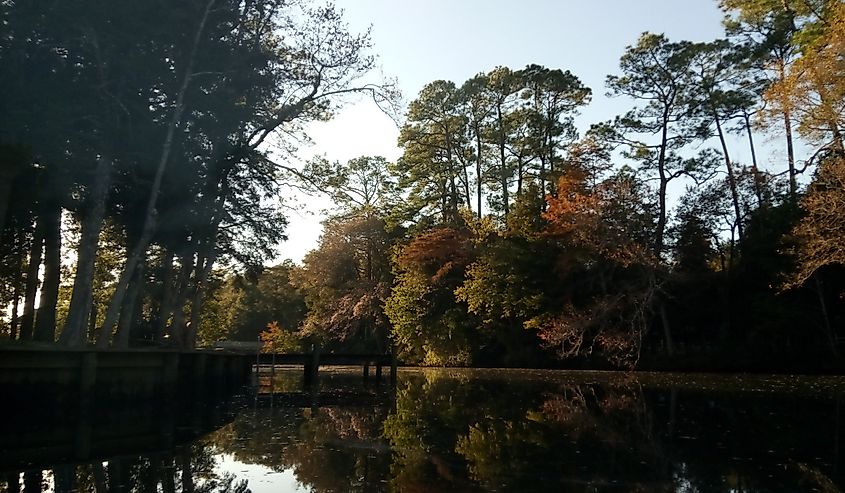 Magnolia Springs is a gorgeous small town just off Mobile Bay. This quaint gulf shore town sits along the Magnolia River and has beautiful coastal vibes and sea views. With a population of around 900, it is a great place to escape for a quiet weekend away. This "prettiest town in Alabama," according to Daily Meal, boasts historical buildings, beautiful scenery, and stunning old-growth trees. Stay at the stunning Victorian Magnolia Springs Bed and Breakfast, and take in the local attractions, eateries, and shops that line the charming downtown area.
Orange Beach & Gulf Shores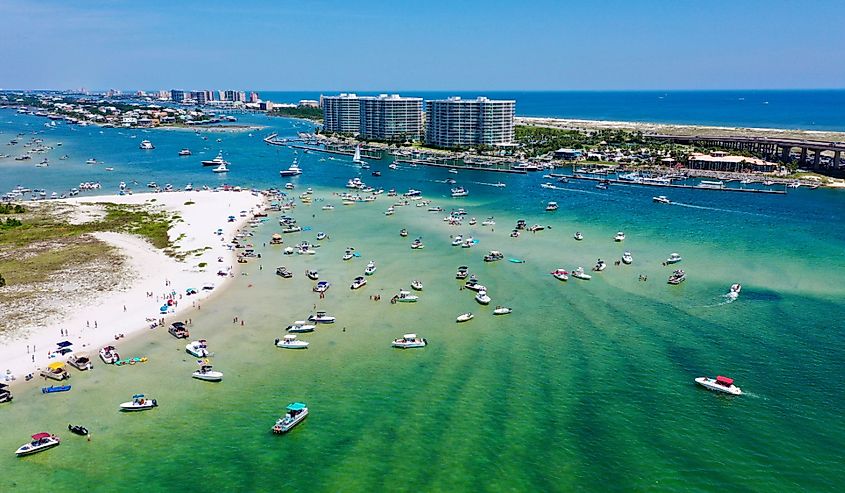 Orange Beach and Gulf Shores are two small cities on Alabama's Gulf Coast that are only about 7 miles apart. Both are popular vacation destinations for those looking for water sports. The large Waterfront Park features a large fishing pier and recreational activities along the shoreline. Kayak or paddleboard around Wolf Bay, go sailing or boating, or even rent equipment for snorkeling and diving. There is so much to see and do in the beautiful warm waters along the coast. For shopping and entertainment, The Wharf in Orange Beach is the place to be, and it even features an open-air amphitheater, various shops, and lively nightlife. Those that love the outdoors can enjoy the Gulf State Park, Gulf Shores' main public beach, and the Backcountry Trail. Visitors coming for a weekend getaway can stay at any number of resorts, beach houses, campgrounds, hotels, or bed and breakfasts. The area is full of places to stay to fit all budgets.
Tuscumbia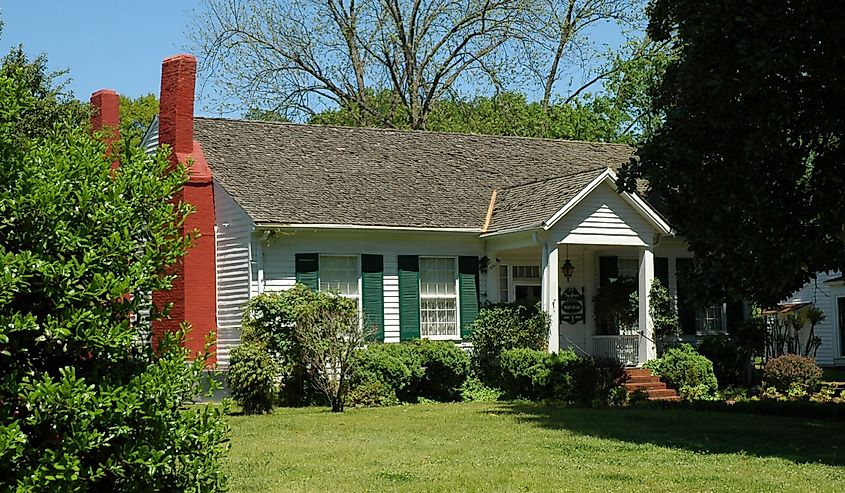 Tuscumbia is a small town in northern Alabama. The area is full of southern charm and makes a perfect quiet escape for anyone looking for a weekend getaway in Alabama. This beautiful area is rich with wildlife and natural areas such as Spring Park, in the center of town. This green space is a perfect place to relax and features beautiful gardens and picnic areas. The park's lake and gorgeous 80-foot-wide waterfall make it a gorgeous place to relax and take in the scenery. Attractions in the area include the Alabama Music Hall of Fame, which is full of history and exhibits celebrating the music of Alabama. The Singing River Sculpture is also worth checking out, which commemorates the Trail of Tears, and the Belle Mont Mansion, which dates back to roughly 1828. Tuscumbia is also well known for being the birthplace of Helen Keller, the impressive activist who inspired many during her lifetime and after. Visitors can tour the home she grew up in, learn her history, and view preserved artifacts from her life.
Bayou La Batre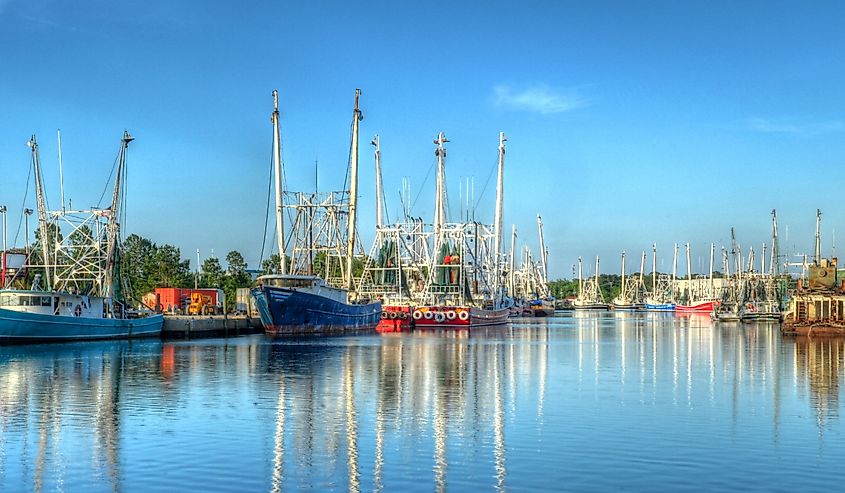 The town of Bayou La Batre has a population of roughly 2,200 people, and sits along the Gulf Coast, on Mississippi Sound. This small town is full of soul, charm, and southern history. It has French roots, hence its name, and was a resort town even as far back as the 1800s.
Bayou La Batre is the hometown of the fictional character Bubba from Forrest Gump and the Seafood Capital of Alabama. The region has a strong fishing industry, and visitors can enjoy the spoils, or try their hand at catching their own meal. From oysters to shrimp, seafood boils and Creole flavors, one of the biggest draws to the area is definitely its food.
Eufaula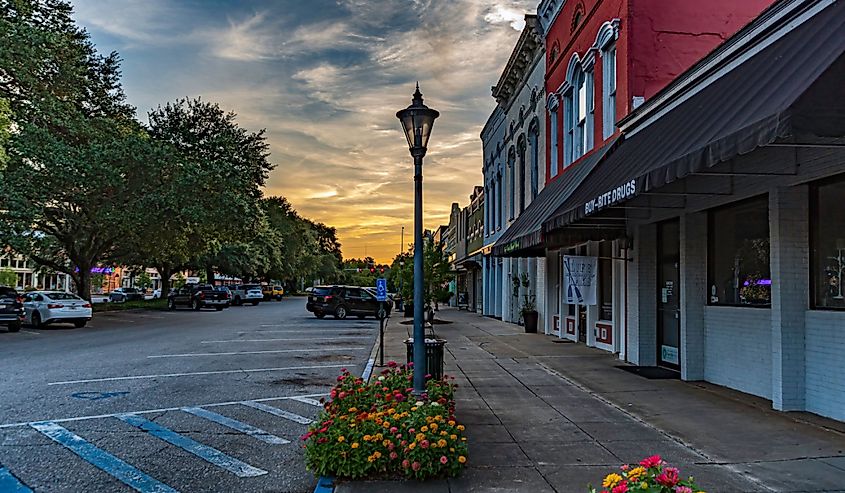 Eufaula is a gorgeous example of Alabama scenery and charm. This naturally beautiful town is right on the Chattahoochee River and is rich with greenery and wildlife among the wetlands and river banks. Visitors can enjoy paddling, kayaking, or boating in the area, taking in the natural beauty.
The town is also well known for its fishing. Named the "Bass Fishing Capital of the World," this small town has a number of fishing tournaments along its river and in the surrounding lakes, including the 41,000-acre reservoir, which is ripe with fish. Catfish, trout, and bass are all abundant here. Visitors can experience more of the natural wildlife at the Eufaula National Wildlife Refuge. The wetland is home to some 40 species of animals and 300 different bird species. 
Dauphin Island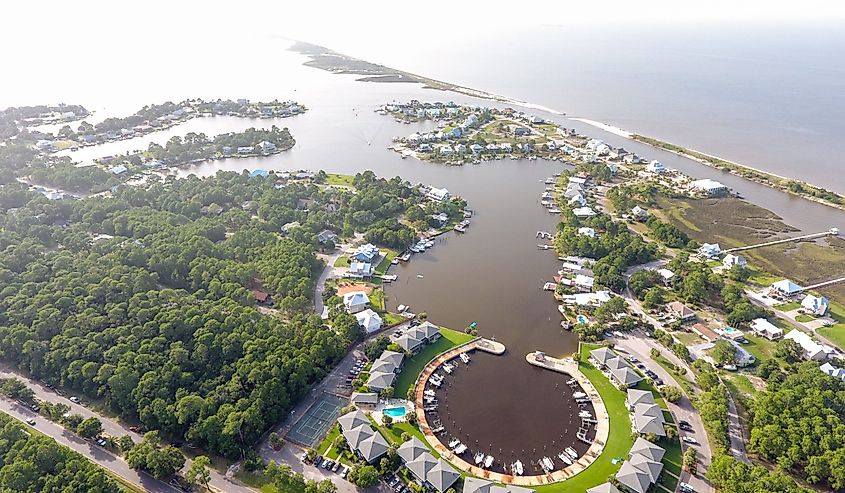 Those looking for a true escape will love the oasis that is Dauphin Island. With a population of around 1,800, this Gulf Coast town and island sits right at the entrance to Mobile Bay and has beautiful white sand beaches and a nearly tropical feel. The biggest draw to the area is the scenic gulf views and beaches themselves, and visitors enjoy boating, fishing, swimming, and relaxing in the sun. Migrating birds also flock to the area, and take refuge in the Audubon Bird Sanctuary. Marine life is abundant here too, and visitors can see examples of local species up close and personal at the Alabama Aquarium at the Dauphin Island Sea Lab. Aside from the natural beauty, the region also has several historical attractions. Travelers to the area can enjoy the Fort Gaines 19th century fort, complete with old battlements, a blacksmith shop, and cannons.
Small towns offer a great way to escape the hustle and bustle and enjoy an amazing vacation away from the big touristy cities. Those looking for something a little different will enjoy these quaint towns full of life and culture. Visitors wanting to truly experience the feel and authenticity of Alabama will love these small-town options that allow for true connections and peaceful moments to take in the beauty and soul of this amazing state.