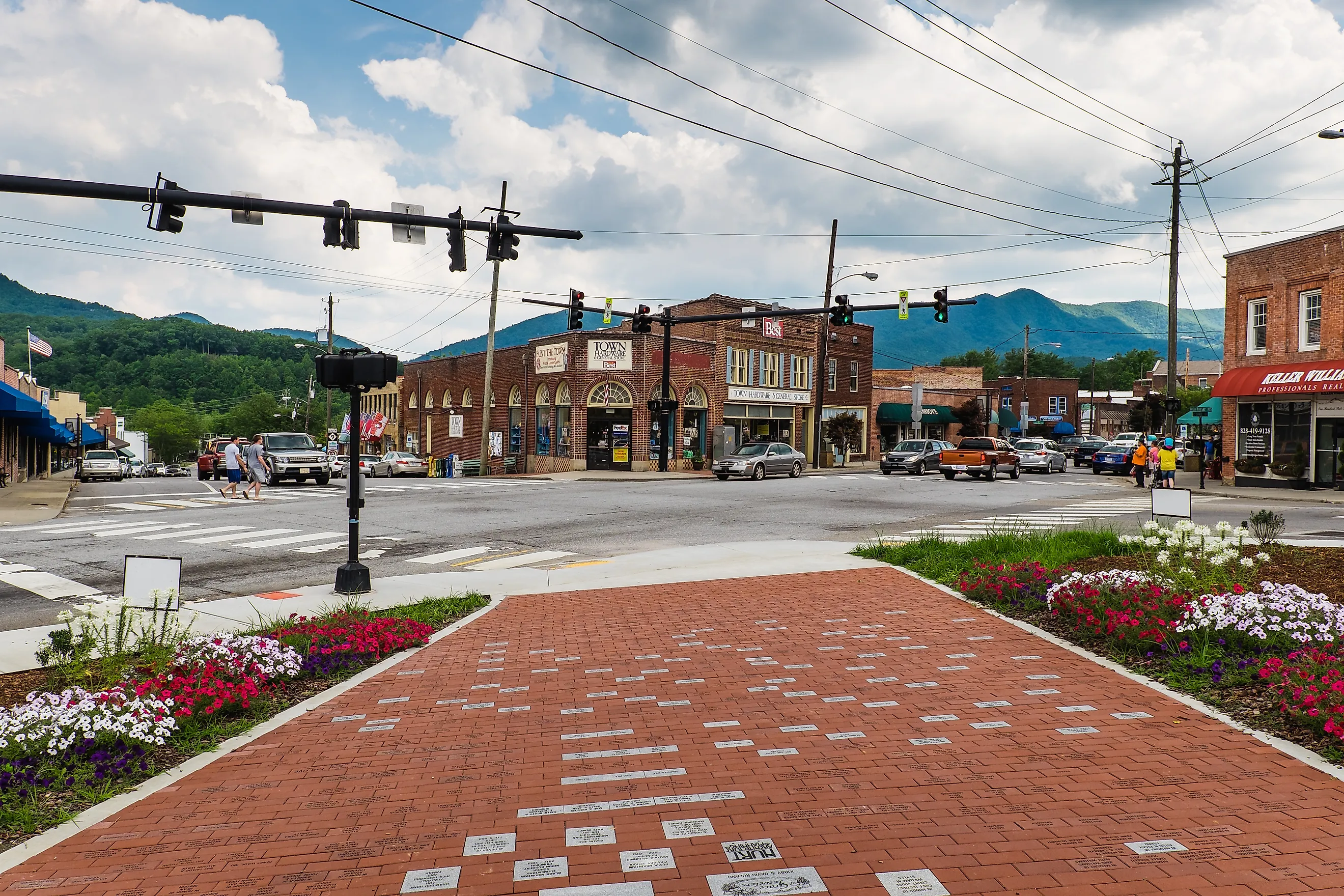 8 Towns In The Appalachians That Have The Best Main Streets
The Appalachian Mountains pass through 13 states in the eastern United States, stretching from New York to Mississippi. While not among the tallest peaks on earth, the Appalachians are some of the oldest and most picturesque mountains in the world. The middle part of the mountain region, often called Appalachia, stretches roughly from West Virginia to northwestern Georgia. While Appalachia has few cities and is primarily rural, it does contain numerous charming small towns. Many of these towns have lovely main street corridors, so we have come up with a list of eight small downtowns in Appalachia that are definitely worth a visit.
Abingdon, Virginia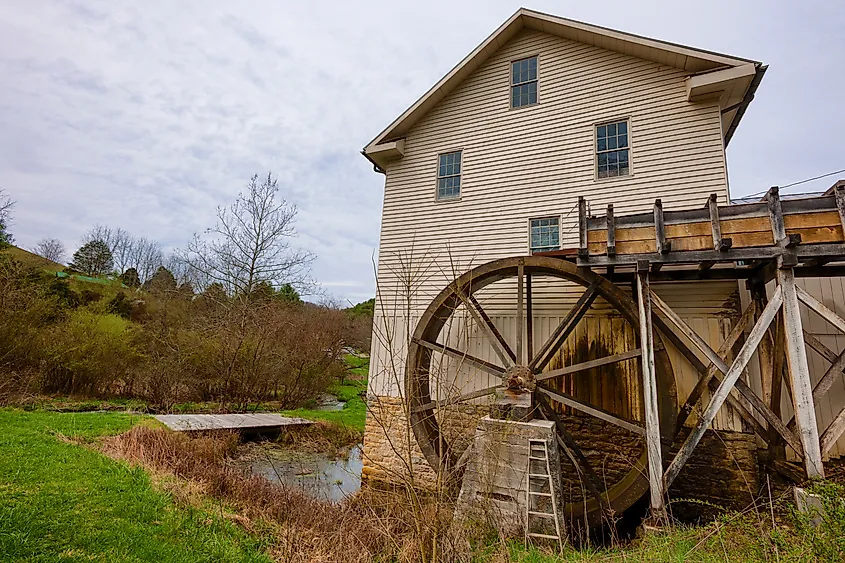 Located in the southwestern corner of Virginia, the town of Abingdon is surrounded by breathtaking natural scenery. The picturesque 34-mile long Virginia Creeper Trail, which passes through Abingdon, attracts hikers and bikers from far and wide. But the town itself is a draw as well, with a historic and lovely main street corridor. Historic landmarks in Abingdon include the Great Depression era (and still operating) Barter Theatre, which anchors a thriving arts scene that far exceeds what you would expect from a town of only about 8,000 residents. Downtown Abingdon also houses a lively food scene, with craft breweries, farm-to-table dining experiences, and a range of other culinary establishments.
Berea, Kentucky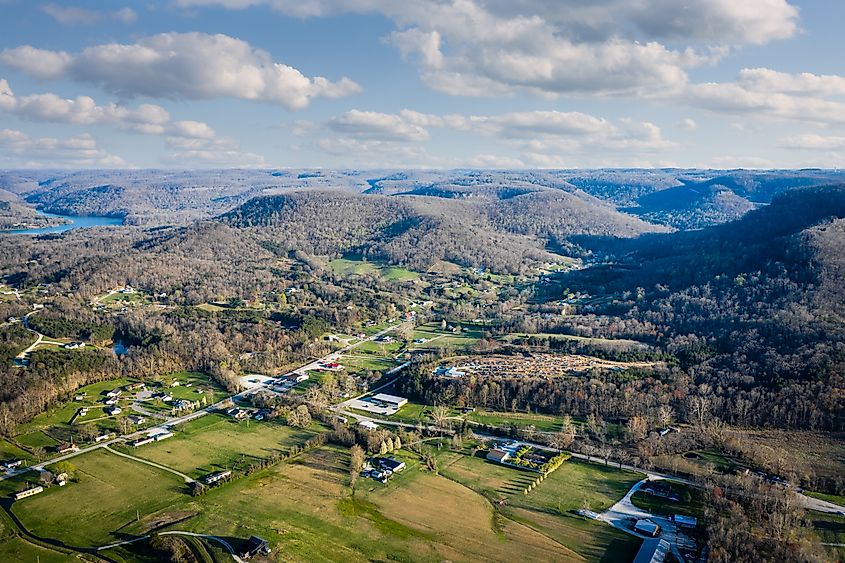 Situated in east central Kentucky and home to about 16,000 residents, the town of Berea is known for having one of the liveliest artistic communities in the state. This thriving local arts scene is supported by the presence of Berea College, a well-known liberal arts institution, and several local arts festivals—such as the annual Berea Craft Festival. Berea's main street corridor includes several galleries, studios, handmade craft shops, and performance spaces, as well as a generous selection of dining and shopping options. Visitors who are history buffs can check out the Boone Tavern, while outdoor enthusiasts can explore the Daniel Boone National Forest and numerous nearby parks and trails. 
Black Mountain, North Carolina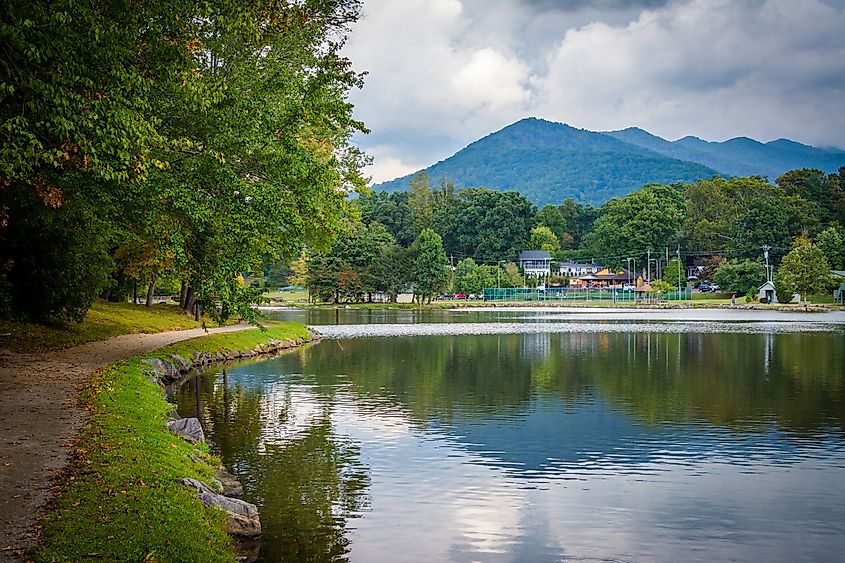 Black Mountain gets overshadowed by its bigger Buncombe County neighbor, Asheville, but this western North Carolina town is a great place to visit (or live) in its own right. Home to a little more than 8,000 residents, Black Mountain's main street corridor contains an eclectic mix of shops that cater to both tourists and locals. Black Mountain is also known for its eclectic arts and culture scene, including the Black Mountain Center for the Arts and the annual Lake Eden Arts Festival. The downtown area includes several historic districts, including the site of the former Black Mountain College, as well as numerous charming bed and breakfasts that serve the seasonal tourist population.
Blue Ridge, Georgia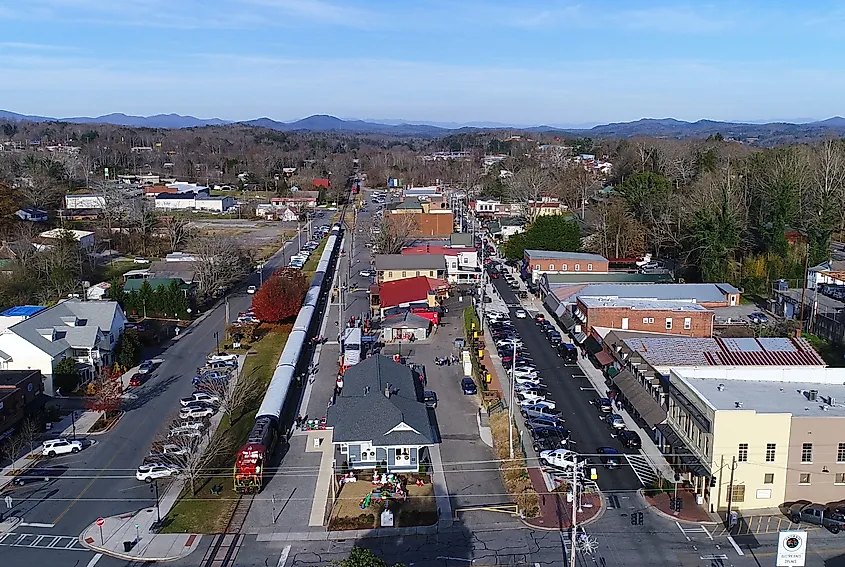 Situated only about 90 miles from Atlanta in northern Georgia, the little town of Blue Ridge (population 1,200) is a world away from big city life. Travelers come to Blue Ridge to explore the surrounding natural wonders via mountain hikes, river kayaking, or visits to the stunningly clear waters of Blue Ridge Lake. Blue Ridge's main street corridor is also a great spot for visitors who love trains, as the 26 mile long Blue Ridge Scenic Railway picks up passengers from the charming downtown depot. The downtown area, situated along the train tracks, contains numerous shops and boutiques, as well as restaurants with outdoor seating to soak in the stunning mountain vistas.
Dahlonega, Georgia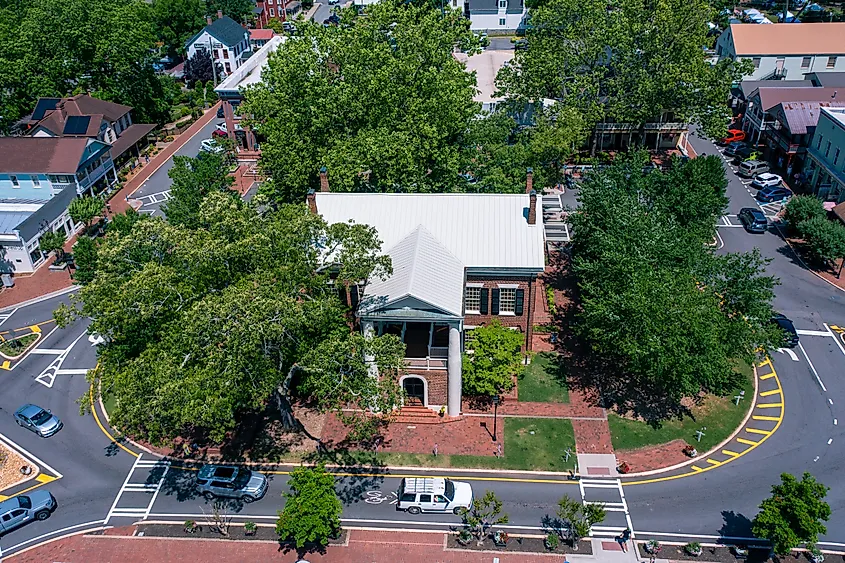 The northern Georgia town of Dahlonega was born of America's first gold rush, in 1829, which also helped spur the tragic, forcible removal of the native Cherokee people via the Trail of Tears. The highs and lows of this history are commemorated at a museum housed in the former Lumpkin County Courthouse (1836). The slopes surrounding Dahlonega are now home to grape vines, with the town of 7,500 at the center of the state's wine country. The lovely town square surrounding the museum offers a picturesque setting for a wide array of local businesses, including several wineries. The nearby Chattahoochee National Forest and Amicalola Falls State Park also draw tourists to Dahlonega.
Harpers Ferry, West Virginia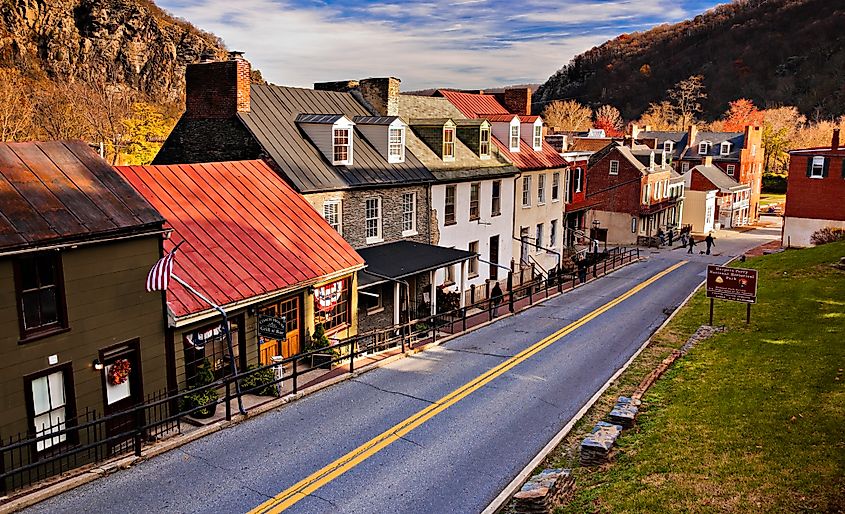 Situated at the meeting point of two rivers (the Potomac and Shenandoah) and three states (Virginia, Maryland, and West Virginia), Harpers Ferry was a key strategic point and home to John Brown's Raid (1859) in the run up to the American Civil War. Now a peaceful village of under 300 residents, Harpers Ferry is a thriving tourist destination. The Harpers Ferry National Historic Park is a restoration of the downtown area as it existed in the mid 1800s, giving visitors a real feel for the historical significance of the town. Downtown Harpers Ferry is also surrounded by spectacular vistas, beckoning visitors to the rivers, forests, and mountains to get in touch with nature. 
Lewisburg, West Virginia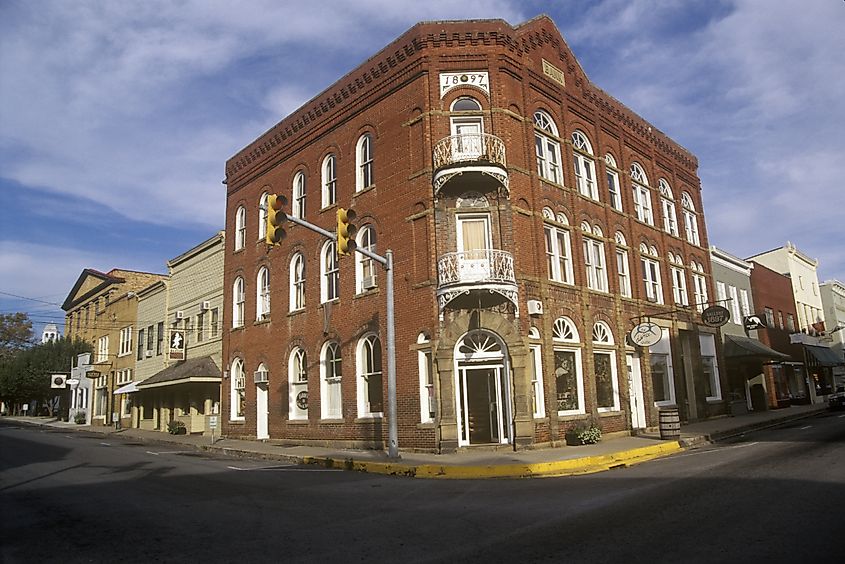 The seat of Greenbrier County in southern West Virginia, the town of Lewisburg is home to about 4,000 residents. Lewisburg played a role in the Indian wars of the 1760s and 1770s and the Civil War a century later, and several historic structures from the mid 1800s remain to help tell the town's story. While retaining these historic connections, today's Lewisburg is known more for its lively arts community, which gives a boost of vibrancy to the picturesque main street corridor. The heart of the arts community is the magnificent 1902 Carnegie Hall. Downtown Lewisburg regularly hosts festivals and fairs, while the nearby State Fairgrounds hosts many big-time musicians.
Mount Airy, North Carolina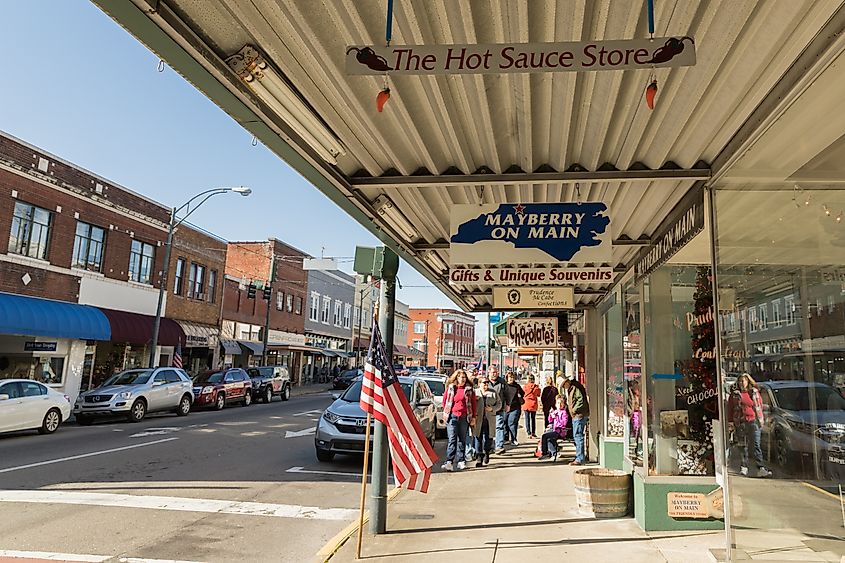 Tucked away in the Blue Ridge foothills near North Carolina's border with Virginia, Mount Airy is considered to be the real-life version of the fictional Mayberry depicted on the "Andy Griffith Show." The actor was born in Mount Airy and based much of Mayberry on his hometown, and now the town in turn plays up its connections with the show. But, unlike Mayberry, Mount Airy is a living, breathing town of about 10,500 residents, with plenty of appeal for those who have never seen the TV show. Considered one of the birthplaces of bluegrass music, Mount Airy keeps building on its musical heritage by maintaining a thriving local music scene.
Appalachia often gets a bad rap as a "backward" region stuck in isolation, poverty, and despair. It is true that the region has its troubles, but there is plenty of beauty, charm, and friendliness to be found in Appalachia as well. All along the Appalachian Mountains, small towns with wonderful main street corridors dot the rugged landscape, just waiting to welcome travelers and give them a taste of life in one of America's most misunderstood regions.