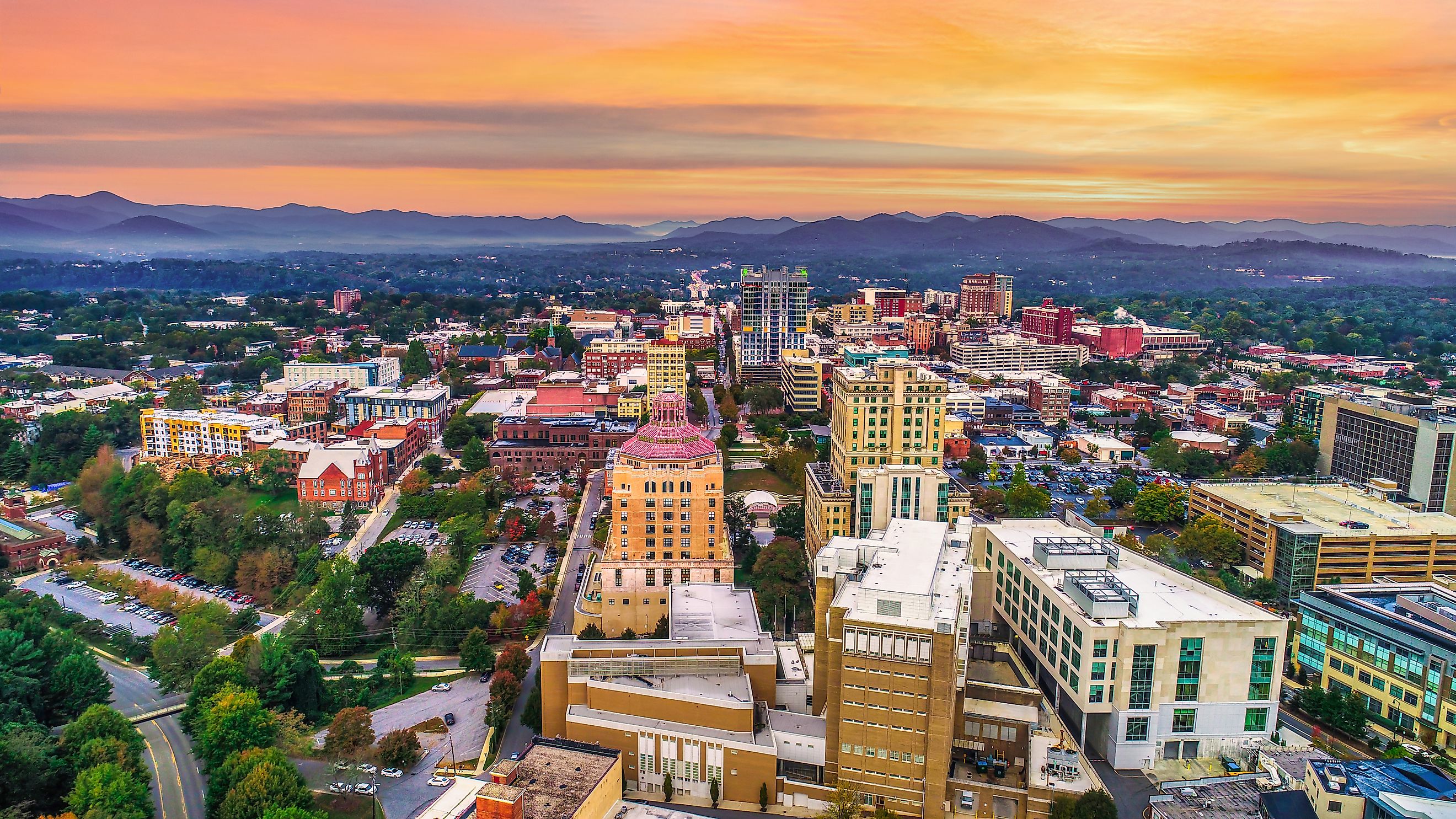 7 Most Beautiful Cities In North Carolina
The southeastern US state of North Carolina is well-known for its varied landscapes ranging from marshlands to mountains and lakes to beaches. The state is also home to many beautiful cities dotting its different landscapes. While cities in the Blue Ridge and Smoky Mountain regions of the state serve as gateways to hiking, biking, wildlife viewing, and other outdoor opportunities, those along its coast allow visitors to soak in the sun, swim, enjoy water sports, and other beach activities. There are cities in North Carolina to serve every kind of visitor, be it the adventure-seeker or one looking to spend a cozy time with loved ones. Here are some of the best North Carolina cities to visit on your next trip to the Tar Heel State.
Asheville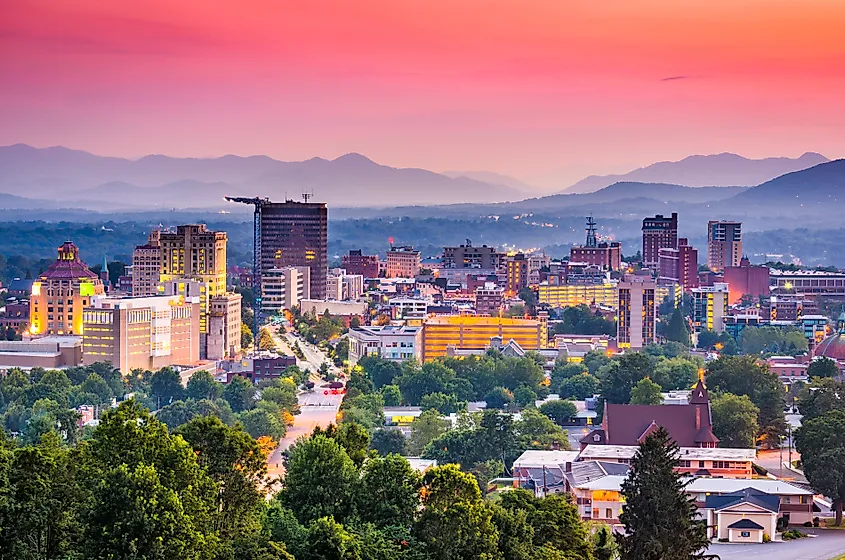 Asheville is a welcoming, vibrant city in North Carolina. On the Asheville Urban Trail, visitors can explore Asheville's historic architecture with a self-guided walking tour. The trail brings history to life with educational numbered stations. A printed map, audio tour, or scavenger hunt are available to engage education. Open all year round, Biltmore House, gardens, and conservatory provide visitors an opportunity to enjoy the French Renaissance Castle built by George W. Vanderbilt in 1895. 
Snowy winters in Asheville allow winter enthusiasts to ski and snowboard, while spring yields multiple festivals. In Downtown Asheville, visitors can visit boutiques and modern galleries and dine on Southern cuisine. The Blue Ridge Parkway rewards hikers and drivers with stunning views of the Blue Ridge Mountains, waterfalls, and forest. With the Blue Ridge mountains as a backdrop and eclectic attractions, it is easy to see why Asheville, North Carolina, was named one of the most beautiful cities in the US.
Kitty Hawk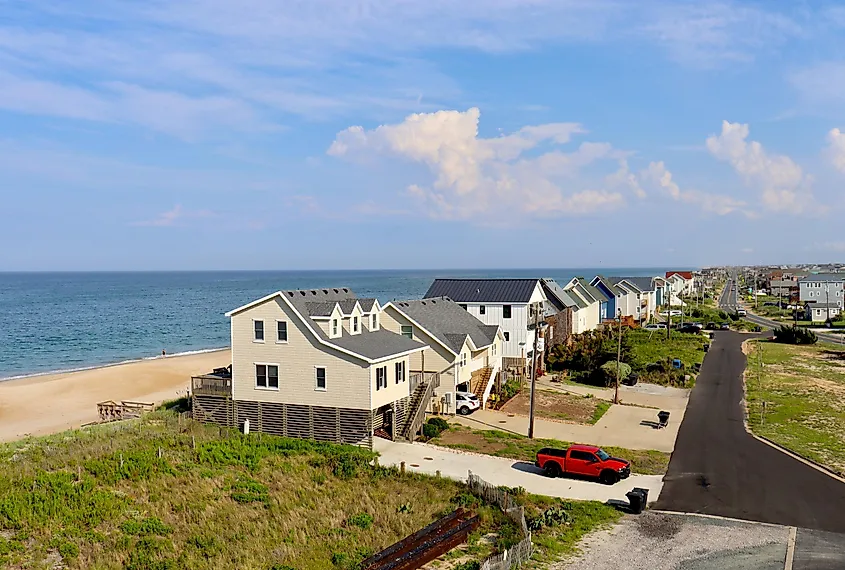 The Wright brothers made Kitty Hawk a part of history by becoming the first to conquer powered flight in Kill Devil Hills in 1903. Since then, Kitty Hawk has faded into the tranquil ease of beach life. Located in the northern part of the Outer Banks of North Carolina, Kitty Hawk's multiple public beaches are available for residents and visitors to enjoy. Early risers visiting Kitty Hawk Pier can take advantage of the overlook to enjoy a phenomenal sunrise on the horizon. For oceanfront activities, Kitty Hawk Woods Coastal Reserve offers kayaking, hiking, and birding. Kitty Hawk Woods hosts the Wings Over Water festival in October and December for birdwatching enthusiasts. The most popular time of year to visit Kitty Hawk is summer. Kitty Hawk is surrounded by ocean views awarding visitors with the beauty of scenic serenity.
Southport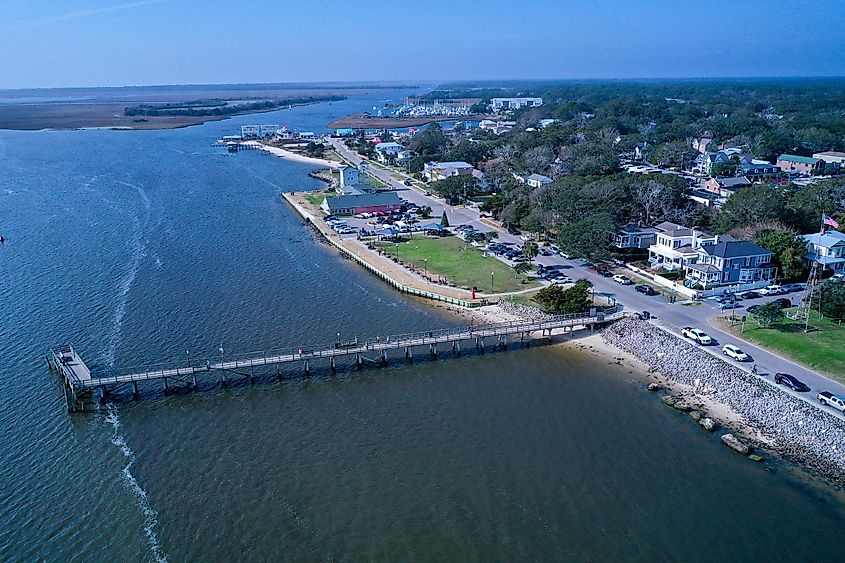 On the coast of southeastern North Carolina lies Southport. The town is known for its breathtaking scenery, history, and maritime heritage. At the North Carolina Maritime Museum, visitors can learn in detail about ancient artifacts used by early Native Americans to modern tools used by today's fishermen. For an outdoor history lesson, visitors can explore the ruins of Fort Anderson in Old Brunswick Town or admire an 800-year-old tree in Keziah Park in downtown Southport.
Film fans can take a tour of Screen Gems Studio, where movies such as "A Walk To Remember," "The Secret Life of Bees," and the TV show "Dawson's Creek" were filmed. Sprinkled around downtown Southport, there are antique shops full of historical treasures for purchase. A lazy day at the beach soaking in the sun is available at multiple local beaches. Local history, movie sets, and stunning waterfronts are why visitors return to this charming coastal town. 
Wilmington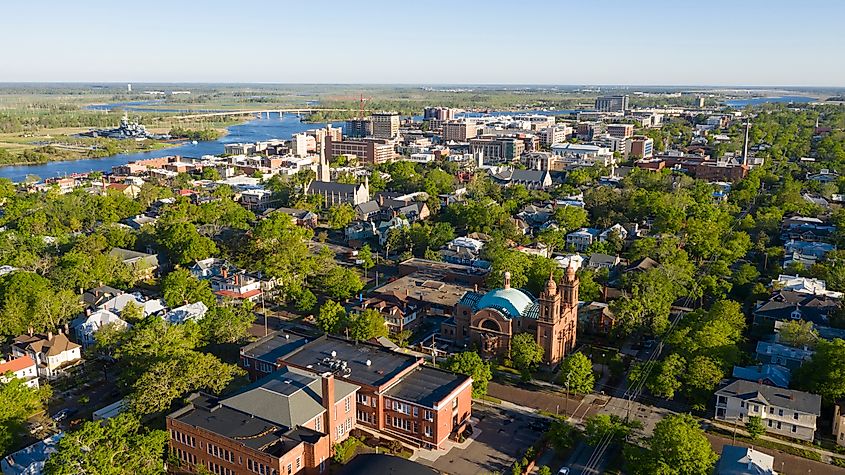 Wilmington is a coastal city with traditional Southern cuisine offered in more than 40 locally-owned restaurants, cafés, and bars. In Midtown Wilmington, Jungle Rapids Family Fun Park is a waterpark housing a wave pool, speed slides, mini golf, go-karts, laser tag, and an arcade. At Lumina Station, shoppers can enjoy impressive landscaping while visiting locally owned boutiques. Outdoor venues and music festivals offer year-round live music for everyone.
On the river district, visitors can marvel at the 230-block Historic District featuring Victorian-themed architecture. Visitors can also tour the Latimer House Museum to experience a local family's life in the late 1800s. A short drive from Wilmington is Carolina Beach, Kure Beach, and Wrightsville Beach. Wilmington's lively riverfront atmosphere, paired with its proximity to quiet beaches, allows visitors to enjoy the beauty of both worlds.
Gastonia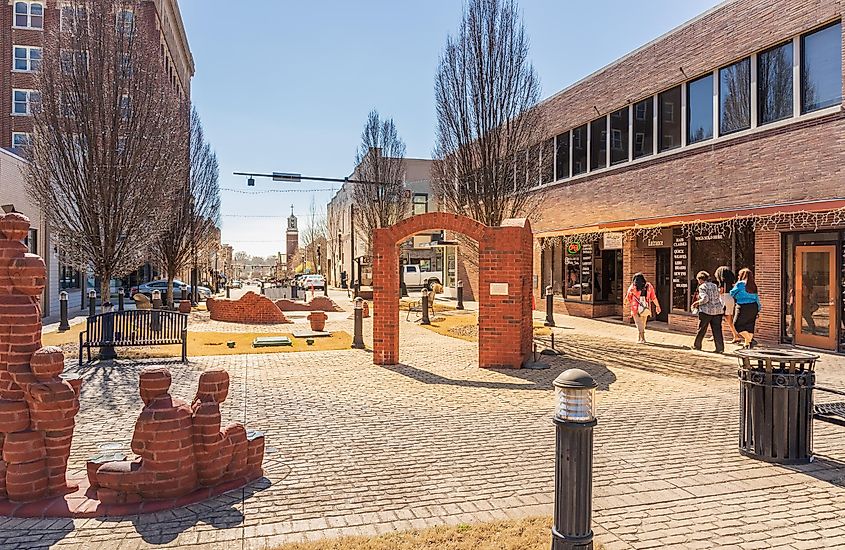 Gastonia started in 1873 as a small railroad depot with less than 200 people of English, German, Scotch Highlander, and Scottish-Irish origin. Present-day Gastonia is home to more than 72,000 people and is now the largest city in North Carolina. Families will find lots to do at Monster Golf, including mini golf, bowling, a laser maze, and an arcade. The Daniel Stowe Botanical Garden offers a visually stunning stained-glass dome and nine themed gardens.
Only a 15-minute drive from downtown Gastonia, adventurists can hike the steep trail to the summit of Crowders Mountain for a breathtaking view of the North Carolina Piedmont. Adventurists seeking another route to the top can scale the 150-foot rock cliffs. Paddling, white water rafting, and boating are available at local marinas along Lake Wylie. Local farms and farmers' markets provide freshly picked fruit, vegetables, and flowers. Visitors are invited to experience natural history exhibits, a planetarium, a nature trail, live animal enclosures, and a dinosaur safari at the Schiele Museum of Natural History. Mountain outdoor adventures, fun family activities, and history bring the beauty of this growing city to each visitor.
Nags Head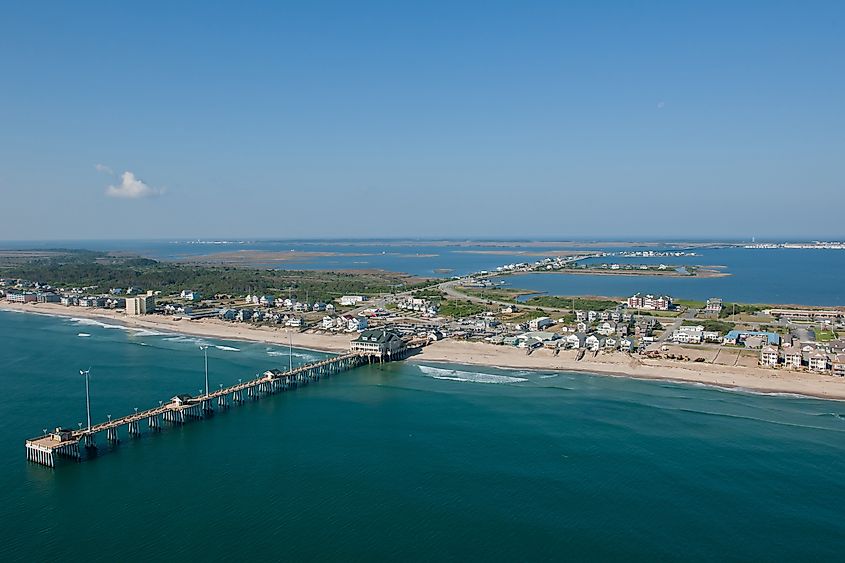 Located off highway US 64, Nags Head is often the first beach town visitors encounter in the Outer Banks. Delightful delectables serving seafood, Thai, and barbeque quench the hunger of any visitor. For visitors craving something sweet, locally owned shops sell candy, fudge, ice cream, and donuts. Visitors to Nags Head are encouraged to embrace beach life by staying in one of the multiple lodging options available, including hotels, motels, and B&Bs.
Nags Head Woods Preserve hosts over 150 species of birds giving bird and amphibian fanatics opportunities to observe wildlife in their natural habitats. Jockey's Ridge State Park has the tallest living sand dune system allowing visitors to enjoy outdoor activities on the sand and in the water. Hiking, paddling, swimming, hang gliding, sandboarding, kiteboarding, and windsurfing are all activities available at Jockey's Ridge State Park. Outdoor activities paired with multiple savory and sweet shops, Nags Head sets the scene for a laid-back vacation. 
New Bern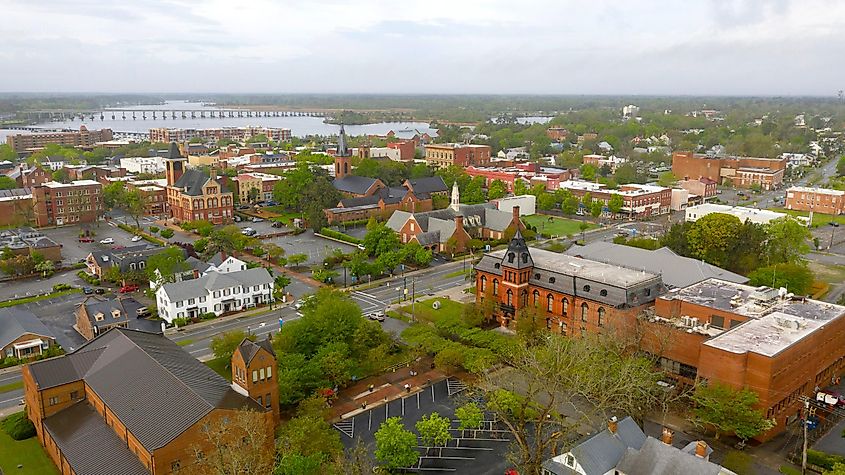 Founded by settlers from Switzerland in 1710, New Bern is bursting with history. At Tyron Palace, costumed guides and working craftspeople bring history to life, transporting visitors to a time when legislators debated, patriots gathered, and George Washington danced. Recognized by the National Register of Historic Places, the Civil War Battlefield Park remains seemingly untouched from over a century ago. Visitors can walk through the same trenches where Confederate and Union soldiers walked. New Bern's firefighting history is housed at the New Bern Firemen's Museum. Visitors can learn about early firefighting equipment, view rare photographs, and marvel at Civil War relics. 
New Bern's distinct architectural history gives the city an eclectic style. Homes and city buildings alike showcase Georgian, Federal, Greek, and Victorian-style designs. As the town's mascot, New Bern has bear-themed museums, shops, theatres, and art scattered around the town. Local pharmacist Caleb Bradham invented Pepsi in 1898 in New Bern, and today, the quaint museum is open for visitors to quench their thirst with a Pepsi from the recreated soda fountain. New Bern combines architectural charm with history resulting in a visually appealing city.
Beauty is often said to be in the eye of the beholder. North Carolina offers beauty in three vastly different regions. Each region is home to unique ways of life while also blending to form a unified state. In the mountain region, history comes to life with the stunning Blue Ridge Mountains in the background. At the foot of the mountain, the Piedmont region is home to lively cities combining nature with urban living. Possibly the most popular and well-known is the beach life in the coastal region that offers opportunities to slow down to take in the calm of the sand and sea. Beauty is available in all forms in North Carolina, waiting for visitors to enjoy it!