The 10 Longest Rivers in Ohio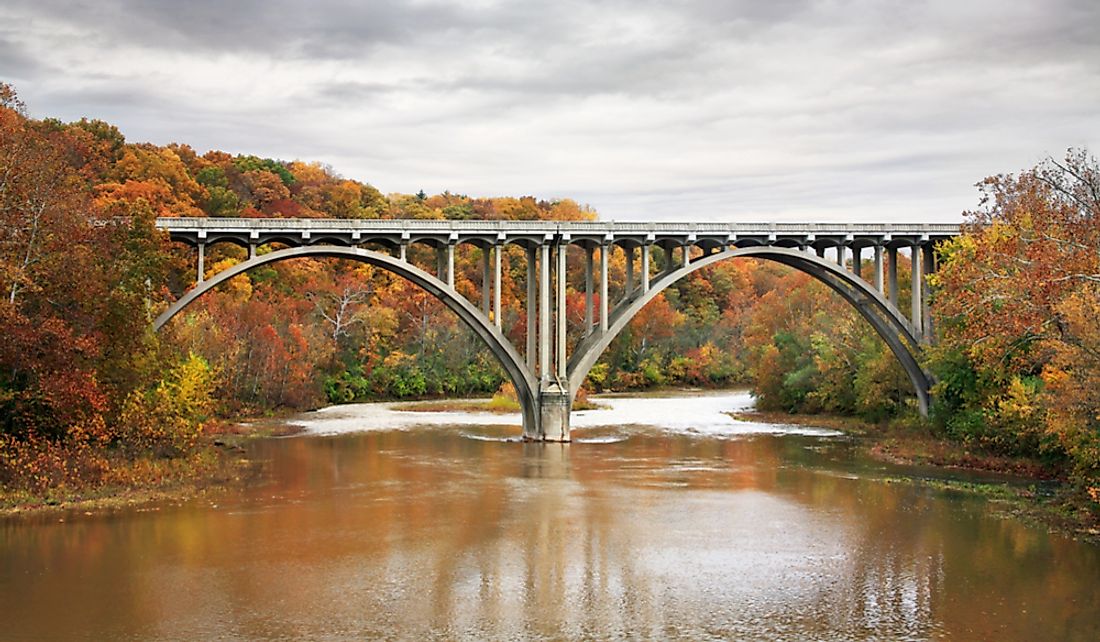 Ohio is the seventh most populous US state and the 34th largest state by area. The state is named after the Ohio River, which is a Seneca word for "good river," "large creek," or "great river." The rivers play a crucial role in the state; they provide water for domestic and industrial use, means of transport, and irrigation. The following are the longest rivers in Ohio.
The Longest Rivers in Ohio
Ohio River
The Ohio River flows for 981 miles from Pittsburgh, Pennsylvania in the west to Cairo, Illinois in the east. The river demarcates the southern border of Ohio. It is the largest tributary of the Mississippi River by volume and holds more water than the Mississippi at the confluence. Its drainage basin extends over 15 states. The Ohio River remains ice-free all year round and provides water for three million people.
Wabash River
The Wabash River flows for 503 miles from northwest Ohio through Indiana to southern Illinois where it drains into the Ohio River. The river demarcates the Illinois-Indiana border. It is the largest northern tributary of the Ohio River. The Wabash is the state river of Indiana and has been mentioned in the state song. The depth of the river in Ohio is shallow and impassable by boat, but the volume increases as tributaries join the river close to the border with Indiana.
Scioto River
The Scioto is the longest river that is entirely within Ohio. It flows for 231 miles from Auglaize County to Portsmouth. The river flows through Columbus where it receives water from the Olentangy River before draining into the Ohio River near Portsmouth. Native Americans and early settlers used the river as a means of transport, but it is currently too small for commercial shipping. It is mainly used for recreation and domestic water use.
Great Miami River
The Great Miami River is a tributary of the Ohio River. It flows for 160 miles from the Indian Lake in Logan County to the Ohio River in Hamilton County. The river demarcates the Ohio-Indiana state boundary. The Great Miami River flows through the cities of Sydney, Hamilton, Troy, Piqua, and Dayton.
Maumee River
The Maumee River flows from northeastern Indiana through northwestern Ohio into Lake Erie. The river is formed by the confluence of the St Marys and St Joseph Rivers In Fort Wayne, Indiana. It meanders for 137 miles through agricultural land before draining into the Maumee Bay in Lake Erie.
Threats to the Rivers of Ohio
The rivers of Ohio are under severe threat from human activities including the construction of dams for industrial, domestic, and agricultural use. Global warming has led to a significant rise in evaporation while logging and destruction of water catchment areas have led to the drop in water level. Chemical waste pollution from industries has lowered the water quality and consequently led to the decline of aquatic animals.
The 10 Longest Rivers in Ohio
| Rank | River | Length |
| --- | --- | --- |
| 1 | Ohio River | 981 miles (1579 km) |
| 2 | Wabash River | 503 miles (810 km) |
| 3 | Scioto River | 231 miles (372 km) |
| 4 | Great Miami River | 160 miles (260 km) |
| 5 | Maumee River | 137 miles (220 km) |
| 6 | Sandusky River | 133 miles (214 km) |
| 7 | Tuscarawas River | 130 miles (210 km) |
| 8 | Raccoon Creek | 114 miles (183 km) |
| 9 | Auglaize River | 113 miles (182 km) |
| 10 | Mahoning River | 113 miles (182 km) |