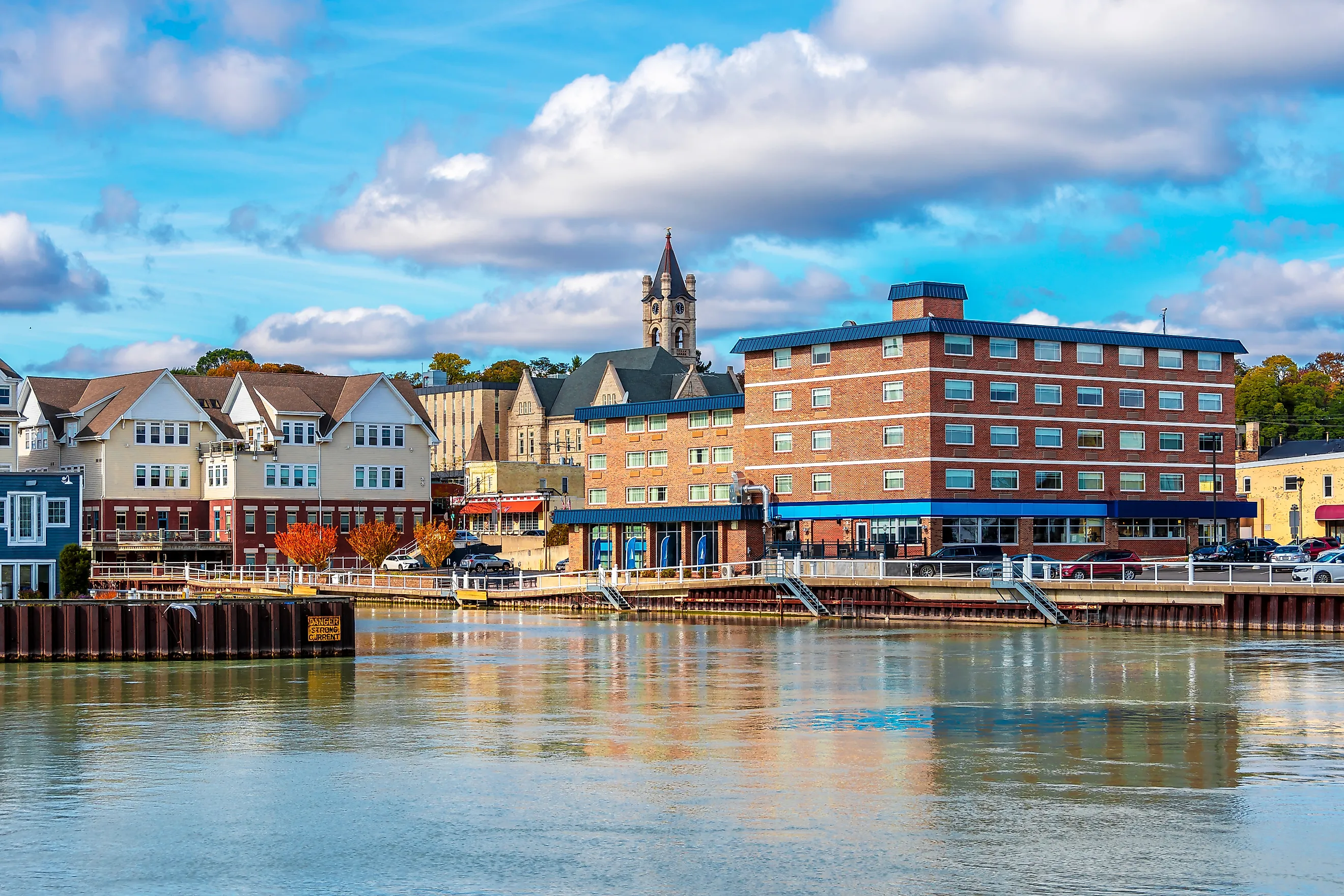 7 Most Beautiful Lake Towns in Wisconsin
Housing parts of Lake Michigan and Lake Superior of the five famous great lakes in North America, the state of Wisconsin has an abundance of beautiful lakeside views. Whether this involves relaxing along a beach or spending your evening casting a line for some beautiful Yellow perch. However, with so much shoreline within the state, the question arises, where should you go for some of the most scenic views and enjoyable attractions?
Bayfield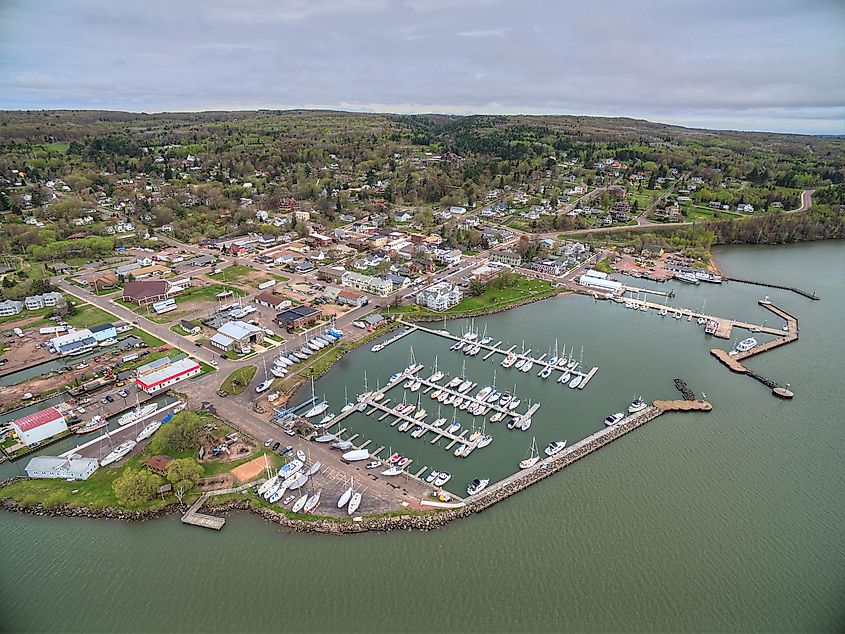 Known for its small-town charm and peaceful feel, Bayfield is the perfect way to start our list of beautiful lake towns in Wisconsin. While actually being a city, Bayfield is located in Bayfield County and with a population of only 584 people, is the least populous city in Wisconsin. However, along with the limited population and peaceful vibe, what truly makes this city a "lake town" is that it is nestled along the Southwestern end of the massive Lake Superior. Being the largest freshwater lake in the world and having more than 10% of the world's surface freshwater, the expansive water is truly a sight to behold from Bayfield Harbour.
Taking advantage of this, the city houses various activities along and in the lake which can make for a great vacation. For example, the Apostle Islands by Boat is a 88 km cruise that takes you to the nearby Apostle Islands National Lakeshore while also offering kayaking, glass-bottom boats, and much more. Similarly, if you don't want to go on the water but still feel like taking in its beauty, you can go on the many biking trails such as Brownstone Trail for a ride along Lake Superior. Apart from the natural attractions, Bayfield also has great food joints such as Cafe Seiche and Copper Trout which are loved by both locals and tourists alike. So, you can enjoy this beautiful lakeside town on a full stomach!
Lake Geneva
A short 1.5-hour drive from Chicago within Walworth County, Lake Geneva is a city along the coat of its namesake, Geneva Lake. This lake is known for its crystal clear and clean water which makes it a great place to enjoy water activities without having to worry about hygiene. With a mean depth of 19 metres, this lake is most renowned for a great swimming experience which you can enjoy along Big Foot Beach State Park's shoreline. Along with this, the city has also developed a scenic Lake Geneva Shore Path which offers more than 30km+ of greenery and paths along the shoreline for a view of nature's beauty. However, with more than 8,000 residents and a hub for tourism in the region, Lake Geneva has a lot more to offer as you move further into the city.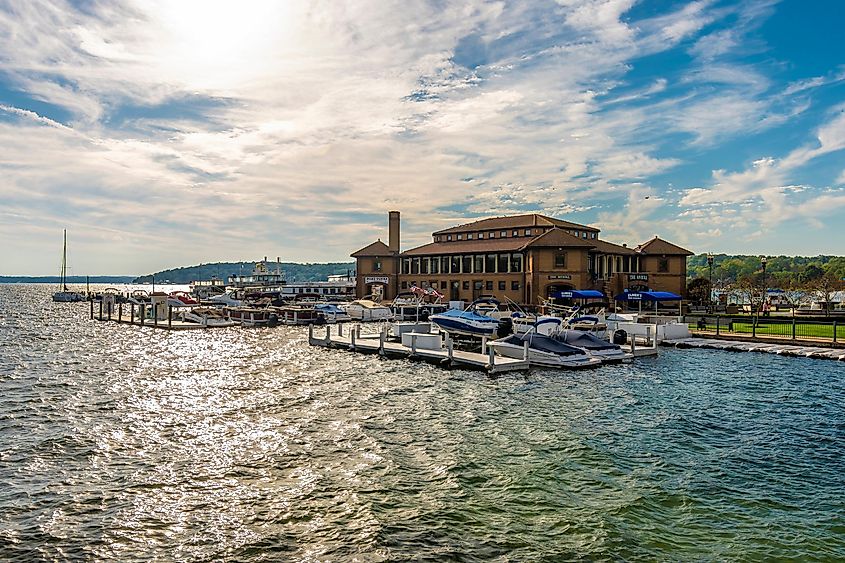 This entails everything from historical sights at the Geneva Lake Museum which was made in 1983 all the way to a wilderness safari at the nearby Safari lake Geneva. So, whether you are a nature fanatic or a history enthusiast, there is surely a lot to do at Lake Geneva. Apart from this, the city is also home to many wineries and breweries such as The Bottle Shop on Main Street and Geneva Tap House on Broad Street which is the perfect way to end a fun day out on the water. With all this and so much more, this is a safe bet of a lake town if you are looking for a great vacation in Wisconsin.
Port Washington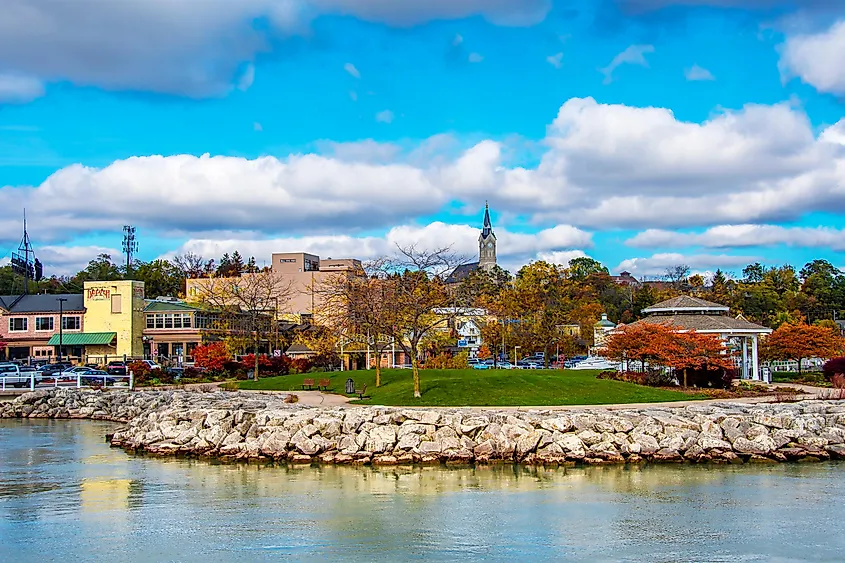 Port Washington is a city in the Ozaukee County of Wisconsin and also the county seat. This beautiful town is a perfect addition to our list as it is located on the western end of Lake Michigan, one of the 5 famous Great Lakes. To this end, the massive lake has been intertwined with the city's history as it was initially used by early settlers to transport goods such as fish, lumber, grain, and more. As time passed, the city became known for commercial fishing and by the 21st century became a great tourist spot with activities such as sailboat races, sport fishing, and more. Thanks to this, Port Washington is the perfect mix of a historic town with ample lakeside area for a scenic vacation or adrenaline-filled trip.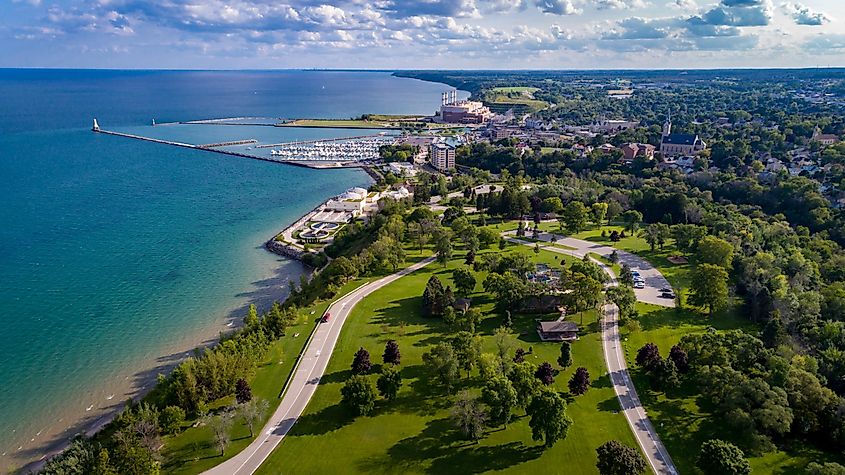 This town of approximately 12,000 people also has many unique establishments within its 15 sq. km. land area which makes it an all-round tourist hub. One of the premier places to enjoy is the vast Upper Lake Park which boasts amazing green space alongside the vast and endless Lake Michigan waters. Taking a step inwards from the shoreline, the city also has a lot of natural beauty to offer such as the Ozaukee Interurban Trail which is perfect for a hike or the Forest Beach Migratory Preserve which is home to dozens of local bird species. Once you have enjoyed all the scenic views and natural attractions, take a delve into the city's deep-rooted history at the Judge Eghart House which has been there since 1872 and has grown parallel to Port Washington!
Sturgeon Bay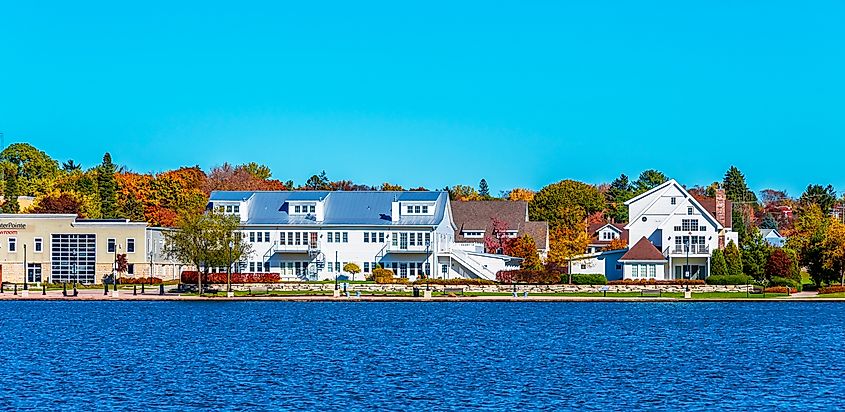 If you are looking for a beach-like feel while still staying within the boundaries of Wisconsin, Sturgeon Bay might be the place to visit for you. Sturgeon Bay is a city in Door County of the northern state and is also the county seat known for being the largest in the county. Thanks to this, with an area of almost 30 sq. km. and home to less than 10,000 people, Sturgeon Bay manages to maintain a mix of both city vibes as well as a quaint environment. Unlike many of the other places on this list which are located alongside one of the great lakes, Sturgeon Bay is quite unique as it surrounds its namesake, Sturgeon Bay, which is an arm of Green Bay and connects directly to Lake Michigan. This allows people in the city to experience a more diverse type of shoreline ranging from green trails such as Whitefish Dunes State Park all the way to, you guessed it, sandy beaches! With a few kilometres of golden-sand beaches and amazing resorts such as the Glidden Lodge Beach Resort situated along them, this is the perfect town to visit for some summer memories!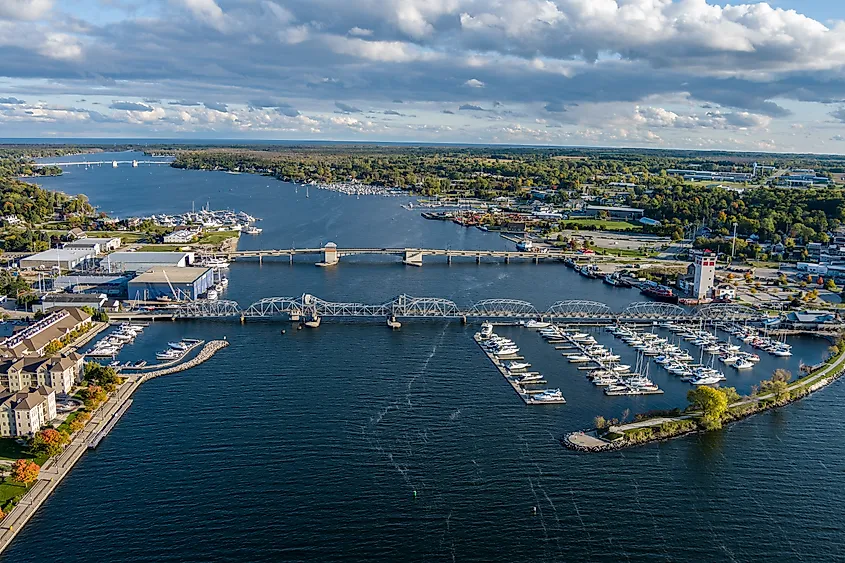 Being the county seat, Sturgeon Bay is also home to some historical and cultural sites which can give you an insight into the local past. Specifically, tourists can often be seen at the Door County Historical Museum which has dozens of memorabilia items from the local past such as newspaper clippings, pictures of businesses, military items, and more. Similarly, the Door County Maritime Museum is also known to instil a sense of history as the building which was built in 1969 houses many galleries with ships, boats, and more making it perfect for a lake town visit. All in all, Sturgeon Bay is a great lake town with all the boxes ticked for a fun trip! The only issue is that reaching the city can be a bit of a hassle as it is located nearly 4 hours from Chicago. 
Madison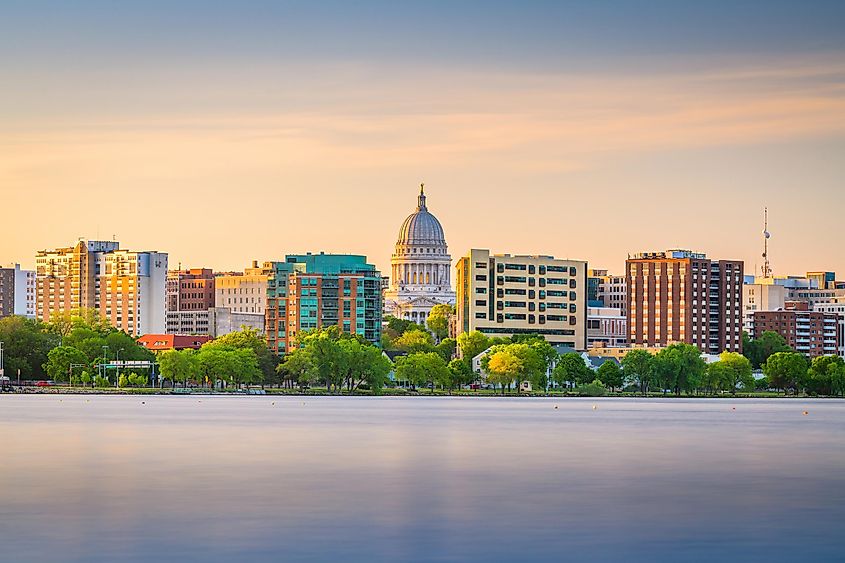 A name that had to be on this list, Madison is the capital city of Wisconsin and home to more than 269,000 people. With a total area of 262 sq. km. this is one of the largest cities in the region and thus, is a hub for economic, recreational, and tourism activities. Due to this, Madison is the complete opposite of most towns on this list and instead of being a quaint and peaceful vacation spot, is a complete hub for everything you can think of! That being said, as this is a lake towns list, let's start off with the main thing, lakes. In this aspect, Madison is the perfect place to be as it is located amongst 4 unique lakes, Lake Mendota, Lake Monona, Lake Waubesa, and Lake Kegonsa, all of which are connected by either rivers or small streams. With 4 lakes, there is a lot you can do ranging from kayaking in Lake Monona which is known for its clean water and swimming areas to walking alongside the lake paths of Lake Mendota. Thanks to this, Madison ticks off the criteria for being a beautiful lake town in Wisconsin.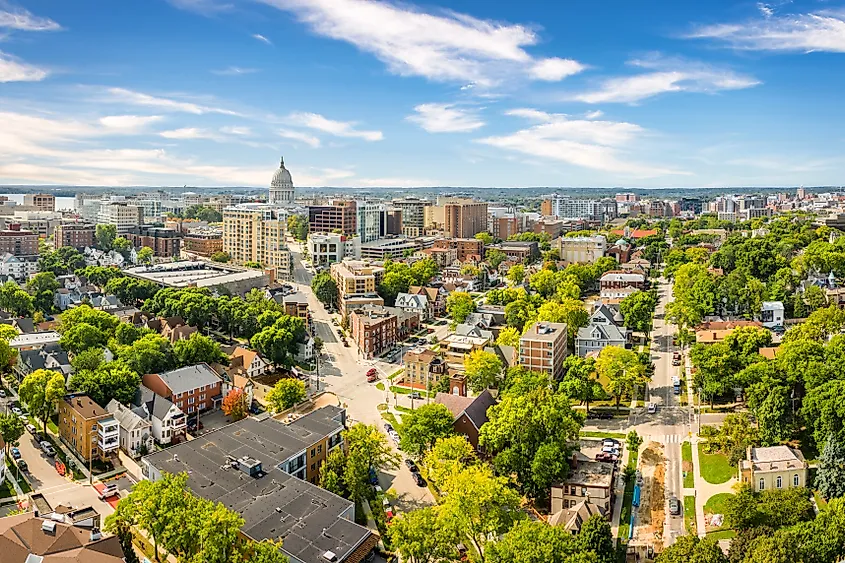 That being said, surrounding these scenic lake views is a massive bustling city that seems to have a mixture of history and modernism. On one hand, you can go to the Madison Children's Museum or Chazen Museum of Art and take in some of the vast historical creativity imbued in the area. On the other, the city is home to some great establishments such as Frank Lloyd Wright's Monona Terrace with a beautiful rooftop terrace or The Edgewater, which is one of the premier hotels in the region. With so much to do, you are bound to get tired in this expansive city so to keep you charged up, there are also great restaurants and cafes at every nook and corner. Some of the best restaurants in the city are Naples, an Italian steakhouse, Sardine, which is a great spot for brunch, and the Asian restaurant, Ahan. To sum it up, Madison is a truly all-round lakeside city perfect for all sorts of fun!
Eagle River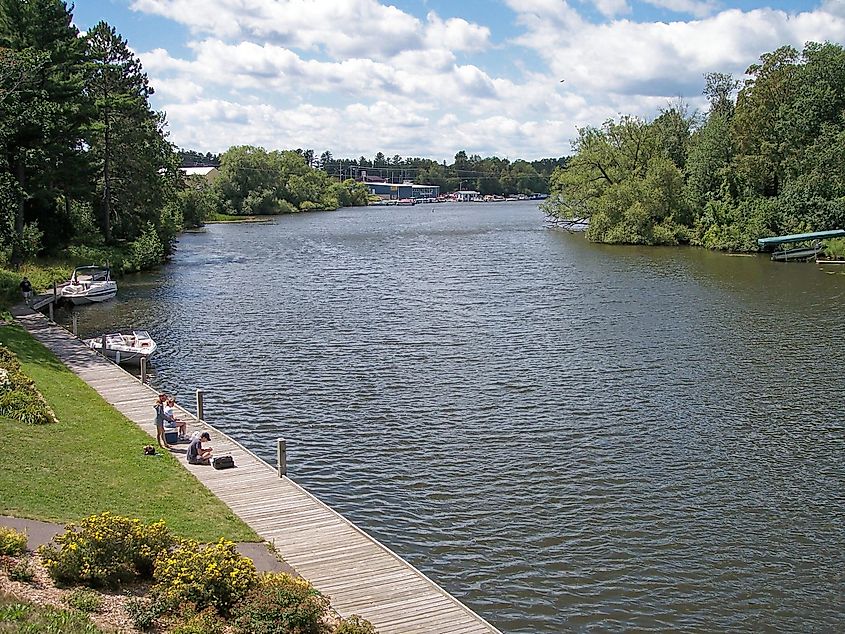 Located in Vilas County, Wisconsin, Eagle County is a small city with a population of fewer than 1,500 people. While the city itself is quite ordinary when it comes to urban attractions, what makes Eagle River stand out from the rest is its vicinity of many lakes in the area. Namely, the city is surrounded by Eagle Lake, Yellow Birch Lake, Otter Lake, Dollar Lake, etc. and many other smaller streams and rivers for a unique geographical landscape. With each of these bodies of water having its own unique features such as fish, shorelines, and more, the city of Eagle River is nicknamed "city of lakes" and has an immense array of lakeside activities making it a great tourist destination. Notably, if you are a fishing enthusiast, the nearby Catfish Lake and Watersmeet Laker offer ample fishing opportunities with the option for walleye and muskie fishing as well.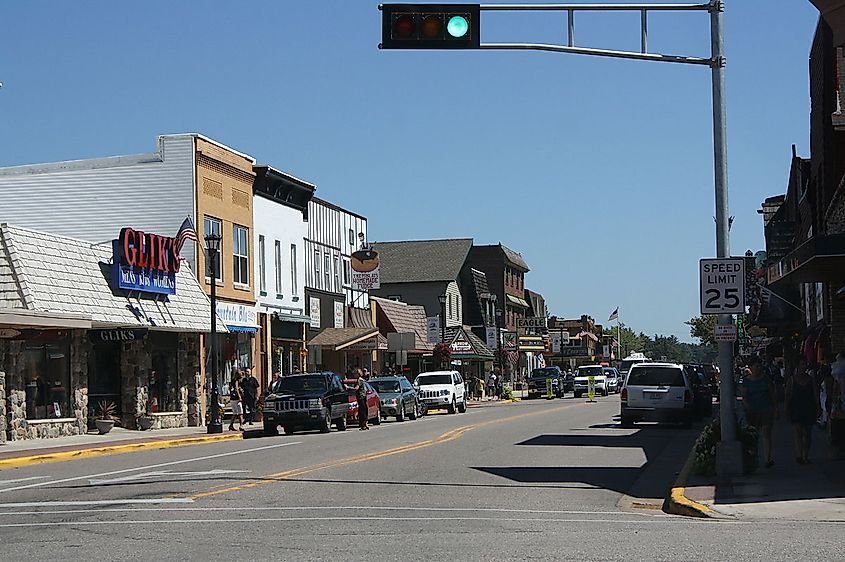 While the highlight of the city may be its numerous lakes, this is not all you will find at Eagle River. To make the most of the tourism that the city sees, there are also many other attractions within the city itself. For an adrenaline junkie, you can check out World Snowmobile Headquarters which is considered the best place for snowmobiles as the city has also hosted the World Championship Snowmobile Derby for over 50 years. Similarly, karting is also big in Eagle River at the Kartaway theme park which is a great destination for families to enjoy! Thankfully, even if you aren't big on these options, the city of Eagle River is known for regular festivals and events such as the Farmers Market, Halloween Trunk or Treat, and many more that both locals and tourists can be a part of.
Wisconsin Dells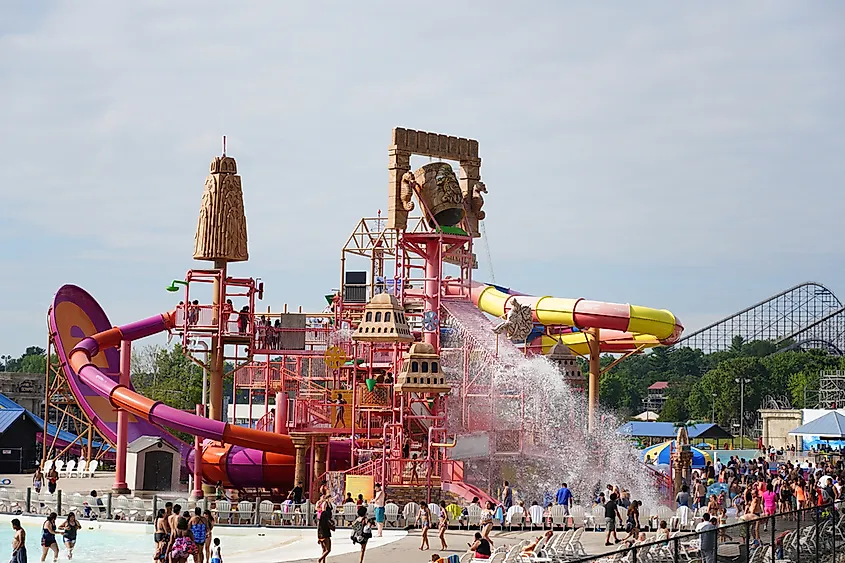 Out of all the lake towns in the state of Wisconsin, Wisconsin Dells is one that makes for the ideal family vacation spot. Spread across 4 counties; Columbia, Sauk, Adams, and Juneau, Wisconsin Dells is a 21.19 sq. km. city home to a wide range of fun activities, sights, and lovely family parks. The city is located around the Wisconsin River and just north of Lake Delton which allows for some unique water-themed activities that attract tourists throughout the year. When it comes to water parks in the city, Noah's Ark Water Park takes the crown spanning more than 280,000 sq. m. and is filled with rides such as the 120 metre-tall Scorpion's Tail and the artificial wave area. If however, for some reason, you aren't into outdoor water parks, Wisconsin Dells also has the Great Wolf Lodge which is an indoor part-water park and part-resort that is full of climbing ropes, water cannons, and lots of cool slides that are perfect a day of youthful fun!
Thankfully, the list doesn't just end there as some of the more adrenaline-pumping rides can be found at the Mt. Olympus theme park. Just like the Greek God Zeus, this park has massive rollercoasters such as the Hades 360 which are sure to electrify you! Moving away from the theme parks in the city there are also some beautiful places to relax and take in the tranquillity of this lakeside town. Mirror Lake State Park is on this list having a large 8 sq. km. area of greenery just southwest of the town centre. Here, you can sit along Mirror Lake which is a small reservoir that has swimming spots, fishing points, and much more for a great time. Another great part of Wisconsin Dellis is that, unlike many other lakeside towns which are located in the eastern end of the state, you can find this city near central-southern Wisconsin.