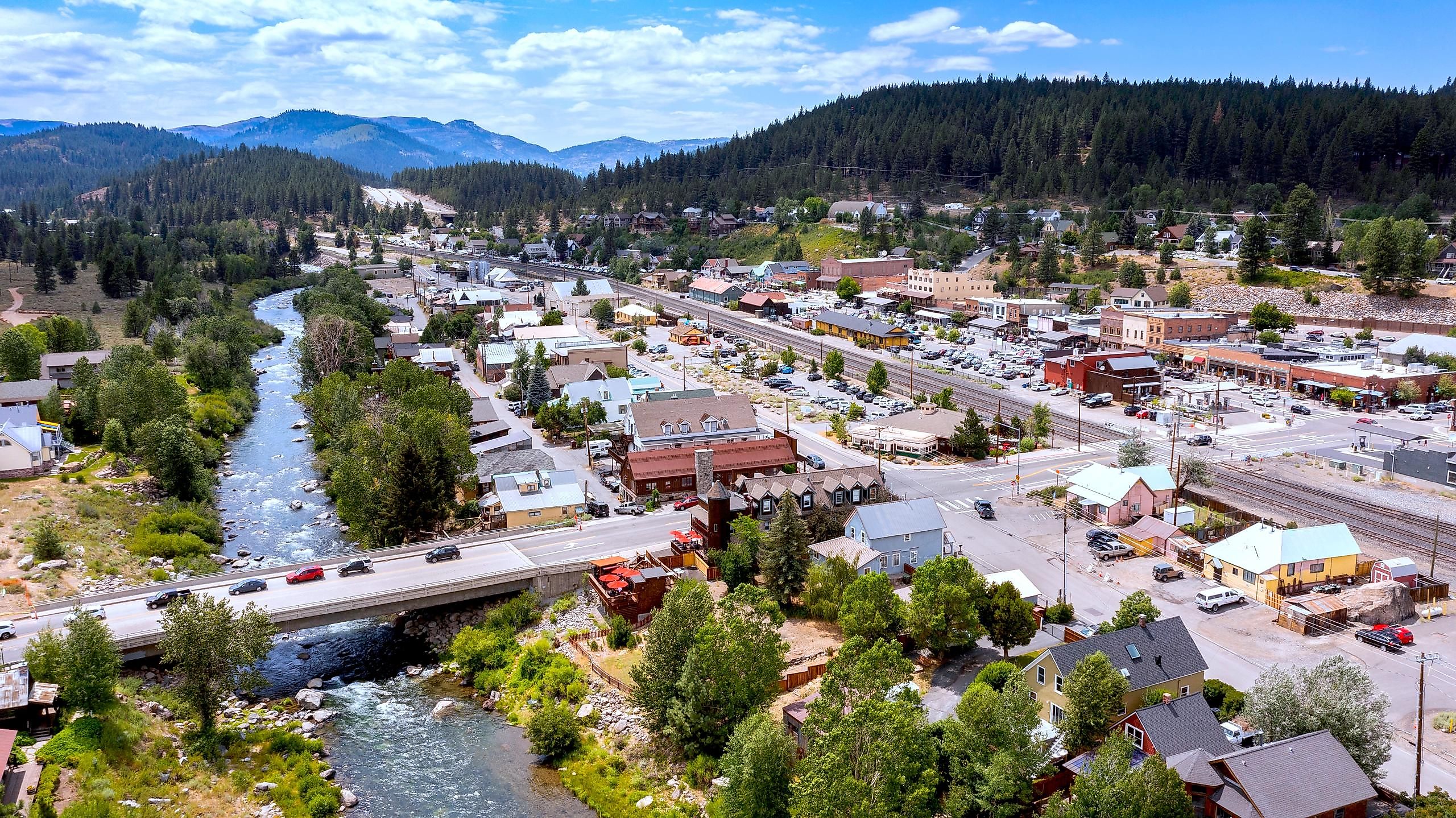 13 Adorable Small Towns In California's Sierra Nevada
The Sierra Nevada Mountain range in the Western United States runs through California and part of Nevada. Stretching 400 miles from north to south, its highest peak is Mount Whitney at 14,505 feet. One of the stars of the region is General Sherman, not the man, but the tree. This giant sequoia stands 6,919 feet above sea level and is the largest tree on Earth by volume. Sierra Nevada boasts three national parks—Yosemite, Sequoia, and Kings Canyon National Parks—plus 26 wilderness areas, ten national forests, and two national monuments. So, the region is well-known for its stunning natural beauty, but it also has a rich historical heritage. Once home to indigenous peoples, American and European explorers arrived here around 1827. Then, in 1848, the first bit of gold was discovered, and an onslaught of gold-seekers and settlers soon followed. They made an indelible mark on the region. Here are 13 small towns in the Sierra Nevada that offer both Gold Rush tales and outdoor escapades.
Nevada City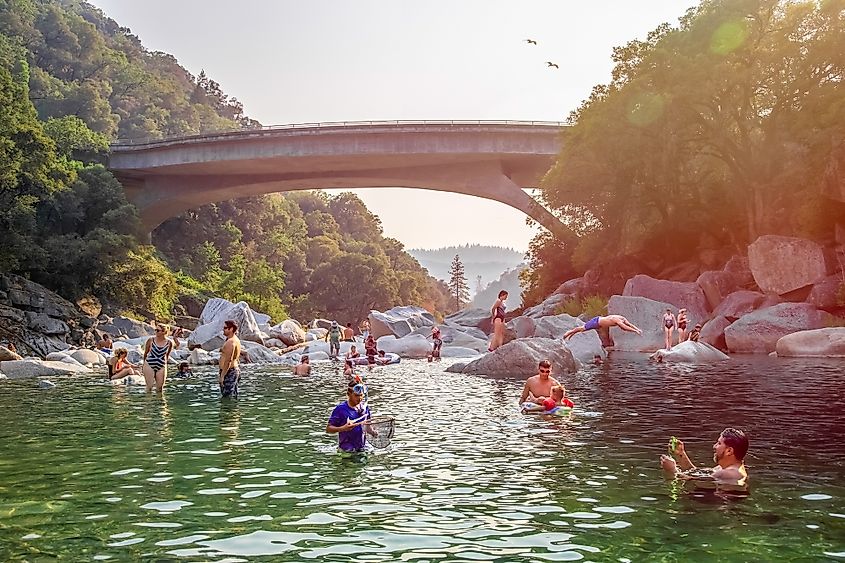 This Gold Rush-era town, first settled in 1849, boasts well-preserved Victorian architecture, a charming downtown, and access to the Yuba River. "Nevada" is a Spanish word meaning "snowfall." The city got nearly 17 feet of snow in December 2021, making it the snowiest December on record for the area. Nevada City, on the western slopes of the Sierra Nevada, was California's most important mining town in 1850. Today, tourism is a pillar of the town's economy, and visitors come here year-round to take in outdoor recreation, history, arts and entertainment, and special events. You can still go gold-panning in South Yuba River State Park, but you can also hike, swim, and whitewater raft. History buffs should stroll downtown to marvel at the historical buildings, many of which date back to the 19th century. For 63 years, The Nevada City Classic professional bike race has been held here, drawing thousands of visitors. The city also appeals to film location scouts looking for abundant Victorian buildings, beautiful natural surroundings, and stunning fall foliage.
Grass Valley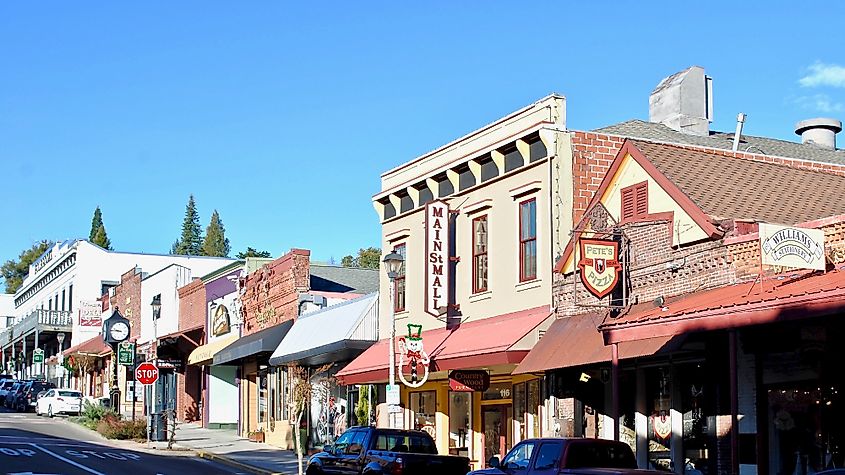 Like many of the towns on this list, Grass Valley has a rich Gold Rush history, and its historic downtown is filled with quaint shops and restaurants. In the western foothills of the Sierra Nevada Mountain range, Grass Valley is home to one of the first discoveries of quartz gold in California. When it was discovered in 1850, the town's population swelled with miners from Cornwall, UK. Because the soil in Nevada County is rich and fertile, agriculture is a dominant part of Grass Valley's modern-day economy, and the small wineries here are carving out their own tourism industry. Five tasting rooms invite visitors to sample wines from eight local vineyards. If you love to shop, there's no end to the boutiques and quirky shops you can stumble into throughout the town. The Empire Mine State Historic Park is one of the oldest, largest, deepest, longest, and richest gold mines in California. It is said to have produced 5.8 million ounces (165 tons) of gold in its 106-year history. Tour the 13 acres of the park or join a living history tour of the Bourn Cottage provided by Edwardian-dressed volunteers to learn more about the history of this Gold Rush town.
Truckee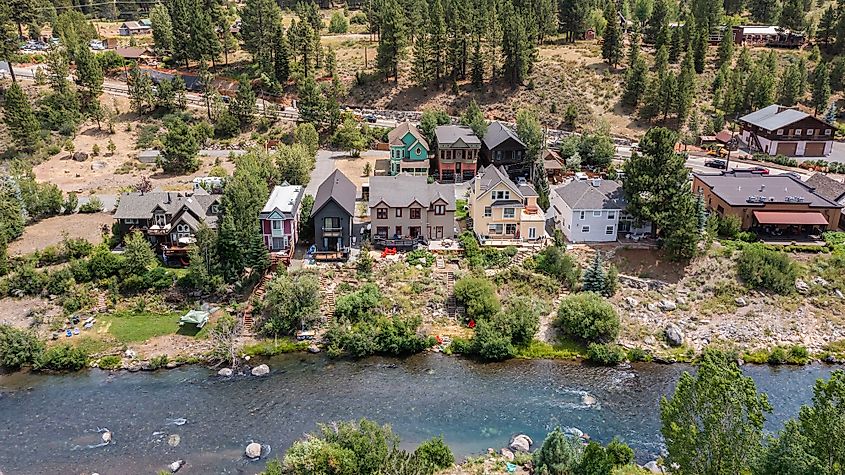 Located near Lake Tahoe, Truckee has a charming downtown and offers easy access to outdoor activities. The town was named after Native American Chief Winnemucca, sometimes called Chief Truckee, who was a medicine chief of the Northern Paiute people. The town's dark history—from the Donner Party to a local chapter of the Order of the Caucasians—should not detract from its modern appeal. While the summers are hot and dry, winters offer ample snow to attract skiers, snowboarders, sledders, and tubers. This winter wonderland of world-class ski resorts provides days of fresh-powder fun the whole family can enjoy. For the more fair-weather traveler, Truckee boasts plenty of adventurous amusement, like biking and hiking, rock climbing, kayaking, sailing, fishing, golfing, horseback riding, and more. When it's time to relax, visit one of Truckee's five craft breweries or tuck into mountain cuisine with local, organic fresh food served alfresco style.
Placerville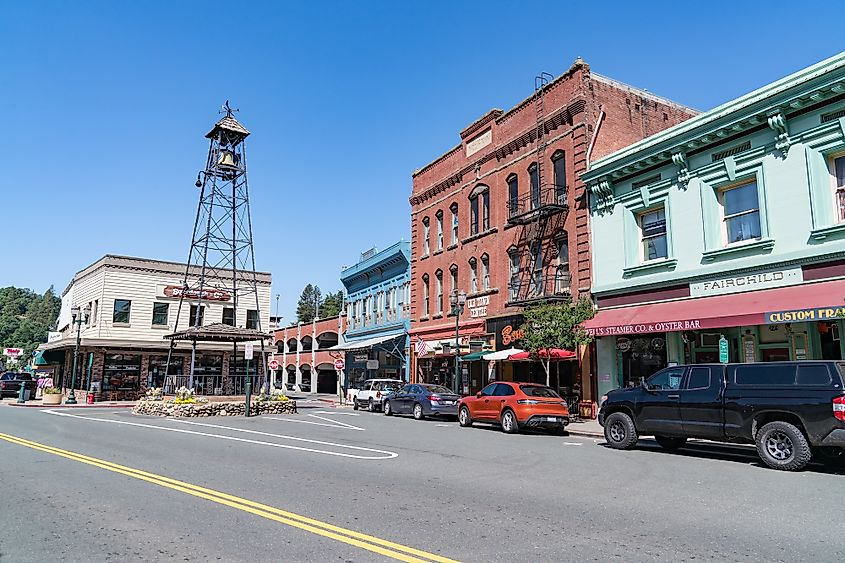 Known as "Hangtown" from its lawless Gold Rush days, Placerville's town logo featured a hangman's noose until 2021, when the town council (finally) voted to remove it. Placerville is now a registered California Historical Landmark. Surrounded by picturesque apple orchards and vineyards, the town is becoming a center for wine production with more than 30 family-owned wineries. Since this is Gold Rush territory, be sure to stop by Gold Bug Park and Mine to explore and learn about the area's history. In addition to the museum, mineral displays, panning for gems, and a self-guided audio tour, there are also dog-friendly hiking trails and a picnic pavilion for visitors. Placerville is also home to the El Dorado County Historical Museum, which displays artifacts from this region's Gold Rush days, logging and lumber industries, transportation past, and mining equipment. Placerville's historic downtown offers a true small-town Americana feel with family-owned businesses, artisan boutique shops, and a vibrant culture. Who could resist T.W. Bonkers Toy and Candy Emporium? A stroll through promises to satisfy the kid in you.
Auburn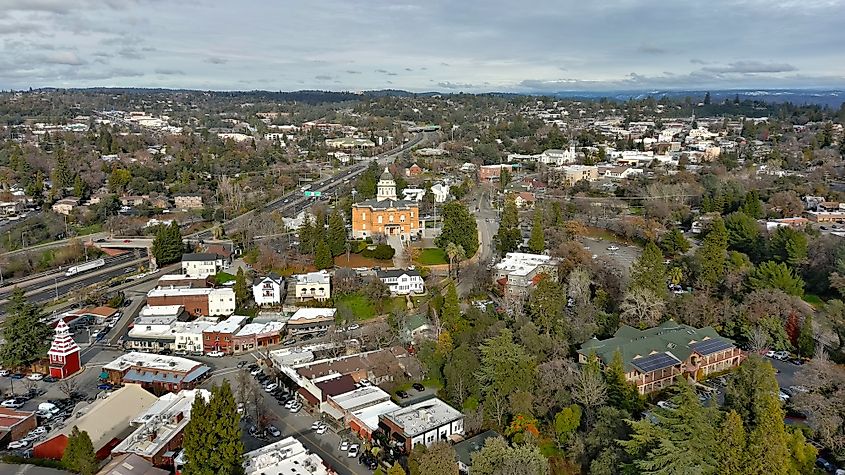 Located at the union of the American River and its canyons, Auburn is registered as a California Historical Landmark. Once a Native American settlement, Auburn's first European settlers were a group of French gold miners who arrived in 1848 and discovered traces of gold in the soil there. The area soon became a mining camp and was named Auburn by miners from Auburn, New York in 1849. At the Placer County Museum, you will find artifacts from Native Americans, Chinese workers, and the Gold Rush days. The Victorian-style building is a stand-out in Auburn and was once the Travelers' Rest Stage Roadhouse, constructed in 1851. Houses and retail shops in the now-restored Old Town also date back to the 19th century. Auburn is an outdoorsman's dream come true. Adventures include whitewater rafting, rock climbing, cycling, hiking, lake swimming, horseback riding, paddleboarding, and more. Weekenders can enjoy locally-grown produce in Old Town at the Placer Grown Farmers' Market every Saturday, year-round.
Murphys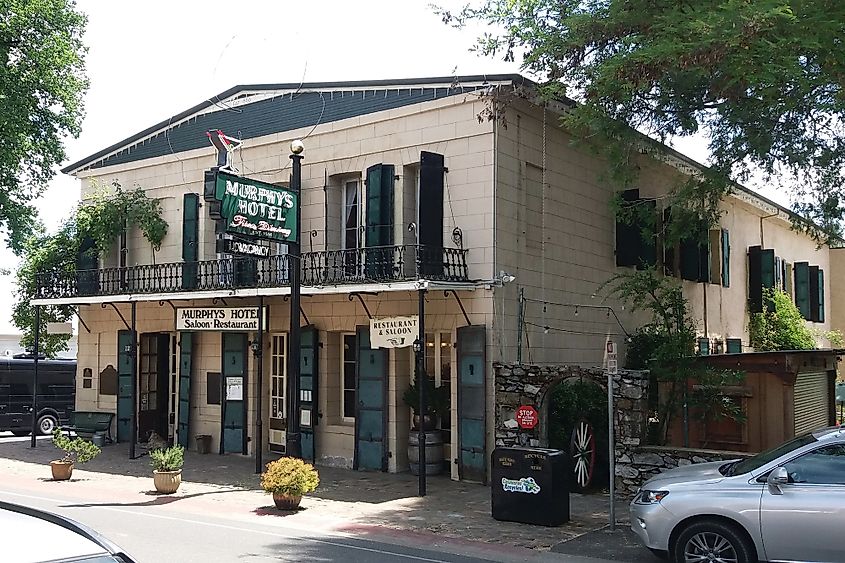 Once a trading post and gold mining operation established by John and Daniel Murphy in 1848, Murphys is a picturesque wine country town in the Sierra Foothills. Known as "Queen of the Sierra," Murphys offers numerous wineries, as well as activities for the whole family. Between Murphys and Angels Camp, you will find a not-to-be-missed attraction: the Moaning Caverns Adventure Park. Discovered by gold miners in the 1840s, the caves date back thousands of years, as evidenced by archeological finds. Take a trip 65 feet down to the first platform to explore. The truly adventurous (think strong lungs and quads) can descend another 100 feet into the largest single cave chamber in California via a spiral staircase built using scrap metal from an old WWI battleship in 1922. On your return to ground level, a wine tasting could be a way to reward your efforts. So many wineries, vineyards, cellars, and tasting rooms abound in Murphys that you may have difficulty choosing just one.
Sonora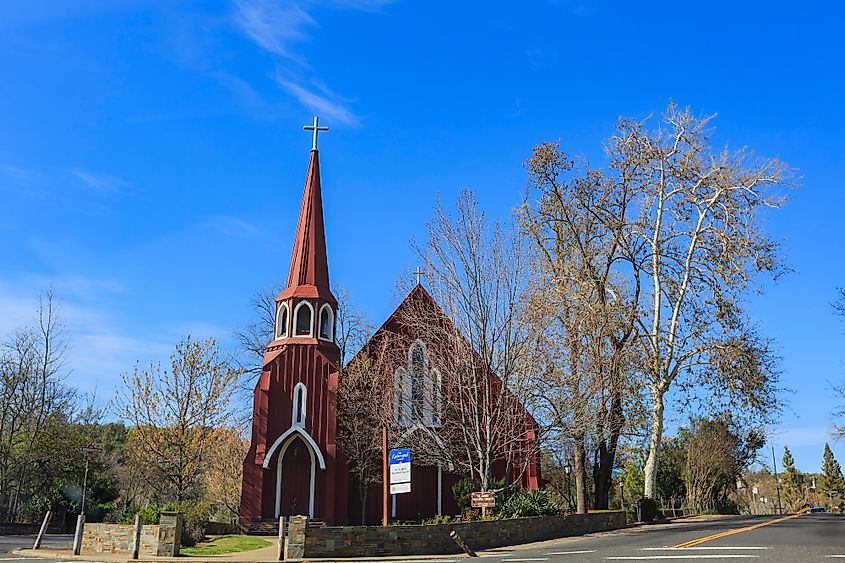 Located in the heart of Tuolumne County, Sonora was named after the Mexican state of the same name by miners who settled here during the California Gold Rush. Sonora's economy was once dependent on mining and timber but now relies on tourism thanks to its proximity to Yosemite National Park. To get your blood pumping, jump on the Dragoon Gulch Trail system and follow the two-and-a-half-mile natural creek to one of the area's many summits to take in the expansive views. Welcome to the "Queen of the Southern Mines." Though once a wild, lawless Gold Rush camp, Sonora now prides itself on restoration efforts to restore its narrow street, historic buildings, and old-style charm. Hot, dry summers make being outside and strolling in and out of shops and boutiques in the historic downtown an enjoyable experience. Hollywood types love to film in Sonora due to the town's versatility, and 300 films and television series have been shot here so far.
Mariposa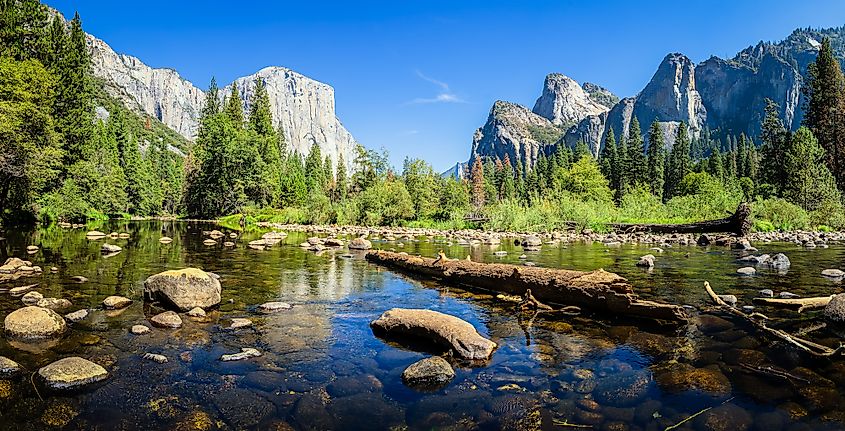 Another charming town that dates to the Gold Rush era is Mariposa, whose name means "butterfly" in Spanish. The town is a gateway to Yosemite National Park, which offers rugged wilderness hikes, like the popular Mist Trail, where hikers can marvel at Yosemite Falls and El Capitan. Famous among rock climbers, both Half Dome and El Capitan attract those who love to defy gravity. Novices be warned, though, that these climbs are not for the ill-prepared. Half Dome climbers must be permitted, equipped, and well-trained. Still, many are not. Avoid being one of the hundreds who require emergency rescue each summer. For those content to maintain a steady heart rate, stroll down Mariposa's historic main street, a living relic adorned with 19th-century architecture that transports you back in time. The Mariposa Museum and History Center offers a deeper dive into the town's Gold Rush past, including a look at hard-rock mining and other gold recovery methods.
Angels Camp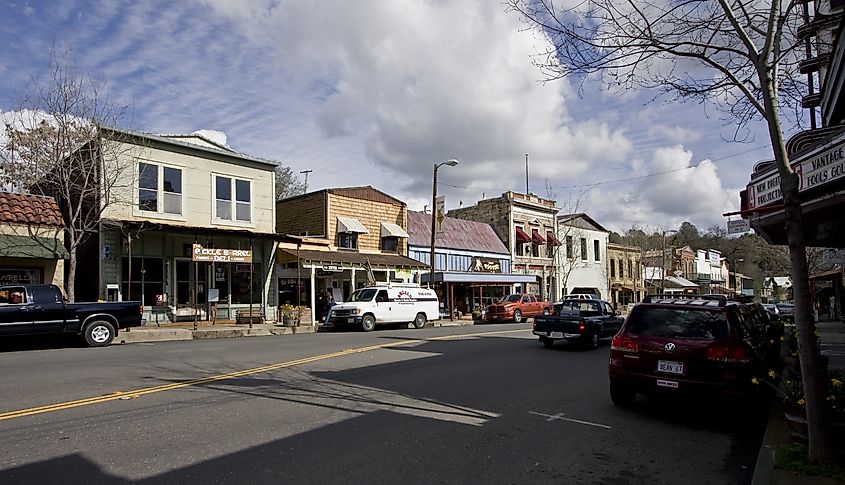 Famous for Mark Twain's 1865 story, "The Celebrated Jumping Frog of Calaveras County," Angels Camp in the Sierra foothills has a quaint downtown and is close to Calaveras Big Trees State Park, which is no joke. The giant sequoia trees here will have you reeling when you look up 250 to 300 feet to their crowns. And good luck getting your arms around their 94-foot circumference for a hug! For visitors seeking an unforgettable escape from big city life, Angels Camp is a hidden gem not to be missed. Sometimes referred to as the "City of Angels," this adorable historic town has several well-preserved 19th-century buildings. Angels Camp Museum holds the largest collection of carriages and wagons in the United States. Angels Camp was established by Henry Angel, a shopkeeper from Rhode Island, in 1848 when he set up a trading post for those searching for gold. Once the surface gold dried up, gold diggers headed into the hard rock, creating mining tunnels throughout this area. For water lovers, New Melones Lake offers swimming, fishing, boating, and kayaking. Pet-friendly camping is available nearby, as is rock climbing, hiking, trail biking, and stargazing.
Twain Harte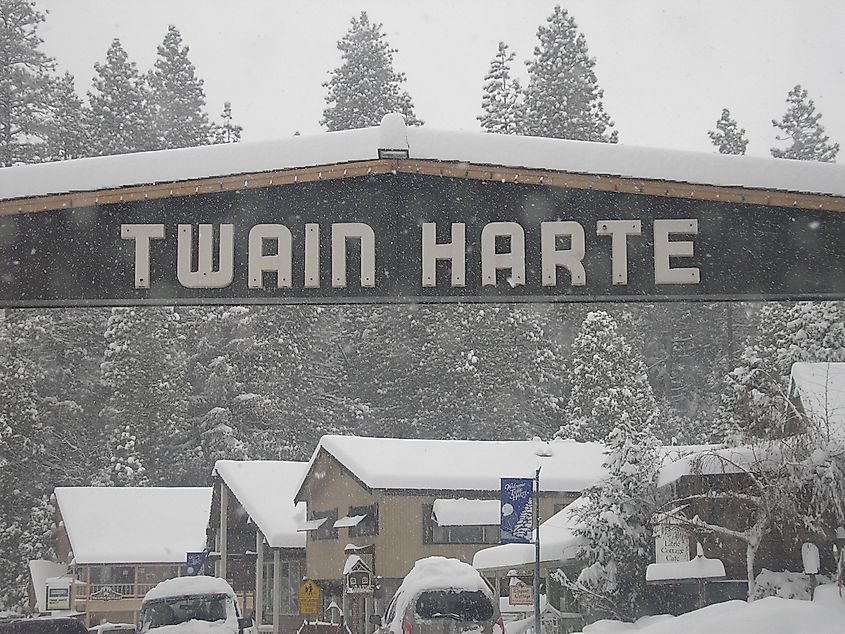 Named after Mark Twain and Bret Harte, this mountain community offers a charming alpine atmosphere. Both a summer and winter vacation community, Twain Harte lies in the transition zone between the oak forest of the California foothills and the mixed pine and fir forest of the Sierra Nevada. Remnants of the Gold Rush can still be explored, with well-preserved mining relics and historic landmarks scattered throughout the town. Visitors step back in time at the Twain Harte Museum, where artifacts and exhibits tell the story of this Gold Country haven. For outdoor enthusiasts, Twain Harte is surrounded by the Stanislaus National Forest, with its hiking trails, world-class fishing in the Stanislaus River, and serene camping spots. Family fun comes in the form of swimming, miniature golf, camping, and picnicking. When winter sweeps in, visitors have easy access to Leland High Sierra Snow Play and Dodge Ridge Mountain Resort for skiing, tubing, snowboarding, and après ski fun for the whole family.
Quincy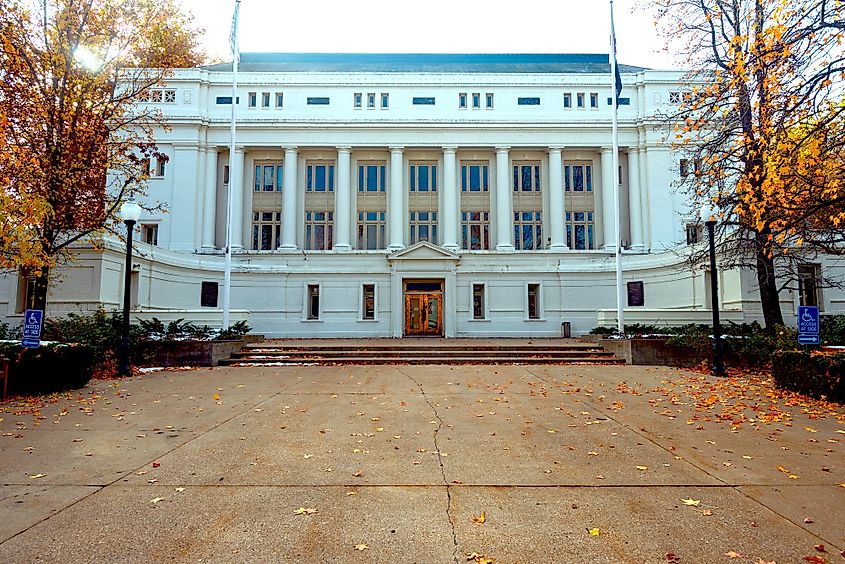 The county seat of Plumas County, the town of Quincy, was named after the sixth president of the United States, John Quincy Adams. California's Sierra Nevada is a rugged outdoor enthusiasts' paradise with hiking and mountain biking trails. For those seeking aquatic adventure, this is where Quincy shines. Visit the pristine waters of Bucks Lake which offers fishing, kayaking, waterskiing, and swimming. Quincy is also a gateway to the Pacific Crest National Scenic Trail, attracting hikers and equestrians from around the world since it is open to both humans and horses. In town, Plumas County Museum features artifacts and displays about the area's gold country, railroad, and logging industry. Come winter, embrace the season with the locals by taking in the annual Norman Rockwell-esque Christmas celebration. Businesses get involved by placing thousands of twinkling lights in their shop windows for the traditional 'Main Street Sparkles.' Come for the ambiance, stay for the hot chocolate!
Graeagle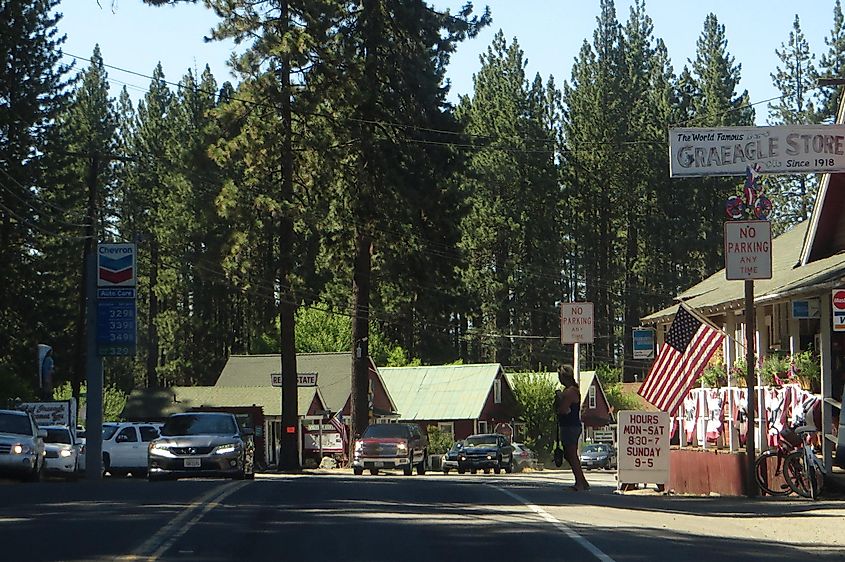 One of the few on this list of adorable Sierra Nevada towns, Graeagle had its start in lumber and not gold. Established in 1916, Graeagle is known for its charming boutiques and access to the Lakes Basin Recreation Area, a campground located in the ruins of an old mining community. West of Graeagle is the Plumas-Eureka State Park, where mining began in 1851, and visitors enjoy camping and hiking in the summer or cross-country skiing and snowshoeing in the winter. Christmas Tree permits go on sale in mid-October, and families can come here to cut down their own holiday pine. Much of Graeagle's economy relies on the summer tourism industry owing to golf courses like Graeagle Meadows Golf Course, a championship 18-hole course. Try to keep your eye on the ball amidst the stunning mountainous view.
Bridgeport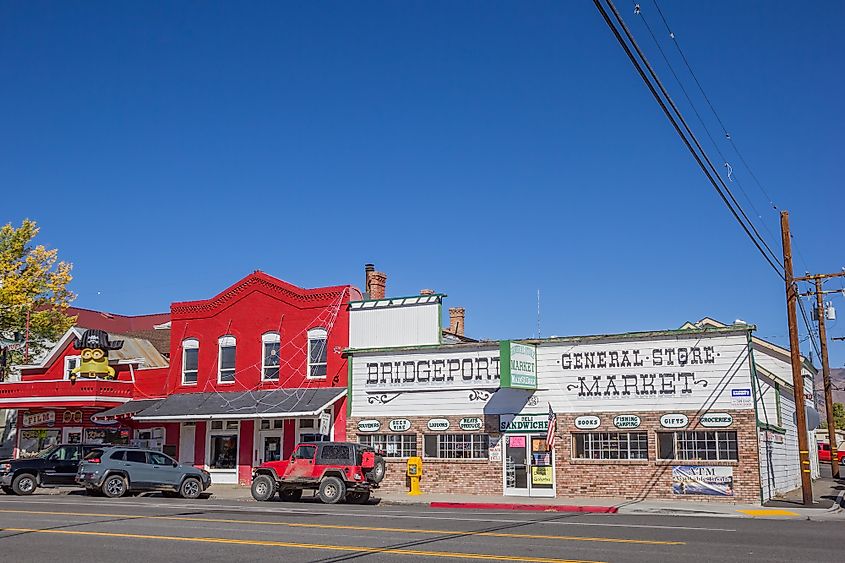 Located near the Eastern Sierra, Bridgeport offers access to historical sites like Bodie State Historic Park and the stunning Twin Lakes. This adorable town lies in Bridgeport Valley with the Sierra Nevada Mountains to the west, Sweetwater Mountains to the north, and Bodie Hills to the east. Cast your line in one of the many lakes or rivers in the area which are well-known for trout fishing. If you fancy yourself an angling ace, register for one of two fishing tournaments that take place here every year. For a unique experience, check out Travertine Hot Springs, a geothermally heated hot spring. It's free, open to the public, and clothing is optional. You've been warned! In Bridgeport, cold, snowy winters attract backcountry winter-play tourists by the thousands. And for good reason! Five hundred miles of trails invite cross-country skiing, snowshoeing, sledding, snowmobiling, and, of course, downhill skiing with varying degrees of difficulty. For history lovers, pop by the Mono County Courthouse, a dominant Victorian structure, or the deserted but well-preserved ghost town of Bodie.
These towns not only offer a glimpse into California's Gold Rush history but also provide a perfect starting point for exploring the natural beauty of the Sierra Nevada region, including its lakes, rivers, forests, and national parks. Adventure awaits year-round!