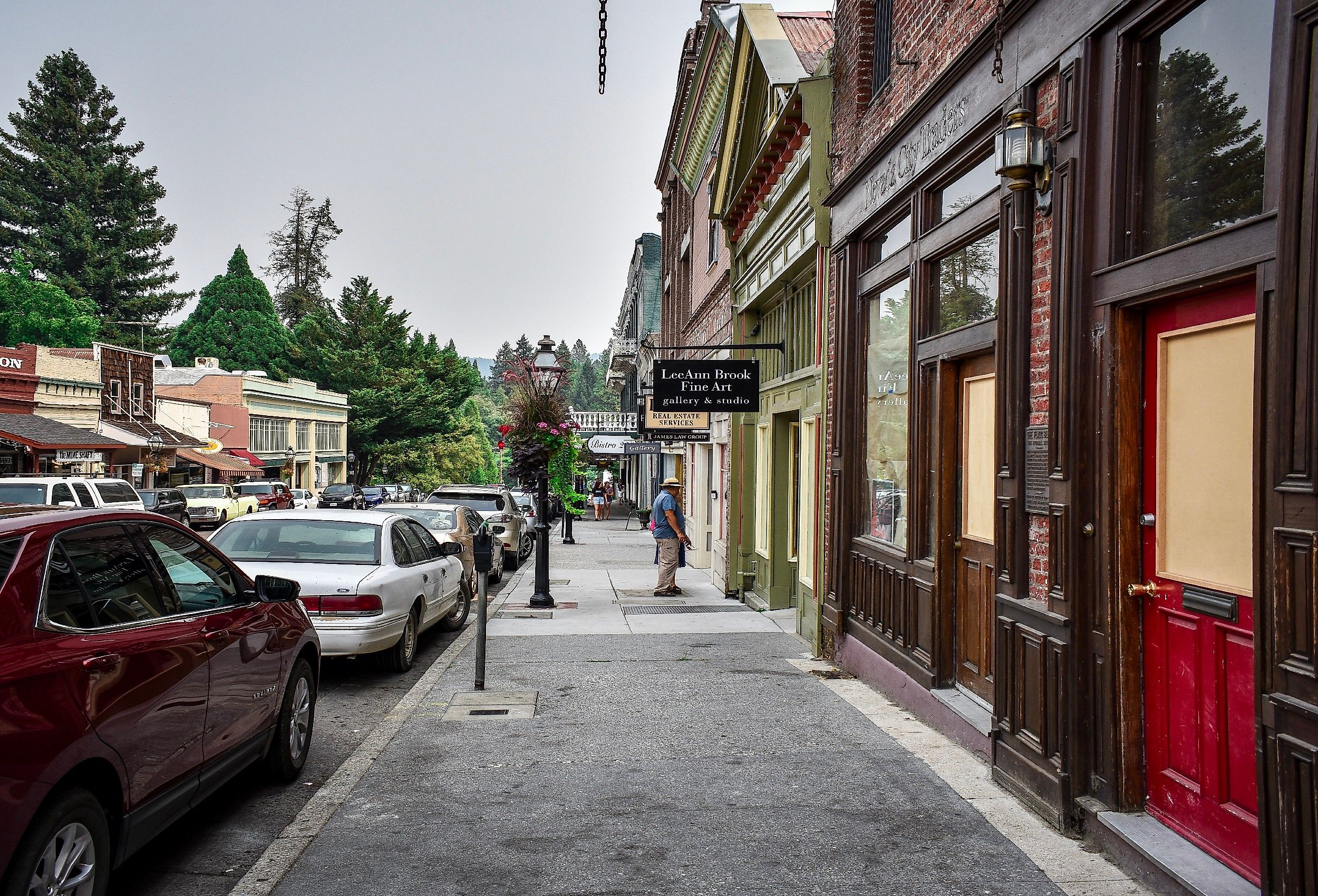 9 of The Friendliest Towns In California's Sierra Nevada
While a trip to California may bring thoughts of the palm-tree-lined Los Angeles, or the surfable waves along Malibu's sandy shores, the state offers an astoundingly diverse selection of terrains and cultures beyond its coastal beaches and cities. The Sierra Nevada mountain region, for instance, offers a more rugged side of the glamorous California many are familiar with, and its hidden gems — many found within small, welcoming alpine towns — are dazzling in their own way.
Coupled with hospitality and friendliness from locals, the majestic mountains are brimming with adventure. Visit sparkling alpine lakes and beaches, walk back in time to explore historic Gold Rush-era downtowns, or traverse the numerous national parks whose colorful flora, vast canyons, and jaw-dropping waterfalls outsparkle even the brightest Hollywood attractions.
Lee Vining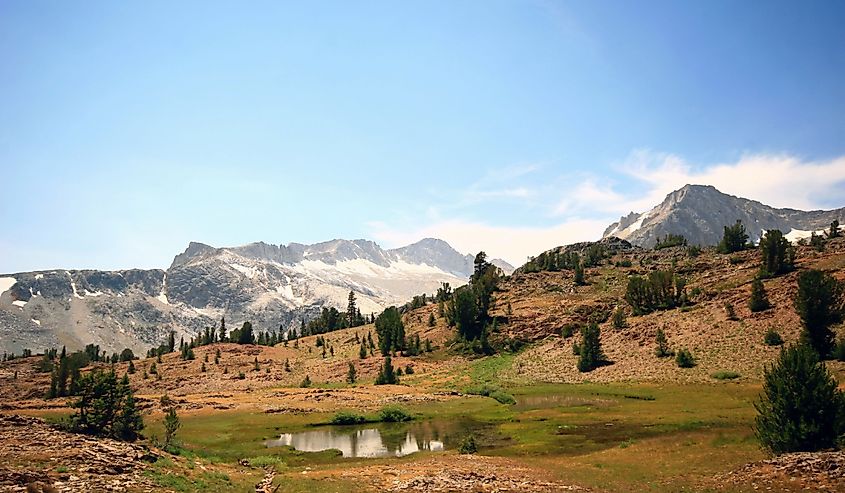 Nestled at the base of the Sierra Nevada, Lee Vining is an incredible gateway town, offering access to the world-famous Yosemite National Park. At the park, which welcomes a remarkable 3.5 million visitors every year, visitors can hike the spectacular valleys, babbling streams, and gorgeous granite cliffs, but the park is primarily known for its wide array of waterfalls. Hike a 1-mile loop to the base of Yosemite Falls, whose 2,425-foot cascade flows from November through July, or to Bridalveil Falls, whose year-round flow is often the first waterfall visitors experience from the Yosemite Valley.
For a closer natural attraction, Lee Vining is also home to the beautiful Mono Lake, whose 65 square miles of water have a unique feature called "tufa towers." Formed by spring water mingling with the alkaline lake, these marvelous limestone pillars not only create a breathtaking view from shore, but are extremely functional for local wildlife. A habitat to a range of nesting birds, the lake welcomes 1 to 2 million birds annually, making it a birder's paradise. Hiking and photography are also popular draws of Mono Lake, for those hoping to experience this wondrously unusual landscape and its unique landforms.
South Lake Tahoe
For a more beachy lake getaway, South Lake Tahoe is the largest town bordering the majestic Lake Tahoe, and its community, by all means, embodies outdoor adventure and embraces travelers looking to do the same. Nicknamed the "Jewel of the Sierra," Lake Tahoe is known for being the Sierra Nevada's largest freshwater lake, and given its awe-inspiring mountain views, it is no wonder the lake is a magnet for visitors from all around the world. The water is a sparkling blue, and while its temperature is a bit brisk, even during the summer months, visitors still flock to its beaches. South Lake Tahoe is home to several of them, including Baldwin Beach, a popular swimming spot favored for its sandy shore and on-site kayak rentals. 
In addition to the town's range of hotels (several of which are casino-adjacent), camping is a popular South Lake Tahoe attraction. Sites like Emerald Bay State Park are especially popular, with two campgrounds to choose from. Both offer incredible access to features such as Vikingsholm, a tourable architectural wonder locals call the "Tahoe's Hidden Castle," and Fannette Island, the only island within Lake Tahoe that can also be accessed from the campgrounds by watercraft.
Mammoth Lakes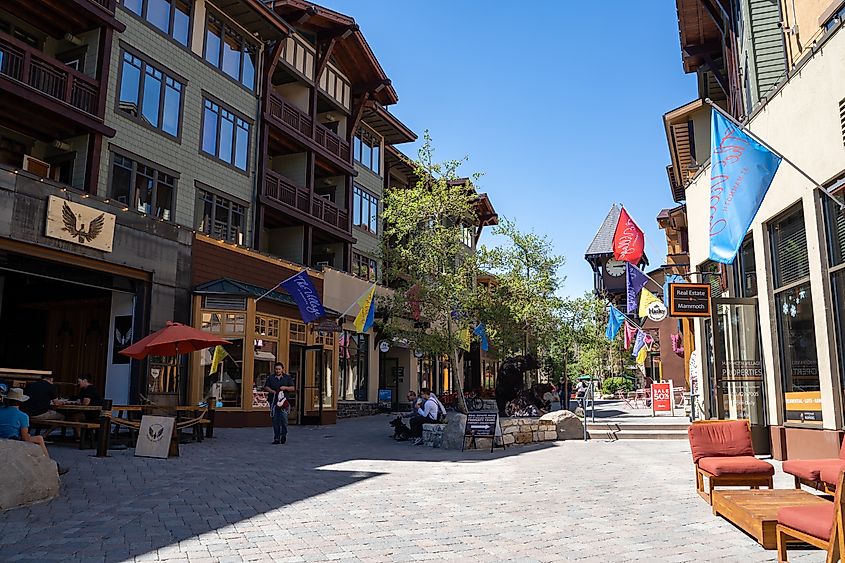 With a name like Mammoth Lakes, some may assume this charming Sierra Nevada town earned its name from the mighty mammoths that walked the earth so long ago. The town's name is thought to be an homage to its Gold Rush history, titled after Mammoth Mining Co. Today, no longer a mining town, Mammoth Lakes is a charming slice of California, known for welcoming visitors from near and far to savor the community's historical and natural attractions.
On your way into town, stop at the Mammoth Lakes Welcome Center to chat with their friendly staff about the town's hotspots. From there, consider grabbing a brochure for a self-guided tour of the town's Mammoth Consolidated Mines, whose preserved mining community offers fascinating sights, like the bunkhouses where miners put up their feet after a strenuous day's hunt for treasure. The tour is accessible through an easygoing walking trail surrounded by the cover of lush forest, and the Welcome Center staff may suggest following this hike with an even more popular trail: one that leads to the iconic Devil's Postpile National Monument. Established in 1911 to preserve the stunning 101-feet tall Rainbow Falls (on the San Joaquin River) as well as the wondrous (and rare) Devil's Postpile cliff formation, these natural wonders are by far the most sought-after attractions in Mammoth Lakes.
Nevada City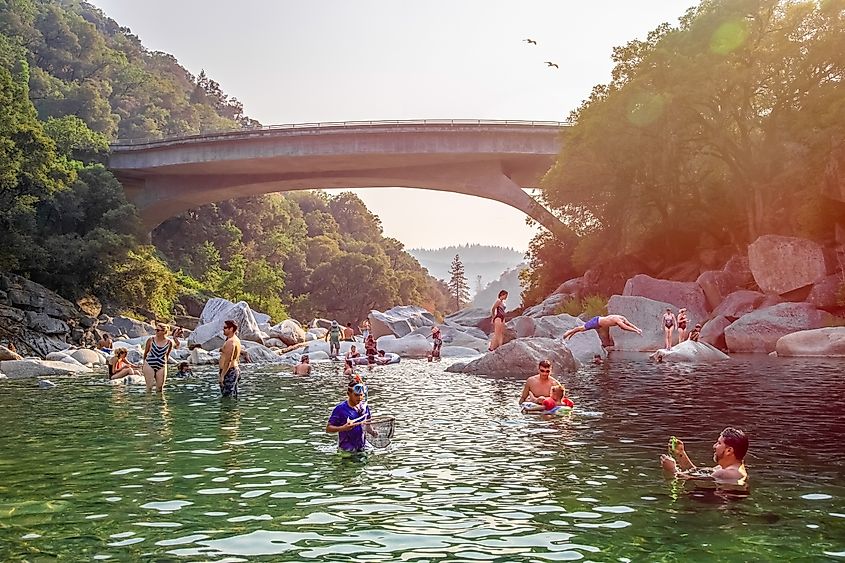 Similar to Mammoth Lakes, Nevada City is another community with a vibrant Gold Rush history, and its crown jewel is arguably its darling historic downtown. As if frozen in time, visitors can behold the Gold Rush era in all its glory. From the downtown saloons to its historic hotels, even those less interested in history will find themselves entranced by the plethora of picturesque architecture and carefully maintained landmarks.
Places like the National Exchange Hotel, for example, are considered one of the downtown's anchoring features. Built in 1856, this incredible building displays a dazzling mix of old and new, especially since it was miraculously restored and renovated in 2018 due to the wear and tear of time. With meticulous care taken to maintain its original architectural integrity, today, the hotel (whose name is proudly listed on the National Register of Historic Places) sparkles with luxury and modern amenities while maintaining the same romantic charm travelers experienced so long ago. With 38 unique rooms adorned with vintage fixtures and furniture, the National Exchange is a once-in-a-lifetime overnight experience that happily welcomes guests from anywhere and everywhere.
Quincy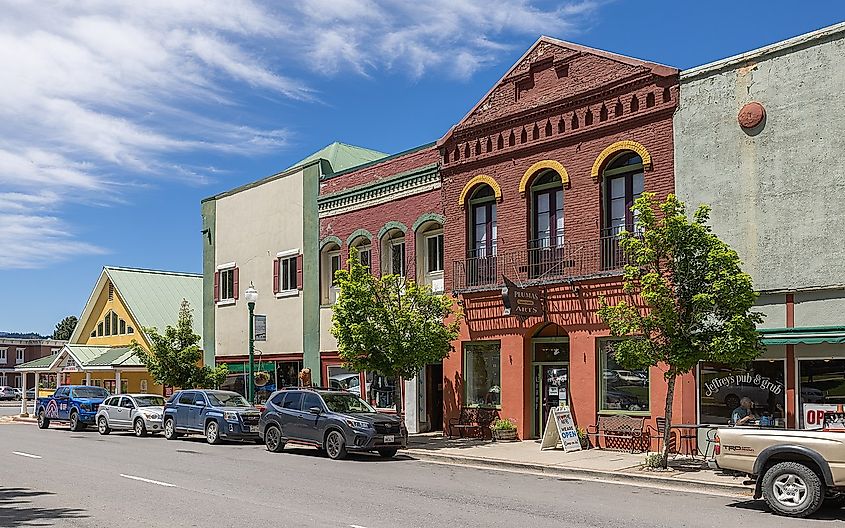 If a quaint and historic downtown is what lures you to your getaways, the friendly town of Quincy is an excellent destination choice. Like Nevada City, Quincy takes pride in its ability to balance history with a contemporary revival, offering a look into the past at places like their Plumas County Museum, where local railroad, logging, and Gold Rush era histories are displayed in fascinating and informative exhibits. Located just ahead of the museum also sits the town's historic 1921 courthouse, whose eye-catching marble columns and staircases offer a photo-perfect view any history or architecture enthusiast would cherish.
If you continue from here along Quincy's Main Street, you can find colorful murals, eclectic shops, and delightful eateries like Wildflower Cafe, The Knook, and Sweet Lorraine's. To keep with the town's historical appreciation, heading back toward the museum, you can rest your head at the Quincy Featherbed Inn, an adorable residence-turned-inn built in 1893. In addition to its convenient access to downtown Quincy, many also stay here for access to the outdoors. As the closest town to Bucks Lake, hikers and mountain bikers adore Quincy as a gateway to adventure.
Three Rivers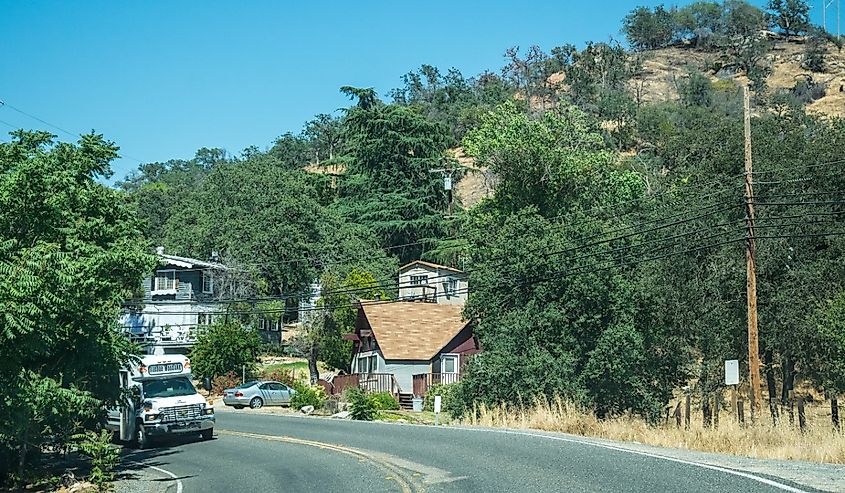 To experience more of the Sierra Nevada's natural beauty, Three Rivers is a village whose incredible access to the natural world makes it a popular homebase for nature lovers. Nestled in the mountain's foothills, the village earned its name from the three converging forks from the Kaweah River, whose waters flow around the town's homes and businesses. Start your day with a scenic riverside stroll and snag breakfast or lunch at Sequoia Coffee Co. for their delicious coffee (steamed or iced) and a hearty array of sandwiches and bagels. Three Rivers Brewing Co., on the other hand, is also located riverside, and serves fantastic specialty beers; with flavors like their Fuzzy Navel seltzer and Sour Melon beer. This local hotspot offers the perfect chance to end your day socializing with the town's locals.
But before you end the night with a drink, a trip to Three Rivers would not be complete without taking in the town's surrounding nature. The town is favored for its entryway to the Sequoia-Kings Canyon National Park, whose enormous sequoia trees offer awe-inspiring hikes on paths like the General Grant Tree Trail, a ⅓-mile paved path with views of one of the largest living trees in the world. At 267 feet tall, the General Grant Tree, as it is called, is a towering 3,000-year-old marvel, standing as one of the park's anchoring attractions. 
Murphys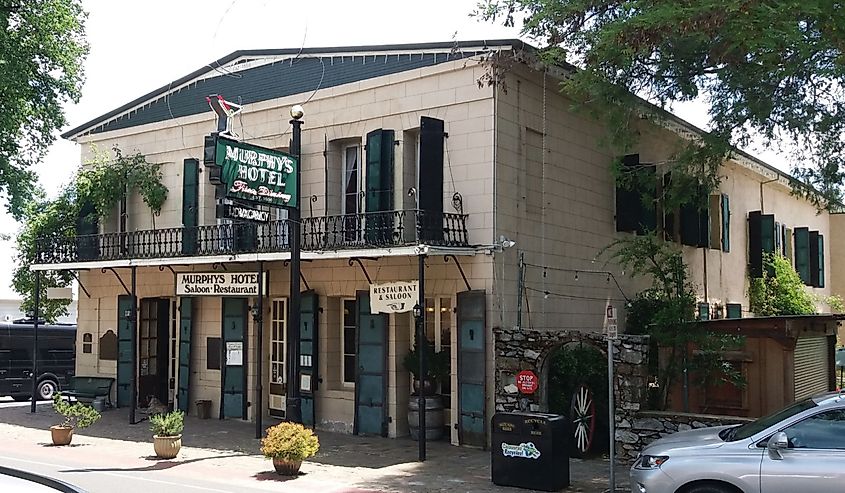 The village of Murphys is another community located in the foothills of the Sierra Nevada mountains, but their tourism is more focused around their dazzling historic downtown. Dotted with charming stone buildings, the village is also famously home to the Murphys Historic Hotel, whose launch in 1856 makes it one of California's longest-running hotels. It was here that remarkable guests stayed, including notable names like writer Mark Twain and the 18th United States President, Ulysses S. Grant. There is a choice between their modern or historic suites, the key distinction is that the historic rooms are furnished with period-realistic furnishings and do not have televisions or telephones. Located above the hotel's saloon, it is also worth noting the historic suites can be on the noisier side, but if anything, this only adds to the fun of stepping back in time to the Gold Rush era.
If a more relaxed drinking atmosphere is what you are after, continue down Murphys' Main Street for your choice between their wide array of tasting rooms. Right across from Murphys Historic Hotel, for instance, sits the Aloria Vineyards tasting room, serving a range of wines sourced entirely from their 52-acre vineyard. Alternatively, just a minute down the road you can find Lavender Ridge Vineyards, whose welcoming atmosphere and daily wine and artisan cheese pairings make for a lovely evening of indulgence and relaxation. 
Angels Camp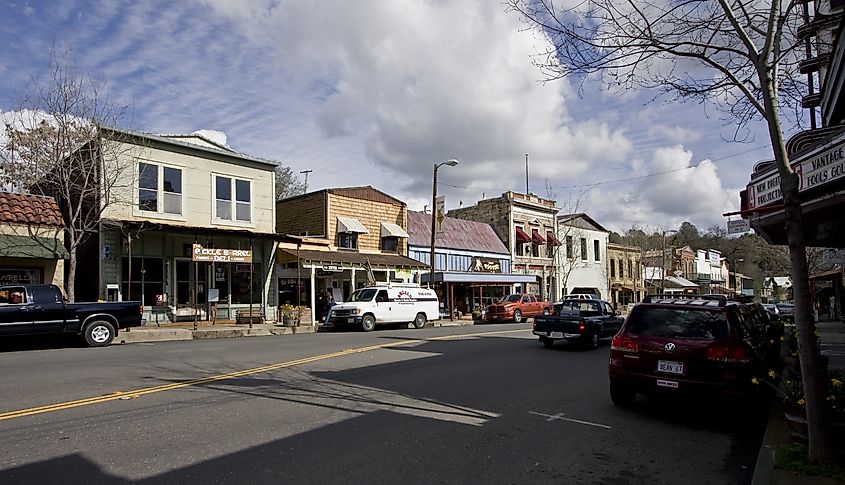 If Murphys' connection to the famous Mark Twain caught your attention, the town of Angels Camp might just entice you even further. Known for being the setting of Twain's zany and humorous short story The Celebrated Frog of Calaveras (his first major writing breakthrough), Angels Camp proudly celebrates its connection to the beloved American author through its annual Mark Twain Wild West Fest, as well as a quirky and fascinating Mark Twain History Trail. Additionally, the town's Museum and Carriage House is home to a Mark Twain Exhibit, and also draws crowds due to its fascinating display of Gold Rush era exhibits, including one of the country's largest carriage and wagon collections, displayed across the 30,000 square foot grounds.
For a more natural side of Angels Camp, nothing quite beats a visit to the New Melones Lake. Known for being one of the state's largest reservoirs, the lake is a pleasant getaway spot favored by travelers of all kinds, and families tend to flock here for the lake's child-friendly fun. The Marina is especially lively and popular during the summer months, offering a variety of rental opportunities, including anything from fishing supplies to boats. And if camping under the stars is on your radar, the lake's nearby Glory Hole Recreation Area hosts 144 campsites that can be enjoyed along with their swimming beach, boat launch ramps, and 30 miles of scenic hiking trails.
Oakhurst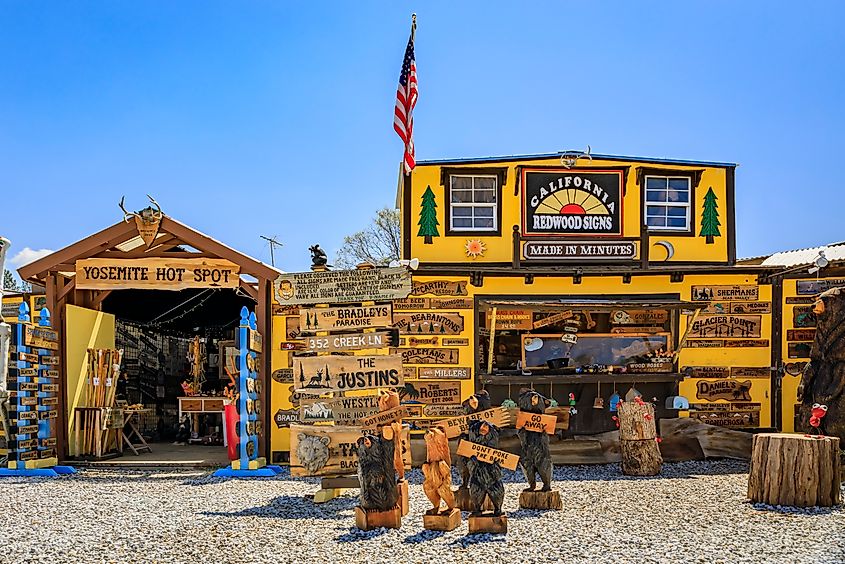 On the southern end of California's Gold Rush County, Oakhurst is another quaint community with fantastic access to Yosemite Park, only 15 miles away. But before embarking to the neighboring national park, you may want to stick around to experience Oakhurt's personal pockets of nature, celebrated in places like the Sierra Sky Ranch. This historic hotel (originally established in 1875) was the area's first emerging cattle ranch before transitioning to boarding guests in 1946. Today, the modernized resort maintains elements of its rustic origins, and is known for its blissful accommodations away from the stresses of everyday life, offering entrance to 30 acres of serene wilderness along Lewis Creek.
Oakhurst's prized natural feature, however, is Bass Lake, whose 5-mile-long beauty is surrounded by countless walking trails in the stunning Sierra National Forest. Paths like the Goat Mountain Fire Lookout are popular for more experienced hikers, reaching a 4,634-foot elevation, while easier paths like the Way of the Mono Trail offer a less challenging scenic loop. But what truly sets this alpine lake apart, is its elevation: at a mere 3,400 feet, the water maintains an average of 75 degrees Fahrenheit during the summertime, making the lake a hub of water recreation, popular for swimming, kayaking, sailing, and water skiing. 
Rich with vibrant mining histories and stunning alpine wilderness, these Sierra Nevada mountain towns offer visitors the chance to experience what their residents have access to on a daily basis. Whether you find yourself mingling with locals at a Gold Rush-era saloon, or connecting with fellow hiking enthusiasts on a popular national park trailway, these Sierra Nevada mountain communities are not only used to welcoming guests, but are happy to. For your next California getaway, visit any of these mountain towns to experience American history, landscapes, and hospitality unlike any other.