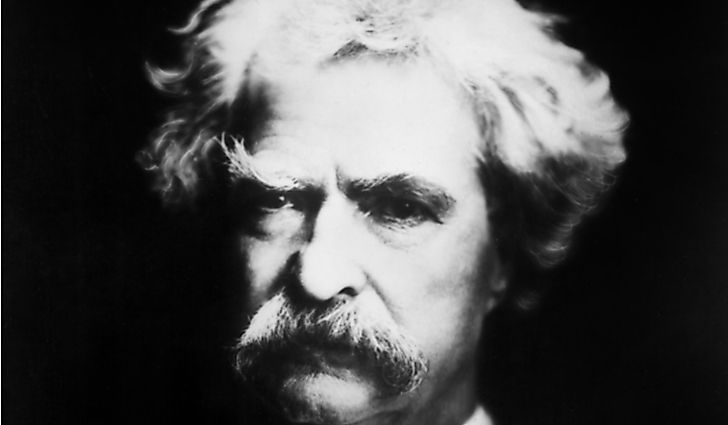 Mark Twin, born Samuel Langhorne Clemens, was an American writer, lecturer, comedian, and entrepreneur. He authored several novels including "The Adventure of Tom Sawyer", the "Adventures of Huckleberry Finn", and the "Great American Novel". He made a lot of wealth from his writings and lectures but invested in businesses that lost a lot of money. His wit and satire in his writings and speech earned him praise from friends and critics. They also drew the attention of presidents, artists, and European royalties all of whom befriended the writer. He was considered the greatest American humorist at the time.
5. Early Life
Mark Twain was born on November 30, 1835, in Florida. He was named Samuel Langhorne at birth. His family relocated to Hannibal, Missouri when he was four, a town which inspired "The Adventure of Tom Sawyer." Twain left school after the fifth grade in 1848. In 1851, he became a typesetter for the Hannibal Journal where he contributed articles and humorous sketches. When he was 18, he left Hannibal for New York City where he also worked as a typesetter for the International Typographical Union. He also educated himself at the public library gaining information that was not available in conventional schools at the time.
4. Career
Twain began his career journey at the age of twelve after the death of his father. After dropping out of school in 1848, he worked as a typesetting for Hannibal Journal until he was 18. He then left to New York to work for the Typographical Union. After two years of training as a steamboat pilot, Twain received his pilot license and began work. It was during this time that he was given the pen name "Mark Twain." He worked as a river pilot until 1861 when he enlisted in a local Confederate unit. He worked briefly as a miner in Nevada then left for the Virginia City newspaper, "Territorial Enterprise" where he first used his pen name. While working as a journalist, Twain sharpened his writing and public speaking skills.
3. Major Contributions
Mark Twain was an accomplished writer, novelist, actor, and entrepreneur. He is considered by some people as the father of American literature. His love for science and technology led him to make three inventions including "Improvement in Adjustable and Detachable Straps for Garments" that subsequently replaced the suspender and self-pasting scrapbook. Twain was an ardent imperialist who spoke strongly in support of America's interest in the Hawaiian Island in the late 1860s and early 1870s. Twain was also a strong supporter of the abolition of slave trade and supported the labor movements in America.
2. Challenges
Although Twain was an accomplished American figure, his success was not without challenges. As a young man, he had to drop out of school after the fifth grade following the death of his father. Although he made a substantial amount of money through various activities such as writing and performance, he also lost a great deal of money through bad investments. Twain even had to close his family home in Hartford due to his dwindling income in 1891. In 1858, he lost his younger brother through a steamboat accident, an incident which caused him to blame himself until his death.
1. Death and Legacy
After the death of his daughter in 1896, Twain underwent a period of depression. His wife's death in 1904 and the death of his last born daughter in 1909 only worsened his condition. He also lost a close friend, Henry Rogers, in 1909. On April 21, 1910, Mark Twain died of a heart attack in Redding, Connecticut. He had made a prediction that his passing would occur at the same time as Halley's Comet, as he had been born two weeks after the comet's closest approach. His prediction came true. Twain's estate value was an estimated $471,000 or $12 million today.