Who Was the Youngest President?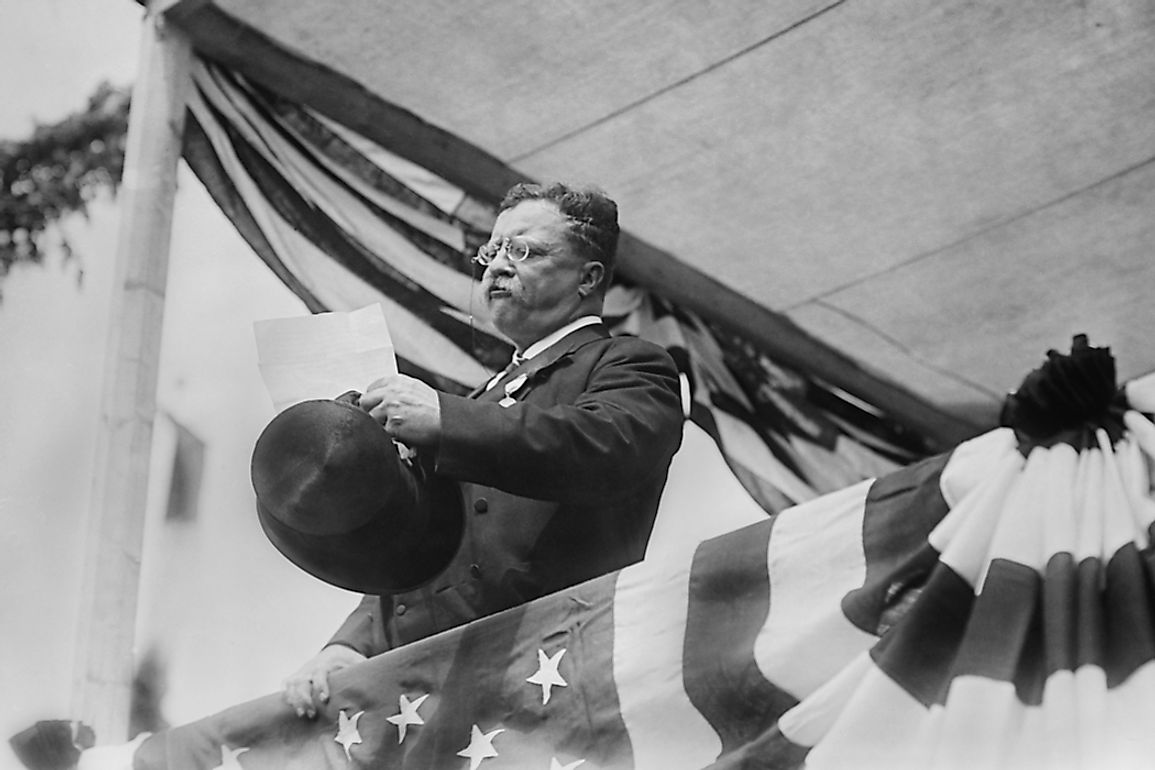 Article 2 Section 1 of the US constitution requires a presidential candidate to be at least 35 years. The 22nd amendment limited the presidential terms to not more than two. Only natural born citizens of the United States can be elected as presidents. The following are the youngest American presidents.
Youngest Presidents Of The United States
Theodore Roosevelt
Theodore Roosevelt became the youngest president of the United States after the assassination of President William McKinley. Roosevelt assumed office on September 14, 1901, at the age of 42 years, 322 days. He brought excitement and vigor to the presidency, as he led Congress and the American public to progressive reforms. Roosevelt was a liberal leader who believed that the president is a "steward of the people." He had struggled against ill health as a young man, and his wife and mother had both died on the same day. He left office on March 4, 1909, and died on January 6, 1919, aged 60.
John F. Kennedy
John Fitzgerald Kennedy popularly known as JFK was the 35th president of the United States. He succeeded Dwight D. Eisenhower on January 20, 1961, at the age of 43 years, 236 days. Kennedy did not complete his term in office as he was assassinated on November 22, 1963. He is revered for guiding the state through the height of the Cold War without a physical confrontation with the Soviet Union.
Bill Clinton
Bill Clinton was the 42nd president of the US. He succeeded George H. W. Bush on January 20, 1993, at the age of 46 years, 154 days. Bill Clinton, Andrew Johnson, and Donald Trump (impeached twice) are the only three American presidents to be impeached by the House of Representatives but acquitted of charges by the Senate. Prior to the presidency, he served as the governor of the state of Arkansas. Clinton's term ended on January 20, 2001, and George W. Bush succeeded him.
Ulysses S. Grant
Ulysses Grant succeeded Andrew Johnson as the 18th president on March 4, 1869, at the age of 46 years, 311 days. He served as the Secretary of War during the American Civil War and led the Union army to victory over the Confederates. During his tenure, Grant led the country through a reconciliation process and spearheaded the fight against Confederate nationalism, slavery, and racism.
Oldest American Presidents
Joe Biden is the oldest person to clinch the presidency of the United States. He succeeded Donald Trump on January 20, 2021, as the 46th president at the age of 78 years, 61 days. Donald Trump was the oldest president before that at 70 years and 220 days. Ronald Reagan assumed office at the age of 69 years, 349 days. He succeeded Jimmy Carter on January 20, 1981, as the 40th president.
Youngest Presidents of the United States
| Rank | President | Birth Date | Date of Start of Presidency Date | Age at Start of Presidency |
| --- | --- | --- | --- | --- |
| 1 | Theodore Roosevelt (26th) | October 27, 1858 | 14-Sep-01 | 42 years, 322 days |
| 2 | John F. Kennedy (35th) | 29-May-17 | 20-Jan-61 | 43 years, 236 days |
| 3 | Bill Clinton (42nd) | 19-Aug-46 | 20-Jan-93 | 46 years, 154 days |
| 4 | Ulysses S. Grant (18th) | April 27, 1822 | March 4, 1869 | 46 years, 311 days |
| 5 | Barack Obama (44th) | 04-Aug-61 | 20-Jan-09 | 47 years, 169 days |
| 6 | Grover Cleveland (22nd) | March 18, 1837 | March 4, 1885 | 47 years, 351 days |
| 7 | Franklin Pierce (14th) | November 23, 1804 | March 4, 1853 | 48 years, 101 days |
| 8 | James A. Garfield (20th) | November 19, 1831 | March 4, 1881 | 49 years, 105 days |
| 9 | James K. Polk (11th) | November 2, 1795 | March 4, 1845 | 49 years, 122 days |
| 10 | Millard Fillmore (13th) | Jananuary 7, 1800 | July 9, 1850 | 50 years, 183 days |
| 11 | John Tyler (10th) | March 29, 1790 | April 4, 1841 | 51 years, 6 days |
| 12 | Calvin Coolidge (30th) | July 4, 1872 | 02-Aug-23 | 51 years, 29 days |
| 13 | Franklin D. Roosevelt (32nd) | January 30, 1882 | 04-Mar-33 | 51 years, 33 days |
| 14 | William H. Taft (27th) | September 15, 1857 | 04-Mar-09 | 51 years, 170 days |
| 15 | Chester A. Arthur (21st) | October 5, 1829 | September 19, 1881 | 51 years, 349 days |
| 16 | Abraham Lincoln (16th) | Febuary 12, 1809 | March 4, 1861 | 52 years, 20 days |
| 17 | Jimmy Carter (39th) | 01-Oct-24 | 20-Jan-77 | 52 years, 111 days |
| 18 | William McKinley (25th) | January 29, 1843 | March 4, 1897 | 54 years, 34 days |
| 19 | Martin Van Buren (8th) | December 5, 1782 | March 4, 1837 | 54 years, 89 days |
| 20 | Rutherford B. Hayes (19th) | October 4, 1822 | March 4, 1877 | 54 years, 151 days |
| 21 | George W. Bush (43rd) | 06-Jul-46 | 20-Jan-01 | 54 years, 198 days |
| 22 | Herbert Hoover (31st) | August 10, 1874 | 04-Mar-29 | 54 years, 206 days |
| 23 | Lyndon B. Johnson (36th) | 27-Aug-08 | 22-Nov-63 | 55 years, 87 days |
| 24 | Warren G. Harding (29th) | November 2, 1865 | 04-Mar-21 | 55 years, 122 days |
| 25 | Benjamin Harrison (23rd) | August 20, 1833 | March 4, 1889 | 55 years, 196 days |
| 26 | Grover Cleveland (24th) | March 18, 1837 | March 4, 1893 | 55 years, 351 days |
| 27 | Richard Nixon (37th) | 09-Jan-13 | 20-Jan-69 | 56 years, 11 days |
| 28 | Woodrow Wilson (28th) | December 28, 1856 | 04-Mar-13 | 56 years, 66 days |
| 29 | Andrew Johnson (17th) | December 29, 1808 | April 15, 1865 | 56 years, 107 days |
| 30 | George Washington (1st) | February 22, 1732 | April 30, 1789 | 57 years, 67 days |
| 31 | John Quincy Adams (6th) | July 11, 1767 | March 4, 1825 | 57 years, 236 days |
| 32 | Thomas Jefferson (3rd) | April 13, 1743 | March 4, 1801 | 57 years, 325 days |
| 33 | James Madison (4th) | March 16, 1751 | March 4, 1809 | 57 years, 353 days |
| 34 | James Monroe (5th) | April 28, 1758 | March 4, 1817 | 58 years, 310 days |
| 35 | Harry S. Truman (33rd) | May 8, 1884 | 12-Apr-45 | 60 years, 339 days |
| 36 | Gerald Ford (38th) | 14-Jul-13 | 09-Aug-74 | 61 years, 26 days |
| 37 | John Adams (2nd) | October 30, 1735 | March 4, 1797 | 61 years, 125 days |
| 38 | Andrew Jackson (7th) | March 15, 1767 | March 4, 1829 | 61 years, 354 days |
| 39 | Dwight D. Eisenhower (34th) | October 14, 1890 | 20-Jan-53 | 62 years, 98 days |
| 40 | Zachary Taylor (12th) | November 24, 1784 | March 4, 1849 | 64 years, 100 days |
| 41 | George H. W. Bush (41st) | 12-Jun-24 | 20-Jan-89 | 64 years, 222 days |
| 42 | James Buchanan (15th) | April 23, 1791 | March 4, 1857 | 65 years, 315 days |
| 43 | William Henry Harrison (9th) | February 9, 1773 | March 4, 1841 | 68 years, 23 days |
| 44 | Ronald Reagan (40th) | 06-Feb-11 | 20-Jan-81 | 69 years, 349 days |
| 45 | Donald Trump (45th) | 14-Jun-46 | 20-Jan-17 | 70 years, 220 days |
| 46 | Joe Biden (46th) | 20-Nov-42 | 20-Jan-21 | 78 years, 61 days |