Born on May 29, 1917, John Fitzgerald Kennedy (also called Jack and JFK) was one of nine children born to Rose and Joseph Patrick Kennedy, Sr. This prominent American political family also had ties to public service, business, and entertainment, and were based in Boston, Massachusetts. JFK had health problems for most of his life, including a bout with scarlet fever at age three. He suffered various ailments as the years passed, up until the day he was assassinated in 1963. Considering this, his accomplishments are all the more impressive.
Before He Was President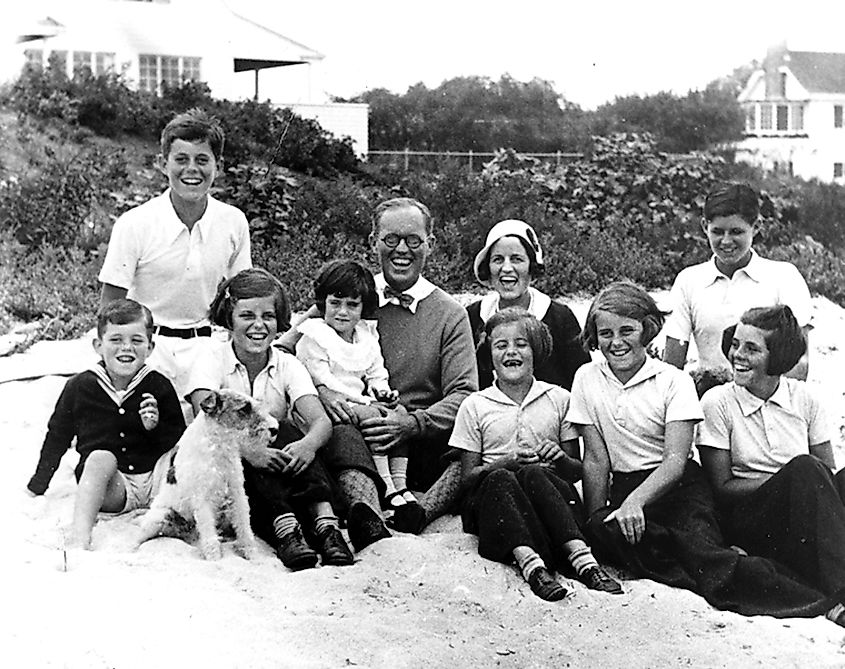 After graduating from Harvard University, Jack joined the Navy, where he was made Lieutenant and was assigned in the South Pacific during World War II. After the war, he ran for Congress in his home state's eleventh congressional district, and won in 1946. A lifelong Democrat, he served three terms in the House of Representatives. Then in 1952, he was elected to the US Senate. At age 36, JFK married Jacqueline Bouvier, a 24-year old writer for the Washington Times-Herald.
Following the marriage, JFK underwent two serious back surgeries. During his recovery he wrote the book "Profiles in Courage," which won a Pulitzer Prize in 1957. The couples' first child, Caroline, was born that same year. Years later he began campaigning, and in 1960 was nominated as the Democratic party's presidential candidate. On November 8, 1960, he defeated Richard M. Nixon, and was elected at age 43. He was the youngest man to ever do so, and was also the first Catholic to hold the office. Less than three weeks later, his son John Jr. was born.
1960-1963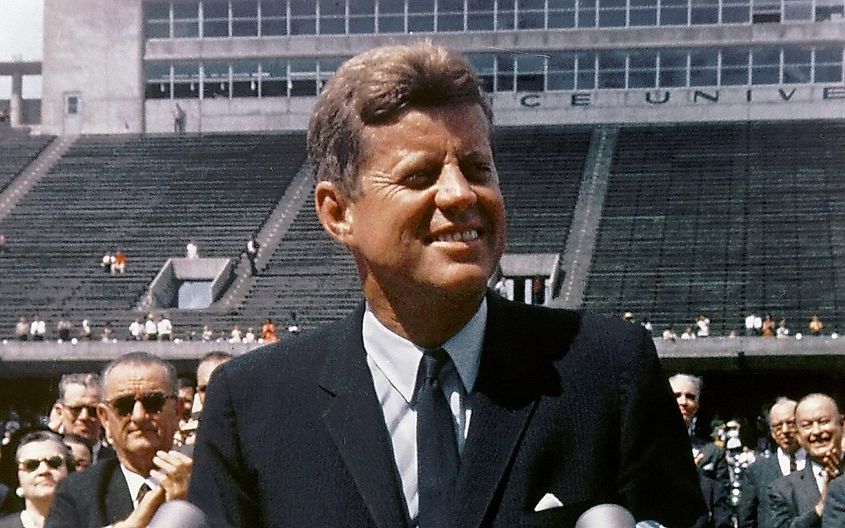 John F. Kennedy was involved with several important accomplishments as well as failed undertakings while president. He created the Peace Corps and expanded the U.S. Space Program: In 1961, Alan Sheppard Jr. became the first American in space. Kennedy pledged that the country would have a man on the moon by the decade's end.
He was also involved with the infamous Bay of Pigs invasion in Cuba, which was set into place to overthrow Fidel Castro. The mission failed, and trade relations with Cuba were halted in 1962. JFK's reforms helped bring the U.S. out of a recession, and he also negotiated with Soviet leader Nikita Khrushchev to help end the Cuban Missile Crisis. Kennedy's "New Frontier" program paved the way for important reforms like the expansion of unemployment benefits, anti-poverty legislation, farmers' aid, and a water pollution control act. He also supported civil rights and racial integration, part of the framework for the Civil Rights Act of 1964.
The Assassination
President Kennedy, his wife, and Vice President Lyndon Johnson traveled to Texas in November, 1963 for a two-day fundraising trip. They stopped in San Antonio, Houston, and Fort Worth. On November 22, the group flew to Dallas, where they greeted a friendly crowd before getting into the back of a customized, open convertible. They were scheduled to ride with Texas Governor John Connally and his wife to their next stop at the Trade Mart, where Kennedy was to give a speech. The 10-mile route was lined with approximately 200,000 onlookers.
As the motorcade was approaching Dallas at around 12:30 PM, shots rang out. One of the bullets went through the president's neck, and a second one hit the back of his head. Connally was wounded, but survived. JFK was rushed to the Parkland Memorial Hospital, but doctors were not able to save him. He was declared dead just 30 minutes later, at 1:00 PM. Vice President Johnson and Jacqueline Kennedy left Dallas immediately to seek safety, and Johnson was sworn in as the new president at 2:38 PM.
Aftermath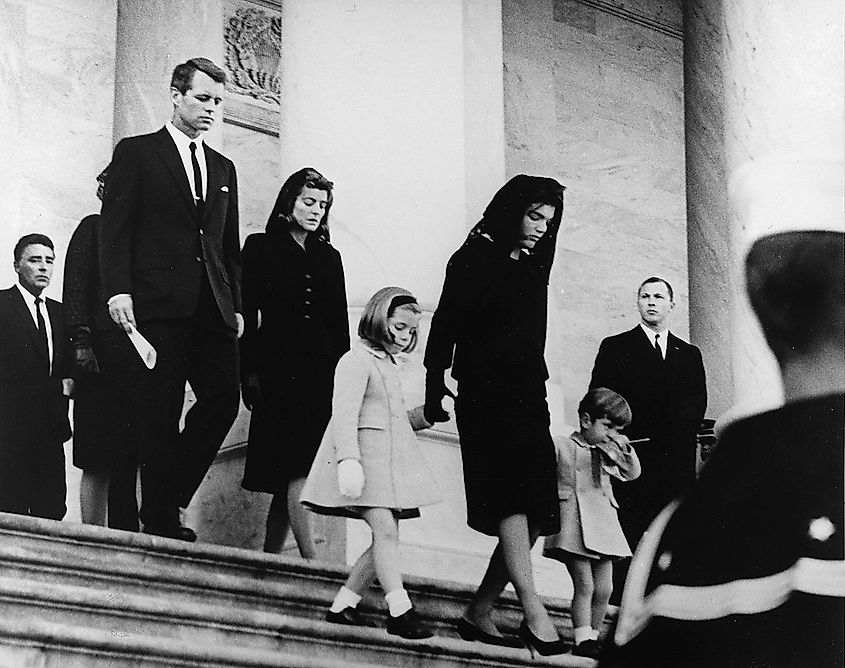 Kennedy's body was placed in a flag-draped casket, and was then moved to the U.S. Capitol Rotunda, where 250,000 people visited. The funeral took place on November 25, and the body was interred at Arlington National Cemetery. Accused killer Lee Harvey Oswald was never tried for the murder, because he was shot and killed while being transferred when he was in custody. His killer was identified as Jack Ruby, a Dallas native.
JFK is one of the most famous figures in U.S. history, and his beautiful family, distinct voice, and memorable speeches captured hearts around the world. His untimely, violent death is remembered as the end of "Camelot," or as many believed, an America utopia.
President Johnson believed that a conspiracy was to blame for the assassination, but did not want to cause problems with Cuba or the Soviet Union. He created the Warren Commission, and charged it with investigating how and why JFK was assassinated. According to their 888-page Warren Report, Oswald had acted alone. Many did not agree with these findings, and other conspiracy theories were quick to surface.